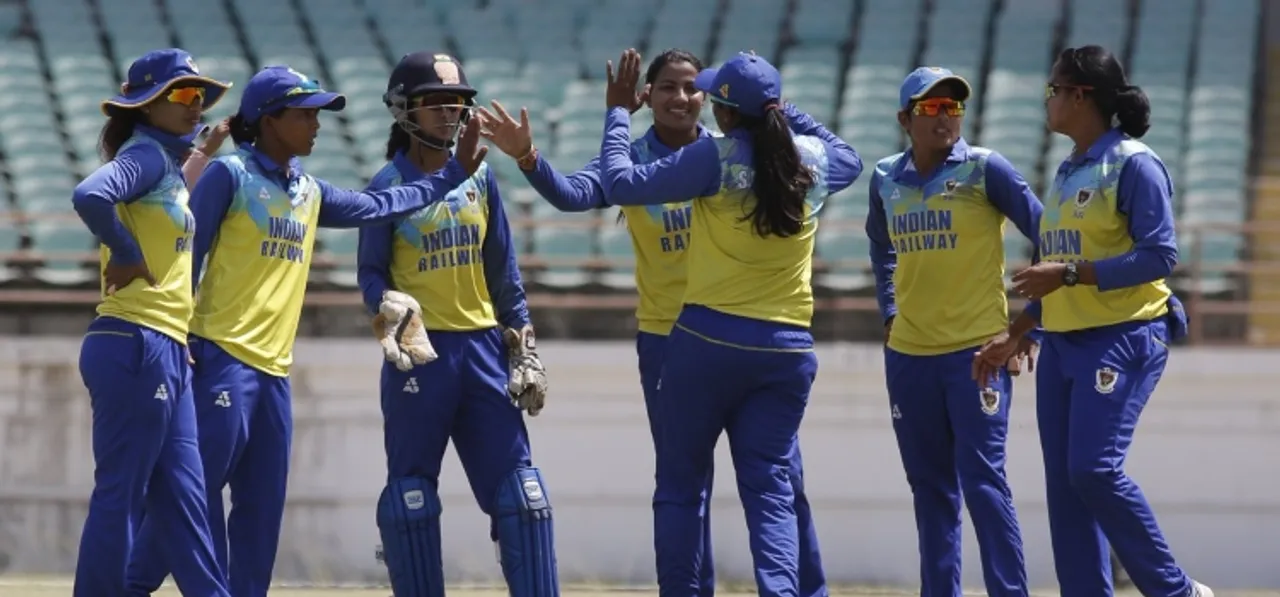 India domestic players have begun their mandatory quarantine period ahead of the 2021-22 Senior Women's One-Day competition beginning later this week. Divided into six groups – five Elite and one Plate - the 37 teams will compete across 10 days to decide the 11 teams that will proceed to the knockout stage in mid-November. Kolkata, Dehradun, Pune, Bengaluru, Vishakhapatnam and Nagpur are the six venues that will play host to the group stages.
The action will begin in Kolkata on Thursday (October 28), where the Plate group matches will be held. The remaining Elite groups will start their matches on Sunday (October 31).
Having begun their quarantine period on October 21, as per the BCCI schedule, the teams in the Plate Group will have two days of practice before their matches begin. They will play their games across three venues in Kolkata – Jadavpur University second campus, 22 Yards in Salt Lake and the mighty Eden Gardens.
The teams in the Elite groups reported at their respective venues by Saturday (October 23) evening, and will be required to quarantine for five days. They have two practice days scheduled for Friday (October 29) and Saturday (October 30).
ALSO READ: I still believe I can play for India: Niranjana Nagarajan
Dehradun will play host to Elite Group A, while Pune, Bengaluru, Vishakhapatnam and Nagpur will host Groups B, C, D and E, respectively.
The top two teams from each of the Elite groups will progress to the knockouts in Bengaluru, and will be joined by the top team from the Plate Group.
The league stage will end on November 6, with the 11 qualifying teams due to leave for the knockouts in Bengaluru the following day. After five more days of quarantine that will end on November 11, matches will begin on November 13, with the final scheduled on November 20.
The tournament will provide the perfect platform for players on the fringe of selection to put their hands up ahead of what is going to be a busy 18 months for the Indian team. With an ODI World Cup in March-April next year, performances in the tournament will be closely monitored.
There has been quite a lot of movement of players this season – some retirements and other transfers in search of better opportunities.
Karnataka stalwart Vanitha VR has made the
move to Bengal
and will join Gouher Sultana and
" rel="noopener noreferrer">Deepti Sharma
(who will miss the tournament due to the WBBL) as the side's third professional. Indrani Roy, who enjoyed a
breakthrough season
in 2020-21 will turn out for Railways, having previously represented Jharkhand. She will join Nuzhat Parween as the side's second wicket-keeper, with R Kalpana having been released to play for her home state of Andhra.
ALSO READ: It was a dream to play in the pink-ball Test: Smriti Mandhana
What Railways have gained with the inclusion of Roy, they have also lost with the exit of their powerful left-hand batter, MD Thirushkamini, who has returned to her home state of Tamil Nadu.
Meanwhile, pacer Renuka Singh Thakur has also been recruited by Railways and will join Meghna Singh, Shubhlakshmi Sharma, Anjali Sarvani, and Arundhati Reddy to further strengthen the defending champions' pace contingent.
After missing last season due to some registration complications, out of favour leg-spinner
Devika Vaidya
 and Tejal Hasabnis are set to return to Maharashtra this season.
The
" rel="noopener noreferrer">eight Indian players
involved in the Women's Big Bash League in Australia will miss the inter-state one-day tournament, but a few may return for the One-Day Challenger trophy in early December.
Groups:Elite A (Dehradun):
Jharkhand, Tripura, Assam, Maharashtra, Kerala, Delhi
Elite B (Pune):
Odisha, Railways, Uttarakhand, Chandigarh, Mumbai, Tamil Nadu
Elite C (Bengaluru):
Hyderabad, Bengal, Andhra, Rajasthan, Punjab, Himachal Pradesh
Elite D (Vishakhapatnam):
Gujarat, Haryana, Goa, Madhya Pradesh, Vidarbha, Mizoram
Elite E (Nagpur):
Chhattisgarh, Saurashtra, Uttar Pradesh, Baroda, Karnataka, Pondicherry
Plate (Kolkata):
Nagaland, Meghalaya, Jammu & Kashmir, Bihar, Manipur, Sikkim, Arunachal Pradesh