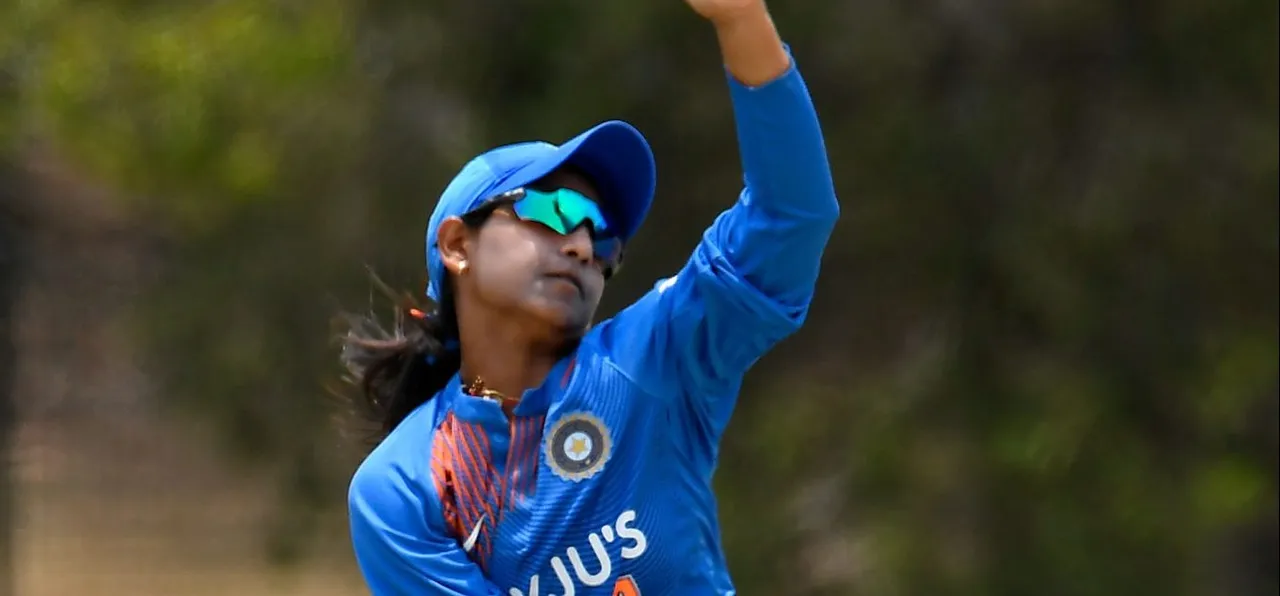 India B's spinners, led by Sushree Dibyadarshini, pulled off a heist, guiding their team to a nerve-wracking four-run win over India C in the second match of the Senior T20 Challenger Trophy at the Barabati Stadium in Cuttack on Sunday (December 5). Dibyadarshini picked up three important wickets through the middle of the innings to derail India C's chase of 95, before the experienced duo of Shikha Pandey and Anuja Patil held their nerve to close out the game.
On a day where there was little to choose between the teams— the bowlers of both sides dominating proceedings— it was the experience within India B's ranks that saw them come through in what were clearly difficult conditions. First, the team's lower order combined to add what Mandhana later called "20 crucial runs" to take the team to a respectable total of 94 for 8, and then, the bowlers combined to choke an inexperienced India C line-up into submission.
In pursuit of 95, Shafali Verma, known for her aggressive approach, played herself in, on what appeared to be a two-paced pitch, with a quiet couple of overs. Pushed on to the back foot, the teenager struggled to find her timing, clearly too early into her shots at the start. A few sighters in and it was back to her characteristic 'bish-bash-bosh', as the right-hander carted Pandey for 14 runs off her second over to get India C off to a bit of a flier.
At 26 in in just over three overs, it looked as though Shafali had her eye in and was ready to take charge of the chase. But India B's spinners refused to fold without a fight, reducing India C to 26 for 2 within the space of an over.
First, Nuzhat Parween (3) fell thanks to a brilliant bit of work at short third by Pandey who took a couple of steps to her left and dived to pluck a looping edge off the bowling of Patil. Then, Shafali found herself chipping a slow, full delivery from Tanuja Kanwer straight back to her for 16.
From then on, India B choked the run-flow, bowling at a tantalising pace, refusing to give the batter's anything in their arc and getting some turn as well. Every time one of the batters tried to advance or force the pace to break the shackles, it was at a huge risk— one that cost skipper Veda Krishnamurthy (8), and Arundhati Reddy (2) their wickets. Dibyadarshini taking both wickets with intelligent changes in trajectory and pace.
At 47 for 4 in 10.3 overs, what India C needed was a bit of calmness in the middle, and it came from an unexpected source: Hemalatha Dayalan. Known widely around the domestic circuit for her hurried manner, Hemalatha knuckled down and took up the role of the senior partner, soaking up the pressure and finding the singles. Despite the fall of Vrushali Bhagat (8) at the other end, the right-hander kept her head to form a solid partnership with Tanusree Sarkar for the sixth wicket.
Her calmness at the crease was visible from the moment she walked in, uncharacteristically looking for singles rather than going in search of an early boundary. Once settled in, Hemalatha looked to lift the pace, taking the aerial route in search of the boundary. Alongside Sarkar, she added a valuable 22 runs, before that all too familiar rush of blood returned.
In a last roll of the dice, Mandhana handed Pandey the ball in the 17th over and, on cue, the pacer delivered. Hemalatha charged down the pitch looking to hoick one over the leg-side, only to be deceived by the change of pace and sky it straight to a calm Mandhana at extra cover…
… 16 from 18 with four wickets in hand… The game was dangling by a thread, and for India C, Sarkar seemed to be holding all the aces.



Simply Sushree!


Superb bit of bowling from Sushree Dibyadarshini to draw Veda out of her crease! Slow through the air, JUST dropped on her and she's beaten all ends up. Easy stumping for Sushma Verma.#SeniorT20Challenger pic.twitter.com/UlghQZlNYc
— Women's CricZone (@WomensCricZone) January 5, 2020
In typical style she shoveled deliveries to the leg-side, ran hard between the wickets and in the company of Yastika Bhatia reduced the equation to nine runs required off the final over— courtesy a three-run penultimate over from Pandey. Sarkar had done this before for Bengal, she knew what had to be done, and it was time to deliver on a bigger stage. The pressure was on…
With nine required off the final over, Patil look the ball for India B. She'd been in this situation dozens of times for Maharashtra, a number of times for India as well. She could probably do this in her sleep!
It was the old-pro versus the young turk… Could Sarkar pull this off for India C?
Two dot balls to begin the over… Something had to give. Sarkar stepped out, lifted the ball over cover and scampered for two. As Dibyadarshini picked up the ball to throw, she chose to take on her arm and sneak in a third. It was badly judged. She was caught well short. With her departure, the hopes of her team dissolved as well, as Patil closed out the over, conceding only four runs, sealing India B's unlikely four-run win.
Earlier in the day, having chosen to field, India C got off to a superb start. Having sprayed the ball around a little in her first over, left-arm seamer, Monica Patel found her radar when she finally pitched one up in her second over, getting Smriti Mandhana to nick off for six. Arundhati Reddy soon joined in on the fun at the other end, helped largely by some fantastic work in the ring from Hemalatha.
Hemalatha, fielding at cover-point dived full length to save a couple of full blooded cut shots off the blade of Rodrigues. It was the kind of work that created a great deal of pressure on the batter who was desperately looking to break free. After playing out four dot balls in the over, the right-hander, walked across her stumps to work one to the on-side only to find the leading edge that skied straight up to Manali Dakshini at mid-on.
If 20 for 2 with both superstars back in the pavilion wasn't bad enough, India B soon found themselves tottering at 26 for 4 at the end of the power play, both Vanitha VR (11) and Sushma Verma (0) caught short of the crease by some brilliant work from Nuzhat Parween.



Sea of green!


Another wicket for Rajeshwari! She combines with Nuzhat Parween for her second wicket of the over. Sushma Verma stumped for 0. India B in all sorts!#SeniorT20Challenger pic.twitter.com/86mi834azF
— Ananya Upendran (@a_upendran11) January 5, 2020
It was manic! There was panic!
However, that was the moment India B found an unlikely hero. Standing tall, at all of 5 feet 6 inches, 16-year-old Richa Ghosh took her place in the middle and attempted to get her team back on track.
In the company of Patil, Ghosh took on the bowlers while her senior partner simply held one end up. She flayed through the off-side and bludgeoned through the on, taking Manali Dakshini for 13 runs off the 10th over of the innings to give her team the push they needed. At the halfway stage India B were better placed on 49 for 4, they were finding the partnership they needed. But just when it looked like the pair would take their team to respectability, India C struck back.
Patil's vigil (11 off 27) was brought to an end by Sarkar, before Ghosh was sent back by the wily Rajeshwari Gayakwad. Buoyed by the confidence she had gained from her time in the middle, the teenager walked across her stumps looking to sweep. Sensing an opportunity, Gayakwad floated one slightly slower and fuller and caught the right-hander plumb in front for a promising 26-ball 25.
The wicket of Pooja Vastrakar a couple of overs later meant India B were tottering at 68 for 7, nowhere near a total they may have liked. Eventually, thanks to a few boundaries off the bats of Pandey, Dibyadarshini and Kanwer, India B managed a total of 94 for 8 in their 20 overs.
For India C, Gayakwad finished with incredible figures of 3 for 7 while Patel, Reddy and Sarkar took a wicket apiece.
Brief Scores: India B 94/8 in 20 overs (Richa Ghosh 25; Rajeshwari Gayakwad 3-7) beat India C 90/8 in 20 overs (Hemalatha Dayalan 20; Sushree Dibyadarshini 3-15) by four runs.