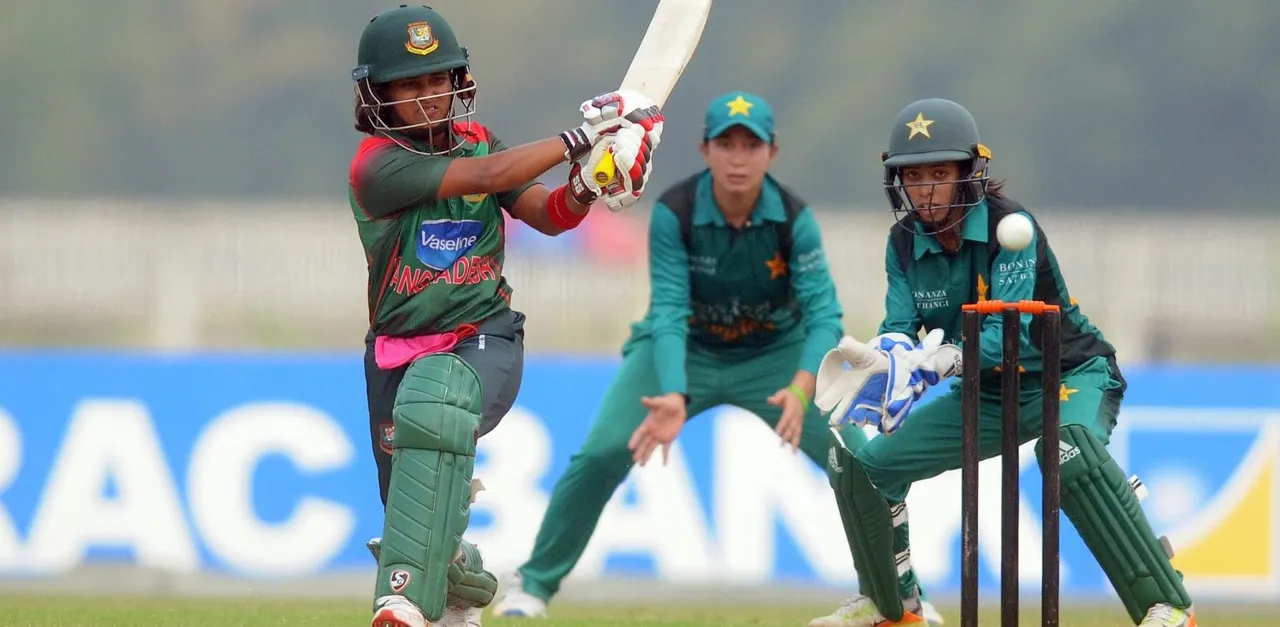 Anam Amin's three-wicket haul to Khadija Tul Kubra's six-for, the recently concluded Pakistan tour of Bangladesh was marked by impressive bowling from both sides. After almost a two-month gap, Bangladesh played their first international series whereas Pakistan's last assignment was the Asia Cup in July. The tour comprised of four T20Is and one ODI at Cox's Bazar.

After the series, Women's CricZone had an exclusive chat with Pakistan's stand-in captain Javeria Khan and Bangladesh ODI captain Rumana Ahmed, along with head coach Anju Jain and assistant coach Devieka Palshikaar.

The first T20I was abandoned due to rain, and Anam Amin became the star in the second one with the impressive spell of 3-3-0-3. "Bagging three wickets with three maiden overs was a tremendous display of bowling by Anam Amin," Javeria said in praise of the left-arm spinner.

Though the T20 series was one-sided, Bangladesh bounced back in the ODI. "It was a bit disappointing losing the T20 series, I am glad the way the girls bounced back in the ODI. Especially the Kubra's spell. Overall, it was a good team effort. Everybody pitched in so well", said Anju. For Palshikaar, T20I loss was an "eye-opener" for the team.

Having lost to Bangladesh in the Asia Cup, Javeria said that they knew why they were lagging behind in the tournament. The management too has played a pivotal role in reforming the team as the dominance in T20I series suggested. She is hopeful that they continue to steadily tread in the upcoming tours as well.

Before the mega event, both the teams got a fair assessment of their strengths and weaknesses. Bowlers from both the teams performed brilliantly but batters somehow were unable to deliver their best. "Definitely we would also love to have more competitive series with Pakistan but girls have been working really hard on their game and it's just a matter of time that they will bounce back in the winning wheels," Anju said.

Kubra's six-for laid the foundation for Bangladesh's six-wicket win over Pakistan in the ODI. Along with her, the 81-run partnership for the third-wicket between Fargana Hoque and captain Rumana Ahmed showed the strength of the middle order as well.

Having fielded at the cover region, Rumana had the best view of Kubra's bowling in the ODI. "It was absolutely a treat to watch her bowling on that day. The batters were unable to play her. According to me, the first wicket which she took was undoubtedly her best delivery on that day."

Anju too was impressed. "It was a tremendous spell by her (Kubra). I think the first wicket she took, was a pure class. The batter didn't have any idea where the ball was going and was about to leave the delivery because it was outside of stump but she got bowled without even realizing where the ball has gone."

Palshikaar, who especially looks after the bowling department of the team, was happy but not "surprised" with Kubra's spell. She was expecting others to contribute like her. "Each and every wicket was excellent. Her line, length, variation and consistency were amazing. Not only Kubra but there are two-three girls more; who are capable of taking three-four wickets each in every match."

In Javeria's words, "We shuffled our team for the ODI to see how that arrangement works. But unfortunately, despite playing with our best girls, we couldn't gain max partnerships and hence the loss.

"Bismah is recovering well from her injury, Nain was not available, and the rest few changes are made keeping in view the performance."

Bangladesh too made some changes in the squad keeping the weather condition and WT20 in mind.

As Rumana told, "Feels great to win the ODI. After losing the T20 series, it was on our mind that we have to do something. It was more like when you don't have the fear to lose anything, you discover something. We were determined to win that match."

Rumana shared that all the girls are confident to do well but it would be better if they could get some more international series before the World Cup. She felt "lucky" to have Kavita Pandya as their strength and conditioning coach, as her technique and training has helped them a lot.

In Anju's words, "If you see the girls now you can immediately see their approach, their body language and the way they are moving on the field. Their hard work is paying off now."

Pakistan too played a good brand of cricket. "Leading the team is no easy feat. It is a great responsibility and pride too where one has to focus not only on oneself but on the well being of the rest of the players too." Javeria proved that captaincy doesn't affect her performance. She top-scored with 121 runs in four innings with 11 fours and a six.

"Undergoing rigorous training to set strong footing in the world cup", Javeria is expecting that her team will do well in the upcoming tournament as the series "will be a valuable exposure." On the other hand, Bangladesh team is trying to "keep on improving individually and as a team."

Bangladesh will have another camp from October 15 "to work in detail" before leaving for the Windies on October 23; whereas Pakistan is all set to face Australia in three ODIs and three T20Is in Malaysia from October 18.