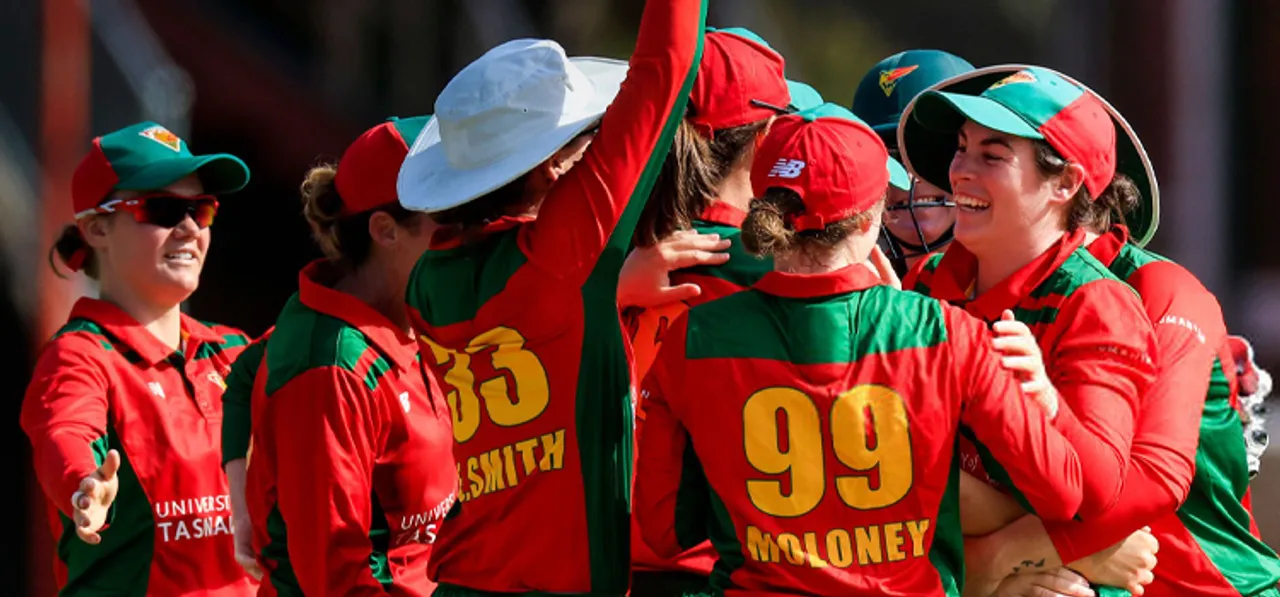 On Sunday (March 27), Tasmanian Tigers will host South Australian Scorpions at the Blundstone Arena in Hobart for the final of the Women's National Cricket League (WNCL). The Tigers will mark their presence in the final for the first time. In a chat with Women's CricZone ahead of the historic final, captain Elyse Villani and coach Saliann Beams reflected on their journey to the final, what makes WNCL one of the most important domestic competitions in the world, and much more.
Excerpts:The WNCL campaign didn't start well for the Tasmanian Tigers, but you bounced back with seven back-to-back wins in the competition. How do you look at the journey in this season?Elyse Villani:
Yeah, it's been huge. I remember making my debut for Tasmania in the first round and, as you mentioned, things didn't quite go to plan. I'm thinking, oh no, Tassie are going to be thinking they've got the worst recruit here. This is not going the way that we planned. And then, I think, the way that we picked ourselves up as a group, I was always really confident that we had the squad to make it to the final. Our depth has been challenged at times, but the way that the girls have been able to pick themselves up and stick to the team processes and the team plans has allowed us to get on a bit of a roll and we're certainly not done yet.
You knew the nationally contracted players like Nicola Carey and Heather Graham will miss most of the season. What was the thinking, once you knew about that?Elyse Villani:
I guess for Nicola's sake, we hoped that she wouldn't be around. So we always sort of had that in the back of our minds. We always had made contact with Sarah Coyte to see if she'd be interested to come down and be with the team, which she did. We were really fortunate that we had someone of her experience and someone that just fits into the squad so well. She was ready to go and she was coming off the back of a good Big Bash with the Strikers as well. That was very helpful for us particularly because we're a spin-heavy attack.
Elyse Villani moved from Victoria to Tasmania ahead of the 2021-22 WNCL Season © Getty Images
Throughout this season many players have contributed to the team's success. Do you think that will help you in the final?Elyse Villani:
We've spoken all season about the fact that as a team we're committed to playing in a certain fashion. Owning the brand of cricket that we can hold our head up high and be proud of. And with that, we understand that everyone is going to perform at different times. The way that we're able to commit to a whole team plan as a group just allows the freedom to go out there and express ourselves individually and understand that if it's not our day as an individual, you know, it'll be somebody else's and that's the most important thing. The sign of a really good team is that not one person is dominating. 
Salliann Beams:
In the past, we've probably been guilty of relying on a few key players. When you do that in a team, you know that you're adding pressure on them that you don't want to. It's been nice for
Emma Manix-Geeves
to come into the order at the top of the order, a young player and play around the likes of Rachel Priest and Elyse Villani and then Corinne Hall coming in there, there's lots of experience for her to grow and learn. Priestey to get a century and then a good 80, I've seen a huge difference in her. She's probably only been known for being a T20 player, but her decision-making, concentration, and focus to build those partnerships has been amazing. 
ALSO READ: Elyse Villani to lead Tasmania Tigers in WNCL 2021-22The WNCL has been very competitive for a couple of years now. Do you think the competitiveness has helped the player's growth?Elyse Villani:
I would say that you know, over the last five years or so, with the new Memorandum of Understanding (MoU) and the support of Cricket Australia and the
Australian Cricketers' Association (ACA)
pumping some money into the women's side of cricket has been phenomenal. It's allowed a lot of people to develop at a quicker rate and to be able to spend more time on their craft as well, which has been important. When you lose the Australian players to international duties, other people are waiting in the wings ready to step in and play a bigger role within their team. The amount of support from training and facilities and contract perspective has allowed the whole sport to develop across the country.
Salliann Beams:
Since I've been here you've seen different players migrate to all different states and that's purely because they want opportunity. I guess, the loyalty piece has gone a little bit and it's about how can I be the best cricketer I can be. I think that's completely healthy for the competition. I don't think a good competition is when the same team wins every single year. So you need healthy competition all the way through. My job is to produce Australian cricketers. And then off the back of that, it's about how do you create a successful team. 
How important is it to represent Tasmania in the first-ever final?Elyse Villani:
Tasmania have competed now for 12 years and this is the first time that we have reached the finals. Then to be able to host that first time at home, just allows supporters and everyone that's been on that long journey with the team to be a part of it is pretty incredible. Hopefully, it also allows the team to inspire the next generation and to have young boys and girls down at the Blundstone Arena and supporting our team and hopefully sitting there thinking that one day I'd like to represent the Tasmanian Tigers.  It's been a long time coming. It's incredibly special to the organization and the coaches to be rewarded for their hard work. 
There have been talks about the expansion of WNCL. How vital will the full home and away season of WNCL be for the domestic players? Elyse Villani:
Absolutely. I think it is the next step and hopefully, it can come in the next year, I know the girls and the ACA have been fighting for it over the last couple of years, but I think the competition needs to go to a full home and away season. That would make it 12 games, which I think would be an incredible first step to be able to play everyone twice in the 50 over competition. And then hopefully in the future, there can be some longer format stuff introduced too, but first and foremost, I'd love to see each team play each other twice and have a full home and away season, and then who knows sky's the limit. 
Salliann Beams:
We keep hearing rumors every year that we're going to get increased games and ideally the best situation would be to play each team twice home and away. I know there are financial implications to that but you know I think it's the evolution of women's cricket and again treating women's cricket seriously. Even though I'm English, my job here is to make Australia the strongest nation in the world. The more cricket we can play, that's where you learn your skills, the stronger Australia will become.
ALSO READ: Villani, Darlington bag honours at Cricket Australia State AwardsHow did you manage to recruit Elyse Villani and Molly Strano from Victoria?Salliann Beams:
It was always too big a target from the end of last season that we knew we needed to work hard for and we did. The key thing for us was the leadership piece, and having two senior players who know what it feels like to play at the highest level and can manage pressure. The impact they've had on this environment has been profound. You can see the difference in the players and the belief that they've got. We are not just relying on Elyse and Molly from a performance point of view, Everyone's contributed this year, which has been absolutely fantastic.
Tasmania won seven matches in a row in the WNCL © Getty Images
Corinne Hall and Sasha Moloney have been part of the Tasmanian team for a very long time. How important are these two players for the whole unit?Salliann Beams:
They've been here for longer than I have. 
Corinne
has been here since 2010. So she's seen it all. I think those two helped instigate the change in what we were trying to do at Cricket Tasmania and take women's cricket more seriously and pushed to be title contenders. Over the last four years, they probably didn't realize how hard it would be pushed but they're the ones that have embraced every challenge and as a result, they've massively benefited from it.
Do you think WNCL is probably one of the most important domestic competitions in the world?Salliann Beams:
I think it's the collaboration of the WNCL and WBBL. You learn a lot of your skills from white-ball cricket that are very transferable and both are very high-pressure environments. You only get real growth when you're outside your comfort zone. if you've got two competitions in both formats, you're always going to be able to produce a really big talent pool. It's not just the depth in the first XI. If someone gets an injury for Australia, there's someone ready to go who can fulfill that role. 
I think Alana King is probably the best example of that. She looks like she's been playing international cricket forever, but she's played, you know, professional cricket in the WNCL and WBBL over four years and she's learned her craft. And I think that's what the professionalization in Australia has done to make the team so successful. 
What would it mean to win the first WNCL title?Salliann Beams:
It feels like it's been a long four years in one sense and I've realized that you can't make it any quicker. Cricket Tasmania is starting inspiring young girls to play cricket. If you want to be successful, you got to see success. If we can go out on Sunday, play the way we want to, the rest will take care of itself. Hopefully, in 3-5 years, we will then see what we have created and what we did in Tasmanian Cricket.