This story was originally published in the first issue of the Women's CricZone magazine
Indian women's cricket has had its share of superstars.
At her peak, Neetu David was one of the most feared bowlers on the international circuit, taking 182 wickets in 107 matches with her left-arm spin. In 2004 and 2005, she finished the highest wicket-taker in ODIs with 33 wickets on both occasions.
The following year, 2006, Jhulan Goswami was proving to the world why she is India's greatest ever fast bowler - she topped the wicket charts in both Tests and ODIs with 19 and 23 wickets respectively. Her Test tally included a historic 10-wicket haul that led India to their maiden Test series win in England - a performance that saw her become the first Indian to win the ICC Women's Cricketer of the Year award in 2007.
The inimitable Mithali Raj, arguably India's greatest ever batter, continues to break batting records. Through the early 2000s and well into the second decade of the 21st century, Raj has effortlessly shouldered the weight of India's batting. Her consistency - she boasts of an ODI average of 51.29 - is unmatched, and on only three occasions over 20 years has her ODI average dropped below 40 in a calendar year.
While David, Goswami and Raj's numbers are certainly beyond compare, they never quite dominated the international circuit, or commanded a presence like Smriti Mandhana has done over the last 15 months.
Between 1 January 2018 and 31 March 2019, Mandhana played 49 international matches, and scored 1,892 runs at an average of 44 and an impressive strike rate of 106.89, two centuries and 18 half-centuries. To put her performances into perspective, Suzie Bates, New Zealand's opening batter, was the second highest run getter across formats with 1,348 runs.
Mandhana's domination has been absolute. She amassed 1,018 runs in ODIs, 874 runs in T20Is, 421 runs for Western Storm in the Women's Cricket Super League (WCSL) in England, and 318 runs for Hobart Hurricanes in the Women's Big Bash League (WBBL) in Australia.
"Personally, the last year or so has been good for me," Mandhana told Women's CricZone, reflecting on the year gone by. "Some things which I felt were lacking in me as a batter two years back, I tried to improve on. I trained really hard on those aspects, and to come out and do that in the matches was a good feeling."
To add to her prolific run on the field, the 22-year-old has also won a number of awards and accolades. In September 2018, Mandhana received the Arjuna Award for achievement in sport; in December, she was crowned ICC Women's ODI Cricketer of the Year, and was awarded the Rachael Heyhoe Flint Medal as the ICC Women's Cricketer of the Year. Following her impressive performances against the Kiwis in which India secured a historic ODI series win over New Zealand in New Zealand, the left-hander became the No.1 ranked batter in ODIs. In April 2019, Wisden named Mandhana Leading Woman Cricketer of the Year.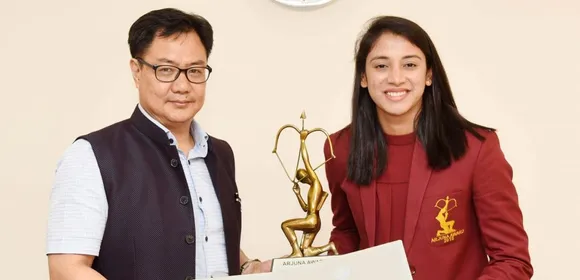 Smriti Mandhana receiving the Arjuna Award from Kiren Rijuju. © PIB_India/Twitter
"Getting these awards was a small tick to (my) bucket-list. When Jhulu di had got her (ICC) award, I was still a kid (11-years-old). Back then, I really felt so proud that someone from India is getting such a huge award. So, to be the second person to do that was really something."
"The ICC award really meant a lot to me and it motivated me to work even harder and be a better player. The important thing now is to maintain that level of performance. It's been a good 15 months, but I still think winning matches for India is much more important than personal performance. I am really aiming for winning matches and taking India through."
Based on numbers alone Mandhana's game has come leaps and bounds since the 2017 Women's World Cup. She has more than doubled both her ODI and T20I run tallies, drastically improved her strike rate in both formats, increased her boundary count, and found a consistency that was previously lacking.
'Trying to enjoy my cricket'
Even before she had played her first full season of senior cricket for Maharashtra, Mandhana's name was doing the rounds - "Watch out for this girl", they whispered. "She is special." In only her second match for the senior state team, the 15-year-old left-handed batter, blasted a 124-ball 155 against Saurashtra.
Soon afterwards, in 2013, she broke into the Indian team having run riot in the domestic age-group tournaments, but it took "one or two years" to get used to the demands of international cricket. One of the problems she had in the early stages of her career was her inability to rotate the strike - hard hands being thrown at the ball in an effort to find the boundary, meant singles were hard to come by. She realised that the "fielders are so much quicker. What would probably be a boundary, or at least a two in domestic cricket, is sometimes only a single! You really need to be spot on with your placement, otherwise it is easy to get blocked at one end."  This, coupled with her desire to dispatch every ball to the fence, meant that her first few years in international cricket were littered with starts that showed glimpses of her potential, but not much else. She looked a million dollars every time she walked in to bat, but the youngster's tendency to get carried away often got the better of her.
ALSO READ: A case for the revival of Test cricket
Experience taught her that "it was not easy to come in and straight away score." She began to look at others as potential role models: "I actually kept looking at Meg Lanning - how consistently she scores at that strike rate. It's just about watching people and constantly learning. That is the best thing I feel… As a player, the best way you can improve is to watch and learn."
And learn she did; Mandhana's meteoric rise, however cannot be attributed entirely to her buckling down and focusing extra hard. She was always sincere about her game - putting in the extra batting hours at the nets and making sure to train in the gym. She had proven that she was capable of developing into the team's batting centrepiece - half-centuries in England, a century in Australia and match-winning performances at home against New Zealand and Sri Lanka. But inconsistency plagued her.
Her transformation into Ms. Consistent began when she suffered an anterior cruciate ligament injury during her first WBBL stint with Brisbane Heat, barely five months before the 2017 Women's World Cup. Mandhana used her time off to reflect on her game.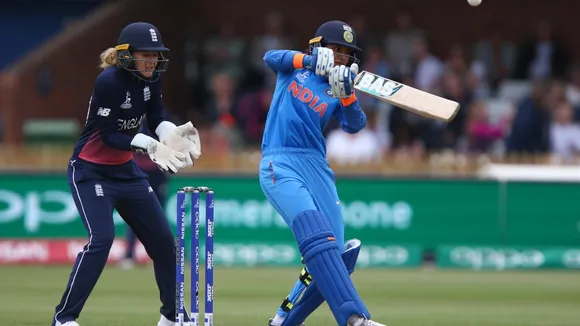 Smriti Mandhana plays a powerful pull against England in the 2017 World Cup. © ICC
"I used to feel like not scoring runs is the worst thing in life but (after the injury) I started thinking: 'No, at least I'm getting to go out on the field wearing the Indian jersey.' Not many get to do that. I am lucky. Now, if I get runs or don't get runs, I'm just going out there trying to enjoy my cricket." she told The Guardian during her WCSL stint last July.
She went to the 2017 World Cup with this changed attitude; and the moment she struck Katherine Brunt for her first boundary, Mandhana became the new face of Indian women's cricket. Her fresh outlook saw her start with scores of 90 and 106 not out, but form deserted her as the tournament progressed. Opposition bowlers attacked the stumps, refusing to give her anything short or wide, and the left-hander often tried to hit her way out of it.
Learning to bat ugly
Graceful, elegant, regal, and classical: words that are often used to describe Mandhana's batting. She was always a stroke-maker - strong shots off the back-foot, a crisp push through the off-side on the front foot, and an effective shovel pull. If the conditions suited her, she made the most of them, but sometimes lacked the patience to eke out runs on tougher surfaces or against more disciplined attacks. Her batting was a lot of wonderful things, but she needed to learn to get 'ugly runs'.
"You know, earlier, I had this thing in me that if I am batting well, I have to middle every ball," Mandhana says. "That thought process has definitely changed over the last couple of years. Now, even if I am not looking good, or not timing the ball well, I know I have to stick around. I can't just throw my wicket away. If the team wants me to stay on the wicket, then that is what I think. So I guess that's one major thing that has changed for me… and the responsibility also helps - to be a bit mature and not just throw your wicket away."
Mandhana's journey to improvement continued once the Indian team returned from England. While the country was celebrating the achievements of it's women cricketers in the World Cup, and her teammates were enjoying their well earned rest after six testing months of continuous cricket, the left-hander went straight back to work at the National Cricket Academy in Bangalore.
Her routine was rigorous - training in the morning, batting in the afternoon sometimes, and then going through her rehabilitation program in the evening. It was painful and a lot of hard work, but she knew it was necessary to make sure her body would hold up under the stressful demands of the season ahead.
In addition to all the technical tweaks she made after the World Cup - the slightly open stance, a small grip adjustment, and a more conscious effort to push on to the front foot first - it was Mandhana's change in her attitude towards the game that led her to this consistency.
"I think the batting approach was still the same. The only thing which I had to focus on was trying to bat for longer periods - whether I was 'looking good' or not," she explains. "It was about picking the right shot, understanding when to play the attacking shots and when to curb your instincts. I have begun to understand my responsibility within the team… I want to win more matches for India."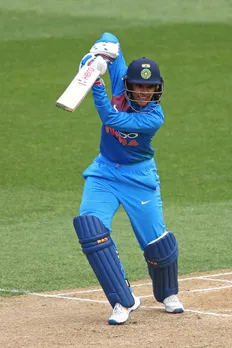 Smriti Mandhana's transformation is as much down to her work ethic as it is to a slight shift in mindset. © Getty Images
While the left-hander's stocks have risen meteorically since 2017, the rest of India's batting unit has failed to register a similar consistency. Aside from Mithali Raj (530 runs) and Deepti Sharma (419 runs), no other Indian batter has managed to cross the 250-run mark in ODIs since January 2018. Although their T20I records have been a tad better - Harmanpreet Kaur (687 runs), Raj (656 runs) and Rodrigues (608 runs)- India have largely struggled to string together consistent wins in that format. The weight of the batting line-up therefore has rested largely on Mandhana's young shoulders - a responsibility that she has thoroughly enjoyed.
"As a 10 or 11-year-old I used to always think that I should be winning matches for India or my state team. I wanted the other team (opposition) players to really celebrate my wicket - like, dance or something! I used to think that I should have the responsibility of the entire batting order… All these things, I wanted them. Now that I have them I don't want to take pressure or anything like that."
"It's a good feeling that the team is a bit dependent - maybe 10-20% - on me. I think it actually helps me when I bat. Like, in ODIs when I am in the zone, and then I play four dot balls, then I am all like 'abhi toh maarungi mein!' (I'm going to smash the next one), it (that extra responsibility) makes me think that I have to play till 50 overs and take the team through. It's good for my game."
If there is one innings that showcases Mandhana's development through this period it is her 109-ball 86 that guided India to a one-wicket win over England in Nagpur in April last year. "I would never speak about any of my innings, but I brag about that knock (the 86 v England)," Mandhana told The Cricket Monthly. "If I have to feel proud of one knock, it'd be that one, because I had to bat out of my skin in that game. I had a bit of pressure on myself because wickets were falling at the other end, and the pitch wasn't easy to bat on at all. The ball was turning square, one ball was bouncing, the next ball was keeping low. So to be able to go on the front foot and just do a dead defence was something I felt prouder of than hitting a straight drive. That's not my game. So I had to take the responsibility of changing my game and play that kind of a knock, and India won the match. So that counts."
You can read the full article here.