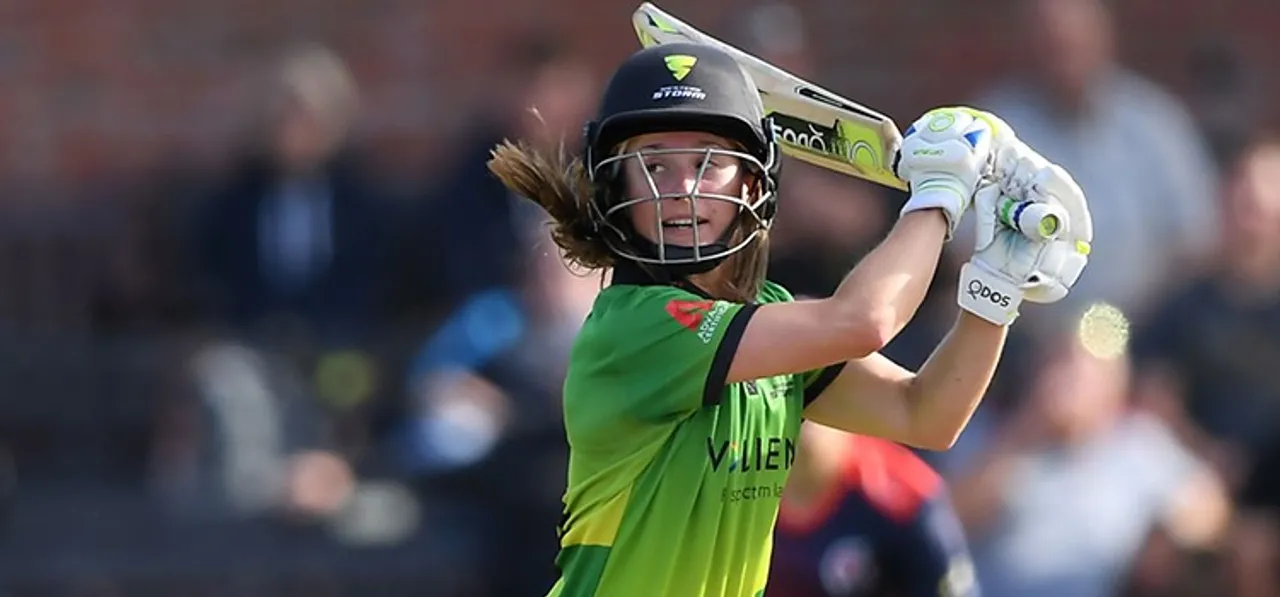 Sophie Luff has said that she isn't thinking about not being part of the 24-member England squad, that's preparing for the T20I series against West Indies and that she's focussed on scoring runs and helping Western Storm succeed in the Rachael Heyhoe Flint Trophy. England's head coach, Lisa Keightley, had said that the door wasn't closed on her, especially if she continues to score runs.

"It (non-selection) is not something I'm thinking about. At the moment I'm just performing for Western Storm and that's what I want to do. If you keep scoring runs, they can't ignore you for long," Luff told Women's CricZone over a video call from Bristol on Tuesday (September 8), with a frame of her jersey on the wall behind her.

"It's just about me contributing as much as I can for Storm, making sure that I'm putting us in winning positions and finishing games off as well. As long as I'm continuing doing that and Storm are winning, that's my main goal at the moment."

The Western Storm captain has done just that - scoring runs - having amassed 153 runs in three matches of the RHF Trophy so far, averaging 51 while batting at no.3.

"I'm coming into this tournament with a fair bit of form even though we haven't played that much cricket, I felt really comfortable with the bat," said Luff, who scored 85 against Sunrisers on Saturday (Sep 5).

"Yes, I'm the leader and I do want to lead from the front, especially with the youth of our side. They're going to looking to me to pave the way I guess and get those big scores. I try not to put too much pressure on myself, but I do pride myself on going big."

"It's just about trying to be greedy personally and show what I can do. Luckily, the last couple of innings have been good for me."

ALSO READ: Equality, inclusion, diversity – newly elected Cricket Scotland President Sue Strachan to focus on 'cricket for all'

Even though Heather Knight was there for the first couple of rounds, the English captain didn't bat at her favoured no.3 spot and opened the innings.

"We had got to consider that they (England players) were only going to be around for a couple of games," Luff explained. "Heather (Knight) coming in to open was just the best fit for us. We felt like her facing as many balls as possible was the best option for Storm and that's the strategy we went with."

Luff said that the lockdown helped her get her head around the technicalities of her batting. With no tournaments on for the last six months, the right-hand batter said she focussed on her hand movements and worked on her batting.

"Lockdown did give me a little bit of time to focus on certain things. There wasn't the pressure of playing games. That actually enabled me to look technically at how I go about things and I made a few changes in terms of what my hands were looking to do and that was something I worked on for a number of weeks."

"I was lucky enough to pick up a regional retainer contract, which meant from July, I was able to get into Bristol and train two to three times a week, which has obviously made a massive difference and gave me a lot of confidence going into this tournament."

Apart from Knight, Anya Shrubsole and Katie George were the others from the England squad, who were added to the Storm squad ahead of the opening match. Luff admitted that it was pleasing to have them, though it happened at a very short notice.

ALSO READ: England players brush off lockdown rustiness with notable performances before Windies series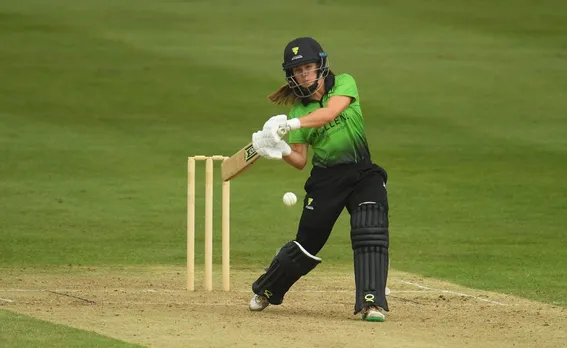 Sophie Luff, Western Storm captain, in action during the Rachael Heyhoe Flint Trophy. © Getty Images
"I think it's always a bonus having the England girls available. I guess it came about at a short notice really. Any time you get Heather Knight, Anya Shrubsole and Katie George offered to you in your squad is a massive bonus."
"As captain it's always great to have them in your side. Obviously, Heather has captained Western Storm in its last chapter in the KSL. So big shoes to fill but obviously great to have her with me for the first couple of games."
In their first match without the trio, Storm defeated Sunrisers by 86 runs. While the skipper led the batting exploits, Fi Morris picked up a five-wicket haul, the second in the competition after
Katherine Brunt's fifer on the opening day
, to restrict Sunrisers. Luff recalled her familiarity with the off-spinner.
"I've known Fi for a number of years. I was part of a touring party to South Africa with her – it might be U-21 England type tour which Fi was involved in," she said.
"We go back a long way and it's actually great to have her back with the west country. She grew up playing her cricket for Gloucester; I'm from Somerset. We always had that rivalry at young age."
ALSO READ: 
Winning is more important than a century, says Sparks' captain Evelyn Jones
https://open.spotify.com/episode/6Pdbvtu2ldOE4s1Yx9KJLb
"She's shown her class coming into the side, especially with the ball. I'm sure she's due a big score in the next couple of games as well, I certainly hope so!"
She also said that they wanted to play ruthlessly, like they did in their last outing, especially with the bat.
"If I can bat for as long as possible, we've got a lot of really exciting talent in that middle order. Yes, they're young but their skill levels are right up there. It's just about them learning that game awareness as we go through with the competition. Some of them haven't played at this level before. It's a little bit of a step up for them."
"If there's an experienced head at the crease, whether that's myself or Fi Morris, I think those youngsters can really flourish. Alex Griffiths played a really exciting innings on Saturday and hopefully that's a sign of things to come for her," she said about the 27-year-old, who played a quickfire knock of 43 off just 34 balls.