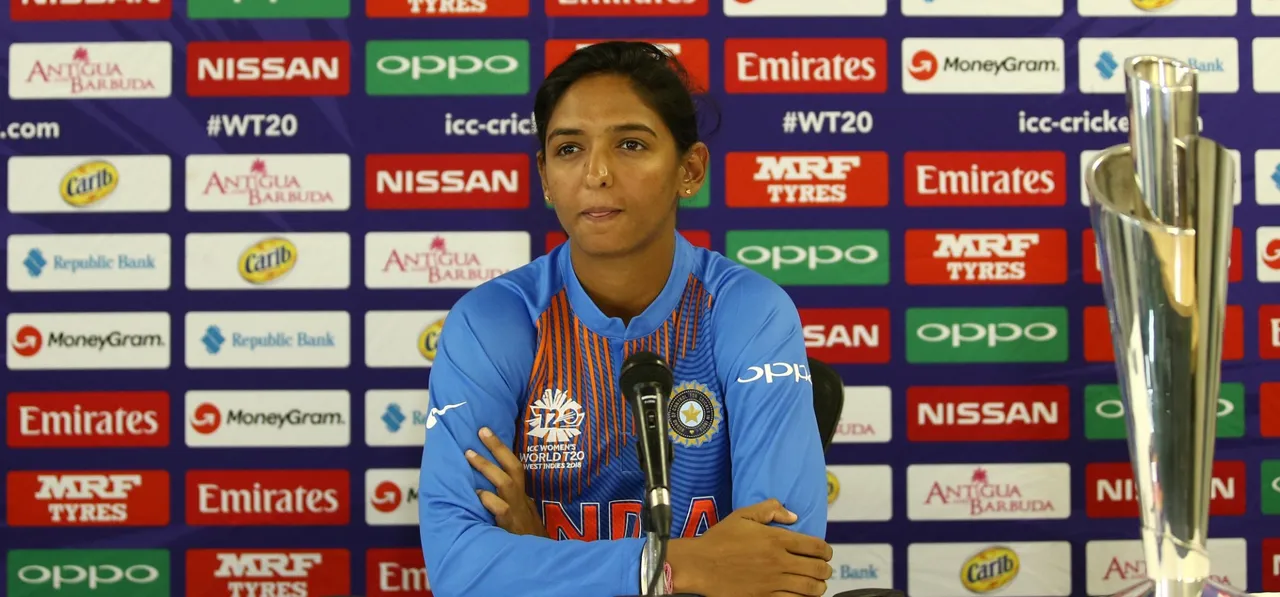 Harmanpreet Kaur, India's T20 captain, says she has been learning new things during the forced break and it has taught her to be more patient as a person.

Since India last played an international match - the historic final of the T20 World Cup in Australia - cricketing activities across the world have come to a halt owing to COVID-19 related travel restrictions.

"I have contributed my time and energy in all those things that I have always craved to do. I kept a routine while falling in love with indoor workouts that I used to find extremely challenging," Kaur told Hindustan Times. "In this period, I have learnt that maintaining good health - mental and physical - leads to a fulfilling life. Staying positive by making efforts to not allow any negative energy or thought. But, most of all, I have gained a lot of patience."

ALSO READ: WBBL experience taught us to value our time: Harmanpreet Kaur

Kaur, who has represented India in 215 matches across formats, says although the early days of lockdown were tough, she got used to the grind with new routines, and is now ready to get back on the field with an eye on the 2021 World Cup. "With a new routine, I realised that it wasn't all that bad. I'm desperately waiting to get back on the field and play matches, once things are normal," she said.

Kaur, who has been vocal about the need for sports psychologists, talked about the importance of mental health when asked about the untimely demise of actor Sushant Singh Rajput. "The news of the passing away of such a talented and admirable actor was heart breaking. It left everyone speechless. We have no control on life and death but God has given us the ability to control our body and mind. Physical and mental health is important and I think, the journey towards success is not very easy - some succeed in one go and some have to wait," Kaur said.

https://open.spotify.com/episode/3wIV5plfHhXuX9kotfATXW

"When we give second chances to people and things in life, then why not ourselves? If we learn to forgive and love ourselves, life will seem easier. Humans tend to rush sometimes, but it's okay to wait and be kind to yourself. It's important to handle success and failure with an open heart."

The 31-year-old also talked about the tough periods in life when she felt things were not going her way. "There have been times when I have felt a million emotions - both good and bad. Emotions are irrelevant after a while, and if we allow them to overpower us, then they have the tendency to drown us. Emotions are good if put in the right place. I learnt quite early in life that letting go is the best way to be happy. Not every day will work out the way we want, so we have to just keep moving forward," she added.

Meanwhile, Harmanpreet has also stressed the fact that in today's generation a girl picking up a cricket bat is not difficult unlike old times, if she has the passion for the game inside her. "Today, it's not very difficult for women to take up cricket professionally. If you are passionate about the sport and work sincerely, you will be recognised," she was quoted as saying to Bombay Times.

"Talking about my journey, it wasn't easy. My training was at a school, which was 25 kms away from my house (in Moga, Punjab). If I missed the last bus back home at 6 pm, it was a struggle to find alternative transport. Later, I moved to Jalandhar for advanced training and that was the first time I stayed away from my parents. I got homesick in the beginning, but following a routine helped."

"My dad never differentiated between a boy and a girl. He motivated me to pursue cricket as a career, even when he was questioned by others about it. Money was never a driving force for me, playing for my country was. With time, I have seen growth in women's cricket and a lot of involvement from the Board of Control for Cricket in India (BCCI), spectators, fans and media," Harmanpreet said about his father's support.