Sana Mir, former Pakistan allrounder, feels ICC Women's Championship has been a game-changer for women's cricket and has helped Pakistan improve as a cricketing nation.
"I think the change has come. We have seen it with our own eyes. For me the game-changer in women's cricket has been the ICC Women's Championship hands down," Mir said in a video interview with Zainab Abbas, the cricket presenter.
"What it did was it gave opportunity for the lower ranked teams to play regular cricket with top ranked teams outside the ICC global tournaments. Because we played the top teams otherwise only in the World Cup and (there was) the added pressure of World Cup, you don't know the opposition bowlers or batters. Back in the day there was no telecast of these games on TV, so we didn't know which bowler bowled in swingers or out swingers etc. and it lowered the quality of cricket we used to see or play."
"But with all the technology coming in and with the support staff increasing and with these matches being broadcast, (we were better placed) when we started facing quick bowlers from the likes of Australia and New Zealand in the bi-laterals. So, when the World Cup came, it wasn't like a shocker to face these bowlers."
Mir, who played over 100 matches in both ODIs and T20Is, believes ICC has done well to promote women's cricket and as a result the game has improved drastically.
"The way ICC has pushed women's cricket, putting their weight behind it, I think it has changed drastically. I think it can be a product on its own like women's tennis in the coming years producing stars like in the case of Serena Williams. Australian and England girls are already having a standing in the global stage, in the next five-ten years we could see it becoming bigger and bigger," Mir said.
ALSO READ: Bangladesh likely to appoint a sports psychologist
The 34-year-old says she always dreamt of playing for Pakistan and talked about the growth of women's cricket in Pakistan and how the perception changed over the years.
"I have always been a big dreamer. So, I would say I had dreamt about representing my country, making my country proud whenever I wear the green jersey. It has been a childhood dream."
"But to see it (the change) happen, in a matter of 15 years, is a small time for any team to develop as a cricketing nation. We have been playing women's cricket since 1996, but the years between 2005 and 2020, I have to say have been the most eventful," she added.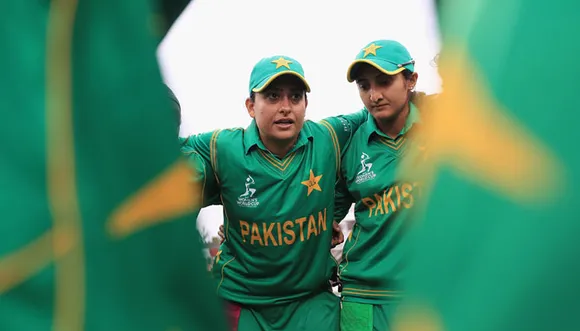 Sana Mir gives a pep talk to her side before walking out. © Getty Images
"We started off with no contracts, no payments whatsoever and then becoming semi-professionals, I would still say we are semi-professional, getting paid to play cricket and this whole transition. Then from people initially not accepting women playing the sport to then actually parents coming us to say they want their daughters to play cricket for Pakistan. This whole development on various levels isn't something I thought of."
Mir, who captained Pakistan in 137 matches across formats, was disappointed by Pakistan's performance at the 2020 T20 World Cup.
"I think we missed a very good chance to qualify for the semi-finals. It really breaks my heart. We had beaten West Indies and levelled a series against South Africa. In T20Is, we won a match from 3 for 3. The depth in the batting, the fighting spirit and all, it was working really well. So, I think with the kind of win against West Indies (in the T20 World Cup), somewhere down the line we missed an opportunity to play the semi-final at least."
"The South Africa game was a shocker for me strategy-wise. Iram Javed, who won two matches for us in South Africa was sent at number 7 or 8. Even then she hit a couple of sixes, but it was too late for her to come in at that situation and we were in an uncomfortable position (then). And then conceding 150 against Thailand, that was worrying as well. Of course, you have to be very happy for Thailand, a young team playing in their first tournament scoring 150 for 3 against one of the best bowling attacks, but it wasn't a good performance from the Pakistan side," Mir concluded.
https://open.spotify.com/episode/3wIV5plfHhXuX9kotfATXW