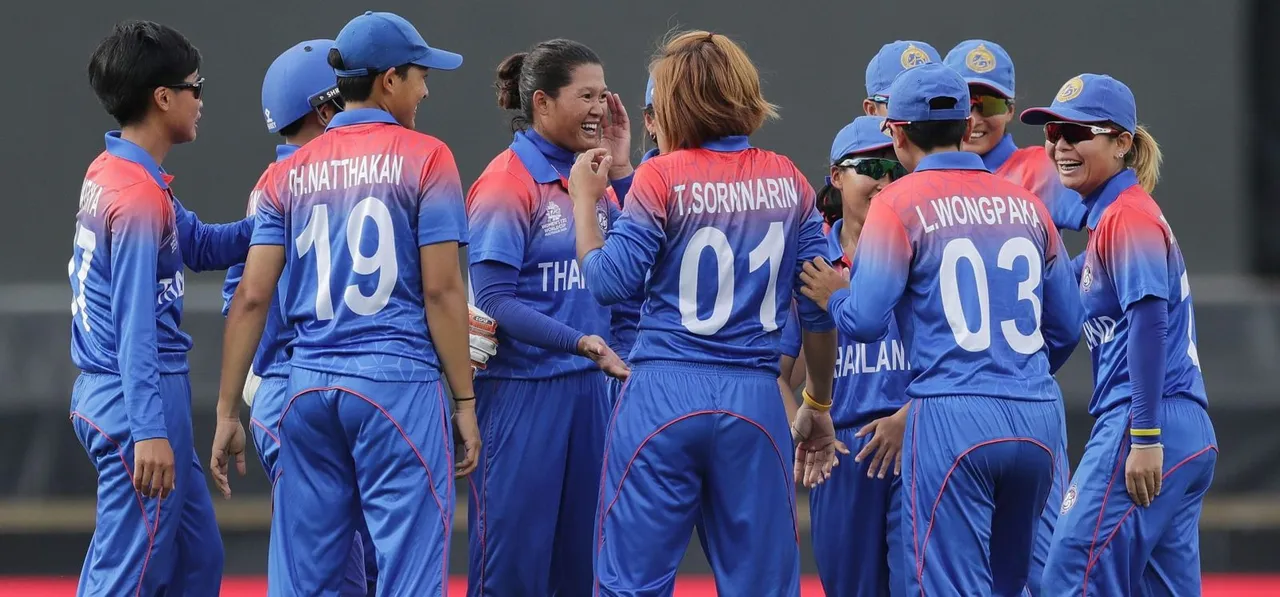 The International Cricket Council (ICC) announced the winners of ICC Development Awards 2019 on Monday (July 27). Development Awards are given among ICC's 92 Associate Members for outstanding projects and performances over the course of the year.
Thailand's who finished runners-up in the ICC Women's T20 World Cup Qualifier 2019 in Scotland, thus qualifying for their maiden T20 World Cup, were named Associate Member Women's Performance of the Year. It was their thrilling win over Ireland during that qualifying tournament that caught everyone's attention. Thailand became the first South-East Asian nation to play in a T20 World Cup after
beating Papua New Guinea in the semi-final
 of the qualifier to book their place in the 2020 T20 World Cup in Australia. Their famous last ball win against Ireland during the 2019 T20 World Cup qualifier in Scotland was the turning point of their campaign and Thailand
impressed everyone
with their performances and demeanour at the T20 World Cup.
"We are extremely proud and humbled to be receiving this award," Thailand skipper Sornnarin Tippoch said. "We would like to thank all involved in giving us this recognition.  We will continue to work harder and challenge ourselves to put Thailand on the global stage."



🎖️ ICC Associate Member Women's Performance of the Year
👏 @ThailandCricket


Thailand became the first South-East Asian nation to qualify for a @T20WorldCup, their quest given a boost by victory over Ireland in the 2019 Women's Qualifier.

👉 https://t.co/T5HdrNItsq pic.twitter.com/9kXPyR8oju

— ICC (@ICC) July 27, 2020
ALSO READ: Looking back at Thailand's memorable T20 World Cup campaign
Papua New Guinea won the Participation Programme of the Year of the year award for their entry-level programs. Cricket Papua New Guinea (PNG) runs entry-level programs in a safe, gender equal, educational and fun environment. The program provides financially and logistically challenged boys and girls access to the sport. PNG's senior men and women players are actively involved in running and grooming the future generation via its entry-level programs.
"We use cricket as a vehicle to drive social change and education in our communities, the value is evident when you see the numbers and results of these programmes. They both promote the spirit of cricket in a positive and inclusive way and have been the introduction to our sport for many of our national team stars," said a Cricket PNG spokesperson.



🚨 Presenting the ICC Development Awards 🚨


🎖️ @graynics Participation Programme of the Year
👏 @Cricket_PNG

PNG's entry-level programmes focus on developing a life-long connection with the sport.

👉 https://t.co/ewgQxTpErq pic.twitter.com/BF79aOCu5u

— ICC (@ICC) July 27, 2020
Japan Cricket Association were awarded the Cricket 4 Good Initiative of the Year for their Typhoon Hagibis Recovery Project. Sano, the home of cricket in Japan, was severely affected by the Hagibis typhoon in October 2019. The players and their families from around the country came together, including the members of the men and women national sides, to take part in the relief efforts. More than 300 volunteers from the cricket community across Japan participated in helping the city get back on its feet.
100% Cricket Participation Program of the Year award went to The Rwanda Cricket Association (RCA) for their Cricket Builds Hope project.  The project began as a women empowerment program in 2018 with a vision to make cricket a game that is gender-balanced. Since then it has helped 300 women aged between 15 and 25 with business and leadership skills along with their cricket sessions.
Eddie Balaba, President of RCA expressed his excitement saying, "It is a wonderful program that helps young women that live around the Gahanga Cricket Stadium to attain skills both in leadership and business management. It's been running for the last two years, and we look forward to these women moving on to more empowered and rewarding lives."



🎖️ 100% Cricket Participation Programme of the Year
👏 @RwaCricketAssoc


The Rwanda Cricket Association, in partnership with Cricket Builds Hope, has developed a unique women's empowerment programme that uses cricket as a tool for social change.

👉 https://t.co/unjbATgoHY pic.twitter.com/bxVrMyRPJJ

— ICC (@ICC) July 27, 2020
Cricket Finland's digital engagement and live-streaming initiatives won the Digital Engagement of the Year award. The board started digital streaming of their matches in the year 2017 and since then made great progress in taking the game of cricket in Finland around the world with the help of its national broadcaster. The association is hoping to extend their broadcasts to include the matches of women's development teams in the near future.
The award winners were selected by an independent panel of judges consisting of HD Ackerman (Broadcaster), Peter Della Penna (Journalist), Krishnendu Chakraborty (Facebook representative), Natalie Germanos (Broadcaster), Isobel Joyce (Former Ireland captain), Meg Lanning (Player), Nick Pryde (Cricket Administrator, ECB),  Mithali Raj (Player), Phil Simmons (West Indies Head Coach), Lisa Sthalekar (Broadcaster) and Zunilka Whitnall (UNICEF representative).