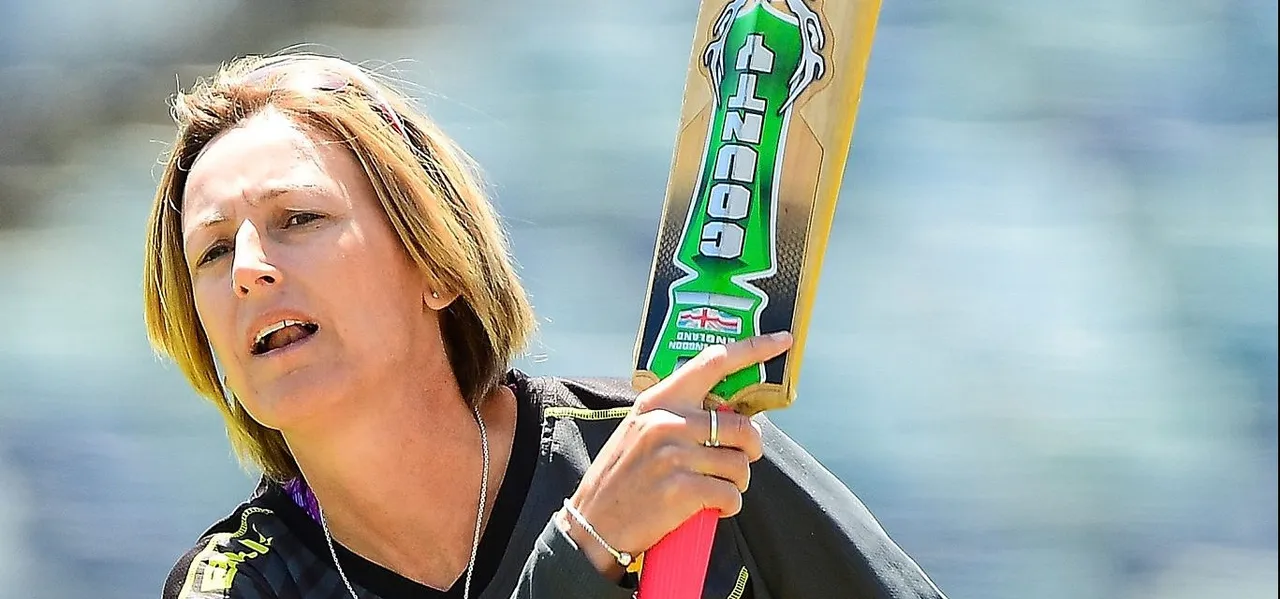 One win in seven matches. 
Four points out of a potential 16.
Australia were miles ahead… England had fallen well behind…
After their second consecutive Ashes series loss at home— and the third time they had lost the 'wooden ball' in three series— England were down in the dumps. None of their plans were working, and they just couldn't find a way to consistently challenge the No.1 ranked team in the world. They were clutching at straws, desperately searching for positives. It seemed that whatever ground England had gained under Mark Robinson between 2016 and 2018, they had suddenly lost.
What resulted after that drubbing was a max exodus of personnel. Robinson was the first to step aside, followed by the senior trio of Sarah Taylor, Jenny Gunn and Laura Marsh. Only a few months shy of the ICC Women's T20 World Cup 2020, the wheels appeared to be falling off.
It was amidst this chaos that Lisa Keightley, the former Australia batter, was handed the reins of the England team. With 15 years of coaching experience under her belt, in which she was at the helm of New South Wales, Western Australia, Australia, England Academy, and most recently Perth Scorchers, Keightley was identified by the England and Wales Cricket Board as the perfect candidate to lead their struggling team.
Seemingly rushed into the role ahead of a global tournament, Keightley's immediate task is to quickly get a handle on the transition the team is going through. Speaking to Women's CricZone the England coach admitted that while the timing of the appointment is not ideal, she is used to "working at speed."
"Look, in coaching, I guess timing is never ideal and obviously so close to a World Cup (it) is probably not the best thing," Keightley said."But in most of my coaching roles I haven't had perfect timing. So, to get up to speed, and get the team in a good place it's now or never."
"Working at speed is something that I am used to. Obviously, internationally, it's another step up, but I think I'm pretty fortunate, I know the women's game really well and I know a lot of teams really well. I know the England players pretty well. So, I think that makes it easier, but I'm sure there will be challenges along the way."
"Mark has done a fantastic job with the team, and obviously winning the (50-over) World Cup here (in England) was brilliant. If we can do that, and I can play a part in that success—  in this Australian World Cup— that will be awesome."
Having had to miss England's pre-Christmas series in Malaysia, where Heather Knight's side blew past Pakistan in both the ODI and T20I formats, Keightley has less time to prepare the team ahead for the World Cup. Despite the short time frame, the two-time World Cup winner said she is confident that England will put in a good show.
"Look, I wouldn't have taken on the role if I didn't think we could be competitive against the top teams. England have match-winners and some world-class players, so I'm fully confident that we've got the players to compete. I think the girls (are also) confident going into that competition. We'll be doing our best to play good (cricket) throughout the World Cup and to be at the back end of the competition."
"I am really excited with the group that we have got, they've played in a lot of semis and finals in World Cups. I think the core group of players can play on the big stage and they can play competition cricket and that's what World Cups are, aren't they?! You need to play well and get a bit of momentum," she added.
While Australia's win in the Ashes series seemed to underline the increasing gap between them and the other teams on the women's circuit, Keightley conceded that the series was closer than the scoreline suggests. In the first two matches of the ODI-leg of the tour, there was little to choose between the teams. In game one, Australia held on by the skin of their teeth, to register a two-wicket win, and in the second ODI, they chased down a competitive 218 thanks largely to a 60-run seventh wicket partnership between Beth Mooney and Jess Jonassen. After that, the visitors were hard to stop.
"I think (in) the Ashes, Australia got on a roll, and England lost key moments in the first two games. If England won those key moments it could have been slightly different," Keightley admitted.
When Robinson first took over the England side, he encouraged the players to play 'fearless' cricket— to look to 'take the game on' and try to put the opposition under pressure. It was about giving the players room to express themselves on the field and encouraging them to be brave. It was an approach that saw England clinch the 2017 Women's World Cup, and also reach the final of the Women's World T20 in 2018.
However, in more recent times, England appear to have fallen back on their old, slightly defensive ways when under the pump. Through the Ashes, they were no longer backing themselves to raise their game and win the pressure moments. Conversely, they were getting flustered and faltering in those moments… That is one of the first things Keightley wants to see England improve upon.
"I want us to bowl teams out," she said. "I want to see us playing attacking cricket to win matches. I don't want to see us trying to defend to create wickets. I want us to put pressure back on the bowlers as soon as we can and put teams under pressure as early as we can. That could look different at different times, but I want us to be positive. I want them (the players) to play with confidence and freedom because they know their game and they know their strengths, and under pressure, I hope that they'd go to their strengths."
"What we'll need to do in the World Cup is going to be in key moments— in those key moments are we really clear on what strategies and match-ups we are going to do to give ourselves the best chance to win those moments? And then (it's about) making sure we have got the right players that can hold their nerve."
If England do manage to get through the group stage— they are placed in Group B alongside Pakistan, South Africa, Thailand and West Indies— they will likely face hosts Australia in either the semi-final or final. Despite the horrendous memories of last summer, England are one of only two teams to have beaten Australia in T20Is since 2018 — the other being India. In fact, Australia's most recent T20I loss came against the old enemy in the final clash of the Ashes series.
Since then, however, Meg Lanning and co. have continued to raise the bar across formats, breaking several records along the way. While they may begin the World Cup as runaway favourites, Keightley is quick to point out England's own advantages: her knowledge of Australian conditions, and also the players' experience playing T20 cricket in the country.
"They (Australia) are definitely going in as favourites, but I have had a lot of experience over in Australia, and I know the players well, and I know the conditions well. So, from that side of things I'm really confident going in there that we'll set up really well, and get our match-ups right and take it to the Aussies. Hopefully, meeting them in a semi or a final— if we play really well through the round matches— that's the goal."
"I think the really important thing is that we've had a lot of players out in the WBBL who were playing really well in that competition, so they're really good at playing in Australian conditions on Australian pitches," she said. "From that point of view we've got a lot of the squad really experienced, playing in Australia. So that's probably the first and foremost thing, that we're going into that knowing the conditions and knowing that they've played well out there, so we'll be looking to build on that."
Before the mega-event though, England will go through a litmus test in the T20I tri-series — involving Australia and India — in Australia. For Keightley it will serve as not only a chance to see what the players have to offer and how England are tracking as a team, but also an opportunity to finalise their combinations and gain some confidence ahead of the big tournament.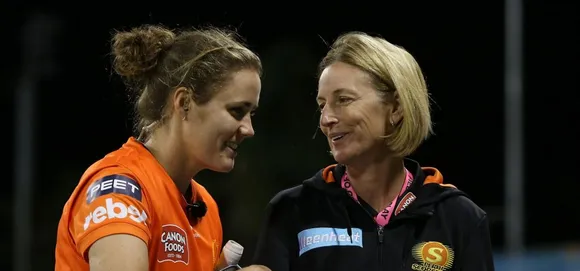 "That (tri-series) will give us a great foundation going into that World Cup — playing Australia before hand and India — both obviously two powerhouses of the game. That will give us an opportunity to work out our best team and have a little look at some match-ups and going through the competition leading into that World Cup," she explained.
"I think from my point of view it's perfect for me, as in you coach to look at what our best line-up is and potential options. Every tournament you play in is important, but I think from our perspective, making sure we are seeing what we've got, and what the best team is, and also keeping in mind of if we get an injury, giving people (the) opportunity to go out and play to make sure we've got all our bases covered. You want to win as many games as you can, but also a bit of planning and sort of thinking what if someone gets injured, who is that (replacement) and have we given them an opportunity to make sure they're confident going in if they have to step up."
Amidst all the excitement, anticipation and planning ahead of the World Cup, Keightley has made one thing clear, if England are to succeed in the tournament, they will have to learn to deliver under pressure. In other words, they will need to back their skills at all times - regardless of the opposition or match situation.
When he took over, Robinson taught a young England team to believe. Keightley's challenge now is to find a way to help them believe again.
With inputs from Adam Collins