The last time India played a Test match in England was in August 2014 at Wormsley, and it turned out into a historical moment for the tourists as they defeated the hosts by six wickets. Eight players made their debut for India, including a young fast bowler in Niranjana Nagarajan. India went in with four seamers, and a spinner in Ekta Bisht and Niranjana had an impressive debut with a four-fer and some crucial lower-order runs in the first innings,
Looking back at the Test match
, Niranjana feels that it was one of the biggest highlights in her career. "Though we don't get to play as many Test matches, playing for the country in whites as high as it gets. I think I am very fortunate to have played Test cricket for India and even more to have won that game."
Opening the bowling with Jhulan Goswami Niranjana ran through the England top-order, getting rid of Heather Knight, Lauren Winfield-Hill, Charlotte Edwards and Lydia Greenway. She bowled ten overs on the trot and finished with four for eleven, including five maiden overs. Her first spell provided crucial breakthroughs and opened the doors for India.
"It is a memory that is very close to my heart because I had a very good spell. I remember every moment in that game. It is a special moment for all of us."
After dismissing England for 92 in 41.2 overs on day one, Niranjana had a job to do with the bat. Walking in at 64 for six, she played through a crucial hour of play and remained not out till the end of the day. She made 27 runs from 83 balls, which took India past England's total and helped them gain a consolidated lead.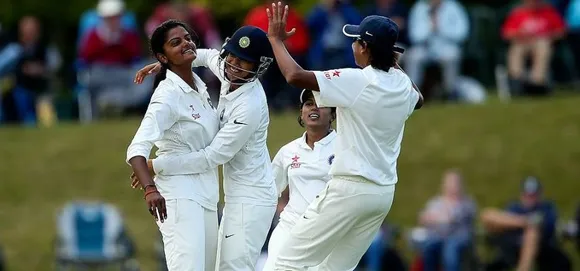 Niranjana Nagarajan took 4/19 against England in the first innings in 2014 at Wormsley. © Getty Images
"What was in mind at that time was that I should bat 'n' number of balls. My role was to save the wicket for the team at that point. In that process, as I kept playing, I got some confidence and started playing some shots. I am happy that I could contribute to the team's victory."
Niranjana last played for India in February 2016, and since then, she has been toiling hard in domestic cricket to make a comeback. In the 2019-20 domestic season, she took nine wickets in seven matches in the Senior One Day Trophy. Once the pandemic struck, she had to stay away from the game.
Though she was working on her fitness regime, she could not get any match practise under her belt. Things got worse when she was tested positive for COVID-19 in December. She was about to get back to cricket in the Falcons T20 Tournament in January.
ALSO READ: Women's Senior One Day Trophy 2020-21: Team of the Tournament
"I had only 15-20 days to prepare, but I didn't want to miss the tournament because I have huge respect for Shantha Rangaswamy and Kalpana (Venkatachar) ma'am. They have seen me from my early days. I trained as much as I could to match what was required for that tournament. It was a great platform, setting the tone for the season."
She took eight wickets in seven matches, including a beautiful spell of three for five against Ameya Sports. She felt that the Falcons tournament helped her focus on what she could improve going into the domestic season. Recovering from the impact of COVID, it was not easy for her to toil on the field.
"My body was drained a bit because of COVID. I had to work very hard on my endurance, eating habits to meet the physical requirements. I set my standards very high when I play for Tamil Nadu, and I was motivated to do well as I still want to make a comeback to the Indian team."
The 32-year-old started the Senior One Day Tournament this year with an allround performance against Himachal Pradesh. She scored a crucial half-century and took three wickets for 15 runs in her seven overs. Her hard work paid dividends as she continued to pick wickets through the tournament. She finished with 14 wickets in six matches at an average of 9.35.
"The expectations are high when I play for Tamil Nadu. I started relishing the pressure. I had worked hard on my fitness and bowling rhythm and did not want the intensity to drop through the ten-over spell, not even for a single delivery. It was unfortunate that we did not qualify for the knockouts, but it was pleasing to contribute to the team's cause."
Though she picked up quite a few wickets with the new ball, Niranjana felt that she was able to reverse-swing the ball in her second spells. "I knew if I hit the right spot and get the batter to commit forward, I can get their wickets. That is, exactly, what happened. I was in a very good mental space, and it all eventually came out well."
ALSO READ: Divya Gnanananda, Niranjana Nagarajan provide cool quotient on a warm Bengaluru day
At 32, Niranjana still has her eyes on the Indian team. "I still see myself making a comeback, " she says, adding, "I have not lost hope. I have worked hard. Till the time I play, I would be looking to make a comeback. I plan my practice, training and everything based on what could take me back to the Indian team."
She provides an interesting perspective about debut and comebacks. Niranjana feels that making a comeback is harder than debuts. "If you are giving 100 per cent for your debut, you have to give 200 per cent for your come back. When you make your debut, everyone will be talking about you, and you know it is just a matter of time. But when you are trying to make a comeback, no one is going to talk about it till you do it. It could be demotivating at times, but one has to take it in the stride and do what it takes to make it back to the team."
With the
Indian team touring to England
in July, she is hopeful of being on that plane with the Indian team. They will be playing
a Test match after seven years
, along with three ODIs and T20Is.
"Performing and working hard is in my hand, but the outcome isn't. I know I have given my best this season. If it's going to take more, I am ready to do it, but I am really looking forward to playing for India again," she concludes.