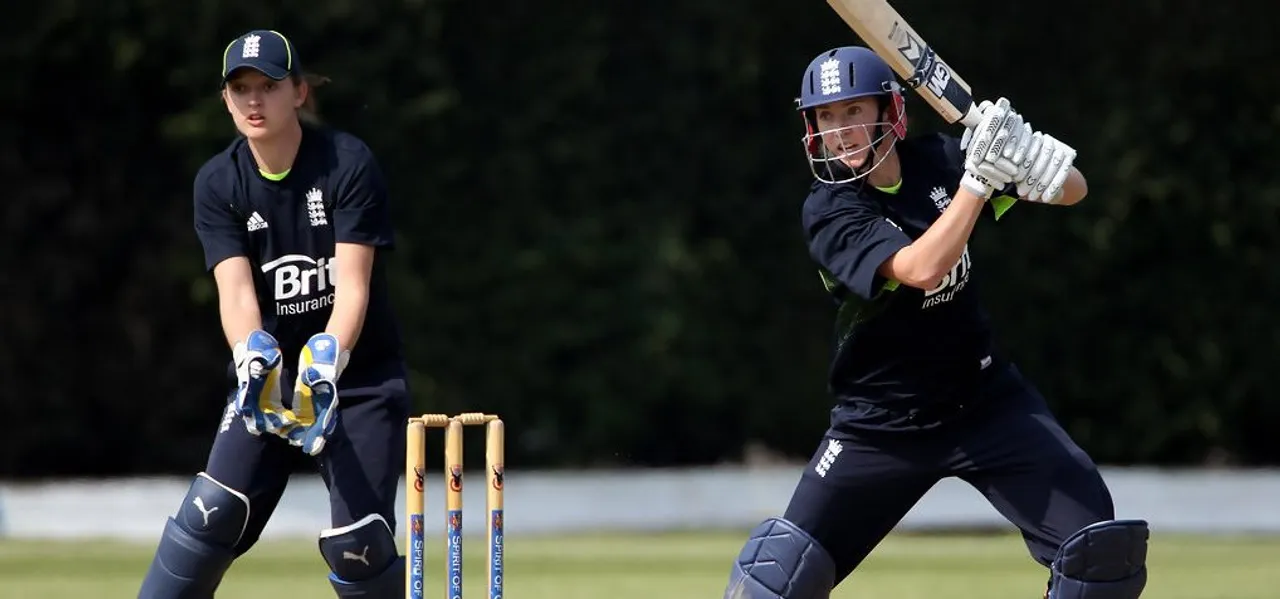 Few players are steeped in Middlesex Women's cricket as Beth Morgan. So, it is only fitting that her remarkable 24-year playing career has been recognised with the award of an
honorary life vice-presidency of the club.
She is the first woman to be bestowed the honour.
Morgan, who grew up playing cricket in the county, north west of central London, stands proudly as the club's most capped female player and the only person to feature in every season of the Women's One-Day County Championship.
Internationally, few have tasted as much success. She was a key part of the team that, in the space of just six months in 2009, won both the ICC Women's World Cup and World T20 before going on to retain the Ashes.
Her cricketing journey though had much more modest beginnings. The cricket mad 12-year-old spent every opportunity hitting balls in the back garden, playing family games in the park or watching her uncle, England spinner Eddie Hemmings, on television. Given the low profile of women's cricket though, she had no idea opportunities existed for her to play. The sudden realisation came with a chance viewing of a
BBC
report on England's triumph in the 1993 World Cup.
ALSO READ: Beth Morgan named first female honourary life vice-president of Middlesex
"I grew up watching men's cricket on TV and loving that," she tells
Women's CricZone
. "I never quite had the courage or the feeling that I wanted to play as part of a boys' team. I was quite shy and didn't have that sort of confidence, I guess."
"I remember watching the clip on
Grandstand with my Dad and we thought, 'well, that's amazing'."

"I had no idea that there was that opportunity and I think that kind of sowed the seed that actually there might be a chance to get out and play girls' and women's cricket and go from there. That was a huge turning point to know that that was a possibility. Up until then, I only thought I'd ever play cricket in the back garden."

Spurred on by this discovery, Morgan got up the courage to join Gunnersbury Women's Cricket Club (now merged with Finchley CC to form Finchley Gunns), a club she is still involved in today.

"I played a little bit at school , but it was never something I found comfortable. I absolutely see the benefit now of girls playing in boys' teams. I think it's brilliant for them to play mixed, but it depends on the character of the person."

"I appreciated the opportunity to play and I quite enjoyed it with school mates but finding a girls' club was a real key thing for me to want to continue and pursue cricket."

"Looking around now, the fact that so many clubs are offering women's cricket and girls' cricket, so many colts teams have girls playing in them, it just shows how far it's come and there's so many more girls having that  opportunity and having role models as well."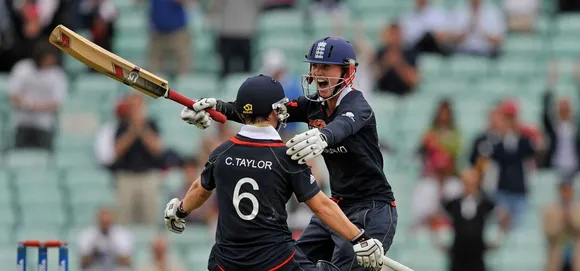 Claire Taylor and Beth Morgan (R) celebrate after winning the semi-final of the World T20 in 2009 against Australia. © Getty Images

Her talent was quickly spotted, opening up opportunities with Middlesex junior teams before she made her County Championship debut two months before her 15th birthday.

ALSO READ: I was learning to be happy again: Kate Cross

The support she received from her Middlesex teammates at such a young age gave her the confidence to quickly take her game to the next level.

"It gave me that foundation of just how to go about playing the game, really supportive people around to help me go on and achieve other things. I'm really grateful for that time and the people at Middlesex."

Her elevation to the England team came just three years later when she was selected for the 1999 Women's European Championship aged 17. A decade later she would help England retain the Ashes with the bat, but she began her career as a medium pace bowler, gradually moving up the order as her effectiveness with the ball waned due to a shoulder injury.

"My batting was a little bit shaky to say the least when I first played. I was very much a number 11 or number 10 if they were being kind," she laughs.

"I loved the game of cricket. We had a ball hanging on a string in the back garden, I'd go out and hit balls at every opportunity. So, I think without realising it, I did develop my batting over time and actually in the later part of my career I was really only a batter."

"It was never a conscious decision or ambition, really, to end up as a top order batter, but I loved batting and training and I was really lucky to get opportunities in certain situations, which does give you that chance just to make your way up."

"As I got older, my bowling wasn't such a threat, I guess, and I had some shoulder problems as well. It meant that I'd have the opportunity to bat as a top-order batter. Looking back now I'm really grateful for those opportunities."

Morgan was recalled to the England side in the summer of 2003 for a couple of one-day internationals. It was not until after the tour of South Africa in March 2005 though – when she recorded her best international bowling figures of 3-19 in an ODI at Potchefstroom – that she became an England regular.

For the rest of the decade she played as part of a squad that would enjoy an unprecedented run of success. Not for the first time in our conversation, she is quick to deflect attention away from her own role in the team.

"Looking back, gosh how lucky I was to be part of such a great era of players. I'm really grateful for that opportunity. You learn so much from being in that environment."

ALSO READ: Lessons of hard work, courage and resilience: Natalie Dodd teaches by example

"Making my debut was an absolute dream come true. I never expected that I would get to that point."

"Lots of people don't get that opportunity. It was brilliant and I guess every game for me was always a bit of a bonus. I've never had high expectations, just loved training, loved playing the game and took every chance that came."

The men's success may have grabbed the headlines, but in the summer of 2005, England's women also sealed their first Ashes series win in a long time – in their case 42 years. After drawing the first Test Match, they made up for lost time by beating Australia by six wickets at Worcester.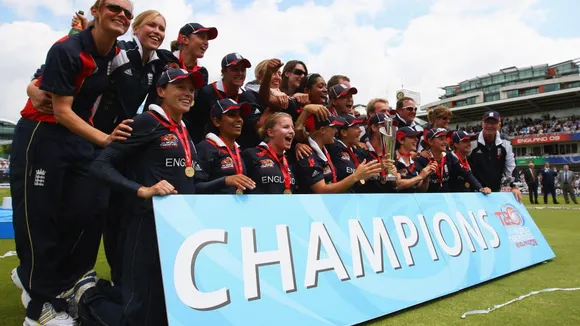 Beth Morgan was an integral part of England's double World Cup winning squads in 2009. © ICC

In a game dominated by Katherine Brunt with bat and ball, Morgan contributed a useful 24 as England built a sizeable first innings lead. She revelled in the opportunity to play in such a strong side in the longest format of the game.

"It's the ultimate battle. They're just such fierce competitors always. They're such good cricketers and they'd been so dominant for quite a period of time. Coming up against Australia, you always know it's going to be a tough challenge."

"We never had that much opportunity to play Test matches and it is just the ultimate test of your character, your skill, your stamina, all of those things. For the women's game, it's such an opportunity and it's great fun. It is a real challenge. We absolutely loved it."

"To get into a position to beat Australia with such great players around us, and great players in the opposition, it was a brilliant thing to be part of and one of the big achievements of my career."

By the time England toured Australia in the winter of 2007-08 Morgan had been promoted in the order, opening the batting in both the solitary Test match and limited over internationals. Retaining the Ashes at Bowral though, was only a precursor of what was to come. In 2009, a sustained run of success earned England two global trophies and saw them again retain the Ashes.

ALSO READ: England introduce 24 domestic retainer contracts

"It was just an incredible year," says Morgan. "To get the chance to play in all those competitions in one year is a special thing, but we kind of peaked at that moment to be successful in all those competitions as well."

England had learned lessons from their disappointment in the previous World Cup in 2005 in South Africa where they were knocked out at the semi-final stage.

Morgan, a non-playing member of that squad, recalls the conversations after the game: "I remember the disappointment and the feeling that, right, we know what we've got to do to be able to get ourselves to a point where we can be successful in four years' time."

"That four-year period was ups and downs, but that journey to a real peak at that 2009 point. It just all came together."

"We peaked at the right time. You need a bit of luck along the way as well, but it was just a brilliant group to be part of on and off the field."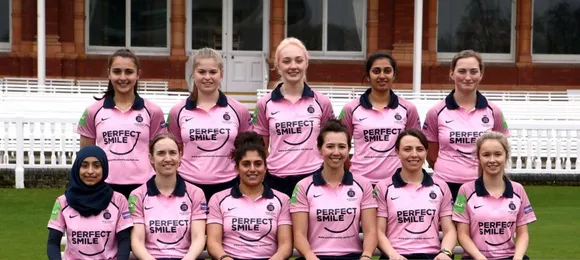 Morgan (second from L) was an integral part of the Middlesex squad for a little over two decades. © Getty Images

"It was just the most special year. We saw a little bit of it in 2017, the women winning the World Cup again was fantastic. Anybody who plays in a World Cup winning team will say it's the most special thing you can do. I'm just very grateful to have been part of that group."

Morgan played in every match in the 2009 World Cup in Australia, including the final. By now she was batting in the middle order, anywhere between four and six. It was where she had her biggest success with the bat for England. She contributed some useful runs in that World Cup, including an unbeaten 37 to help give England a defendable total in the Super Six stage against eventual finalists New Zealand.

ALSO READ: Charlotte Edwards appointed Southern Vipers head coach

The inaugural Women's World T20 Cup was the second trophy in England's sights in that golden year. Playing on home soil, England won all three games in the group stage, before coming up against the old enemy Australia in the semi-final. There on a June evening at the Oval, Morgan contributed 46* off 34 balls in an unbeaten partnership of 122 with Claire Taylor for the third wicket to secure England a place in the final. Mike Selvey, Middlesex President, admits it was the moment which "opened this hitherto sceptic's eyes to the potential of women's cricket."

Perhaps the biggest sign of just how far Morgan's batting had developed came in the single Test match which would decide the Ashes in July 2009. She had shown an ability to score useful runs and occupy the crease in her brief Test career so far with some valuable 20s and 30s. However, her maiden Test half-century at Worcester that summer was perhaps the moment she realised her potential as a batter at Test level.

While she admits she sometimes struggled to push the score on in Test cricket, her innings of 58, accumulated over five hours, was exactly what England needed. She ended up top scoring and helping her side rebuild after losing their first four wickets for just 28.

"I'm sure it was very dull to watch," she laughs. "Not something that will go down in history, I don't think."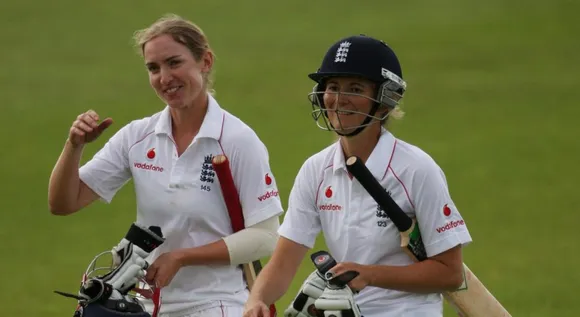 Beth Morgan and Charlotte Edwards leave the field at the end of day's play during the 2009 Ashes Test match. © Getty Images

"It's trying to adapt to the different situations that you might be in and playing all different formats. We'd lost some early wickets and needed to dig in. So that was the job and that's what I tried to do, along with the others who did a great job down the order, and we managed to retain the Ashes."

"So, it's about, not just working on your game generally, but putting it into practice in different situations. Luckily during that year, we were all able to do that pretty well and be successful."

"It was probably the time when, I was bowling probably less and less and really concentrating on my batting. Looking back now, I think that's quite a key thing for me to then be successful."

She credits much of her success to the support of those around her, particularly Charlotte Edwards as captain, and Claire Taylor with whom she shared some notable partnerships.

"She was the number one in the world. To have that chance and learn from somebody like that in training and on the pitch, day-in, day-out, is amazing."

"I was lucky to be in the right place at the right time, part of that group. I guess it was a journey for my game, from being a bowler through to being a batter."

After her England career ended in late 2011, she continued to represent her beloved Middlesex for the rest of the decade. She finally retired at the end of last season after Middlesex clinched the County Championship Division Two title. In total she represented the county in 187 white ball games, amassing 4,000 runs and taking 97 wickets.

ALSO READ: I questioned myself sometimes why I stayed so long, says Ebony Rainford-Brent

"I've only ever played because I love the game and so the chance to play for the club that you've always been a part of and you've loved playing for, is a real privilege. I'm really proud of having the chance to play for that long.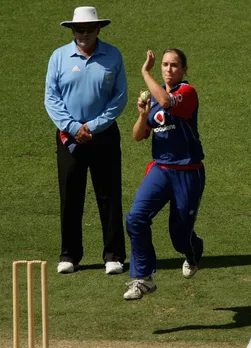 Morgan began her international career as a medium pacer. © Getty Images

"All these younger players coming in, they've got real chances now to play a real good, long number of games. I fully expect my record to be broken with the amount of cricket that will hopefully be played."

Since she retired from England duty, there has been growing professionalisation in the women's game with central contracts for England players and now the first professional contracts for domestic players. It is something she never believed would happen so quickly.

"It's absolutely brilliant because the girls can put all of their efforts, all of their time and energy into being the best cricketers they can be and really spend time on their games without the worry of having to earn an income outside of that."

"You can already see the benefits. The quality of cricket, the fitness, the media coverage and everything is growing all the time."

"It's doing a huge amount for the game, creating those role models. They're full-time professional cricketers and giving the young girls coming into the game a realistic opportunity that they could make a living out of playing cricket, which is something that certainly wasn't there when I was young. Even going into the last 10 years, there wasn't that opportunity."

Morgan is unsure how she would have fared in the professional era but has no regrets about playing in the period she did.

"It would have been an amazing opportunity to be full-time, but I think different characters deal with that kind of added pressure and things like that in a different way."

"So, who knows how I would have got on. It's absolutely brilliant. To see now, a domestic professional structure as well, is only going to help it grow and grow because more and more of those girls can dedicate more of their lives to being the best they can be on the cricket field. It's been a positive last couple of years."

She leaves behind a strong legacy at Middlesex. Three of the club's players Amara Carr, Naomi Dattani and Cordelia Griffith were recently awarded professional playing contracts.

"You've got some really exciting players. To see them have those opportunities to make a living from the game and how far they could go. I hope to see many of them in an England shirt one day.

"It's really rewarding. I'm really lucky to get that chance to see players go through their careers and I hope they'll have long professional careers ahead of them."