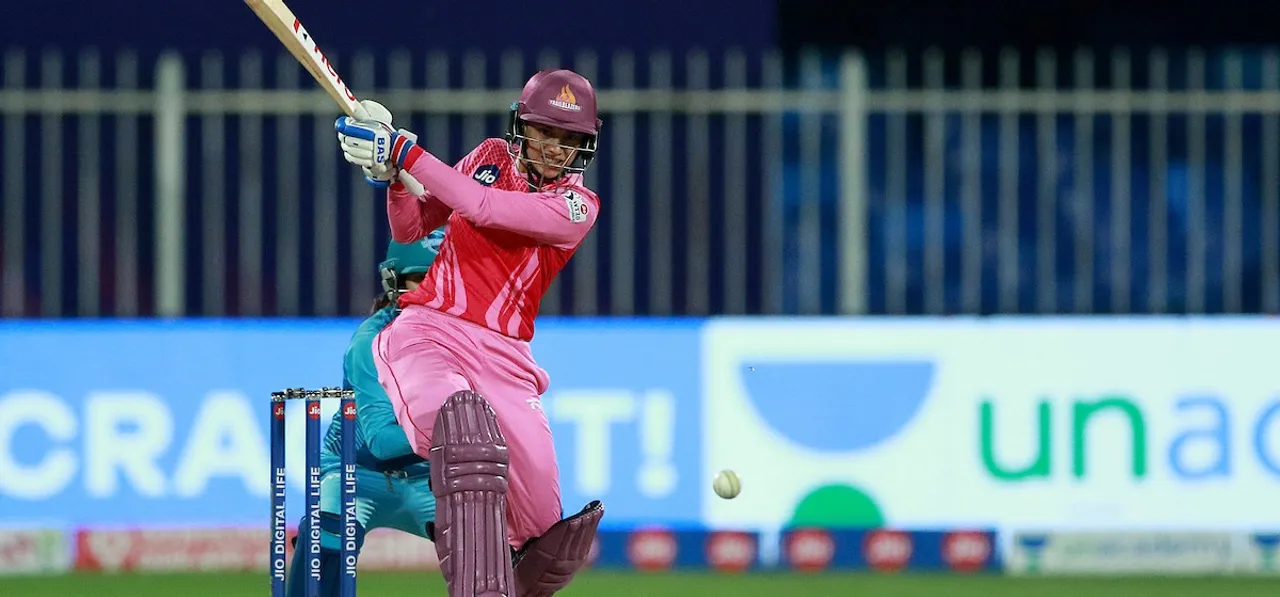 Skipper of Trailblazers Smriti Mandhana said she was always confident that her side could defend their target of 119 in the
final of the Women's T20 Challenge
against Supernovas at the Sharjah Cricket Ground on Monday (November 9). The left-hander, who was awarded player of the match for her scintillating 49-ball 68 on a pitch where the bowlers dominated, masterminded her side's 16-run win over the two-time champions, to seal their maiden title.
Mandhana showered praise on her bowling attack - the spinners, in particular - who never let the Supernovas line-up off the hook. After the dismissal of Chamari Atapattu in the second over, Trailblazers took control of the game, spinning a web around the team in blue.
"I think it was an amazing performance. The team was brilliant," Mandhana said in the post-match press conference.
"How much I batted, I thought the wicket was tough to bat, so I knew that any total around 120 would be a fighting total. When I was batting, I was trying to look for 135-140, but back of the mind I knew somewhere that even if we get to 115 or 120 we still have a very good chance, because we have a very good quality bowling attack - especially spin. The way it went in the first innings, batters were really struggling
spin. I was really positive from the first ball."



In contrast to her innings against Supernovas in the final league game where she struggled to a 40-ball 33, Mandhana found her timing early in the final, racing to 31 off just 18 deliveries in the first five overs. Her knock set the tone for Trailblazers, making sure they were able to get to a decent total on a slowing pitch.

"I think I was timing the ball well in the last match, but unfortunately I was finding the fielders. But today it was a conscious effort to put it in the gaps and not to find fielders. That was the only thing I was thinking about. I knew the wicket is tough so tried to get to 130-140, but somewhere we lost track," she explained.

Deflecting from her own knock, Mandhana praised the the efforts of her team with the ball and in the field, singling out Thailand's Nattakan Chantham as the player who set the standard in the field - pulling off some incredible saves early in the innings.

"It was an amazing bowling effort and specially fielding effort," she gushed. "There were like two or three fielding performances - special mention mention to Jeans, I haven't seen a girl field like that. It was amazing to watch."

ALSO READ: Bowlers win Trailblazers maiden Women's T20 Challenge crown; Radha Yadav's 5 for 16 in vain

With the game in the balance, when Supernovas needed 61 off 48 deliveries with eight wickets in hand, Mandhana called on the services of one of her senior-most bowlers, Salma Khatun. The Bangladesh off-spinner proceeded to use all her experience, varying her pace and angles to dry up the runs and pick up three important wickets, including those of Shashikala Siriwardene and Harmanpreet Kaur. She finished with figures of 3 for 18 off her four overs, effectively shutting down the chase.

"I think she was brilliant," Mandhana said of Khatun. "Those kind of performances and spells win you the match. And those four overs, I think she bowler the last four overs - 19, 17, 15 and 13 - so those are always very crucial."

"The way she bowled, she got all her experience. She's a very experienced campaigner for Bangladesh, so I was just telling her, use your experience, believe in yourself, and she delivered. I think there are 3-4 moments in the match and one of those is definitely the winning moment - her spell was a winning spell."

ALSO READ: Sophie Ecclestone's mantra - keep it simple, silly!

Reflecting on the tournament, Mandhana expressed her excitement at being able to have had the opportunity to return to the field and also meet her teammates. She said she hopes, that after close to eight months away from competitive cricket, there will be more opportunities for her teammates to take the field.

"This year I think specially not playing any cricket for seven months, we all were looking to play some cricket, come together, actually meet everyone. We haven't met for 7-8 months which is very rare. So I think the last six months for the whole world, and even for the cricketers themselves . We are not used to staying home , but I think it was worth it to come out here and play."

"I think it was a great tournament and all thanks to BCCI for organising it. Hopefully we keep playing cricket because I think that's what keeps all of us happy she concluded.