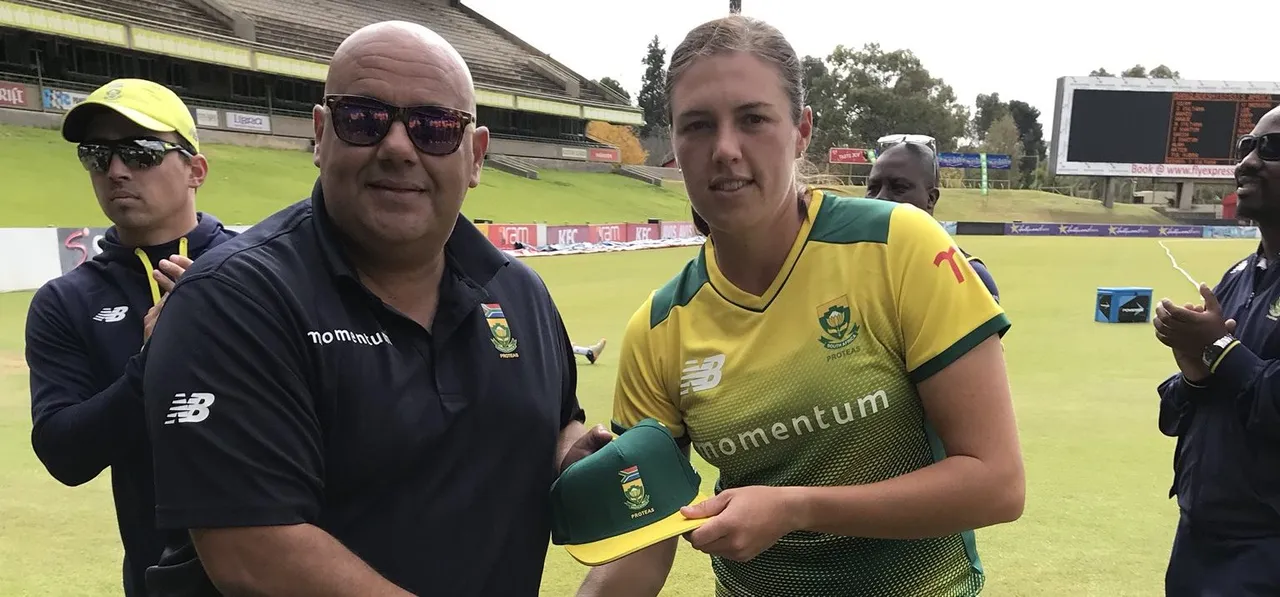 Tazmin Brits, South Africa batter, believes women's cricket needs to be marketed better and more professional contracts need to be awarded to attract young girls to take up the sport as a career.
"Young girls need to know that there is a future or a career in cricket, especially now since more is being done for women's cricket. Women's cricket needs to be marketed better for young girls to know what is out there for them," she told
gsport.co.za.
"I would like to see more contracts be awarded to players and maybe even leading into provincial teams the same as the men. The reason for this is that you would then not require a job to survive financially and can spend more time focusing on cricket as a career."
Brits, a multi-sport athlete playing rugby, hockey and tennis while growing up, was a professional javelin thrower before she had to leave the sport due to a serious motor accident that saw her shifting to cricket post recovery. She talked about how the accident changed her life.
"At the time of the accident I was at the prime of my javelin career. The day of my accident I had qualified for the Olympic games (2012 London Olympics) and went through to Potchefstroom to celebrate this achievement. My Olympic dream was shattered within a split second. Along with the loss of my dream went with all my sponsorships and my will to live. I attempted to end my life on more than one occasion. I felt lost and had no direction," she said.
ALSO READ: Cricket South Africa faces ire for lacking women in top-level management 
"Even though I had the support of my parents and family I wanted nothing to do with anyone and just wanted to be on my own. The accident not only affected me, but it took its toll on my parents as well."
29-year-old Brits, who won gold medal in the javelin throw at the 2007 World Youth Championships, was trying to make a comeback in javelin after doing various day jobs when she got a call up to play cricket for South Africa in 2018.
"As I was trying to make a comeback with javelin, I got a call up in 2018 to play cricket for the Proteas Women team. I played my debut match against Bangladesh during their tour in South Africa. I saw this as God's way of opening a new door for me as well as giving me a different challenge playing a team sport," she said while talking about her debut.
"Having a second chance at life and being as passionate about sport as I am, I thought that if I was not ever able to play sport again, I would dedicate my time, knowledge and experience to help people to achieve their dreams. I continued my studies in Sport Science and hope to use this to the best of my ability."
Brits, who has played 15 T20Is for South Africa, also talked about the disappointment of not able to make it to the 2020 T20 World Cup squad.
"The past few years have been challenging at times. Being part of the Proteas squad is a great honour but remaining positive when not being chosen for the World Cup or not being contracted is difficult morally and financially," she added.
https://open.spotify.com/episode/7cSrEZYTaoVMAnwdfxVB19