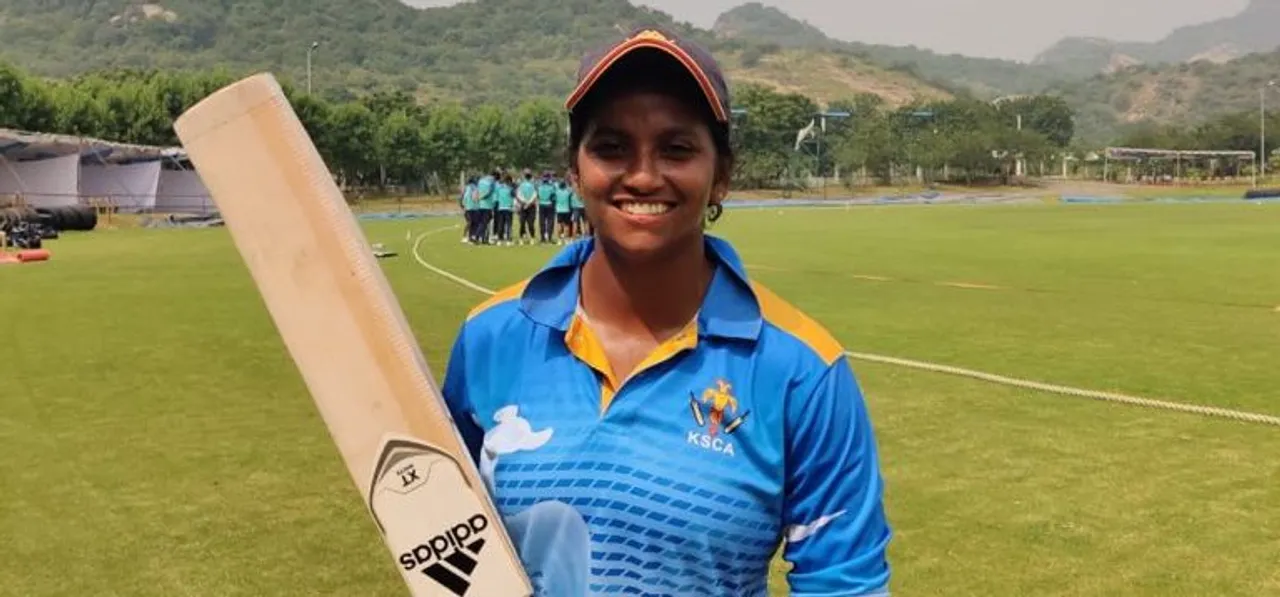 After serving Karnataka for 17 years, Vanitha VR has decided to make a move to Bengal for the 2021-22 domestic season. She will join the team that has continuously finished among the top four teams in the Women's Senior One Day Trophy for many years and won the championship in 2019.
"I was looking for new challenges to push me," Vanitha told
Women's CricZone
about the move.
"I have been playing for Karnataka for the last 17 years. It has been a wonderful journey, no doubt about that. This is something really tough to make a decision. But I feel it's worth it. I feel new challenges will definitely push me."
"As a professional, you are expected to deliver at that stage almost every year and consistency is the key. Playing in my team, I felt that factor is not there to push me. I am hoping that this will be the right move at the right time for my career. It gives me something to look forward to."
Bengal will start the 2021-22 domestic season under the head coach Rituparna Roy, who will take over from Shib Shankar Paul. Having played against Roy in the domestic competitions over the years, Vanitha was full of praise for the newly appointed coach.
"I am looking forward to working with her because, every time we have played against her as a Karnataka team, we have ended up losing matches to them," said Vanitha, who has played close to 200 domestic matches for Karnataka.
ALSO READ: BCCI announces schedule for 2021-22 domestic season; Senior T20, age-group tournaments back in the calendar
"Strategy wise, I feel she is very good as well. I have heard quite a lot of good things about her and whatever little I have interacted with her in the last few days, she seems to be a very positive person. The mode of operation will be very different from the current team. I am sure, she will know how to bring the best out of me. As you know, she was the coach when Bengal won the championship in 2019." 
Having represented India in 16 T20Is and six ODIs, Vanitha is well aware of her role as a professional for Bengal, which is much beyond just another player.
"My role looking forward is not to just perform but also to guide those youngsters. That is expected out of me. I am quite excited in terms of how it is going to come up because the Bengal team has already made me feel at home."
Vanitha had opened the batting for Karnataka in the One Day Trophy campaign last season. She also has enough experience of batting in the middle order for them. Where will she be batting for Bengal?
"First I have to go there," she laughs. "The team is making me feel confident, and I am okay to play any position and help the team win. If a team wants me to open, I am up there. I am ready to bat anywhere as long as I am able to contribute and help the team I am happy doing any role."
Bengal had reached the semi-final last season under Rumeli Dhar's captaincy. They had won four of their five matches, before losing to eventual champions Railways and getting knocked out. They boast of a strong and young talent pool with the likes of Mita Paul, Parna Paul and many others. They also have Deepti Sharma and Gouher Sultana as the other professionals. Vanitha believes that contribution from various players has made Bengal a powerhouse team over the years.
"This group has been doing extremely well. We have been following their journey, and they have always been in the top four for so many years. It shows the quality of players they have. It also shows that they are not a one-man army. Everybody steps in and performs at any given opportunity, and that's what I admire about this team."
"Every time you see somebody or the other is performing and it's not been same names over and over again for Bengal. Earlier, you had Tanushree (Sarkar) who was doing extremely well. It is unfortunate that she has moved to Railways. But again you have players like that contributing in the absence of Jhulan (Goswami). And I feel, that is one of the main reasons why they always end up being in the top four," she concluded.