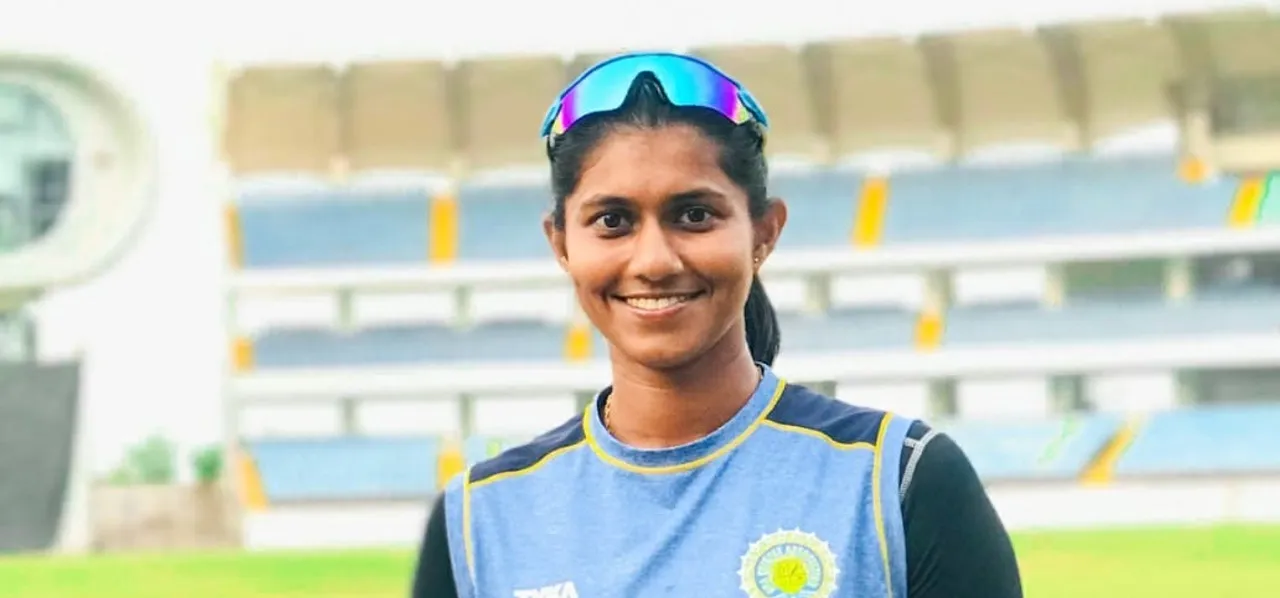 The first thing that will strike you about Sanjula Naik is her presence at the crease. As she settles into a wide stance, thumping the bat next to her toe, before shifting her gaze to the bowler, it wouldn't be hard to think 'ungainly swing.' Her towering frame, and long levers are characteristics one would normally associate with a fast bowler. She's certainly got the height and build for it. But pace bowling is something Naik gave up quite early in her career. Now, at only 23, she is one of Goa's best batters, a promising off-spinner, and captain of the senior team.
Growing up in a state known more for its beaches, booze, and its football, cricket was something Naik stumbled upon, thanks largely to her father.
"I was a very hyperactive kid," Naik tells
Women's CricZone.
"To expend that energy, I started playing with my father. He was the one who introduced me to cricket."
"We would play anything, really – sometimes football, sometimes cricket. I guess it was just a way to keep me occupied and doing something constructive with my energy."
The oldest of three siblings, Naik made her way to a coaching academy in her early teens. It was there that she met her first coach, former Goa skipper, Anuradha Redkar.
After that, progress into the state team was pretty straightforward. Taller and much stronger than most of her teammates, Naik went from playing Under-16s to Under-19s within a year. She was still only 14.
"The first time I remember seeing Sanjula was probably when she was 12 or 13, if I remember correctly," says India allrounder Shikha Pandey, who is Naik's Goa teammate. "She used to bowl medium pace then, (and) was a very bubbly, chirpy little kid who wanted to do everything from bowling, fielding to batting. I think 'hyperactive' is a bit of an understatement!"
"On a more serious note though, she is a very talented individual, and that was evident right from the start. I wish I had a few of her skills, especially her striking ability – she's such a clean hitter of the cricket ball."
ALSO READ: Here and now: Saee Purandare braces for the future with focus on controllables
In her first season of Under-19 cricket, Naik dismissed Veda Krishnamurthy on debut to claim her maiden scalp. However, the wicket of an international player aside, the next three years saw little to write home about. Every outing came with the promise of plenty, but that breakthrough performance remained elusive.
In the summer of 2014, Naik found herself as part of the Zonal Cricket Academy camp in Guntur, where she trained alongside 24 of the most talented junior cricketers in the South. Following the inter-zonal matches in Alur where she caught the eye of the selectors with some dominant strokeplay, she was part of that season's National Cricket Academy intake.
It would be her first taste of a high-performance atmosphere. Between August and September 2014, the allrounder trained under the guidance of former India coach Sudha Shah, and alongside a group that consisted of several future internationals – Deepti Sharma, Devika Vaidya, Taniya Bhatia, Pooja Vastrakar, Priya Punia, S Meghana and R Kalpana among them. Naik, only the third Goan (after Pandey and Sunanda Yetrekar) to attend a national camp, lapped up the experience, eager to learn and make her way further up the ladder.
"The NCA camp made me realise what areas I need to improve on and what I need to do to keep getting better," Naik recalls. "Everything was so new. All the drills and fitness sessions we did, the kind of schedules we followed were things I had not experienced before. But I learnt so much from that camp and came back really excited and motivated to keep doing well for my team."
With those lessons safely filed away, Naik, who had been freshly anointed skipper of the state Under-19 team bagged seven wickets in five games with her off-spin, including a match-winning three-wicket haul against Tamil Nadu. Her performances saw her make the South Zone squad for the inter-zonal matches and also earned her a place in Goa's senior team led by Pandey.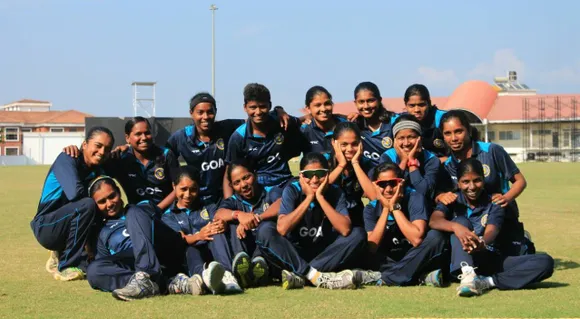 Sanjula Naik was part of a successful Goa team that reached two finals in 2014-15. © Special Arrangement
Pushed to open the batting for the senior side, Naik showed flashes of brilliance in what was an unfamiliar position at the top of the order. But pit against the likes of Rumeli Dhar, Preeti Dimri and Rajeshwari Gayakwad in her first season, she found the runs hard to come by.
"I took a bit of time to adjust to that environment," she says of her initial experiences in the setup. "It was all very new for me. Looking back, maybe I was a bit nervous in the first year, but that experience helped me grow."
Her poor run aside, Goa's successful season – they finished runners up in the one-day Plate Group competition, and beat Bengal in the final of the T20 Plate Group competition – meant Naik grew quickly in a healthy environment.
"It was nice to be part of a winning team. It made me want to contribute more to our success. I was really motivated to be better with every game."
ALSO READ: Dedication, discipline and a brother's sacrifice: the making of Deepti Sharma
The off-season came with another opportunity to further develop on that promise. Picked for the ZCA South Zone team for a second consecutive year, the right-hander finished as the team's second highest run-getter with 128 runs in four matches, including a highest of 75 against North Zone. She also took six wickets and secured a place in the India Under-19 camp at the NCA.
"I was very excited when I heard that Sanjula was going to be attending an India Under-19 camp," says Pandey. "Those camps and matches are all about learning as much as you can, and understanding the standards that are expected of elite level cricketers. It was an exciting time for all of us at Goa – seeing one of our own teammates climb the ladder."
It was clear the camp had sparked something, as Naik enjoyed a successful 2015-16 at the age-group level, collecting 461 runs in 14 matches, including four half-centuries, whilst batting in the middle order. At the senior level too, she notched up her maiden fifty in T20s.
Through the season, she showed great grit in the middle. Her strokes down the ground were particularly impressive, and her movement down the track to the spinners rather intimidating. She possessed a powerful cut shot, but it was her front foot play that demanded attention.
With the ball too, it appeared she had found some consistency. Although rarely used in the senior circuit, Naik's off-spin came to be one of Goa's most lethal weapons in age-group cricket. With an orthodox side-on, high-arm action and an ability to give the ball a real rip, she was able to generate turn and bounce even on the most placid surfaces. She was developing into a high-quality allrounder.
"That whole phase was really good for me – the ZCA and NCA camps and matches," Naik says. "I really grew as a person and understood myself and my game much better. There was an opportunity to learn so much from all the coaches around. There were so many different players and I was able to see them and how they work as well."
https://open.spotify.com/episode/3wIV5plfHhXuX9kotfATXW?si=D1vnCcg3Qy2nyYn_SMItVg
The national selectors took note of her performances, drafting the teenager into the India Green (Under-19) squad for the 2016 Challenger Trophy where she re-joined forces with her friends from the NCA – Jemimah Rodrigues, Nuzhat Parween, Radha Yadav (part of the 2015 batch) – in a squad that was led by Sharma.
"The Challenger was a great experience," she says. "I didn't take any pressure, but it was a different challenge mentally. I was playing with people whom I had seen on TV for all these years, so that took a bit getting used to. There were a few nerves, but that was a huge learning curve. Just seeing them all from close quarters was great for me. I was quite excited to be there."
Encouraged by the recognition at national level, Naik blossomed in the Under-23 tournament later that season. Named captain again, she led from the front, scoring 189 runs at an average of 47.25, including her maiden century against Tamil Nadu. In the Under-23 inter-zonal tournament that followed, Naik picked up eight wickets in two matches, including a maiden five-fer against East Zone.
It seemed the stars were aligning. Goa had found its new superstar.
ALSO READ: From forgotten to frontline - Shikha Pandey swings her way back into the spotlight
However, as it often happens, the expectations – those from within and without – weighed heavily on Naik's young shoulders. While Goa's rise as one of the most promising teams continued, the youngster's stocks dropped dramatically come 2017-18. Shuffled up and down the order in senior cricket, she struggled to find any consistency in her game. Consumed by doubt, constantly brooding over poor performances, it was a phase through which she really struggled.
Pandey, who watched Naik slowly retreat into her shell, reflects on the time.
"Most of the time when I spoke to her during that period, I was talking to her about having fun," the fast bowler says. "Because I knew all too well, and had experienced first-hand, if you set very high standards for yourself or are putting too much pressure on yourself to perform it doesn't always work out. It can sometimes be counter-productive, and from the outside, it appeared like that's what was happening with Sanjula."
Through the slump, Goa kept their faith in her, with then coach Devieka Palshikar choosing to retain Naik as Under-23 captain. It was a decision that forced her out of her own little bubble. She scored 112 runs and took nine wickets in the one-day tournament and booked a place in the South Zone squad.
In the inter-zonals, she proved to be one of the team's best batters with a total of 154 runs in four games at an average of 77.
However, the high was short lived. 2018-19 saw the runs almost completely dry up. She was overlooked as captain for the Under-23 side as well, and the pressure only mounted. While she continued to get wickets – including that of Mithali Raj in the senior one-day tournament – she couldn't buy a run with the bat. She sought explanations, dissected her technique and agonised over every failure.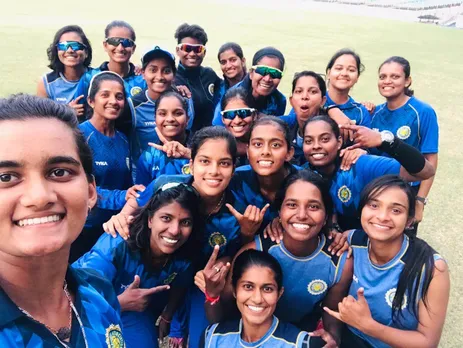 Sanjula Naik captained the Goa senior team in 2019-20. © Special Arrangement
To make matters worse, in the latter half of the season, Naik was battling chronic pain in her elbow that left her unable to grip a bat for more than a dozen deliveries. She continued to play with various forms of taping and the odd pain pill, but none of it really helped. The pain, the negativity and the constant overthinking were taking their toll… It was almost as if she was getting sucked down a hole.
"I don't think I was putting a lot of pressure on myself or anything like that, but I didn't know how to handle the failures," she says of the low. "Maybe I was getting consumed by negative thoughts and all those doubts that kept creeping up."
"It was not the best phase on the field, but I know none of it was because of a lack of effort. I guess that's what made it harder to deal with. I couldn't find an answer."
In the off-season, the allrounder turned her attention to college. Having just completed a 'gap year' she began a Bachelors in Physical Education in a college in Maharashtra and immersed herself in that experience.
"Studies take my mind off from cricket and that's one of the main reasons that I opted to study again. It helps me find a balance and kind of keeps my mind free of any clutter. When I think too much I start worrying and then that affects my game in a negative way."
While fitness and skill work – largely bowling – continued, she suddenly had less time to worry about every tiny aspect of her game. She needed to prioritise her goals and find a cricket-school balance.
ALSO READ: Of risks and jigra - the Poonam Yadav tale
Since the elbow required plenty of rest to heal, Naik used her time to search for solutions to the problems she had faced the previous year. Her focus shifted to the mind.
"Over the last year or so I realised I was overthinking a lot and not focusing on the process. But I went back and analysed what was going wrong. I spoke to my coaches and we watched some videos and they told me that the problem wasn't anything technical."
"I realised I was thinking about all the negative things or the things I was doing wrong. I started to consciously replace those thoughts with positive thoughts and that has really helped. I've been reading a lot of books and doing a lot of visualising work as well. Over time, I saw the change in my performances and in the way I was playing."
Having barely batted in the lead up to the 2019-20 season, Naik feasted on every opportunity she got come match time. She faced over 1000 balls across tournaments batting anywhere between Nos. 3 to 7 for both Goa's senior and Under-23 teams.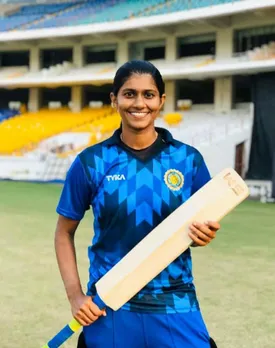 Sanjula Naik flourished with the bat in 2019-20. © Special Arrangement
In the absence of Pandey, who was off on national duty, Naik was named captain of the senior side as well, and flourished under the responsibility. She propped up the middle order with some brilliant counter-attacking innings, and added great value and control to the attack with her off-spin. She scored a total of 846 runs through the course of the season at an average of 40.29, including one century and seven half-centuries, and also took 32 wickets for her side at 19.90. This tally included a top-of-the-charts performance in the Under-23 one-day tournament where she amassed 383 runs at 54.71.
"Captaincy forces me to focus on the present," she says. "There is no time to think about anything in the past. I have to find ways to get the best out of my teammates and that's something I really enjoy."
"I like the responsibility of having to get the team out of tough situations. I don't know what it is, but it brings the best out of me. Maybe it's because I end up playing more instinctively since I am not worried about myself and my own performance. It is about the bigger picture."
It's this ability of Naik – to revel under pressure and inspire confidence in her teammates – that has recently caught Pandey's eye as well.
"She has got some great traits as a leader of the group. She is someone who doesn't expect too much from her teammates and simply wants them to make the best of their ability. She has this innate ability to absorb all the pressure herself and focus all her energy on getting the team over the line. She wants to do everything – perform with the bat, ball and in the field. I think she inspires a lot of confidence in the team," says Pandey.
Back on the radar of the national selectors, Naik looked poised to take her place in the Under-23 Challenger tournament scheduled for April this year. However, the COVID-19 pandemic scuppered any plans she may have had to capitalise on her splendid form. She, though, remains unperturbed.
Currently home, preparing for her final year exams, and practicing in the indoor facilities when she can, the allrounder has her eyes firmly fixed on the now.
"I'm really happy and enjoying my game at the moment. I've got a long way to go, but I feel like I am on the right track and am happy with where I am right now. I have learnt to focus on the job at hand rather than think about what could or should happen."