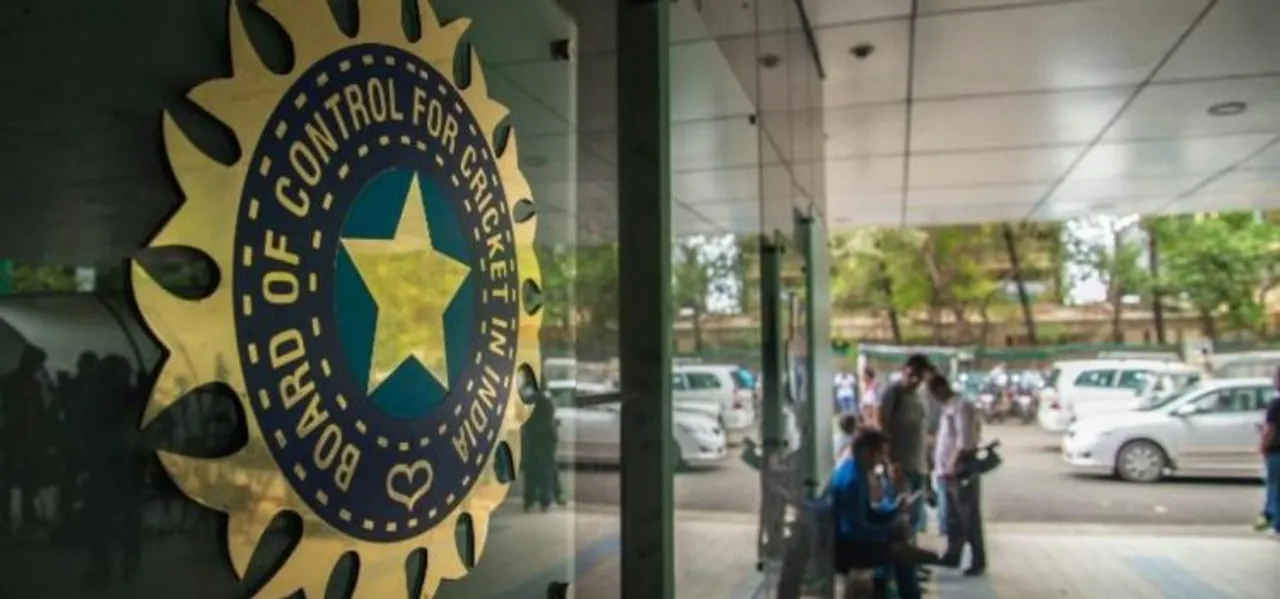 Roshini R shined with an unbeaten century and her teammate Amruta Saran took eight wickets on Day 6 of the Under-19 One Day Trophy on Sunday (October 3). On a day that saw Mumbai, Delhi, and Baroda register wins, two matches in Group D ended in no result as the clash between Uttarakhand and Chandigarh was abandoned without a ball being bowled.

In a Group A match at Saurashtra Cricket Association Stadium in Rajkot, Zeel N Mithaiwala's four wickets helped Gujarat bowl Mumbai out for 161 runs, with allrounder Fatima Jaffer top-scoring with 49. Gujarat collapsed in the chase, only managing to score 73 runs. In the same group, Uttar Pradesh were bowled out for 87 against Hyderabad, who cantered to an easy win with G Trisha's 39 helping the side chase down the target in the 22nd over. Elsewhere, opener Pragati Chauhan led the way with an unbeaten 92 as Vidarbha posted 164 against Assam to clinch an exciting four-run win.

A clash between Delhi and Tamil Nadu in Group B was reduced to 20 overs and batting first Delhi scored 132 runs as Riya Shokeen hit run-a-ball 33. M S Aishwarya was the only Tamil Nadu player who showed some fight with the bat as they could only score 90 runs in the chase. Sushmita Ganguly's three-wicket haul along with Sneha Gupta's patient 44 led Bengal to a dominating six-wicket victory against Jharkhand. Roshini R's form with the bat continued as she hit an unbeaten century to lead Pondicherry to 233 for 3 against Goa who then succumbed to an unbelievable spell from Amruta Saran whose eight wickets saw them bowled out for 98.

Chhattisgarh won a thrilling contest against Kerala by just one run as the match lasted till the penultimate over. Kerala needed 203 for a victory and their last batter, Aleena M P, was caught by Chitra Patel with only 7 balls remaining in the contest. Meanwhile, Madhya Pradesh were bowled out for 77 against Baroda, courtesy of a four-wicket haul by Nrupa. Baroda comfortably chased down the target with five wickets in hand. Haryana beat Bihar by 8 wickets as Yashita Singh's half-century in the first innings went in vain. Twin half-centuries by Amandeep Kaur and Sonia Mendhiya were enough for Haryana to chase down 145 runs.

Two matches from Group D ended in no result and the match between Uttarakhand and Chandigarh was abandoned. In the "Plate" group, Jammu & Kashmir, Sikkim and Arunachal Pradesh won against Manipur, Nagaland and Meghalaya, respectively.

Brief Scores:

Mumbai 161 all out in 50 overs (Fatima Jaffer 49, Aachal Valanju 30; Zeel N Mithaiwala 4/21) beat Gujarat 73 all out in 35.1 over (Lisa K Joshi 13, Shifa N Karimbhai 12; Nirmiti Rane 3/7) by 88 runs.

Uttar Pradesh 87 all out in 37 overs (Sonali Singh 39, Nishi Kashyap 13; Ishitha Koduri 3/27) lost to Hyderabad 88/3 in 21.4 overs (G Trisha 39, Yashasri 17*; Falak Naz 2/29) by seven wickets.

Vidarbha 164/6 in 50 overs (Prangini Chauhan 92*, Aayushi Thakre 33; Jintimani Kalita 3/27) beat Assam 160/7 in 50 overs (Hemalata Payeng 60*, Shivani Bishnoi 33, Janhvi Ranganathan 2/22) by four runs.

Delhi 132/7 in 20 overs (Riya Shokeen 33, Tanisha Singh 29; M S Aishwarya 1/11) beat Tamil Nadu 90/7 in 20 overs (M S Aishwarya 34, C Shushanthika 15; Bharti Rawal 1/12) by 42 runs.

Jharkhand 87 all out in 32.3 overs (Pushpa Kumari 27, Urmila Kumari 16; Sushmita Ganguly 3/7) lost to Bengal 90/4 in 32.3 overs (Sneha Gupta 44, Piyali Ghosh 13; Urmila Kumari 2/16) by six wickets.

Pondicherry 233/3 in 50 overs (Roshini R 106*, Yuvashri 72; Taniya Pawar 2/42) beat Goa 98 all out in 33.5 overs (Ibtisam Shaikh 15, Metali Ramesh Gawandar 13; Amruta Saran 8/19) by 135 runs.

Chattisgarh 202/3 in 50 overs (Kumud Sahu 73, Aishwarya Singh 54; Nithya Loordh 1/37) beat Kerala 201 all out in 48.5 overs (Ananya K Pradeep 50, M Abina 23; Mahak Narwase 4/40) by one run.

Madhya Pradesh 77 all out in 44 overs (Sanskriti Gupta 19, Naini Rajput 16; Nrupa 4/27) lost to Baroda 81/5 in 35.3 overs (N Changiwala 25, Nidhi Dhrmuniya; Khushi Yadav 2/14) by five wickets.

Bihar 144/9 in 50 overs (Yashita Singh 64, Vaidehi Yadav 33; Amandeep Kaur 2/14) lost to Haryana 146/2 in 41.3 overs (Amandeep Kaur 55, Sonia Mendhiya 53; Baby Rozi 1/27) by eight wickets.

Jammu & Kashmir 169/8 in 50 overs (Bawandeep Kaur 55, Rudrakshi Chib 21; Kiranbala Haorungbam 2/25) beat Manipur 66 all out in 35.2 overs (Palujam Kiranbala 17, Khoibam Bunty 12; Ronaq Jahan 3/10) by 103 runs.

Sikkim 143/8 in 50 overs (Nandita 33, Pranita C 32; Bipila 3/33) beat Nagaland 91 all out in 38.3 overs (Iluneule Zeliang 25, Priyanka Karmakar 19; Dikcha 3/16) by 52 runs.

Meghalaya 65 all out in 38.2 overs (N Roy 12, Suriti 9; Omshi Arora 3/6) lost to Arunachal Pradesh 66/6 in 23.3 overs (Megha Sharma 31, S Prasher 13; Sistilin Ryntathiang 3/16) by four wickets.