April 18, 2022, Ranchi -
It was Mumbai's opening match of the
Senior T20 Trophy
against a strong Bengal side in Elite Group E. The match would eventually turn out to be crucial in the context of the tournament in the toughest of all groups. Mumbai won the toss and opted to bat and ended their innings on 158 for 6. Young Hurley Gala scored a single off the only ball she faced and remained not out.
Hurley was on T20 debut. It was supposed to be a regular affair like most Indian domestic debuts are; far away from the noise, in a corner of the country, without any crowd or the eyes of the broadcasters.
Hurley opened the bowling with the experienced Manali Dakshini and in the second over she was to bowl to India international Deepti Sharma. There was nothing extraordinary about the whole thing.
******
Hurley's story is anything but ordinary. India are a batting country, they have been producing plenty of teen batting prodigies in recent times. From V Sneha Deepthi and Smriti Mandhana to Jemimah Rodrigues, Shafali Verma and Richa Ghosh, they keep coming one after the other.
But amongst all this, team managements and coaches over the years have been fretting about the system not producing enough fast bowlers and how they haven't been able to find a successor to Jhulan Goswami. It's not that there aren't enough pacers in domestic cricket, but for various reasons, their journeys haven't been smooth as that of the batters. It's fair to say India are waiting for their breakout pace prodigy to arrive on the scene.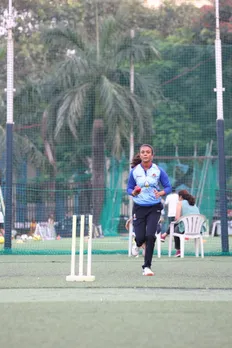 Hurley Gala made her Senior debut for Mumbai already at the age of 15  © Special Arrangment
At the age of 15, right-arm pacer Hurley Gala was opening the bowling for Mumbai in the Senior T20 Trophy.
******
Hurley, born in a Gujarati family from Mumbai on September 19, 2006, didn't take to cricket straight away as a kid. She was always athletic and was into running among a few other things. But skating was her chosen sport. She started skating when she was in playschool and then went on to shine in school, state, and national level competitions.
When she was about 11, Hurley twisted her ankle while skating and was taken out of the sport she loved for more than six months.
" Bachpan se woh bahut athetic thi. Jab play school mein gayi thi tab se running aur skating karti thi (
She was athletic as a kid and was running and skating since playschool). She would always come first, beating other kids in the competition," Tanmay Gala, Hurley's father, told
Women's CricZone
while talking about his daughter.
ALSO READ: Meet Yastika Bhatia, the karate kid who loves batting
Tanmay, an internet and cable service provider in Juhu, Mumbai, felt bad about his daughter sitting on the sidelines and not being able to pursue any athletic activities. So, it was his idea to get her interested in cricket.
"She got that ankle injury and had a long break
. Toh break aane ke baad, usske andar sports toh pehle se tha, toh mere ko achcha nahi lag raha tha ki kuch na kuch nahi ho raha tha
(Sport has always been inside her. So, I was feeling bad for her that she wasn't able to do anything after that injury-induced break)," Tanmay added.
******
Around this time, Gujarati
Mid-day
, a news daily from Mumbai, conducted a recreational cricket competition for housing societies. Gala's society also fielded a team and Hurley was part of it and she did well in those matches. That's when the thought of his daughter seriously pursuing cricket came to Tanmay's mind.
Tanmay turned to his relative and friend Vishal Karya, who had some cricketing credentials, for advice. Based on their decision to employ personal coaches for her, Hurley started playing with leather balls for the first time at the private ground Karya owned.
One day Karya was visiting a sports store to buy some cricket equipment and that's where he
met
Ivan Rodrigues, father of India international Jemimah Rodrigues. The two started talking and it turned out that Ivan was looking for a place for Jemimah to practice during the off-season.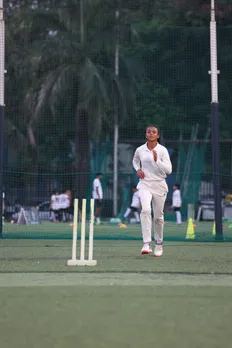 Hurley Gala during training © Special Arrangement
Hurley started training in Ivan's Negev Cricket Academy as they used the facilities of the private ground Karya owned.
******
At the Negev Cricket Academy, like most budding cricketers, Hurley was interested in batting at first. But looking at her, the coach thought she had the inner core strength, agility, and ability to be a fast bowler.
"She started with batting.
Sir ne socha hoga beech mein ki bowling daal sakti hai. Toh bowling daala toh achcha gira usska ball
(The coach might have thought she could bowl as well. Once she started bowling, the ball was coming out and landing properly)," 40-year-old Tanmay added. "
Pehle hi ball se tez daalna shuru kardiya Hurley ne, run up se chalu kiya, phir tez daalti
thi (She started bowling fast right from the start with a proper run-up)."
It wasn't just the pace; Hurley was able to bowl a lot of short-pitched stuff in the nets as well. That would come in handy later in this story.
******
Hurley had a rapid rise from there. She also started taking her games seriously and practiced hard to get better. Apart from the Negev Cricket Academy, she went to MIG Cricket Club in Bandra to hone her skills under the watchful eyes of Prashant Shetty. She had fitness and fielding coaches in Venancio D'Souza and Sachin Jagtap. It was all about taking her craft to the next level.
Hurley, a student of the St Columba School, was making her presence felt in the inter-school competitions. During the semi-final of a tournament conducted by the Mumbai School Sports Association (MSSA), she took a hat-trick with the ball and then went on to score a crucial 30-plus score in quick time in the final. These performances brought her to the attention of the Mumbai selectors.
It was the Late Madhvi Women's Trophy that catapulted Hurley into the Mumbai squad. In the club tournament held in Thane, she led Negev Academy to the title with her all-round performances. From there, she was called up to Mumbai Under-19 camps.
Praises and trophies galore for Hurley Gala © Special Arrangement
Hurley was then selected for the Women's Senior One Day Trophy for the 2021-22 season but the tournament was postponed with the Under-19 tournaments happening earlier. Even though she didn't make it to the Under-19 sides, she made her List A debut against Odisha when the Senior tournament eventually happened in October - November last year.  She opened the bowling and bowled her full quota of ten overs during the match, taking one wicket for 49 runs. That was the only match Hurley played during the tournament even as Mumbai exited the competition in the first round.
After the culmination of the Senior One Day tournament, Hurley started working on craft even more, putting in the hard yards in pursuit to get better. According to her dad, her growth as a cricketer was visible during this period. She was then called up to the Senior T20 Trophy squad. In a series of training matches between Maharashtra and Mumbai, she impressed everyone with her bowling as she hurried the batters. These performances eventually resulted in her opening the bowling against international batters in the ongoing Senior T20 Trophy. Her display in the Senior T20 Trophy earned her a call up for the National Cricket Academy (NCA)'s Under-19 (Girls) camp 2022, scheduled to be held in Rajkot from 16 May to 9 June.
******
Back to Ranchi, Hurley, opening the bowling for Mumbai, was up against Bengal's Sharma. The other opener, Mita Paul, was beaten for pace before getting almost caught off the next ball to turn the strike over to Sharma. The southpaw left one delivery before dragging Hurley onto the stumps for a duck. The 15-year-old had her first T20 wicket and that was India allrounder Sharma. Mumbai went on to register a big win by 45 runs.
The next day, Mumbai were playing Haryana in their second match - a day-night affair - and were up against it, having scored only 121 for 6 from their 20 overs. It was going to be an uphill task against a batting lineup led by the marauding Shafali Verma.
Skipper Jemimah once again trusted the youngster with the new ball and Hurley came into the attack after Dakshini conceded nine runs from the first over. And the 15-year-old had a plan.
ALSO READ: Meghana Sabbineni: Indian Railways' North Star
In the fourth over, Hurley dished out a bouncer first up and the India opener was beaten for pace while trying to go for the shot. The ball beat the keeper Riya Chaudhari as well and sped past the boundary for four byes. Verma tried to play a dab through gully but couldn't score off the second ball and she was again beaten with a fuller delivery next up . Off the fifth ball, Verma was lulled into playing a shot when Hurley bowled a slower one at short of a good length and was caught at mid-off.
Hurley pumped her fists multiple times before she broke into a celebration, with her teammates embracing her. Mumbai went on to beat Haryana by five runs in a thriller.
Still only 15 and with the inaugural Under-19 T20 World Cup on the horizon – the tournament is scheduled to be played in South Africa early next year - the future looks bright for Hurley. One would hope that the systems that are in place would protect and nurture talents like her into the limelight.
But as of now, Hurley Gala is a fast bowler from Mumbai who got the prized scalps of Deepti Sharma and Shafali Verma in her first two T20 matches.