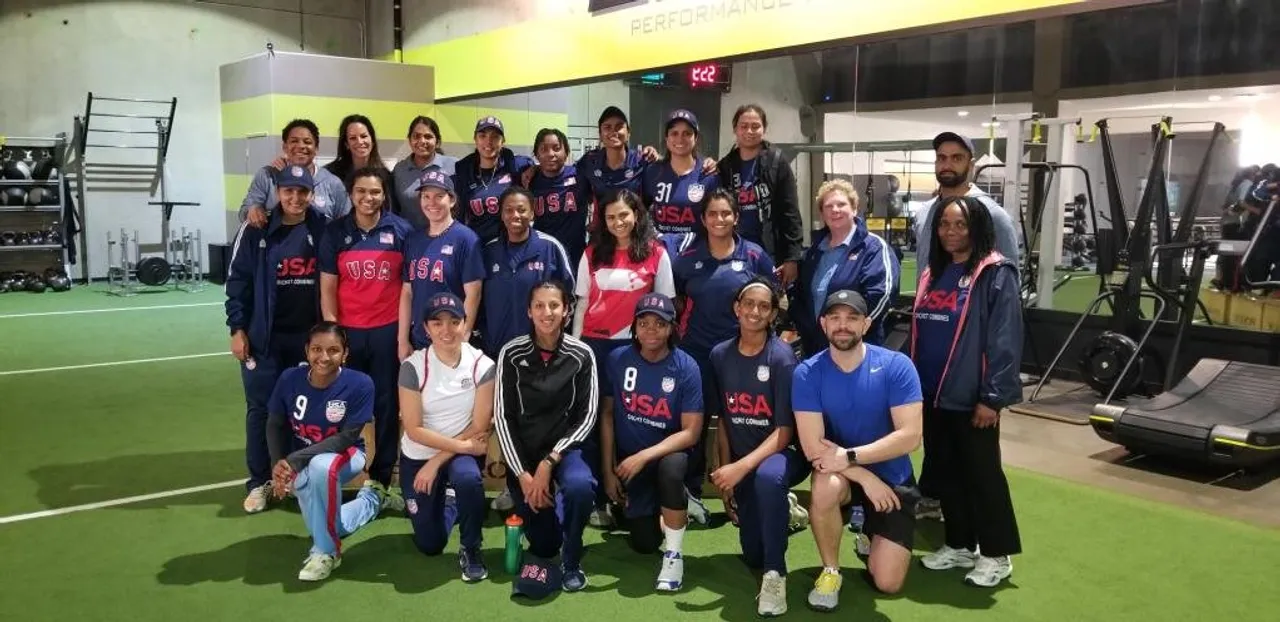 As a child, Bridget Patterson wasn't much into cricket. Her mind always imagined performing at the big league on Adelaide Oval in Australian rules football – particularly for Adelaide Crows in the elite AFL men's competition.
"I loved kicking the footy around at school and then when I was at home by myself I'd pretend I was kicking goals through the two trees out the front of our house," Patterson was quoted as saying to
cricket.com.au
in between Super SA Scorpions pre-season training. She remembers telling her grandma, 'when I grow up I want to go into the draft and I want to play alongside Andrew McLeod for the Crows'.
But as she gradually got bigger, Patterson felt opportunities in football weren't enough to make it big and cricket can help her with a chance to fulfill her dream of making it to the top even though she 'had zero ideas that women could play cricket at an elite level and represent Australia'. The wait wasn't too far as her interest in the game saw her selected for Kingscote's junior boys' team before her local club, Wisanger, fielded a U-13 side that she joined a year later.
Soon after Patterson was called for a trial for the Kangaroo Island's combined primary schools (SAPSASA) team. Although she had gender-based issues during her time there, SA Cricket Association coaches who ran regular clinics on KI, spotted her asked to try out for the state's U-13 girls' team.
There was no looking back for Patterson since then as she rubbed shoulders with some of the future Australia stars like Nicola Carey and Beth Mooney, before making her Premier League debut for Kensington aged 15 in 2009. She then got an invitation to train with the Scorpions and the following year was offered a rookie contract at a time when the WNCL's best players were earning barely $2000 per season.
ALSO READ: Alyssa Healy bats for WNCL; says competition should be delayed, not cancelled
"Initially I wasn't going to take up that contract because I wasn't getting paid and I was a 17-year-old country kid who had never lived out of home or lived in the city – I hadn't even driven in Adelaide at that stage," she said. Moving out at such a young stage was daunting for Patterson but after several discussions, SACA were kind enough in allowing her to play the first season for the Scorpions while still living on Kangaroo Island.
"So every couple of weeks I would fly over to Adelaide to train – we were only training once or twice a week and playing six games a season back then – and I was lucky because my sister already lived in Adelaide which made it a lot easier.
"After doing that for one year, I figured 'this is bloody hard work and the game is moving forward, the demands are getting more and more so I've got to do something – I can't just live over here on the island for the rest of my life'. I enjoyed playing cricket and I wanted to make something of it, so I bit the bullet, moved out of home at 18," added the 26-year-old.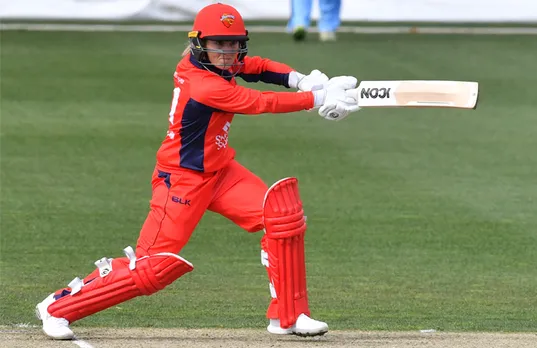 Bridget Patterson plays a shot through the off side. © saca.com.au
Patterson made her Scorpions debut in 2012 against Queensland at the premier women's tournament, alongside fellow debutant Alex Price in a match that was decided by a super-over. After such an eventful start, Patterson was in just awe when Elyse Villani (173) and rookie Jess Duffin (128) blasted them all over the park raking up a mammoth 418/3 in 50 overs weeks later.
The destruction made Patterson think about whether she has chosen the right path or not. "First we were trying to win in a super over and thinking 'how the hell can this happen in your first game?', then next thing the Vics made 400 against us and we're getting blasted by our captain (Lauren Ebsary)," she recalled.
"I don't know if you could have started any better, and then any worse but I guess it was either going to make me want to play more or just go 'nup, this isn't for me'." Patterson's decision to choose the former won her Scorpions' Most Improved trophy at season's end. She made huge strides in the following year by getting selected in Australia's U-21 Commonwealth Bank Shooting Stars squad that toured Sri Lanka for a tri-series also including England's Women's Academy and also played in Kensington's A-grade premiership win.
The Scorpions had a breakthrough season in 2015-16 with her 181-run second-wicket partnership alongside former England skipper Sarah Taylor in the final was heavily responsible for ending star-studded New South Wales Breakers' 10-year title-winning streak. That's not all as Patterson also emerged as the highest run-getter across the 50-over and 20-over formats during the Sri Lanka tour.
ALSO READ: Hobart Hurricanes rope in Rachel Priest; re-sign Belinda Vakarewa, Chloe Tryon
Her best WNCL season came during 2018-19 when Patterson scored her maiden tournament ton (109 from 139 balls against WA) followed by another 113 from 134 balls against ACT later in the summer. Thus she became the only batter after Australia skipper Meg Lanning to have two tons in that WNCL season. 
Having been Scorpions' leading run-scorer for the past two summers, Patterson also consistently performed for the Adelaide Strikers in the WBBL behind world-class stars Sophie Devine and Suzie Bates, and her former SA junior teammate Tahlia McGrath. However, she credits her own deeper understanding of the game for the rich form she is possessing recently.
"We've got our own Aussie players that we can learn off, but the WBBL gives you a chance to play in the same team as some of the best players in the world and no other competition does that," Patterson said. "You can watch the way they go about learning in the moment during a match, and even the struggles they might go through personally within the game.
"It's just little things like observing how they go about their training, and if I'm curious about a certain thing then maybe I'll ask a question. It's cool that me and (New Zealand's) Sophie Devine have spent a bit of time at the crease together in the past few years, and also having (former England captain) Charlotte Edwards as an assistant coach at the Strikers."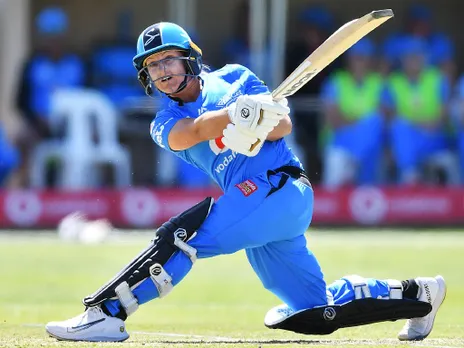 Bridget Patterson plays a slog for Adelaide Strikers. © adeliadenow.com.au
After months of being in lockdown, Patterson is back to the grind last month and has also got a chance to reconnect with her spiritual home. When it was announced that SACA's Premier Cricket competitions were cut short by virus restrictions in mid-March, Patterson escaped on a road trip with her family through central Australia and the Northern Territory.
However, the itinerary was put on hold when Southern Australia and neighboring states imposed lockdown, but by that time Patterson was back in Kangaroo Islands, she has managed to gather whatever gym equipment was available to support their home fitness programs.
"I basically decided 'well the holiday's been cancelled, the best place for me to be is over on Kangaroo Island'," Patterson said. "I can do all my off-season training, my parents are over there and I've got a gym set up in my parents' shed which I used when I was younger. It had everything I needed, whereas at home in Adelaide I didn't have access to all those things."
"So I came back to full training on June 1 in even better shape than I probably would have expected. But who knows what the summer will look like, and whether we'll be based in hubs or whatever. I just hope that we can play some cricket, and play some good cricket. And that we can compete for some trophies," she concluded.
https://open.spotify.com/episode/68RdoUPR5JUmx0RUr9fixZ