It was a story of challenges and triumph on the south coast this English summer as Southern Vipers once again found the winning formula masterminded by their 'guru', head coach Charlotte Edwards. It culminated in celebration for a close-knit team of cricketers at Northampton late last month. Captain Georgia Adams
lifted the Rachael Heyhoe Flint Trophy
– England's domestic 50-over competition – for the second year running, sharing the moment with family and friends. It was in stark contrast to
last year's triumph
at an empty Edgbaston in a small window of cricket
salvaged
from the Covid-19 pandemic.
Vipers could reflect on a year which saw the team feel the benefits of professional contracts. A year which saw domestic success translate into
England debuts
for two of its young stars, Maia Bouchier and Charlotte Dean. Conversely England call-ups meant a less settled squad, exacerbated when strike bowler Lauren Bell was forced to isolate after close contact with a Covid-positive case.
There was heartbreak too. Vipers reached T20 finals day in the Charlotte Edwards Cup, only to suffer defeat to Northern Diamonds in the semi-final.
History seemed set to repeat itself against the same opponents at Northampton. Diamonds reduced Vipers to a precarious 109 for 7 in the run chase before Tara Norris (40*) and Emily Windsor (47*) combined in a 78-run stand to pull off a thrilling victory with two balls to spare.
Edwards admitted to shedding a few tears after "one of most unbelievable games" she has ever been involved in. Skipper Georgia Adams was equally overwhelmed, reflecting on an emotional victory.
"I'm just so chuffed with the team and the girls and how they've gone out and performed," a breathless Adams told 
Women's CricZone
shortly after the game. "It's obviously our format. We've done really well, and we've shown so much depth, but equally this year hasn't been as plain sailing as last year. We've had people been coming in and out, so we've had a little bit less stability. So, for Emily and Tara to go out there and hold their nerve under that pressure and get that big contribution was phenomenal."
Early momentum
The 50-over campaign began in late May with back-to-back victories over Lightning and South East Stars. England had preferred Lauren Winfield-Hill as Tammy Beaumont's opening partner in the ODIs against India, meaning Danielle Wyatt was available to the Vipers until early July. With a point to prove, Wyatt duly reeled off three consecutive half-centuries to kick off her season.
The momentum though was abruptly halted at Hove. Emily Arlott stunned the Vipers with a four-wicket burst in one over as Central Sparks inflicted a crushing 120-run defeat on the defending champions. It was Vipers' only loss all year in List-A cricket following last year's clean sheet. Indeed, normal service was soon resumed at Taunton with a clinical win over Western Storm by eight wickets with Adams and Bouchier both contributing half-centuries.
ALSO READ: From within the snakepit: Recounting Southern Vipers' successful RHF Trophy campaign
Seamers Norris and Bell both bagged three-wicket hauls during this opening round of four games, but the spinners took the lions' share of wickets. Charlotte Taylor, the hero of last year's final, took 4 for 20 against Stars. Meanwhile Dean already had 11 scalps to her credit, a sign of things to come in this, her breakthrough season.
Agonising T20 defeat fuels desire
Then came a break for The Hundred before Vipers suffered that agonising defeat to Diamonds by 18 runs in the semi-final of the Charlotte Edwards Cup. Bowled out for 117, the loss – in front of a home crowd at Southampton – was a crushing blow.
To their credit, however, instead of focusing on what-might-have-been, they used the moment as an incentive.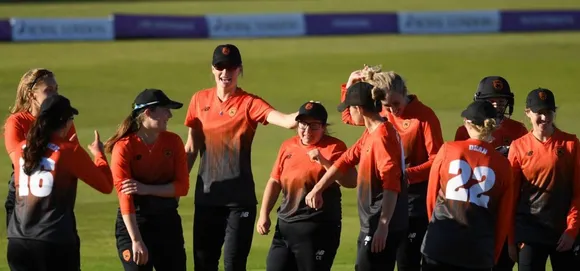 Southern Vipers lost to Northern Diamonds in the semi-final of the Charlotte Edwards Cup. © Getty Images
"I was absolutely devastated," recalled Norris. "I think that was in the back of my head
. I knew I didn't want to feel that way again. We didn't play well enough. So, I knew that going in at Northampton that that wasn't going to happen ."

Edwards took a more philosophical approach to defeat in the T20 cup that bears her name: "We were hit after the positive Covid case and then the two England call-ups, so I wasn't too down on it. I just said, look, we've got to learn from it, and we'll come back stronger. The way the team have reacted over the last few weeks, they were desperate to win this trophy."

Resuming the campaign

The resumption of the Rachael Heyhoe Flint Trophy began with a nervy three-wicket win over Thunder. Norris (4-14) and Paige Scholfield (3-16) recorded career-best bowling figures as Thunder collapsed to 110 all out before Windsor kept a cool head to see the Vipers home.

The narrowest win came at Chelmsford against a Sunrisers side who had started to throw off their underdog tag. Vipers posted a formidable 309 built around Georgia Elwiss' unbeaten 112, but Sunrisers fell just one run short. Diamonds were then dispatched by five wickets. Elwiss (84 not out) contributed again, sharing an 89-run stand with Adams (67).

A final space secured, Vipers had a few days' rest and recuperation while Diamonds and Sparks battled it out in the eliminator at Scarborough. Adams revealed though that planning for the final went on deep into the night before the match at Northampton.

A low-scoring thriller

At first the final seemed set to be a disappointing one-sided affair. Diamonds slumped to 116 for 8 as the captain gave her off-breaks a rare outing when Edwards identified that some of the match-ups might work. They did. Adams collected four wickets.

Edwards confided that Adams is a reluctant bowler: "I had to keep sending messages on, 'Georgia bowl'!"

ALSO READ: We are still a developing team: Danni Warren on the Sunrisers

Adams laughs in agreement. "I can tell you now that I wasn't expecting that! At one point, I actually forgot to appeal because I'm not used to getting genuine dismissals. I normally get a few caught on the boundary or something like that. But yeah, one thing that I do back myself to do, one thing that we joke about as a team, is I just bowl at the stumps and hope for the best. So, on this wicket, the bounce wasn't overly great, so I think that helped me out a little bit, but it wasn't in the plans!"

While Ami Campbell's 60 pushed Diamonds towards relative respectability, Norris was optimistic at the halfway stage.

"If you're talking at the start of the day, we're chasing 183, we'd definitely take that," she said. "I thought we were pretty clinical with the ball. I think as a group we bowled pretty well and bowled to our lines. We probably gave them a few too many extra runs, we could have it restricted them a little bit more, but saying that we should chase 180 any day."

Vipers' innings though followed the shaky example set by their opponents. Openers Adams and Ella McCaughan both fell without scoring and despite 33 from Bouchier, the champions were in dire straits at 109 for 7 when Norris joined Windsor at the crease. To underline the jeopardy, Jenny Gunn was on a hat-trick.


Emily Windsor stepped up when Vipers were struggling in the final and played a match-winnings hand. © Getty Images

"I felt sick at one point," admitted Adams. "I was sat on the balcony going, I can't watch, I can't watch. But when Winny is at the crease, I always feel some element of calm because she's so switched on in terms of her game plan. She's played a lot of cricket and she's really good at holding her nerve. The whole time she was out there, I was quietly confident."

Crucially though there were still 15 overs left, requiring Windsor and Norris to score at just a run a ball.

Edwards had certainly not written off her charges.

"I never ever think we're down and out, but I knew it was an uphill task. All I came down to the dugout and said was, 'we've got to take this deep, as deep as we possibly can and back ourselves'. That's what they did and that's what we've spoken about a lot, trust in our game plan which is about strong defences."

"Emily Windsor will look at her strike rate, but I don't care about that, it's about winning games of cricket. You've just got to get over the line. They did a magnificent job under a huge amount of pressure and made it look relatively easy in the end."

Norris carried her coach's message out to the middle. She and Windsor knew if they batted the full 50 overs, they would prevail.

"It's about just holding our nerve for a little bit longer, batting the overs and just playing our usual cricket, nothing high risk. I knew if we just stayed there, me and her until the end, we would win the game.



"Winny was getting a little bit stressed, but I just kept telling her, look, it's a run a ball, we've done this thousands of times. We've got this."

Drawing on her previous finals day experiences, Norris backed herself to post her highest score in the competition.

"I knew I had it in me and knew I wanted to do well for the team. I don't feel I've contributed enough in the 50 over comp, so I saw a real opportunity to go out there and contribute to my team and do them proud."

"I guess it's just pure desire, that hunger to win. It was my third finals day I've been involved in this year , and I hadn't won anything, so for me it was that grit. I knew I wasn't going to walk off the pitch until the game was over. That's what I said when I walked out there."

Her first job was to see off the hat-trick ball and then negotiate the end of Gunn and Katie Levick's spells.

"All the bowlers bowled brilliantly, and it was just being smart and thinking right well they've got two overs, one over left, let's not take them on, let's just see them off and play the game how it comes and try and attack a different bowler which is what I think we did pretty well."

Having access to practice facilities in the winter as a professional afforded her time to work on her batting alongside her primary skill as a bowler. It paid dividends.

"I reckon I was hitting at least 200 balls every session three times a week in the winter. Playing and training full time allows you to go in and bat for an hour every session, which I was never doing before."

"I think that's the same with everyone. You can see the scores are so much higher. I mean there were 600 runs scored at Chelmsford, it's just incredible. The standard is getting up and players are becoming generally all-round better cricketers as a result of that increased volume and contact time with coaches."

ALSO READ: It's a marathon, not a sprint: Sophia Dunkley not too worried about England selection

Edwards knew from working with the pair throughout the winter just what they were capable of.

"That's the joy of this job," she said. "You get to spend all winter with these girls, so you absolutely know. I think Emily Windsor has got the one of the best cricket brains in our team, so I knew while she was out there, we would know how to get there."


Charlotte Dean had a breakthrough season that saw her earn a maiden international call-up. © Getty Images

"I've worked really closely with her. She's our vice-captain and quite an underrated player. She got us to a total in last year's final and she's won us the final this year. For someone like her to put in again another performance under that pressure, I can't speak highly enough."

"We all know the talent Tara's got. She's never really done it at this level, but I've absolutely known she's got the ability to do it. Now this might be a really big breakthrough moment for her to do it on this stage and under that pressure."

Adams trains with Norris and has seen how much work she has put in during the off-season.

"She's got so much potential with the bat, so to see her go out there and play that knock was very rewarding. I hope she laps it up and enjoys it because she thoroughly deserved those runs and she played simple cricket and strong shots."

Secrets of success

"There were a few tears as we ran out there and they ran to me and they're the moments…" Edwards' voice tails off.

"They said we wanted to win this and bring Rachael back home. It's all we talk about is bringing Rachael back home to the Ageas Bowl, so we've brought her home. To do it in the way we've done it, I think just shows what this team is about."

DOWNLOAD: Women's CricZone Magazine, Issue 5

While Edwards talks proudly about all her team, and it is clear that there is a tremendous bond between them, she also credits their success to a lot of hard work.

"We're a close group and that's one thing that gets us over the line, but we work incredibly hard. I've worked them hard. We talk, and we prepare really well, and we've got a game plan we all trust in 50 over cricket. I think we're a very good 50 over team. I think we've got improvements to make in our T20 cricket but as a 50 over team goes, I'm really, really chuffed."

As if to send a warning to opposition sides, she adds: "I'm already thinking about how we can improve for next year. We should not have made that game as close as it was, but it was, and we've won another title which is what we're here to do."

The Charlotte Edwards effect

Adams talked warmly of Edwards' 'unbelievable support' behind the scenes and offered an insight into working with one of the legends of English cricket.

"She's been such a brilliant mentor. Her phone's always on and I'm always on the other end of it pretty much. She's been there for me through thick and thin and has helped me loads. I think my captaincy and my leadership has grown a huge amount in such a short space of time and we've had many a conversation. Even last night we were up until goodness knows what time just discussing plans. I'm learning from the best. She's got the most ridiculous gut instincts and she just knows and has this ability to pre-empt when things are going to happen."


Charlotte Edwards has had a huge influence on the development of the team over the last couple of years. © Getty Images

"As a coach for the team, she knows the game better than anyone I've worked with. She studies the game; she's always got cricket on her TV. She communicates so well. Everyone is so clear working under her that I just think she ticks so many boxes and has just been brilliant for us."

Edwards is equally fulsome in her praise of her captain.

"She's led the team brilliantly. Her contribution and captaining this team is incredible."

The new star

One player the Vipers do not expect to see much next summer is 20-year-old Dean, who instantly looked at home in an England shirt.

"I sent her a message the other night," smiled Edwards. "I said, it looks like you've been playing international cricket for five years. The way she's holding herself. We're so proud of her. We all knew she had the ability, but just the way she's stepped into the England shirt, like a duck to water really. The confidence Heather's got in her as well speaks volumes for how well she's bowling."

LISTEN: Elation, celebration and a championship win ft. Georgia Adams - Clean Bowled Podcast

While England call-ups pose selection problems for their domestic sides, Edwards can only see the upside.

"I don't think we're going to be seeing much of Charlie Dean over the next few years hopefully. That's a good thing. This is what we're here to do. We're here to produce cricketers."

"Maia Bouchier has been called up as well. So that's a real coup for us. Hopefully, a few more of these over the next few years will hopefully be looking for England honours."

The future

A break before winter training is the immediate plan, but Adams is already thinking ahead to next summer and has a target in her sights.

"We need to win the Charlotte Edwards Cup next! We've got name rights, haven't we! To have suffered that disappointing defeat against the Diamonds in that trophy, we'd like to excel in all formats of the game."

"Now for us, it's about developing England players which the management can be really chuffed to bits that we have done with Charlie and Maia. But also, we want to win trophies. We've got a very ambitious leader and coach and we've got a really ambitious team so hopefully we can keep winning!"