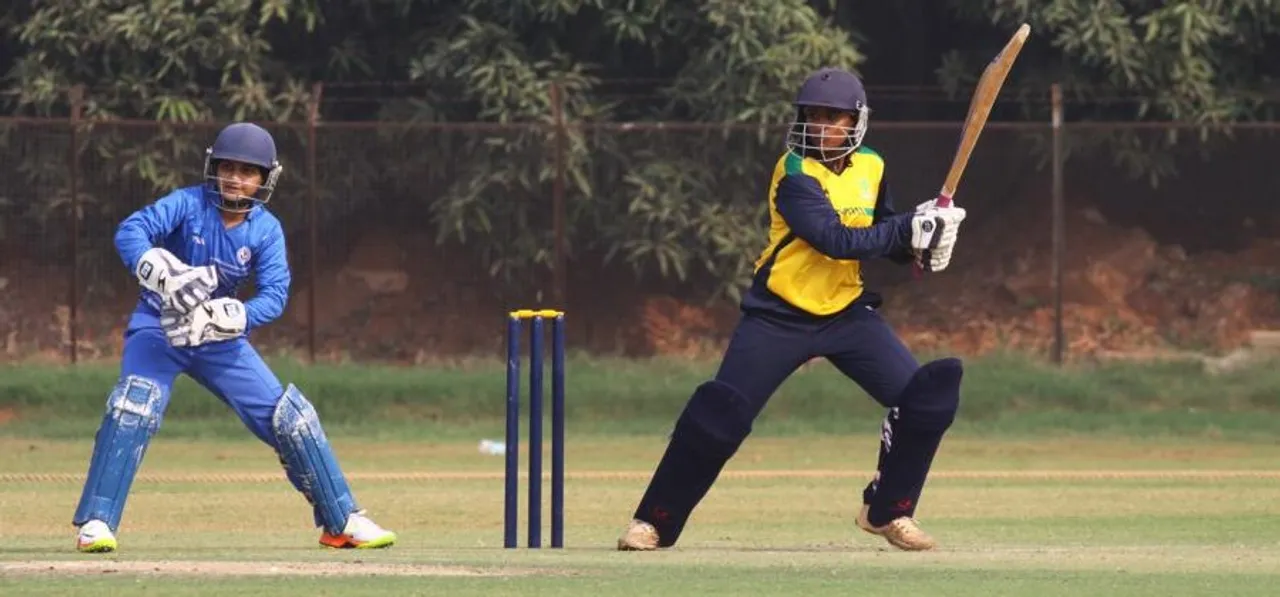 Sport is full of stories of prodigies. Teenagers who blaze their way through age-group and domestic competitions, taking down opponents sometimes twice their age and finding a place in top level sport before they have even lost their baby fat. These stories are common in Indian cricket, and more recently, Indian women's cricket has seen a host of young players make their presence felt at the international level.

22 is no age to start playing a new sport professionally. Even more so, one as technical as cricket.

In India, where videos of four-year olds playing cover drives and helicopter shots are a dime a dozen, 22 is almost grandparent level; not many people – well, if we are being realistic, NO ONE is going to give you a second look. But Saee Purandare's entry to senior level cricket – at 26 at that – forced people to sit up and take note.

ALSO READ: Of second comings & bravery: Sindhu Sriharsha's unconventional route to the top

16 one-day games, 1004 runs at an average of 100.40 whilst opening the batting, including four hundreds and five fifties. Between 2018 and 2020, no one has scored more runs in the domestic one-day competition.

Top run scorers across the 2018-19 and 2019-20 domestic one-day tournaments:

| | | | | | | | | |
| --- | --- | --- | --- | --- | --- | --- | --- | --- |
| Player | M | I | NO | Runs | HS | Avg. | 100s | 50s |
| Saee Purandare | 16 | 16 | 6 | 1004 | 154* | 100.40 | 4 | 5 |
| Ananya Upendran | 17 | 17 | 1 | 749 | 157* | 46.81 | 2 | 2 |
| Latika Kumari | 17 | 17 | 3 | 716 | 156* | 44.75 | 2 | 3 |
| Shivi Pandey | 16 | 16 | 3 | 637 | 104* | 49.00 | 2 | 3 |
| Karuna Jain | 17 | 15 | 5 | 627 | 98 | 62.70 | 0 | 6 |
"Age is just a number," Saee tells
Women's CricZone
as we settle into a lengthy chat over the phone. "I think we sometimes pay too much attention to that number. Of course, it is natural that if you want to train or become a professional athlete, it's an advantage to start early, but age shouldn't deter anyone from doing what they are really passionate about."
***
In the early 2000s, a 10-year-old Saee was bitten by the badminton bug when her mother took her to a coaching class one day. Over the next decade she trained under the likes of Vasant Gore – a popular coach who had worked with several national and international players – and Archana Deodhar – former international player – honing her skills and consistently competing at the state and national level.
Between 2008 and 2011 she was a regular member of the Maharashtra age-group teams, even winning her first gold medal at the School Games Federation's Inter-School National Badminton Championship in Visakhapatnam in 2009.
However, when the calendar turned over to 2012, Saee felt something change.
ALSO READ: Bengal reaps rewards of supremely successful system
"In 2012 my Under-19 year was finished and I shifted to senior badminton. When I took a few days off, I realised that there is a sudden loss of passion. I couldn't think of a reason, but I thought a longer break would help bring back that excitement. Unfortunately, that didn't happen."
"When I continued playing anyway, I started realising that the loss of passion is affecting my game," she explains. "I was no more interested in doing practice, doing fitness, although I was playing well. At the end of the season I realised that if I don't have that fire in me, I can't go to another level. I was really feeling bad about it but I was helpless… I couldn't see what to do. I shared it with my parents, and they told me 'Do what you really feel like doing.'"
"That's when I decided to stop playing. I took a break for around two and a half years from everything."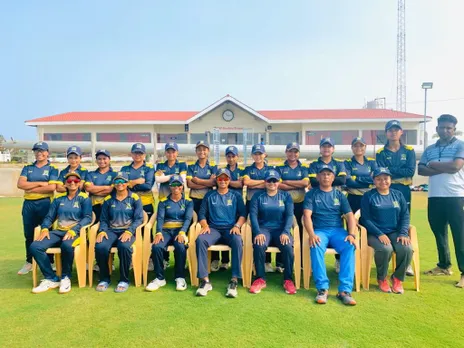 Saee Purandare (seated second from left) and the Meghalaya team for the 2019-20 season. © Saee Purandare
Having chosen to step away from badminton Saee buried herself in her books, focusing on completing her graduation in commerce. Through the period her mind kept drifting back to sport. She was an athlete at heart, and nothing could change that.
She tossed around the idea of coaching for a while, discussed it with her parents and returned to her alma mater with Gore sir who helped her lay a base. With over 10 years of playing experience, and a solid foundation in the techniques and tactics of the game, Saee began her second stint in badminton.
It was around this time that a voice from the past led her in another, rather unexpected direction.
***
In early 2008, when she had just begun training under Deodhar, Saee was given a book called 'Winning Habits' written by renowned sports psychologist Bhishmaraj Bam. Then still a teenager, Saee didn't pay too much attention to it, stowing it away, only to stumble upon it many years later.
"In 2008 I was not much of a reader," she laughs. "But when I came across that book in 2013, I chose to read it, and it was almost as if something clicked inside me. That book made me aware of two things – that age is just a number, and you need to follow your passion. I guess you can say it gave me the courage to go after my new passion."
At the time, Saee, 22, was working in a corporate firm, but her heart was not in it. "I knew I was not doing what I really wanted. I wasn't meant to sit in front of the computer for eight hours a day and work out of an office. I was still keen on playing sport, and the only thing I could really think of was cricket."
ALSO READ: Repeat not, repent not: the Devika Vaidya way
Like most Indian children, Saee enjoyed playing cricket when she was in school. While she was never coached professionally, the years in badminton meant she had good hand-eye coordination, nifty footwork and sharp reflexes – all transferrable skills that would serve her well in cricket. With a bit of a coaching background – albeit in another sport – she had the advantage of understanding and being able to grasp technique quickly. Maybe age would work to her advantage this time around.
"My parents were obviously very concerned and confused about my choice," she says, stifling a laugh. "Because their daughter was playing a sport for ten years and now she's saying that she wants to start playing another sport!"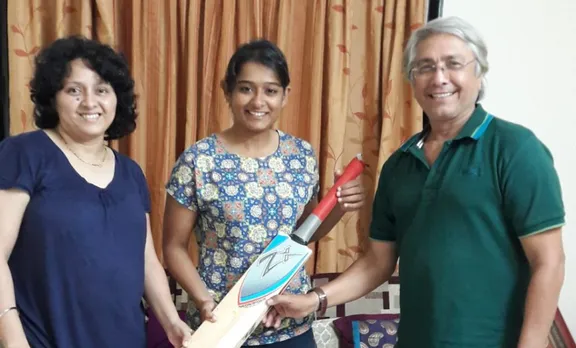 Soniya Dabir (L) and Pawan Kulkarni (R) have played big roles in Saee's development. © Saee Purandare
"Since I was really enjoying badminton coaching, and I knew that was something I wanted to do long-term, they advised me to continue coaching – to make sure I have a small, but steady income – while I played cricket. So, I was playing cricket from 4-6 pm and then coaching badminton from 6.30-9.30 pm."
"It was a bit of a challenge for me. I understood that they want me to be financially stable, but I really wanted to try my hand at cricket and see what would happen, and they understood that. They knew I loved the sport, but their worry was about whether there was a future. No one knew that… Even I didn't. But we thought I could give one year to the sport and see what happens. We could take a call after that."
Thanks to plenty of hard work alongside Pawan Kulkarni and former international Soniya Dabir, who showed just as much dedication to Saee's cause, within the stipulated year, the former badminton pro, now 23, found herself in the Maharashtra senior team as the second wicket-keeper.
***
As part of the Maharashtra squad between 2015-17, Saee was unable to get much game-time, consistently in the shadows of Shivali Shinde, who had successfully graduated through the state's age-group teams. However, she looks back at those early experiences fondly – being able to learn from the likes of Smriti Mandhana, Devika Vaidya and Anuja Patil, all of whom were playing international cricket at the time.
ALSO READ: 'If you score runs, people will respect you'
"It was a wonderful experience being part of the Maharashtra team," says Saee. "I was very curious about everything; eager to learn and improve as much as possible. But at the same time I knew that I didn't want to copy others. Through my time with the team, I understood that every player is different. I wanted to observe and see what they were doing, and I wanted to do the same with my own instincts."
However, like any athlete, what Saee really craved was time in the middle. As much as she was learning on the bench, she was keen to prove her worth on the field. In her only two T20 games for Maharashtra, the wicket-keeper accounted for seven dismissals, five of which came on debut against arch-rivals Mumbai. She had her first taste, and wanted more, but it was clear that if she stayed put, those opportunities would be limited.
Soon after the 2017-18 season, Saee was informed that the Board of Control for Cricket in India was to introduce nine new teams the next season. It almost seemed as if the stars were aligning – she saw an opportunity that she couldn't pass up.
After discussions with her coaches, Saee got in touch with Debasmita Dutta – former Karnataka player, and now Meghalaya captain – about the chance to play for Meghalaya. She had heard that they were in search of a wicketkeeper-batter, and Saee, it seemed, fit the bill. Thus, the journey north-east began – new team, old dreams, and a great opportunity to show the domestic circuit what she was made of.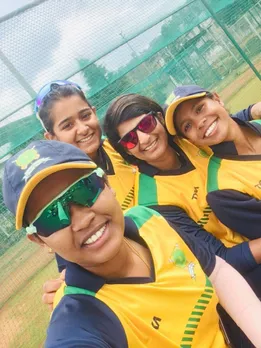 Trisha Bera, Saee Purandare, Vandana Mahajan and Debasmita Dutta formed a close bond over the 2018-19 season. © Saee Purandare
For Meghalaya, Saee, a veteran of two matches, was to play the role of the main batter. She teamed up with the experienced trio of Dutta, Trisha Bera, both off-spinning allrounders, and Vandana Mahajan, a devastating swing bowler, to help give the new team direction. Enthusiastic, loud and boisterous, the girls from Meghalaya lapped up whatever they could from the quartet of senior pros. For Saee, who was so used to the role of guiding and coaching less experienced players – albeit in a completely different sport – it was a comforting feeling in what she calls a "very relaxed and positive environment."
Alongside the senior trio, Saee helped Meghalaya finish third on the table, at one point challenging for a place in the knockouts. The right-hander slammed 462 runs, including a high score of 153 not out, at an astounding average of 154. Not only did she cement her position as Meghalaya's batting king-pin, but also announced herself on the domestic circuit.
ALSO READ: Complacency can be the end of you
"I love taking responsibility," Saee says when asked about the success of the first season. "I love being a senior. It's not at all a pressure for me. I had played a similar role for my club in Maharashtra for two years, so it was almost the same thing. I had to play with less experienced players, which I had already done before. So, for me, it was the same and I approached it like a same way… And Soniya
tai
helped me throughout."
To those in the opposition, it appeared as though she had extra time to play the ball, threading gaps with ease, and scoring at a fair clip. Her footwork was on point, she got herself into lovely, balanced positions, and rarely got ahead of herself. With the gloves too, she was efficient – happy to stand up to the stumps to the quicks, displaying wonderful reflexes and neat glovework. Her understanding of angles in the field and her ability to read the play quickly was also noteworthy.
So impressive were her performances that many of the former international players who were plying their trade as professionals within the Plate Group, singled the 26-year-old out for higher honours – a call-up for the 2018-19 One-Day Challengers perhaps. She had earned the right with her sheer weight of runs, but unfortunately, the powers-that-be felt differently.
"After a good first season with Meghalaya, when I was not selected to play the next level, I was obviously disappointed. It was a bit of a frustrating time, but something my father said to me that time really stuck with me and helped lift my spirits."
"He asked me if selection is in my control, and reminded me of the things that are in my control – like scoring runs, working hard and winning games for my team. That really helped me gain some perspective and refocus on my goal of being the best that I could be."
ALSO READ: Shikha Pandey swings her way back into the spotlight
Rejuvenated, and determined to prove her mettle against better placed teams in the T20 tournament, Saee embarked on the trip to Mumbai. She was in the middle of a purple patch and keen to cash in. However, in only the second game, the right-hander suffered a fracture for which she required surgery and was ruled out of the tournament.
"I was devastated when that happened," she says, her volume lowering as she recalls the incident. "I was in very good touch, and really enjoying the pitches in Mumbai. It was a difficult time."
Once again, it was acceptance of the situation that helped her move forward – control the controllables.
Surgery done, Saee returned to Pune and focussed on her recovery. Her desire to improve had not diminished one bit. If anything, her hunger for success had increased manifold.
***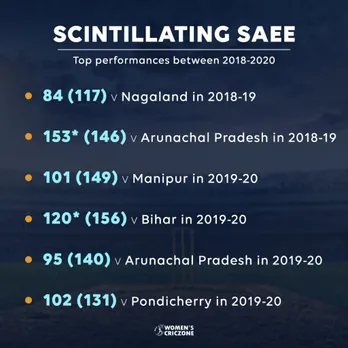 Saee's top performances over the last two seasons
In mid-2019, with the monsoon in Maharashtra looking like it would never cease, Saee made a choice to shift to Bangalore – better practice facilities, and more importantly, access to indoor nets. With the help of a sponsorship from Vighnaharta Technologies Pvt. Ltd, the right-hander shifted base to the 'Garden city' where she could both practice cricket and continue to coach badminton.
Her work through the off-season, meant that although Saee was a better-known face going into the 2019-20 season, she still found herself at the top of the one-day run charts, well ahead of the rest of the pack.
"I knew that teams know me now and they are better equipped, they are playing with better players, and they have studied my areas of hitting the ball. I knew they would be better prepared with plans against me. But my thinking was only about focusing on my game. As far as I know what I am going to do, that's enough."
ALSO READ: Shafali Verma - the new big-hitting kid on the block
"Also, through my experiences playing sport, I knew that it was important to think during the match rather than thinking about the game before or after the match was over. I knew my opponents will set the field according to where they think I will hit the ball, (and) they will try to get the first wicket down, as early as possible. But I believed. The plan was to focus on my game, not the opponents."
She rattled off three hundreds through the one-day tournament, sending opponents on a leather hunt. She was not playing differently. Her driving on the up was the same, the measured footwork, cashing in on anything remotely wide and respecting the good balls in between. She was just as, if not more, vocal than the previous year, talking her batting partners through each delivery, cheering them on when they were able to steal a run to get her on strike, or encouraging them to shift focus to the next ball if they got beaten or looked to be struggling.
She was a senior player – in only her second full year of state-level cricket – in complete control of her game and her team. This was a competitive athlete at her very best.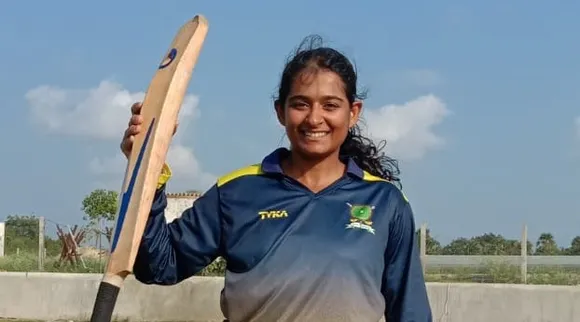 Celebrating an incredible win against Bihar. © Saee Purandare
One of the standout performances of the season was her unbeaten 120 against Bihar in a chase of 184. She single-handedly got Meghalaya over the line with what was an incredibly composed knock – holding the innings together and also making sure to keep up with the required run rate, which at the back end of the innings, had reached six runs an over.
"From the start of my cricketing career I have believed in one thing - if your performance is not resulting in your team's win, your performance doesn't matter. Even if you score 200 runs and if your team is losing, that doesn't matter. No one will see that," she says candidly.
"So, ever since I started, something that was constantly running in my mind was how can I possibly win a match while chasing for my team. I was well aware that chasing a total was difficult, but it is also something that gets people to really notice you. I knew I was capable of it. I wanted my performance to result in a win… That desire has been there from the very start – even at club level – but I never had the chance to be involved in a big chase."
ALSO READ: Of risks and jigra: Poonam Yadav's story
When the chance came her way, she made sure to grab it with both hands, playing arguably the most memorable knock of the season.
"You know, it is such an amazing feeling to see your teammates running towards you when you win a close match… I guess you can call it 'spiritual.' In that moment for two seconds you don't understand what is going on around you. You feel so good for the fact that your teammates are running towards you. I crave for that moment all the time when I play. That's how I get my motivation to perform again and again – especially when the pressure is on. I want to experience that spirituality."
***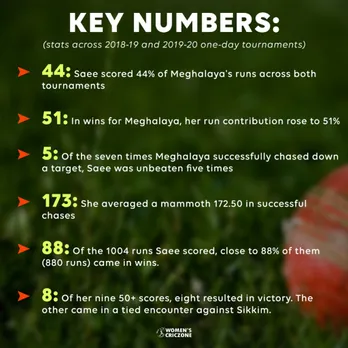 Key numbers in her dominance
On tours, early in the morning on non-match days, Saee can often be found outside, in some open corner of the hotel, meditating.
It's a routine she has developed and zeroed in on over the years. "I figured out and understood what works for me," she says. "It's nothing more than (a) few breathing exercises which allow you to get in more oxygen inside your body, more positivity. It's something I worked on, and the process really helped me understand myself and my game better."
Having demolished the competition for the second straight year, once again, it seemed Saee was primed to take on players in the bigger leagues. Unfortunately, the COVID-19 pandemic has put all those plans on hold. But the 28-year-old is not one to wait and wonder. Instead, she continues to quietly work on her fitness at home in Bangalore, itching to get back outdoors, coach badminton and play cricket.
ALSO READ: Arundhati lives dream with mother's support
For now, however, she is using her time productively finding new avenues in which she believes she can excel.
"I really enjoy working with children, and a field I am very curious about is early childhood. So, since I had the time, I completed a course in Early Childhood Education and am now an Early Childhood Educator! It's definitely another area I feel I can work full-time."
As our conversation winds down, and we talk about future hopes and dreams both on and off the field, Saee states in her characteristic matter-of-fact tone:
"I love this sport, I love performing, I am capable, and I will keep performing with whichever team I am playing for. Rest of the things which are not in my control... There's no point in worrying about that. I am happy to play as long as I am contributing to wins. Nothing can beat that feeling."
Having seen first-hand a couple of Saee Purandare specials, I have no doubt she has plenty of runs up her sleeve. With a quiet confidence, fierce determination and a calm head on her shoulders she is one to look out for in the years to come. And just maybe, she will convince enough people, to put that minute detail of
age
 aside.