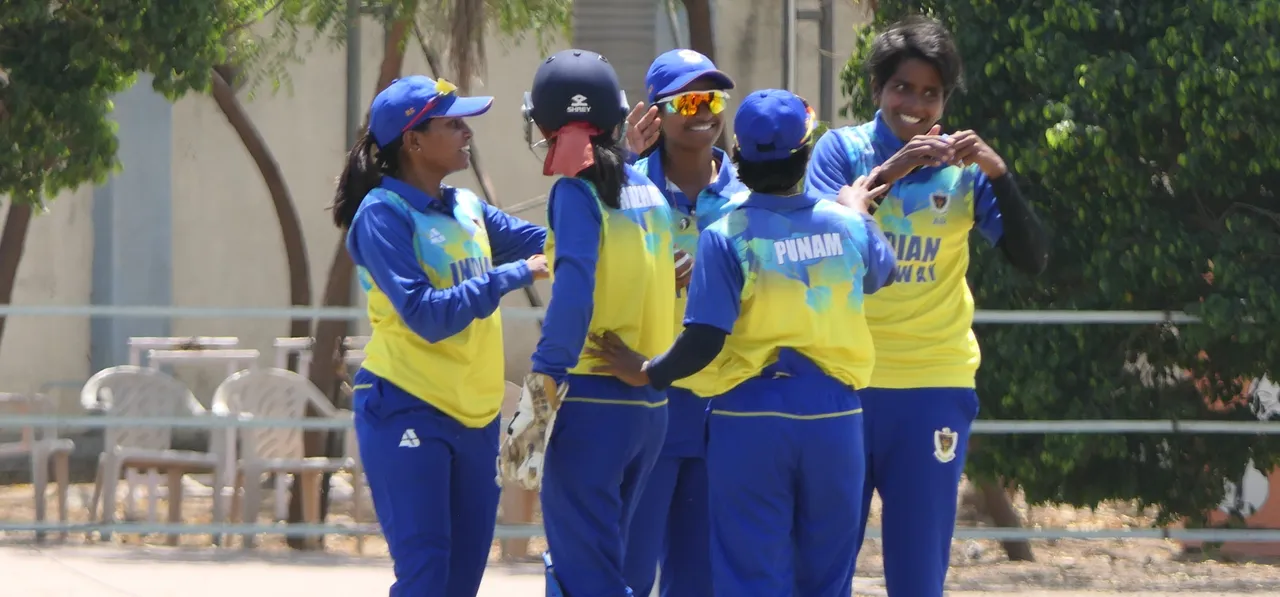 Four centuries and two five-wicket hauls headlined Women's Senior
One-Day
Trophy on Wednesday (November 3). Hundreds from Uttarakhand's A N Tomar, Bengal's Dhara Gujjar and Uttar Pradesh's Muskan Malik helped their respective sides to wins, while Keerthi Reddy's unbeaten ton for Hyderabad went in vain. Dayalan Hemalatha with her bowling and Sneh Rana's aggression with the bat extended Railways' unbeaten run in Pune.
In the Elite Group B match at the PYC Gymkhana in Pune, Rana's quick fire 61 not out made light of the chase for Railways against Tamil Nadu. Eariler, Hemalatha starred with the ball to bundle the opposition out for just 111 runs. The off-spinning allrounder accounted for four Tamil Nadu wickets including the top-scorer M D Thirushkamini for 38. Hemalatha finished with enviable figures of four for 19 from just six overs.
Skipper Rumeli Dhar backed up Gujjar's ton with an all-round performance – she scored 65 before taking three wickets for four runs – to help Bengal thump Himachal by 200 runs. Despite Reddy's century, Parween Khan's 82 guided Punjab home by five wickets against Hyderabad. Malik scored 113 in Uttar Pradesh's 74 runs against Baroda in Nagpur.
Skipper Pooja Vastrakar scored an 84 to take Madhya Pradesh to their third win from as many matches in Elite Group D and Priyanka Sharma's five-wicket haul helped Haryana trounce Mizoram by ten wickets to register their first win in the same group.
In Elite Group E, C Prathyusha's four-wicket haul and fifties from D Vrinda and Shubha Satish meant Karnataka continue to stay on top with yet another win. Best bowling figures of the day came from Jammu & Kashmir's Sandhya – she took six wickets for just nine runs - as they trounced Manipur by nine wickets.
Brief Scores:Jharkhand
98/10 in 41.4 overs (Sonia 32; Minnu Mani 4/12) lost to
Kerala
102/3 in 26.5 overs (Drishya I V 33*, Minnu Mani 31*) by seven wickets
Tripura
181/8 in 49 overs (R R Saha 49; Parunika Sisodia 3/33) lost to
Delhi
184/3 in 48.2 overs (Simran Dil Bahadur 59*, Ayushi Soni 50*) by seven wickets
Assam
120/10 in 46.4 overs (Uma Chetry 31; Anuja Patil 3/4) lost to
Maharashtra
123/2 in 29.1 overs (Tejal Hasabnis 52*, Anuja Patil 49*; Nirupama Baro 2/23)  by eight wickets
Odisha
251/5 in 50 overs (Madhuri Meheta 81, Sushree Dibyadarshini 72) beat
Mumbai
182/10 in 40.4 overs (Vrushali Bhagat 46, H Kazi 45; Madhusmita Behera 2/38) by 69 runs
Tamil Nadu
111/10 in 44.2 overs (M D Thirushkamini 38; Dayalan Hemalatha 4/19) lost to
Railways
117/2 in 21.5 overs (Sneh Rana 61*; K N Ramyashri 2/33) by eight wickets
Uttarakhand
231/6 in 50 overs (A N Tomar 124*, Sarika Koli 58; Rajni Devi 2/47) beat
Chandigarh
128/10 in 47 overs (Shivani Thakur 33; Amisha B 3/17) by 103 runs
Hyderabad
202/7 in 50 overs (Keerthi Reddy 100*; Mehak Kesar 3/31) lost to
Punjab
206/5 in 48.2 overs (Parveen Khan 82, Kanika Ahuja 46*; Yashasri 3/60) by five wickets
Bengal
272/6 in 50 overs (Dhara Gujjar 115, Rumeli Dhar 65; Harleen Deol 3/66) beat
Himachal
72/10 in 33 overs (Rumeli Dhar 3/4 , Saika Ishaque 3/8) by 200 runs
Rajasthan
144/10 in 49.4 overs (S L Meena 52; B Anusha 3/35) beat
Andhra
142/10 in 46.4 overs (R Kalpana 46; S R Jat 2/14, S L Meena 2/31) by two runs
Gujarat
171/6 in 50 overs (Simran 63, Bhavana Goplani 45; Komal Zanzad 2/32) v
Vidarbha
13/0 in 3.2 overs. No result
Mizoram
31/10 in 14.1 overs (Priyanka Sharma 5/11, Amandeep Kaur 0/3) lost to
Haryana
34/0 in 5.2 overs (Bhawna Ohlan 20*) by ten wickets
Madhya Pradesh
209/8 in 50 overs (Pooja Vastrakar 84) beat
Goa
90/4 in 33 overs (Purvaja P Verlekar 26) by 45 runs (VJD Method)
Chhattisgarh
150/10 in 43.5 overs (H V Borwankar 76; C Prathyusha 4/20) lost to
Karnataka
151/3 in 34.1 overs (D Vrinda 67*, Shubha Sathish 64; Ritu Meshram 2/32) by seven wickets
Saurashtra
176/9 in 50 overs (M Jadeja 61; Abirame R 2/26) beat
Pondicherry
169/10 in 49.2 overs (Yuvashri 54; Sujan Sama 2/32) by seven runs
Uttar Pradesh
257/8 in 50 overs (Muskan Malik 113, Shipra Giri 71; Tanvir Shaikh 2/29) beat
Baroda
183/10 in 45.1 overs (P A Patel 70, B D Surti 47; Rashi Kanojiya 3/46) by 74 runs
Nagaland
169/10 in 47.4 overs (K P Navgire 62, Gautami Naik 57; Hajong 3/16) beat
Meghalaya
129/10 in 43.4 overs (Rajni Lodhi 22; Gautami Naik 2/18) by 40 runs
Manipur
75/10 in 27.2 overs (Sandhya 6/9) lost to
Jammu & Kashmir
76/1 in 20.3 overs (Rubia Syed 40*) by nine wickets
Arunachal Pradesh
74/10 in 37.3 overs (Manizha Mumtaz 4/11) lost to
Sikkim
77/4 in 27.1 overs (Jetsun 23*) by six wickets