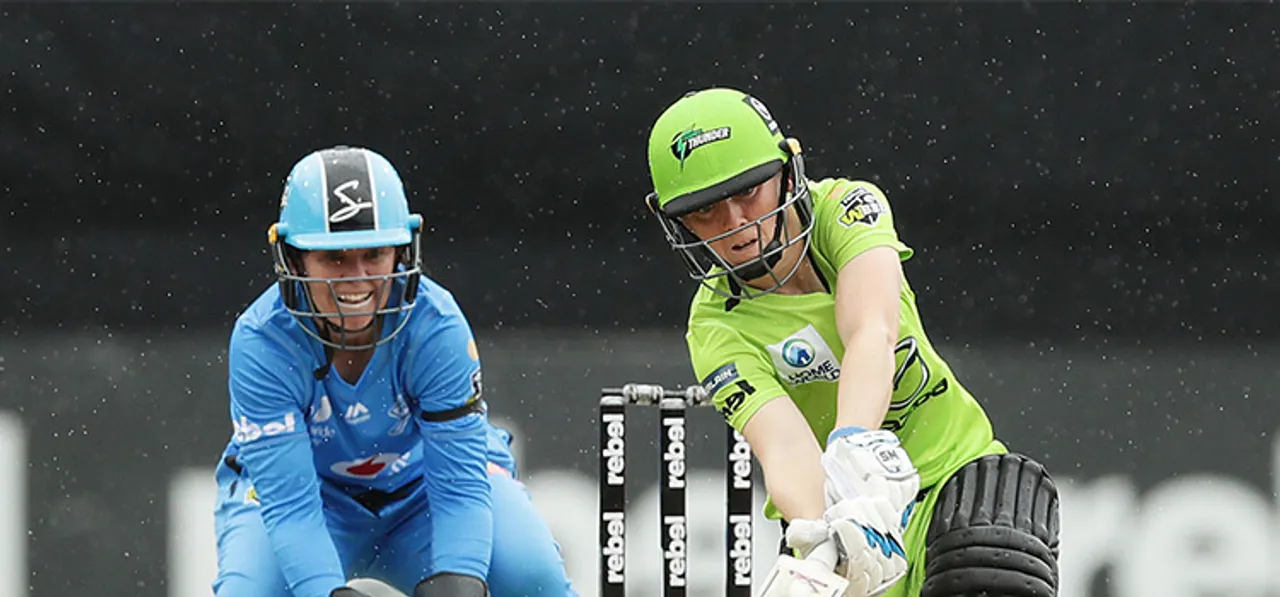 When Heather Knight is at the crease you expect some kind of wham-bam and Saturday (October 31) was no different as she played a whirlwind 39-ball 83 against Adelaide Strikers in the ongoing Women's Big Bash League.
"To be honest, I try to keep it very simple.  Not try to over hit the ball. It was a very nice wicket, the ball was coming on the bat very nicely. I was trying to stay straight and hit as they come," Knight told the reporters in a virtual press conference after the game.
Batting first, the Thunder posted a mammoth 190 for six in 20 overs. They lost the openers Tammy Beaumont and Rachel Trenaman early but a quick-fire 13-ball 30 from Sammy-Jo Johnson and a crucial 91-run partnership from Knight and skipper Rachael Haynes
propelled them to a big total
. In return, Strikers finished at 132 for 8.
"We were trying to for 170 but to get that 190 mark was really nice actually. It was one of those days where you try to get as much as you can, probably hit every ball for four. Rach was brilliant at the other end. She just came in and got the game very quickly. It was nice to bat with her rather than trying to set the field," said Knight.
ALSO READ: Satterthwaite confident about the balance of Renegades ahead of clash with Scorchers
She was also all praise for Sammy-Jo. "We have had that slow start and kind of needed that injection really and Sammy-Jo did exactly what was asked of her. She was actually gonna slip down the order after five overs, but Rach and Trevor made the call to get her ready if we lost another in the powerplay. I love her as a cricketer and I think she is brilliant. She is really competitive and a great girl to have in your team."
The England skipper has been in brilliant form throughout the year starting from the T20 World Cup back in February-March earlier this year. Speaking about what changes she had brought in while batting, Knight admitted to few changes.
"Few things actually. The main thing is the mindset. I have managed to kind of let the shackles off a little bit. I have really enjoyed batting in those three, four of England as well. Just backing myself to get in, I guess a bit of technical as well in terms of power hitting, just trying to swing it really easy and have that high back lift to be able to clear the ropes again," explained Knight.
ASLO READ: Shelley Nitschke wants Perth Scorchers' middle-order to be more aggressive
Meanwhile, Adelaide Strikers medium-pacer Sarah Coyte blamed it on themselves, stating they didn't execute the plans well. "It was a tough game. I think we have let ourselves down with the ball. With the rain falling we have kind of expected the pitch will start a little bit slower than it was. When it didn't we just, I think we didn't execute our plans very well today, we just let ourselves down with the ball," she said.
She admitted that the Knight-Haynes partnership took the game away from them. "We have the bowling talent in our line-up to be able to execute what we need to do. I just think we did that today. Heather, congratulations, she is an economic bat and Rach, she is a fantastic bat. So I just don't think that we have adapted early enough to shot that partnership down," Coyte added.
Although Darcie Brown didn't get a wicket, Coyte heaped high praise for the youngster. "Darcie is a very exciting prospect particularly for future games to come. She is being given the opportunity with the Strikers and I think she has grabbed that with both hands. Its gonna be really exciting to see what she can do for the rest of this tournament. She is going to get faster and better as we go on," she concluded.