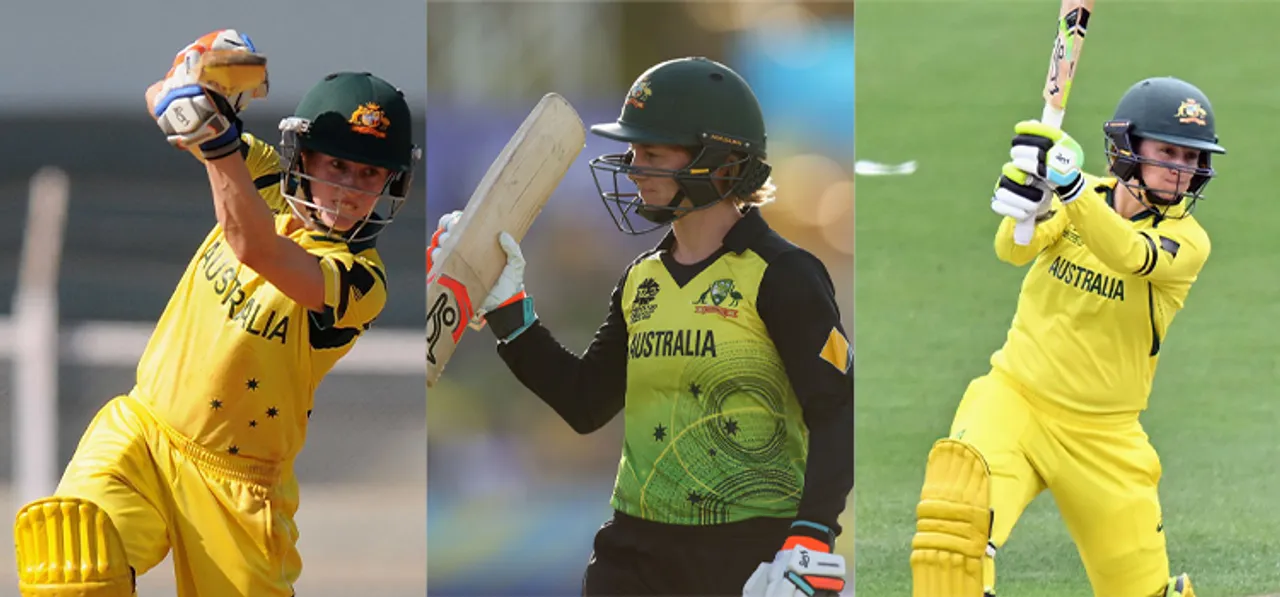 Rachael Haynes is a crisis negotiator.
She is always summoned when her team is in a crisis. Calm under pressure, she solves the immediate issues, nips potential ones in the bud, and if that weren't enough, asks if there is anything else that needs attention. Since 2017, Haynes has masterfully negotiated several tricky situations for Australia, and now, it is impossible to imagine the team without her.
In February 2017, Haynes, Australia's highest run-scorer in the 2013 World Cup, was playing her first ODI in almost four years. Haynes had considered announcing her retirement from the game but got this last-minute opportunity following the injuries to Ellyse Perry and Alex Blackwell. In the first ODI of the Rose Bowl series, the left-hander partnered fellow southpaw Beth Mooney, who was batting in only her sixth innings. The inexperienced youngster and a player who hasn't played any international cricket over a long period were paired to bail out Australia from the early wobble.
By the time Haynes got out, Australia's score had swollen to  156 in the 30th over with Mooney already past her half-century. The partnership of 95 runs provided Australia with the spark they needed. The crisis was averted. Her experience in international cricket also calmed Mooney, who went on to score her maiden ODI century and Australia posted a massive total of 275.
Also Read: Australia fend off England's challenge at Seddon Park
Haynes was re-introduced in the national set-up when the post-2013 aura of invincibility was still around. Australia entered the 2017 edition of the World Cup as the most successful side since the previous World Cup. There were cracks in the system but they were not visible to the outside world.
Haynes came to the rescue in that unsuccessful World Cup campaign as well. Australia needed to protect their captain, who was struggling with a shoulder injury and needed a like-for-like captain's replacement. She led the team in two matches, securing full points in both.
She watched Australia crumble against Harmanpreet Kaur in the semi-final of that World Cup from the sidelines. Three months later, she was asked to lead a Lanning-less side in a home Ashes series. That old aura of invincibility was long gone. Someone needed to storm the weather and make the wounded side battle-ready. Australia just retained the Ashes; Haynes had done her job. Once Lanning was back and vice-captain Blackwell announced her retirement, Haynes fit in the role of Lanning's deputy like a glove.
Haynes' late hitting against West Indies in the T20 World Cup in the 2018 semi-final deserves a mention as well. In the words of Mooney, "Rach tends to have a knack of coming in and finding another gear for the team." Sophie Molineux echoed similar sentiments while speaking about her innings of 25 off 15 from that semi-final. "That knock was game-changing. It won us the World Cup," Molineux said. Two days later, Australia lifted the T20 World Cup trophy for the fourth time.
Once it was clear that Australia were parting ways with Nicole Bolton as an opener, Haynes was pushed up the ODI batting order. In February 2019, she was opening the batting in international cricket after six years against New Zealand at the WACA. Yet, amid a top-order wobble, she stood tall with her 67 off 80 balls. Jess Jonassen's astonishing comeback helped Australia win the match, where Haynes took a handy catch to send New Zealand skipper Amy Satterthwaite back for 92. Haynes was in the right place at the right time whenever Australia needed her.
In the home T20 World Cup in 2020, the WACA ground would pose yet another challenge to Australia. Having lost the opening match against India, the hosts were a few wickets away from being eliminated from the tournament. Facing Sri Lanka, Australia were 10 for three in the fourth over of the chase. Lanning and Haynes had their task cut out for them. The leadership duo kept digging and Haynes' 60 off 47 balls made all the difference in the chase. Australia's World Cup campaign breathed a sigh of relief, and Haynes was at the heart of it.
Also Read: SWOT Analysis: Can 'Invincible' Australia conquer their final frontier?
Coming into the 2022 World Cup in New Zealand, her form with the bat was under-par. Scores of 4, 10, 31 against England in the ODI leg did not inspire a great deal of confidence. Australia remained undefeated in the Ashes series, but the batting unit, including Haynes, was struggling. There were some whispers if this is Haynes' final global tournament before announcing her retirement.
"You know, she's an important part of the team. She's going to play an important role for us. If we are to win this World Cup, and I can't really see her stopping anytime soon, to be honest. She's fit. She's strong. We will see what happens after this World Cup. But yeah, I could see her playing for a long time down the track," skipper Lanning maintained.
Come Australia's opening fixture against England on March 5, the 35-year-old faced
Katherine Brunt
in the first over. After a slow start and the subsequent wicket of Healy, Haynes was once again paired up with her captain. At the end of the powerplay, Australia were 37 for one. They were cramped for room with perfect execution from the English bowlers. England wicket-keeper Amy Jones was so close to the stumps that one was almost waiting for her to burst into a rousing rendition of "So Close" from Enchanted. Run-scoring was difficult.
Haynes scratched through her innings. She used her track to perfection, hitting a gorgeous cover drive off Natalie Sciver; came down the crease to stamp her authority over England's best spinner, Sophie Ecclestone. All this, at a time when Lanning was struggling at the other end, it was Haynes who took on the English attack, taking Australia past 100 in the 25th over. 
For the next 25 overs, Australia scored at a run rate of eight. During this period,  Haynes' contribution was 91 runs off just 71 balls. The Lanning-Haynes partnership added 196 runs, an Australian record for the second wicket. Three balls after her captain got out, Haynes raised the bat to celebrate her second ODI century. An exceptional ton off just 115 balls.
It was fitting that fellow southpaw Mooney was at the other end when Haynes crossed the mark. Five years after 'that' comeback innings in New Zealand, where she saw Mooney score her maiden ODI century, Haynes embraced her batting partner after scoring her first World Cup century. A circle was completed.
Also Read: Meg Lanning: How the domestic system allows Australia to thrive
On air, Ian Smith described it perfectly:
"One of the very best hundreds you will see. Waiting for your chance, building momentum and then making it count."
His words, in many ways, are a reflection of Haynes' career as well.
She waited for her chance for almost four years after the 2013 World Cup, helped Australia build momentum, first, in the absence of Lanning, and then alongside her captain. And she made it count at the world stage against one of the toughest oppositions and in the first match of the World Cup. 
On March 5, with her captain by her side, Rachael Louise Haynes rescued Australia, like she always does.