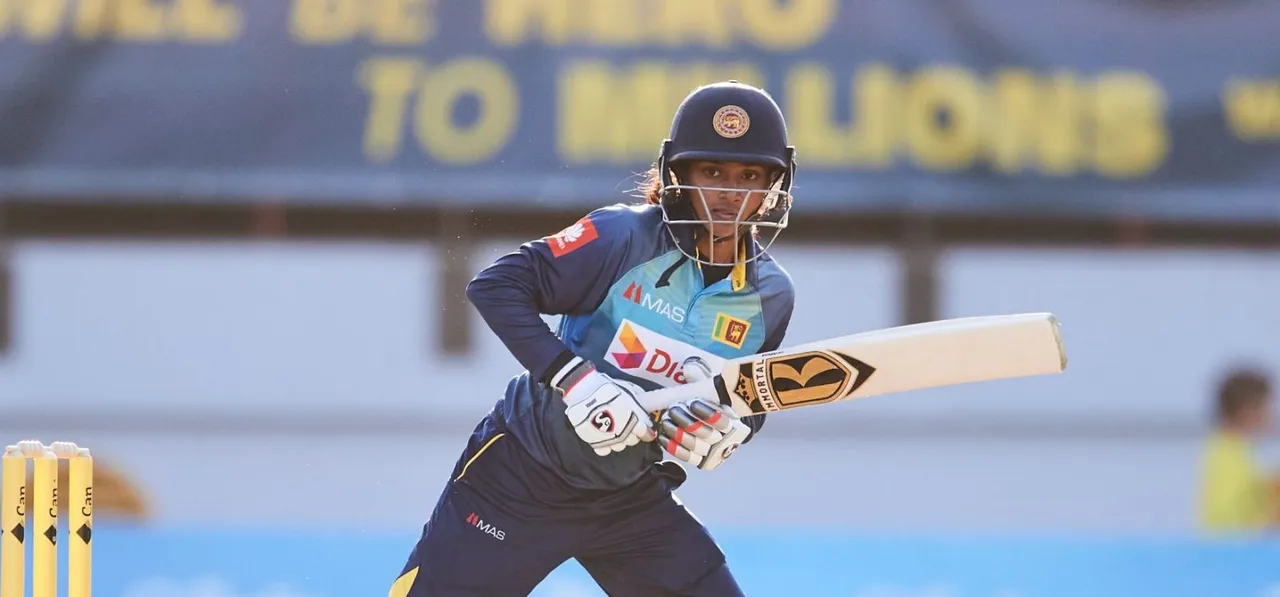 At a juncture when Sri Lanka have been struggling to put together a team to challenge the top cricketing nations, the emergence of 21-year-old Harshitha Madavi has come as a breath of fresh air. Having made her international debut in March 2016, it is only in the last 12 months that Madavi has been given an extended run in the line-up. The left-hander has since collected 318 runs across formats, with a highest of 42 in consecutive ODIs at home against a strong England attack. More recently, on Sri Lanka's tour of Australia, she showed much promise with scores of 24, 39 and 22 in the ODI series.
Having
displayed great composure and poise with the bat through that dismal tour of
Australia, Harshitha was handed the reins of the Under-23 Sri Lanka team for
the Emerging Asia Cup in October last year, after which she led them in the
South Asian Games in Nepal in December. Her performances through both those
tournaments underlined her value as one of Sri Lanka's brightest talents.
Before embarking on her biggest challenge yet, Harshitha spoke to Women's CricZone to discuss her journey so far, her hopes for Sri Lankan cricket, and her immediate goals looking ahead to the ICC Women's T20 World Cup 2020 in Australia.
***
Over the past 18 months, Sri Lanka's record across formats has been extremely poor. With the game more or less in bits and pieces the team has been scratching the barrel to match the heavyweights in the international arena. Since July 2018, they have only managed a solitary win in T20Is — against Bangladesh at the 2018 ICC Women's World T20 in the West Indies — and a one-off win against India in their last 15 ODIs. Without doubt it has been really tough going for a nation that is swimming against the tide to try and bridge a talent gap with the top women's cricket playing countries.
For starters, one of the main causes of this problem has been Sri Lanka's over-reliance on the individual brilliance of their T20I captain Chamari Atapattu and ODI captain Shashikala Siriwardena. Since their incredible run in the 2013 ODI World Cup where they knocked out both England and India in the group stage, Sri Lanka have been unable to find players to support the duo with consistent performances. However, in recent times, the arrival of a potential superstar-in-the-making in Harshitha is indeed a bolstering factor to the team's cause.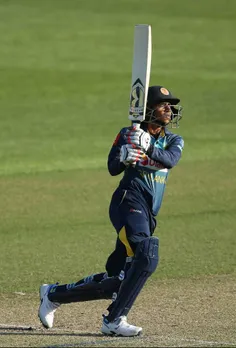 Fleet footed with an appetite for run-making that is accompanied by the natural flair of a left-hander, Harshitha has a solid technique and calm head on her shoulders. At only 21, she has displayed a maturity beyond her years — a willingness to soak up the pressures of international cricket, fight through tough periods against high quality bowling and finally cash in whenever the opportunity presents itself. While she is still, of course, learning her trade, Harsha de Silva, head coach of Sri Lanka, has clearly marked her out as the future torchbearer of Sri Lanka women's cricket – evidenced in the fact that she has been named the team's vice-captain for the mega event in Australia.
"Harshitha
Madavi is definitely earmarked as the next captain to take over from Chamari
Atapattu and Shashikala Siriwardena in time to come," de Silva told Women's
CricZone. "She has proved to be a durable player for the future to take Sri
Lanka women's cricket forward."
Of course, the player herself is modest, and
unwilling to look so far into the future at this point. Now, she says, is the
time to cement her place as one of the team's most consistent batters. "It is
still early days for me to think of captaincy as of now," she says. "For me it
is all about becoming the perfect cricketer. I need to develop further as a
batter and also become a dependable fielder in the team as well."
Harshitha
took to the game as a 10-year-old thanks to her older brother. The left-hander
spent many of her free hours playing cricket with the boys in her
neighbourhood.
"I would never have played cricket if not for my elder brother who used to rope me in for friendly boys' softball cricket matches in our neighbour's backyards in Colombo. I was always the odd tomboy in the team," she says of her early days in the game.
Having first studied at Sangamitha Vidyalaya and then Gothami Balika Vidyalaya in Colombo, she then moved to Anula Vidyalaya in Nugegoda, Colombo's premier cricket playing girls' school. The left-hander now represents Colts Cricket Club and Combined Province Women at the domestic level.
Soon enough, at only 17, Harshitha made a splash on the national stage, scoring a mountain of runs in the inter-girls' school tournaments — performances on the back of which she earned her maiden call-up to the national side. She made her international debut in the 2016 ICC Women's World T20 in India against Ireland where she was dismissed for a four-ball duck by leg-spinner Ciara Metcalfe.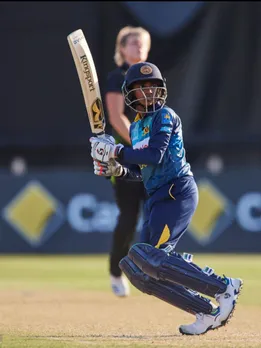 Over
the course of the next 12 months, the left-hander played four internationals in
which she collected a total of 13 runs— not very promising, at all. However,
since her recall to the national side in 2019, she has evolved her game and
done enough to entrench herself as one of the team's most promising batters.
Her numbers have meant that she is often loftily spoken about to shoulder the
hopes of her country. Captaincy is therefore something that she is being
progressively groomed for.
Her consistency at the international level in recent times meant that in 2019, Harshitha was elevated to captain Sri Lanka in the inaugural edition of the Women's Emerging Asia Cup at home. The hosts did well to finish runners-up, losing to India in the final by a close margin of 14 runs. Batting in the pivotal No.3 slot, skipper Harshitha led from the front to win the coveted Player of the Series award. She struck successive half centuries — the first against India in their opening match, and the second, a vital 53 against Bangladesh in a virtual semi-final — on her way to a tournament tally of 147 runs in three innings at an average of 47. Her output underlined her potential as a player with the capacity to shoulder responsibility.
In her next assignment, Harshitha further strengthened her resume, tonking her first T20 century, when she blasted an unbeaten 106 off just 47 deliveries against Maldives in the South Asian Games Cricket Competition in Pokhara. She finished the tournament at the top of the run charts with a total of 187 runs in four innings at an average of 62.33 and strike rate of 144.96. Her efforts saw Sri Lanka make the final of the tournament where they lost to Bangladesh by two runs.
Following her
stellar performances in recent outings, Harshitha contends that her batting has
evolved a great deal. Admittedly, she is slowly getting used to the grind of international
cricket – finding the knack of contributing consistently – and hopes to soon be
able to lighten the load on skipper Atapattu.
"I
must say that I have been able to get the feel of contributing substantially to
the team effort," she says. "True, it is a huge ask of Chamari to continually shoulder
the brunt of the batting.  I certainly
feel that I'm in the type of form to play a supporting role and contribute with
the bat. It is all about contributing to a common cause. We all know that there
is a lot of hard work ahead and certainly I do look forward to doing my share
towards that end."
"It
is certainly a tough challenge looking to the future to compete on the
international stage and make the much-needed difference to Sri Lanka women's
cricket to take it out of the doldrums," she contends.
As Harshitha prepares for the immediate challenge of Australia and the bigger task of helping revive Sri Lankan cricket, there appears to be a real glimmer of hope. If her coaches and teammates are to be believed, the sky is the limit for the exciting left-hander as she sets off to make a name "for self and country."