There should be a few furrows on Harmanpreet Kaur's forehead. In the T20 World Cup so far, she has scores of 2, 8, 1 and 15. She headlined the last two ICC tournaments she played with iconic knocks; the 171* against Australia in 2017, and her maiden T20I hundred against New Zealand in 2018. This time, she hasn't even tallied thirty runs. 
She should be worried. She should be defensive with the media, temperamental with her teammates, and just a little angry at life. And maybe, behind the closed doors of the dressing room, and inside the solitude of hotel rooms, she is just that. 
But at press conferences, I've sensed something different. An openness that I've not seen much of before. A willingness to move beyond and not hide behind platitudes. It could be because India are winning. But I don't think so. I saw this before India started their tournament. 
Usually at Harmanpreet's press conferences, you have to wait till all the English questions have been asked, and then you get to ask ones in Hindi. That's usually where the presser actually begins, much like a Harmanpreet innings: starting cautiously, but accelerating as it gets its bearings. It's quite natural, considering that English is Harmanpreet's third language, after Punjabi and Hindi. 
At the pre-tournament press conference, ahead of the first game in Sydney, I didn't feel the need to ask questions in Hindi. 
ALSO READ: Harmanpreet's batting through the prism of the unknown
It's not just that she's speaking more fluent, more expressive English, which she is. But it is also a more confident Harmanpreet who's here.
Now this might all be conjecture. So here are some facts. India will be playing the final of a T20 World Cup for the first time on Sunday. India are in the title-clash having scored 523 runs in the entire tournament. Just 74 of those runs have come from the bats of Harmanpreet and Smriti Mandhana. It is a reality that was unthinkable of six months ago. 
India are in the said final having taken 27 wickets in the tournament. None of those wickets have been taken by Harmanpreet. She hasn't bowled a single over so far, so well-oiled (or well-managed?) have been India's bowlers. 
The mind of a batter short of runs is usually like an unstable electron moving at warp speed. But Harmanpreet has not come across as frazzled, even when asked about her form. She's had other things to think about. "As a batter when you're not in good form, it's easy to be shaken mentally. But now it's more important that the team does well. If I'm not doing well, how can I get the others to do well (is what I think about). At the end of the day it's a team effort. If I have a bad day I can't sulk in a corner and think about what's not working for me. Jab aap ek line pe chalte ho, to manzil aur clear dikhti hai. (When you are focussed, the goal is clearer.)"
Her late introduction of Poonam Yadav against Australia was initially criticised, but then it came off. She has been creative with her field placements, often employing straighter deep covers and long offs rather than a conventional ones. Despite the pitches favouring spin, she has not had to bowl herself.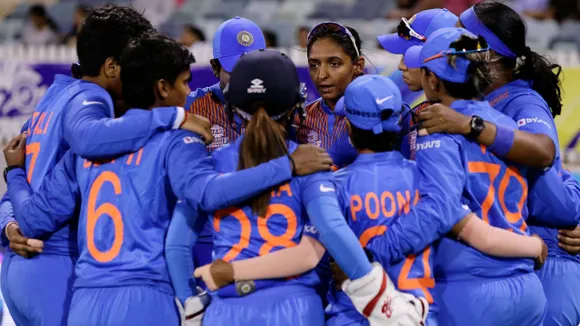 The intangibles have been noticeable too. After India's warm-up game in Brisbane, she sat the team down in a circle on the outfield, and as they lounged on the grass, the group had a long chat, almost half an hour long. No staff involved, just the 15 players, with Harmanpreet driving conversations. Taking stock of one phase of the tournament, leading into the next. The same thing happened after India's final group game too, only it was interrupted by media commitments. Even on off days, the team is making an effort to stick together, because "when you get away from the team for even a bit, when you're not playing cricket, you sometimes lose focus."
It's no secret that Harmanpreet is prone to the odd outburst in extreme circumstances. But after telling ESPNCricinfo last year that she considered quitting the game, she seems to have come back with a bit more perspective. Has her definition of extreme circumstances shifted? "Over the years the maturity has come in to understand things better. The first two-three years I was very aggressive on the field. I would get angry easily. But now things are changing and that's giving results," is her own assessment. 
I have written before that there is a case for India to look past dual captaincy and consider a younger player. Harmanpreet's recent lack of form (her highest score in her last nine T20 innings is 28) has sparked some conversations among former players as to whether her captaincy is affecting her batting. But I've seen evidence to the contrary. Perhaps it is the assurances received from the coaching staff that have helped settle her as a leader. Perhaps it is the support on the personal front (her parents have traveled to Australia). Only she knows. But one of Harmanpreet's achievements on this tour is helping nurture a happy dressing room. 
WV Raman said, "It's also a credit to her that she has rallied the youngsters in the side well. She's made them feel comfortable - the most important thing as a captain is to make each member of the side realise that they are an integral part of that side."
ALSO READ: Radha Yadav revels in support role
I'll leave this hypothesis with one last example. In the tri-series that preceded this World Cup, Shafali Verma was batting on 49 against Ellyse Perry. She was on the cusp of a first half century on Australian soil, a landmark for any batter. She could have run the ball down to third man and gotten a chance to raise her bat, and it would have been an incredible feat for someone who had just turned 16. But India were hunting down a target of 173. So Shafali did what any team player would do. She went for another boundary, and holed out in the process. 
Children - and Shafali is one - do what they see, not what they are told. The fact that Shafali could A) be so intrepid as to smash 49 off 28 against Australia, and B) be so selfless in going for the team goal, tell us something about the Indian dressing room, and their values. 
It also tells us something about the leaders in that dressing room.