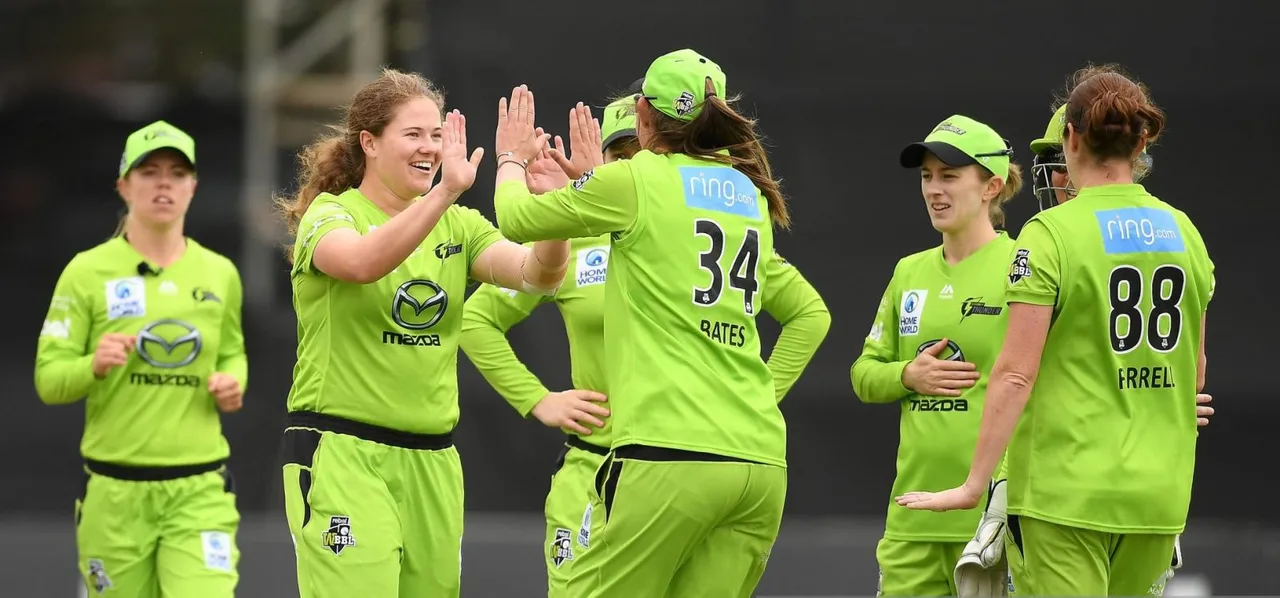 The risk and rewards in a T20 do not go hand in hand, more so if you are a bowler. It's a format where yorkers are ramped or Natmegged, full balls are clobbered, length balls are dismissed and short ones and ramped over the wicket-keeper or third man. More bowlers try to develop changes of pace or have other tricks up their sleeve in order to dupe the batters; deception is the key word, to the extent that the good ol' yorkers are often put in the closet with dust accumulating on them.
Playing in just her second season, though, Hannah Darlington differs in this sense. The yorker is a regularly used weapon by the seam bowler who plays for Sydney Thunder. She is happy to be the "yorker bowler" and is confident of her skills, which she has been honing for the last couple of years.
"It's something I practice a lot and I have done for a couple of years now. If the team needs a yorker bowler, I'm happy to take the ball," said Darlington, all of 18 years of age, after
Thunder's win over Brisbane Heat in the semi-final
of WBBL06.
"It's a nice strength to have and I do go to that ball a lot. It's a wicket-taking delivery. The key is to try and get the batters out and still not be defensive. If I can go to that ball and execute it and grab a wicket, it's a real wicket-taking opportunity for me."
Darlington made used the yorker to good effect to put the final nail in Heat's coffin. The defending champions needed 15 runs in 18 balls with three wickets in hand to keep their hopes of a three-peat alive. But Darlington struck two telling blows in the 18
th
over.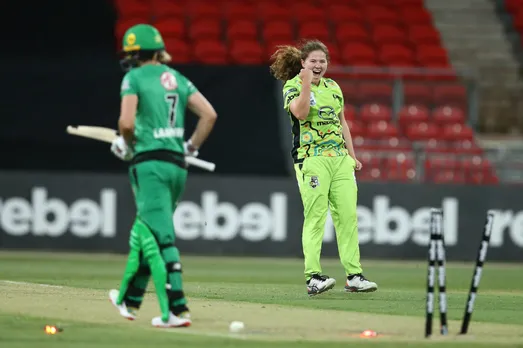 Hannah Darlington and her yorkers make this a regular sight. © Getty Images
First, she saw young Charlie Knott charging down and fired in a quick full one to shatter her stumps. On the very next ball, she got Georgia Prestwidge to chop another full delivery on to her stumps. She couldn't get the hat-trick, but at that stage of the game it was the least of Darlington and Thunder's worries.
ALSO READ: The paradoxical ways of Mignon du Preez
What stood out was Darlington's calmness and clarity of thought even in a crunch situation. She admitted that she wasn't too worried, and her judgement was not clouded since she had clear plans that needed to be executed.
That aside, another telling moment involving the young seamer came in her second over. Heat's innings was seeing a resurrection, courtesy a Nadine de Klerk-Jess Jonassen partnership that was worth 40 at the time. Darlington's first ball that over was on a length, which Jonassen duly despatched over square leg for half a dozen. Yet on the very next ball, she persisted with a similar length but bowled a cross-seam delivery. Jonassen's attempted heave saw the ball take a top edge, only for Darlington to complete the dismissal.
No wonder, ahead of the title-clash, Meg Lanning was cautious of the danger the seamer poses.
"Hannah's had an outstanding tournament. She's named in the team of the tournament, which shows how well she's done. I think what she did do is execute really well," said the Melbourne Stars' skipper.
Hannah will have to be the 'Darling' of Thunder yet again, if they have to break their title drought after WBBL01.