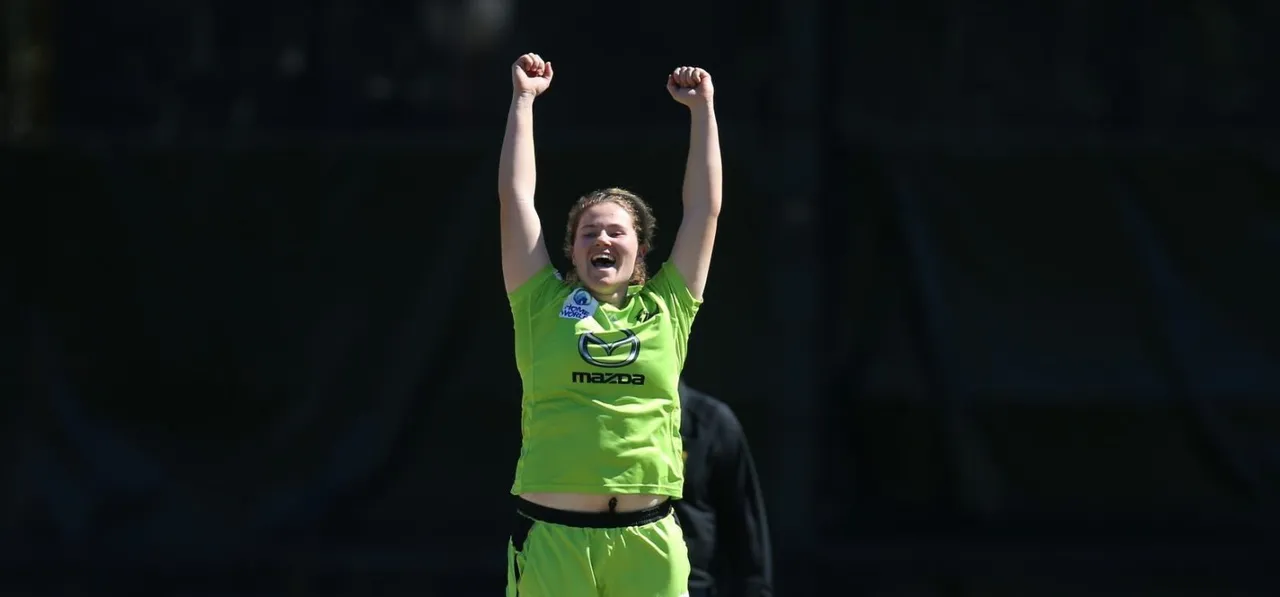 19-year-old allrounder Hannah Darlington has been named captain of Sydney Thunder for the seventh season of the Women's Big Bash League, the club announced on Thursday (October 14). She will step in in the
absence of Rachael Haynes
who informed the team that she will not be able to join them immediately due to a variety of reasons.
"It a huge honour," Darlington said of her appointment. "I've been a part of this club for nearly five years now and supported it from year one. It's great to have this opportunity to step in for Rach who has been a massive influence on this team and definitely my leadership style. But I think a lot of this groups is really special and I am ready to lead a team I'm passionate about being a part of."
Haynes, who returned to Sydney after
injuring her hamstring
in the third ODI against India, recently welcomed her first child, Hugo, with partner Leah Poulton. Mandatory quarantine, state border closures and a need to monitor her hamstring are some of the reasons Haynes alluded to when making herself unavailable for the start of the tournament.
ALSO READ: Rachael Haynes likely to miss entire WBBL07
Darlington, who recently made her international debut for Australia, said the team were very understanding of Haynes' predicament and support her decision to put family first.
"Of course it's a big loss to lose one of the best players in the world and our leader - I think that's the most crucial part. But to think about the circumstance Rach is in at the moment, obviously the arrival of Hugo is a very special moment for Leah and Rach. So to have that experience they can enjoy together back home in Sydney is something we are all really proud of and looking forward to having Hugo around the squad in a couple of years hopefully. For now it's the most important thing for Rach to be around her family and all the group is really understanding and definitely supporting her."
In the 2020-21 Women's National Cricket League, Darlington captained New South Wales in the absence of regular skipper Alyssa Healy. Alluding to those experiences, she admitted to learning a lot through her short stint as captain, adding that she would take a lot of those lessons into her role at Thunder.
ALSO READ: WBBL07: Everything you need to know about the teams
"It was actually an amazing experience to captain the Breakers; another dream come true I could say. I also had Rach and a couple of other leadership group players out there with me so I definitely learnt a lot during that experience, and just knowing that I'm willing to make those decisions and be able to kind of lead from the front which I think in the two games I had the experience, I was able to achieve. It definitely was a big learning curve, but it has prepared me quite well for taking the Thunder reins," she added.
Since her WBBL debut in 2019, Darlington has picked up 35 wickets in just 27 matches, playing a
key role
in their championship-winning run last year with 19 wickets through the tournament. In WBBL07 too, the teenager will play an important role with both bat and ball if Thunder are to have any hope of defending their title.
Darlington and co. will kick off their campaign against Adelaide Strikers on Saturday (October 16).