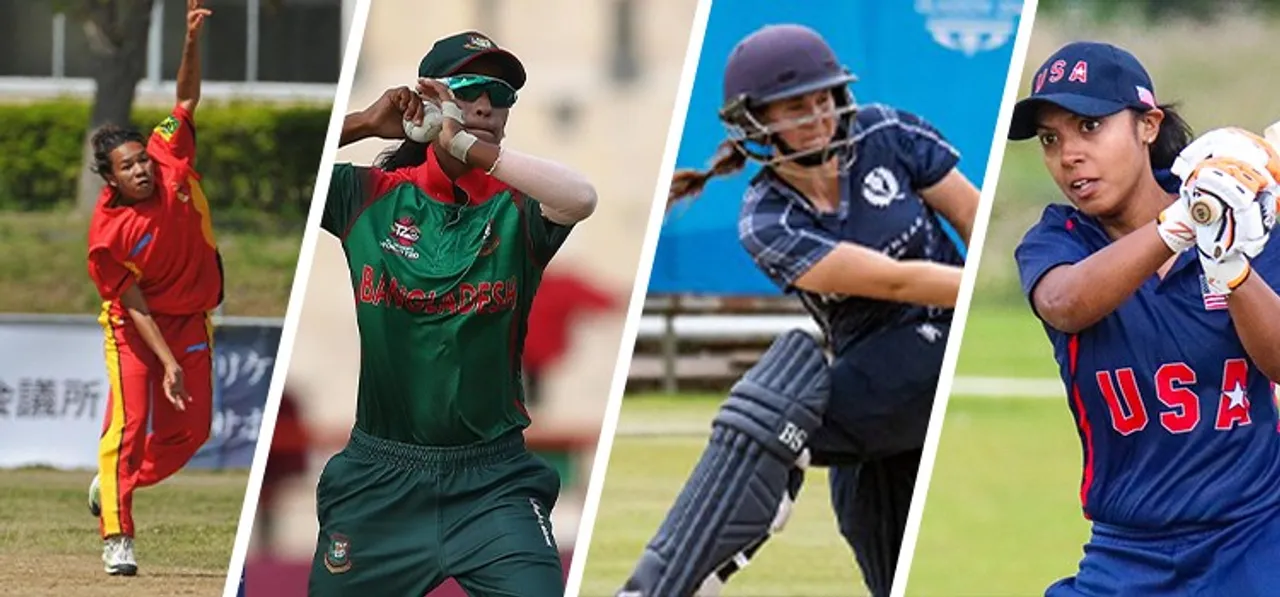 World Cups are exciting. But the Qualifiers held for the global tournament have a different charm to them. For once, the associate teams have a chance to showcase their gameplay in front of audiences, that have been brought there by the couple of mainstream teams. Those teams have to take the qualifiers route due to the current setup, wherein the teams ranked in the top eight get direct qualification.
Same is the case with the ICC Women's T20 World Cup 2020 to be held in Australia. Outside the top eight, Bangladesh, Ireland and Scotland among others feature in the ICC Women's T20 World Cup Qualifier 2019 to be played in Scotland. Only two teams out of the eight that feature in this tournament would make it to the competition Down Under.
The men's World Cup Qualifier that was held in 2018 had its own share of ups, downs, 'wetness' and droughts! Yes, rain had its say in Zimbabwe not progressing then. Hoping for similar excitement cannot be ruled out in this tournament that starts on Saturday (August 31).
Of the teams playing the Qualifiers, Bangladesh look the firm favourites to enter the finals and book one of the two spots available in the ICC Women's T20 World Cup 2020. Despite one of their premier all-rounders, Rumana Ahmed,
missing out
due to injury, the outfit led by
Salma Khatun
still looks a formidable one due to the presence of Jahanara Alam, Khadija Tul Kubra, Nahida Akter, Nigar Sultana and Fargana Hoque.
Batting hasn't been the strongest suit for Bangladesh. Out of the last 10 matches, they have crossed a total of 100 just once and unsurprisingly, there have been only three wins in that duration. In fact, in matches starting since 2018, their highest total has been a mere 151 for 4 against Ireland in July 2018 - a game they lost. Thus, it is clear that they have a lot of working to do with respect to their batting in order to stand a chance.
They face Papua New Guinea (PNG) in their opening clash, whose last international assignment was the Pacific Games Women's Cricket Competition in July. They were the runners-up in that event. Brenda Tau, the wicketkeeper-batter was the best batter on show for PNG in that series. Without any doubt, she would be key for them doing well in this tournament as well.
PNG will be led by Kaia Arua. Her figures of five wickets for seven runs are the best by a PNG player in the format. Speaking ahead of the tournament, she said, "Right from the start of the tournament we want to play good positive cricket and if we do so we have a good chance to qualify. It will be great for some of the girls to show our brand of cricket."
While a fair number of PNG players have played in the Qualifiers before, Scotland have a number of who will be entering their first big tournament. "A few of the girls in the squad had never played in a qualifying tournament before the ICC Women's Qualifier Europe so it was a great experience for them before heading into the global qualifier. It is very exciting being that much closer to the T20 World Cup," said Kathryn Bryce, Scotland's captain. "In Thailand (2015) we finished fourth and in the Netherlands (2018) we finished third so hopefully we can take it one step further and qualify for the T20 World Cup."
Scotland have qualified for this tournament by virtue of hosting it. They are ranked 13 in the ICC T20I rankings. Bryce, who is "looking forward to playing at home", has just returned from playing for Loughborough Lightning in the Women's Cricket Super League. She had a productive time there, picking up eight wickets. Her knock of 32 off 18 balls
against Lancashire Thunder
was a catalytic one as well.
Kathryn aside, her sister, Sarah Bryce, and Katherine Fraser, the 14-year-old off-spinner, have had good performances heading into the tournament. Sarah's
half-century against Thailand
in the Women's T20I Quadrangular Series in Netherlands helped Scotland stop their record run in T20Is – a winning streak of 17 matches.
United States of America are the team who Scotland face in their first match. They are here after winning the Americas Region Qualifiers, blanking Canada 3-0. Captain Sindhu Sriharsha said it was a dream come true, as it is their first appearance in the T20 World Cup Qualifiers. "The regional qualifiers was the first step towards the ICC Women's T20 World Cup in Australia. I'm glad all our efforts and commitment paid off at that tournament," she said.
"Qualifying to global qualifiers after eight years is surreal, I believe it is the beginning of something big for USA cricket. As a team, we are looking forward to the opportunity to showcase our talent and skills to the larger cricket playing nations."
Although USA is thin on experience, three members of the team – Sriharsha, Shebani Bhaskar and Sugetha Chandhrasekar – have the experience of playing domestic cricket in India. Therefore, they know what it is like to play a high-level of competitive cricket.
Preparations hold an important place when the experience factor comes in. "Coach Julia Price and the management team have worked with the team for the past six months. We have been committed and we are prepared for this day. We have to trust our training and preparations, to go out on the field and execute our plans," said the USA skipper.
These four teams, comprising of Group A, will now fight it out for the top two places in the group - which will see them make the semi-final. That is after all, the first aim.
Bangladesh:
Salma Khatun (c), Jahanara Alam, Nahida Akter, Fargana Hoque, Sanjida Islam, Fahima Khatun, Murshida Khatun, Khadija Tul Kubra, Sobhana Mostary, Ritu Moni, Ayasha Rahman, Shaila Sharmin, Nigar Sultana, Shamima Sultana.
Scotland:
Kathryn Bryce (c), Sarah Bryce, Abbi Aitken-Drummond, Priyanaz Chatterji, Katherine Fraser, Becky Glen, Lorna Jack, Abtaha Maqsood, Megan McColl, Katie McGill, Hannah Rainey, Rachel Hawkins, Ellen Watson, Ruth Willis.
Papua New Guinea:
Kaia Arua (c), Ravina Oa, Tanya Ruma, Natasha Ambo, Vicky Ara'a, Gari Buruka, Veru Kila Frank, Nerela Ila, Sibona Jimmy, Naoani Vare, Konio Oala, Brenda Tau, Isabel Toua, Mairi Tom.
United States of America:
Sindhu Sriharsha (c), Claudine Beckford, Shebani Bhaskar, Sugetha Chandhrasekar, Sara Farooq, Nadia Gruny, Uzma Iftikhar, Mahika Kandanala, Geetika Kodali, Samantha Ramautar, Lisa Ramjit, Akshatha Rao, Erica Rendler, Onika Wallerson /codes_iframe