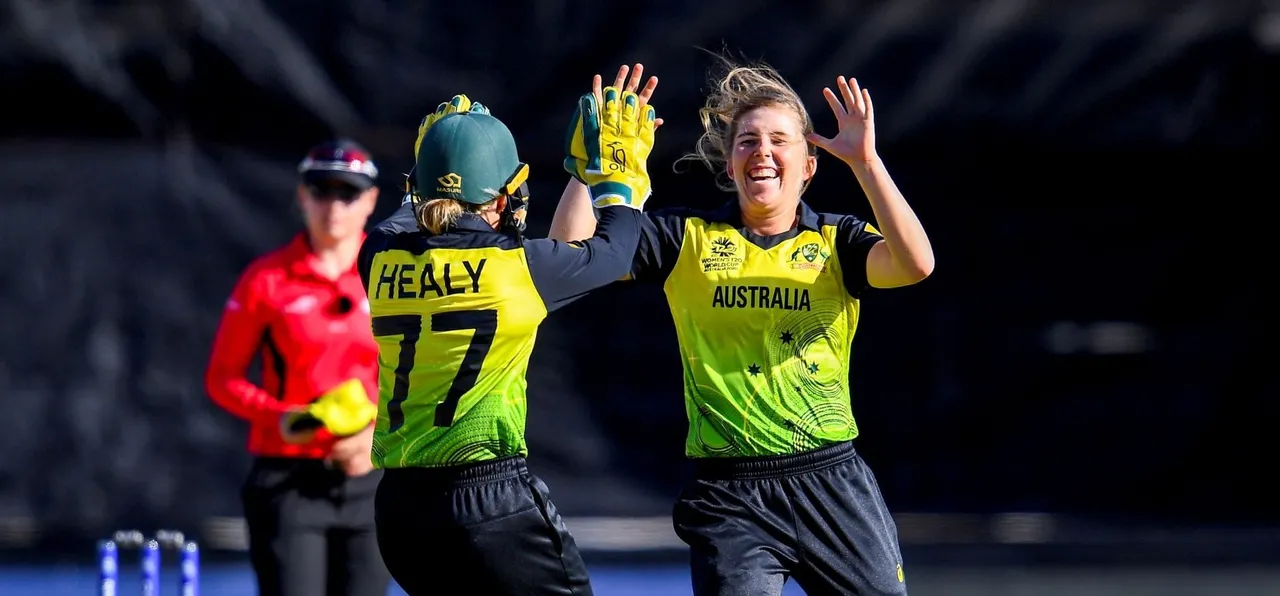 There was a photo of Georgia Wareham with Tayla Vlaeminck and Sophie Molineux in her background as the leg spinner was speaking to media on a video conference on Tuesday (June 2). The trio stayed together during the COVID-19 lockdown, "bouncing questions off and talking ears off" one another apart from watching some "awful Netflix shows."
"It's been great to have someone to annoy and pester throughout the isolation time," said Wareham before going on to heap praises on Vlaeminck.
"She is such a strong-minded person, she's gone through so much – a lot more than any of us at our age could possibly think of. She's such a hard-worker. To be able to come through all those injuries and be positive at the same time is incredible. Being at home and seeing at first-hand how hard she works is incredible. She's flying along at the moment. She's going to be back soon bowling really fast in training which won't be good for us in the nets but it's really exciting for us to see," she said with a laugh.
Like many of her teammates, Wareham said she hasn't picked up a cricket ball since the
T20 World Cup final
and that she's looking forward to getting back to bowling and playing cricket.
"I actually haven't picked up the cricket ball since the World Cup final. I have had a bit of a break from cricket in general but in terms of fitness, I haven't really stopped."
"I've had a couple of weeks off but after that I'm really lucky that I have a bit of a gym setup here (at home) that's kept me busy. All the running and stuff has been easy to be able to do. Definitely keeping myself busy in terms of that but haven't touched the cricket ball, which could be interesting."
ALSO READ: It's been a difficult few months, but I wouldn't change any of it, says Sophie Molineux
Wareham was to start training on Monday (June 1) but unconducive weather in Melbourne meant that she will return to training along with her Victoria team-mates from Tuesday. She admitted, though, that the break was a welcome one, given the hectic season Australia had over the last year.
"For the last little bit, our schedule was hectic, there was a lot going on. So (it was) a really good time to sit back and relax a bit," said the leggie, who made her debut for Australia in September 2018.
"But a lot of us are now itching to get out and play some more cricket and training a bit more. It's just about honing in on our fitness and skills to come in about a month's time. That's insane but I'm looking forward to grabbing the ball and bowling again, bowling to batters and getting into a contest because that's what we live for and strive for."
Victoria have a
new coach this season in Lachlan Stevens
, who will also take charge of the Melbourne Renegades, replacing Tim Coyle. Wareham, who has worked with him before, said that she is looking forward to "lots of energy and good vibes" he brings to the table.
"I know the group's really excited to work with Lachie this season. It's different circumstances to be working in but it's really exciting to get back to training and I guess with the team," she said.
"I was involved in the WBBL 1 or 2 when he was the coach for the Renegades. I have worked a little bit with Lachie during that time. He's a great coach, he really cares about his players and knows very much about his game, which is going to be really good for the group."
https://open.spotify.com/episode/484PTeQYxjKUMnQdE9PXa6
Wareham has been with the Renegades for all the seasons of the Women's Big Bash League (WBBL), but she's yet to churn out match-winning performances consistently. By her own standards, she had an average WBBL 05, where she returned with only seven wickets in 15 games. Admittedly, she has struggled to pick wickets over the last couple of seasons and that is one of the things she'll be working on.
Wareham spoke about "looking to be aggressive and taking that approach while looking to take wickets" while also needing to find that balance between "taking my medicine (a) little bit and knowing when to attack." She said that with more game time she believes she will have a better understanding of her game.
"I'm always trying to improve every aspect of my game. Last year probably wasn't my best season with the ball," she admitted.
"Working out some variations will be important. Changing it up after the year before, where everybody hadn't seen me, to now (when) I have more exposure into the international games, everyone has seen more of me and have got a bit more of a plan – to try and counteract and come out on top."
And the youngster has people she can talk to about all aspects of her game. Shelley Nitschke, former Australian spinner, is one she goes to for the technical as well as tactical aspects of her game.
"What we do in the pre-season will be important… To tap in to Shell for the tactical side of things, to build that strong base, playing games, getting my head around that because Shelley's good at that. She was such a good player in her own right. I guess just knowing what balls to bowl and the field to match that will be really cool to tap in to."
For other tips during her initial days at the national set up, there was Jess Jonassen. "I think Jess Jonassen was very good within the group for me at an Aussie level. She's a phenomenal player in her own right but I think the way she reads the game tactically and obviously she's had so much success in the past, it's easy to listen to her."
With the lockdown seemingly coming to a close, players are starting to resume training and working towards the next 'big' target – the Women's Cricket World Cup 2021. Although it is far off and, as of now, on schedule, the change in format means that players will have to adapt and get used to the 50-over format after a lot of T20s in the recent past.
How does Wareham look towards preparation from that point of view?
"We play so much T20 cricket that 50-over format seems like a really long game. My role with the team doesn't change much," said Wareham, who turned 21 last week.
"I'm still an attacking bowler for the team and looking to take wickets and change the game. It probably just means not being as aggressive – only slightly still with that attacking mindset (but) having at the back of the mind little bit defensive stuff. Being patient is just the different thing and not much else."