During India's home series against South Africa, in Surat last year, the press pack had just wrapped up an interview on the sidelines. After the voice recorders were turned off, we shared a laugh with Poonam Yadav as she shook my hand. Almost her entire hand disappeared in my palm. 
Some perspective. I am five feet eleven inches tall, well above average for Indian women. Poonam is four feet eleven inches tall. I wear size nine shoes. Poonam wears size five and a half. With three pairs of socks. Now imagine us shaking hands again. 
Now imagine a hand that small hand holding a cricket ball. Even with the women's cricket ball being slightly smaller, Poonam just about gets her fingers around it.
Shane Warne, one of the bowlers Poonam looks up to, is known to have long fingers. Leg spin, the hardest skill to control skill in cricket, almost naturally selects for players with large hands and long fingers, because they mean more control. 
And still, Poonam Yadav, with her short frame, small feet, and tiny hands, is the best spinner in the world. 
***
Photos of Poonam posing with Ian Bishop are currently exploding on Twitter. It was a challenge for the camera crew to fit both of them in one frame for the Player of the Match interview. Everyone wants a piece of her now. 
But there are some in the women's cricket community that don't like her style of bowling. When I first saw her, I was one of them. I would fume about this bowler who took loads of wickets bowling what seemed to be full tosses which the batters kept walking past. 
There are some who believe that in an era where women's cricket is proud of its big hitters and genuinely fast bowlers, slow spin does not add to the spectacle. There are some who believe that a spinner who can bounce the ball twice has no place in cricket. These are also the people who can't explain or choose to ignore Poonam's 55 wickets in 40 games since 2018, the most by any player in that period. It may not look sexy but she gets the job done.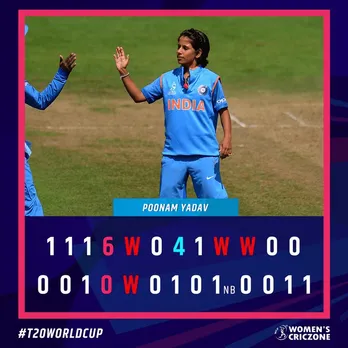 ***
There is a theory that Poonam Yadav is hard to read from the hand because there is so little hand to read. While facing typical leg spinners, batters watch out for the back of the hand, the distinctive release for the googly. One of the reasons Rashid Khan is so successful is that he bowls his googly and his leg break with the same action. Poonam Yadav's googly has a traditional release - back of the hand, but without much hand.
Australia's batters didn't pick it. Three of the four wickets she took were with googlies. First she slid past the outside edge of Rachael Haynes, the left hander who had been promoted to negate her. Next ball she beat the inside edge of the right-handed Ellyse Perry, otherwise known as the best cricketer in the world. Another left hander, Jess Jonassen, should have been etched in the record books as Poonam Yadav's hat-trick wicket; instead the thick outside edge was grassed by 'keeper Taniya Bhatia. 
Three googlies in a row. Three wicket taking balls. Australia knew what was coming. But they couldn't spot it when it did.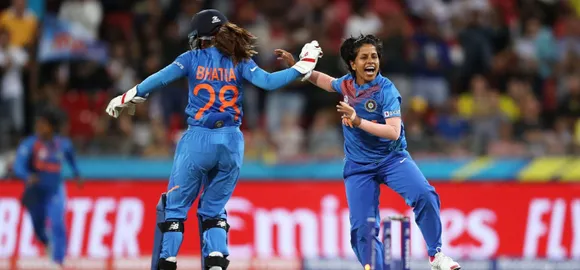 ***
This was Poonam Yadav's comeback game. Except it wasn't.
She was coming back from injury, a fracture of the index finger of her left hand, sustained while fielding during India's fitness camp in December last year. With a World Cup two months away, there was fear, but also focus. 
She wasn't played in the recent tri-series so as to save her for the World Cup. She had two opportunities to get some gametime via the warm up games. The first was called off because of a wet outfield. The second, against West Indies, was her only chance. 
After a sub-par performance from India with the bat, she was called upon to defend 11 off the last over with two set batters in and five wickets in hand. An early boundary reduced that to six needed off four balls. Then it turned.
She had Hayley Matthews caught behind, and then Chinelle Henry caught at mid-on off her last ball. One chance to make an impact, and she did. She finished with 3 for 20 off her four.
Fellow spinner Deepti Sharma, usually a woman of few words, gushed after that game about her city-mate's mental strength. 'Fabulous', she said, even before I had finished asking the question. She raved about her attitude, always looking to dominate. She went on about Poonam's determination, to win India games in the World Cup despite the injury. 
Poonam streamlined her diet, giving up her favourite paratha and rotis, for a gluten-free, rice based diet. She hates rice. But she loves her team. Even when they are snatching rotis from her plate to keep her honest.
So against Australia, it was not a question of whether she will make an impact, but when. And after the match, Poonam revealed she still has pain in her fractured finger. 
ALSO READ: The Poonam Yadav tale
***
In an alternate universe, Poonam Yadav is married, and busy living her domestic life simply as someone's wife, a million miles from cricket. That is the custom in the village she's from: you're married off in your early twenties, and Poonam is 28. But her father's military service meant the family moved to Agra when Poonam was a child, and there she could play cricket.
There is a colloquial saying in Hindi, used typically by short people to reclaim some lost ground: height kam, fight jyada. 
That is Poonam Yadav for you. The woman whose frame isn't athletic. The woman whose hands are too small for leg spin. The woman whose leg breaks dip because of gravity, not revs. The woman with 89 T20I wickets. And the one with an Arjuna Award adorning her mantle at home.
There is probably some space next to it for a World Cup medal too.