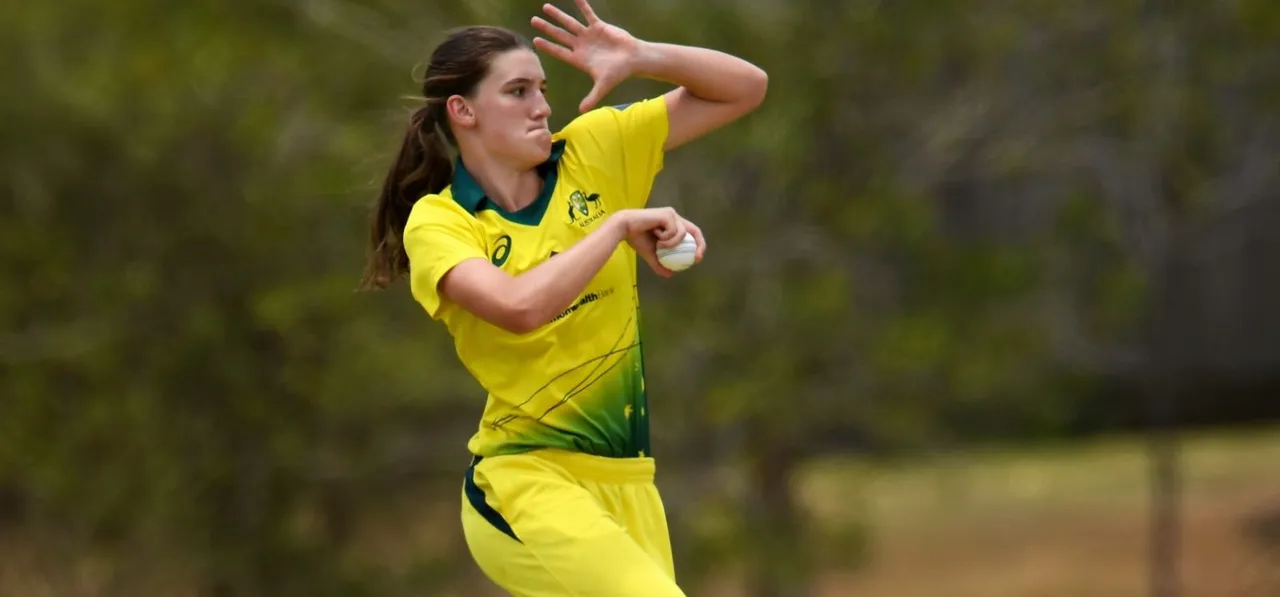 Australia allrounder Annabel Sutherland has always been praised by the coaches for the extra pace she generates and believes that if she could get somewhere near to 120 kph, it would be a nice weapon to have in the armoury.
"I think it's something that will come in the next few years," Sutherland told reporters in a video conference on Wednesday (May 27). "I think it comes with building my strength as a base. It's been a nice couple of months to work solidly on my fitness which is certainly (what) I am looking to build on my game. Being an allrounder, it is important to maintain that consistency with strength as the base."
"I think at the moment I bowl at around 110-115 kph, but if I could get up to around 120 kph, that's a pretty competitive pace to have. You see it with players like Tayla Vlaeminck, who is probably one of the quickest at the moment, how much difference that extra couple of kilometers makes – there's not a lot of players out there who can bowl that sort of pace, it certainly challenges the batters a bit more," she added.
ALSO READ: Ruthless & competitive: Meg Lanning's Australia
The teenager, had a rapid rise to the national set-up earlier this year. During a whirlwind few months, Sutherland was named in
Australia's T20 World Cup squad
before she had made her international debut and shortly after completing year 12 exams.
"Definitely, it's been a strange couple of months but I am really happy with the experience that I have had through the World Cup campaign and then
receiving the contract
," she said. "It's pretty exciting and I am certainly looking forward to the experiences ahead."
"Making my debut for Australia is dream come true and playing with that group which is experienced and had done so well for the last few years is a privilege. I have certainly learned a lot and to play the home World Cup and winning at the MCG was pretty exciting, something I am very grateful to be a part of."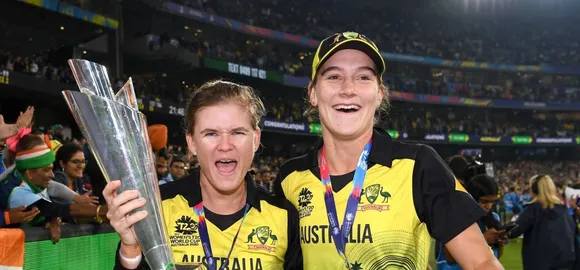 Jess Jonassen (L) and Annabel Sutherland (R) pose with the T20 World Cup trophy. © Getty Images
It's a dream for all cricketers globally to play against legendary Sachin Tendulkar. And having been able to the bowl to God of Cricket during the Bushfire Bash relief match is something that she will relish forever.
"I was fielding at mid-off, I think Ellyse Perry bowled three or four balls and then she threw the ball to me, it was very kind of her, I'll remember bowling to Sachin Tendulkar for the rest of my life. The nerves were very high considering I bowled to him," said Sutherland, who would resume training with her Victoria teammates next week.
ALSO READ: It's been a difficult few months, but I wouldn't change any of it, says Sophie Molineux
"I bowled a half volley to him, but Sachin was very kind that he hit it straight down the pitch. It was an exciting moment for all of us to be out there. It was awesome."
Sutherland also spoke about the importance of having someone as experienced as Perry around, not only because of the impact she brings but someone who could be easily access-able in terms of advice.
"She's accomplished a lot in her career and is a freak athlete," Sutherland said of Perry.
"She's very good to have around the group, not just for her cricket but also a person. She's helped me with my game and has always been willing to throw me balls, have a chat when I need to ask questions. Given she stuck around those last few games and couldn't be on the field (at the T20 World Cup) just shows how much she cares for the group."