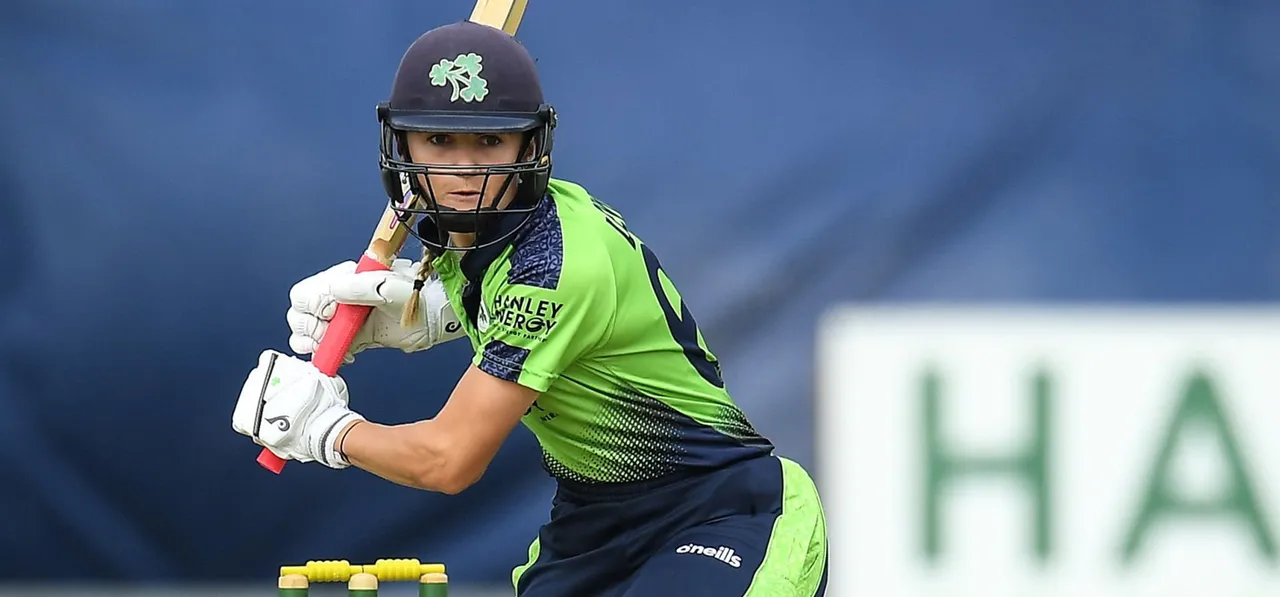 MULLINGAR is a town in the Irish midlands, home to 20,000 people and one cricket club. It's a small club, with just three men's teams and one boys'. Last year, they set up a women's team and invited Gaby Lewis to make the 60km trip from Dublin to help them get going.
Her father takes up the story: "She's so passionate about women's cricket – she drove down to Mullingar to talk to them and do a bit of coaching. She turned down any fee or even petrol money, she said she had plenty of people give up their time to help her when she was starting off."
Gaby's been back to Mullingar a couple of times and has tweeted her support as they started off this summer in Leinster League Division 4.
That fellow feeling for women cricketers goes back to her childhood and growing up in a Dublin cricket family. Her grandfather Ian and father Alan both played for Ireland with distinction. Her elder sister, Robyn, played for Ireland too, winning 12 caps between 2015-17.
Alan remembers their grounding in the game: "Every Saturday, Gaby and her sister were piled into the back of the car and brought down to YMCA where I was a player. Their friends were all there so they just went off and played their own little cricket games on the hockey pitch alongside, or 'stumpy' in the nets."
Gaby, now 21, remembers those long days fondly – "We'd get there at 9am for the Academy, play all afternoon and go to training in the evenings. We'd be there all day."
She plays all day now too, when she can, as one of Ireland's full-time women cricketers.
Women's cricket in Ireland has had its ups and downs but while the men have been on a huge upswing over the last decade, the women reached their nadir in failing to qualify for the World Cup staged earlier this year.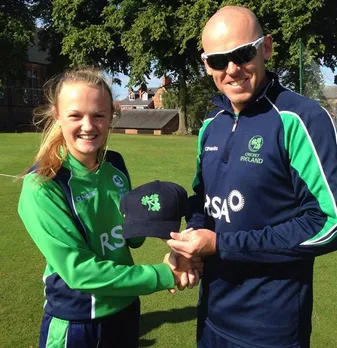 Gaby Lewis gets her first cap from Head Coach Trent Johnston. ©Barry Chambers/Cricket Europe
"Missing out on the last World Cup was terrible for us", she admits, "going through all that, feeling that emotion – I never want to be there again."
Cricket Ireland has moved to stave off such failure happening again, appointing Ed Joyce as head coach and investing hugely in the women's game: trebling their budget and introducing full-time contracts for the first time.
The organisation was spurred into action by the fallout from the 2018 World T20, where Ireland lost all four games heavily, and four senior players retired. CEO Warren Deutrom explained: "We committed ourselves to a journey to professionalise women's cricket. It was not only a good thing to do, it was the right thing to do. Women's cricket's time has come around the world – we've seen the incredible growth and professionalisation of the women's game across several major nations like Australia, England and India and the strong focus on female cricket in the new ICC strategy. It's now Ireland's turn."
Seven women were given full-time contracts and nine others – including Gaby – part-time ones which allow them to combine cricket with study.
Gaby is studying Radiography, and has just emerged from a tricky summer. "I had a six-week placement in St James' Hospital, 9am to 5pm. I didn't think I could get through it, but UCD has been great. I put together a plan and worked it all in with my cricket – I didn't have a day off for anything else!"
She has exams to come on top of that and any spare hour she got, she squeezed in time with her friends and boyfriend Harry Tector, himself an international, who made a brilliant 64* against India in June.
"Having contracts come in gives us extra pressure to perform though. We are training much more, and the quality is much better since we don't have to go home and get up the next day for work or college. We can fully focus on our cricket."
Isobel Joyce played alongside Gaby for four years before she retired after the 2018 World T20 and loves her work ethic.
"Gaby's the hardest worker in any team she plays on," she says. "I always look for the best player to be the hardest worker on a team and Gaby's the hardest worker in any team she plays on.
"She hits the ball harder than everyone else and can dominate every type of bowler, she's our first 360 player."
A former Ireland captain, Alan won 121 caps in Ireland's associate years, with a programme of mostly matches in English county competitions, visits by touring Test sides, and games against other second-tier nations.
He vividly remembers the moment when he realised Gaby had something special. "She was nine, playing on the Boys' Under-13 team. I was watching and our coach Kamal Merchant was umpiring. She played this glorious on-drive. Kamal and I just looked at each other, no words were passed, we were just incredibly impressed. It was just one of those moments."
YMCA did not have a women's section at the time but her mother Sharon helped drive its inception. Gaby remembers being coached by Rob O'Connor, Albert van der Merwe, Simi Singh, Clare Shillington and, most of all, former Pakistan A all-rounder Kamal Merchant.  They developed a bouncing youth section and the club soon became one of the strongest in the Leinster province.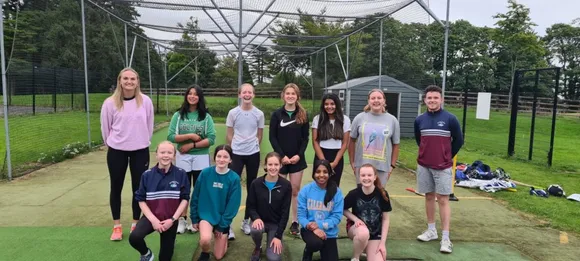 Gaby Lewis helped set up Mullingar CC's women's team. ©Mullingar CC
Gaby was first capped aged 13, the first person born in the 21st century to be capped at any sport anywhere in the world. It had its drawbacks.
"I don't have any memories of why I was picked for Ireland, or what I did in the game", she admits. "I don't remember my first cap, which is awful. Maybe it was because I was so young."
Her first cap came in a T20 in August 2014 against Netherlands at Rugby in England. She made 7 not out off 10 balls. Next day, she made 38 off 35 balls and bowled 2-1-2-1. She was on her way.
"I had an easier introduction to it though," she says, "as my first two tours were short tours to England, whereas people like Lucy O'Reilly had four or five weeks in Bangladesh, which was a really tough tour for her.
"That's the thing about Ireland – we don't have a great span of players so sometimes you get rushed into it. Our coach Ed Joyce tells us that we're learning at international level. We're not learning in interpros, we're learning at the top level, which the other teams don't do."
She says those early games were weird: "When I started off, there was Lena Tice and Lucy O'Reilly around my age and a lot of experienced players. A lot were much older too, and they kind of acted as your mum on tour, which was really nice." On her first two tours, four of her teammates were more than twice her age.
Isobel recalls Gaby as being very enthusiastic back then. "I always remember her fielding at square leg to our leg-spinner Elena Tice," she says. "The batter played the sweep shot twice and Gaby went haring after it. I was thinking to myself, 'Watch for the second bounce Gaby!' but sure enough, she wasn't aware of leg spin and what was going to happen on the second bounce and the ball changed direction and went for four. But she never needed anything explained twice."
Her parents feared it might all be too much for her but their daughter's temperament meant little fazed her. "She has a tigerish determination to play at a higher level," says Alan.
To test herself, Gaby spent three winters in Australia, starting off aged 16 on the Rookie Programme with Hobart Hurricanes, joining Melbourne Renegades the following year.
"The year I finished school, I played six months with Prahan in Victoria, which was probably the toughest – I didn't score runs and didn't have teammates around, or my usual coach, and going from training every day to just training once or twice a week was tough.
"(Clontarf players) Bhavi Devchand and Una Raymond-Hoey were over there, so I linked up with them a lot. But I learned a lot about my game there and it shaped how I did much better the following year when I came home. After that I cherished all the runs I could get!"
Isobel thinks she could make the step up. "I definitely think she could make a living out of cricket. It hasn't worked out for her in in Australia and she did horribly in the Hundred in England, but she did well in the Fairbreak games."
Gaby won't be the first Irish woman to hit the emigrant route if she does, with Kim Garth leaving Ireland to pursue her dream as a professional in Australia. "I saw Kim at the Fairbreak and we keep in touch," says Gaby. "I doubt she'll come back, she's made friends over there and she's doing really well."
But Gaby insists that wouldn't be an option for her. "No, I'm happy playing for my country – ideally I could play for Ireland and in franchise leagues if I can get to that stage. But being around the Irish girls is where I'm happiest. I would love to go over and play another season in Australia but I do love playing with the Irish girls and they're my best friends."
She loves playing with YMCA and for Scorchers in the SuperSeries and had a glorious run mid-season making four centuries in a month, including 154* off just 78 balls, and 101* off 54 balls.
Joyce is uncomfortable with this, believing Gaby has outgrown the domestic scene. Gaby turned out alongside Ireland team-mate Orla Prendergast for UCD in the hitherto, almost entirely male, intervarsity championships this year, which Isobel sees as a positive. "I'd love if she played more men's cricket," she said.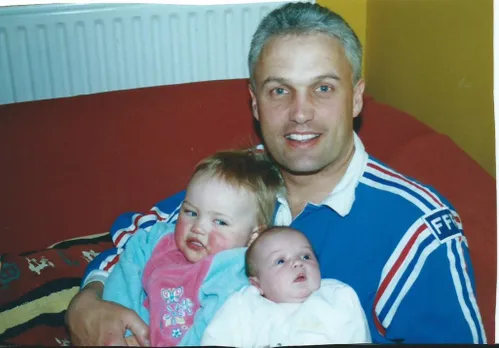 Gaby as a baby with her sister Robyn and dad Alan. ©Gaby Lewis
It took her till her 43rd cap to score a fifty for Ireland – 61 v New Zealand in a T20I – and she has added half-centuries against Bangladesh, South Africa and Zimbabwe as well as several against the European sides.
Her first hundred for Ireland came last August, 105* against Germany in the European qualifiers in La Manga. "The wicket was rough but we wanted to play as aggressively as we could. It was a very slow wicket, I'd never come across anything like it before. I admit I did give a few chances but it's great to see new teams come in at that level and it was great to chat with them after the games."
Most of Ireland's games are in the shortest format – they played 37 in a row from June 2018 to August 2021 – but Gaby prefers the longer games. "I used to prefer T20", she says, "but now it's 50 overs – I get longer to bat!"
Her father describes her as 'a badger' with her head full of tactics and cricket knowledge but she was blissfully unaware of her own 2,000th international run which came against Australia in July, or that she could play her 100th game for Ireland in the third match of a series against Netherlands in late August.
Ed Joyce's arrival as coach was popular with Gaby. "I just love him because he's a batting coach", she grins. "I was working with Ed before he was appointed. I didn't really work well with Aaron Hamilton, who was a very good bowling coach but there's a lot more responsibilities with being a head coach. So I started to look elsewhere for help.
"Ed has been a breath of fresh air, and he understands the women's game, having (sisters) Izzy and Ceil playing it. He understands that it's a different game to the men's, especially with us having so many young girls. You have to be extra patient, they're not going to bowl the same six balls there's a bigger margin of error. His communication skills are brilliant."
Gaby has enjoyed seeing the world with Ireland – Thailand was her favourite – and was bewitched by India. "Going to a World Cup, you were treated like royals and India in 2016 was my first, and my sister was playing too", she recalls. "We travelled around India a lot – the hotels were a bit surreal, walking around and seeing the New Zealand men, or Elyse Perry and Meg Lanning and being starstruck."
She visited Delhi, Mumbai, Chennai, Bangalore and Mohali. "It went like a flash, I wish I cherished it more at the time. That was the first time I was dropped – replaced by Robyn – so it put a dampener on it. But it was good, because Aaron told me my batting was a bit one-paced, just hitting the ball, so I worked on taking singles and playing the ball around a bit more."
She is keen to return if the Women's IPL gets going. "I'd love to get a go, I love playing in those tournaments. The one glimpse I got of India was fantastic. Women's cricket is only on the way up and a women's IPL would be huge. Not only for cricketers but also for India, it's hugely exciting."
Isobel sees Gaby as being an important driver of change in Ireland, where women's cricket is getting more attention. "Girls really look up to her and she's good about sharing her experiences."
Ireland kicked off the new ICC Women's Championship with three heavy defeats to South Africa although they did snatch a win in a T20 with Gaby making 52. She's very excited about the competition and the opportunities it brings.
"We're going to be playing the big guns a lot more", she says. "We're looking forward to the qualifiers and then the Women's Championship games in Pakistan in November are going to be huge for us."
Unlike earlier Ireland teams, she says the squad has no fear. "Cricket Ireland provided a sports psychologist and we do a lot of work on routines, practising what to do in those pressure moments. And being women, there's that extra piece of emotion we have to deal with as well. If a guy says something critical to a teammate, they just brush it off but I think women overthink it a bit. Ed's good with that and encourages us all to be honest with each other.
"Before we would have felt second class coming into games against big teams. Not quite beaten before the game but almost. Before the South Africa games we were so confident – but we were underdogs, not expecting anything so if you do well it's a bonus.
"We're still learning but I think we're bridging the gap to the top, obviously it was huge turning over South Africa with eight of our players unavailable."
The boost was obvious when they kept Pakistan to 92-5 off 14 overs in a shortened tri-series game a month later. At 74-1, Ireland were a shoo-in but couldn't bring it home. And against Australia, Ireland's young attack made even the great Meg Lanning struggle early on.
Gaby says: "What we learnt this summer in the Australian series was that they're only human, if you bowl your best ball they still can't hit you. They're not robots."