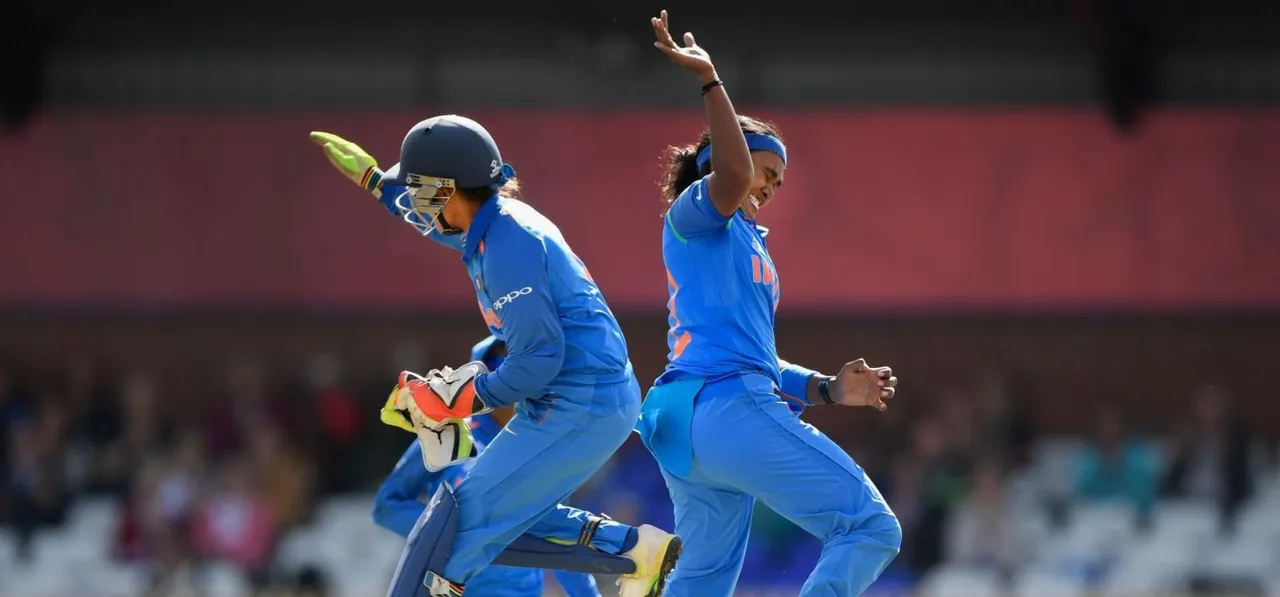 2017 was the year of Shikha Pandey. India's right-arm seamer finished third joint-highest wicket-taker in ODIs in the calendar year with 28 wickets to her name, and was also the country's second-most successful bowler behind Ekta Bisht who finished with 29 scalps.
Pandey's numbers that year reflected her growth and maturity as a bowler since her international debut in 2014. She had finally stepped out from the shadow of her idol, Jhulan Goswami, and was making a name for herself.
18 matches, 131 overs, 18 maidens, 28 wickets, a best of 4 for 34, average of 16.60, economy rate of 3.54 and a strike rate of 28.0. 
Through the early part of 2017, in the absence of Goswami, Pandey led the Indian attack with aplomb, taking 11 wickets with her hooping inswingers during India's successful World Cup Qualifier campaign in Sri Lanka. In the 2017 Women's World Cup, she took eight wickets, putting in a defining performance in the semi-final against Australia with incredible figures of 2 for 17. Pandey went on to bowl what Ian Bishop called "the ball of the tournament" to dismiss the left-handed Beth Mooney as India began their defense of a mammoth 282.
However, the turn of the year came with a drastic turn of fortunes.
During the 2018 home season, where India faced Australia and England in both ODI and T20I series, Pandey appeared to be struggling. Shunted in an out of the line-up, and with her role as a bowler suddenly undefined, every time she took the ball, there seemed to be an axe looming over her head— 'perform or perish.' Within a span of a few months it seemed the booming inswing had deserted her, the all too familiar celebratory "come on" that accompanied a wicket had been replaced by a meek fist pump, and her plans seemed scattered at best. In short, whatever confidence she had gained in 2017, seemed to have evaporated in 2018— her every move reeked insecurity.
ALSO READ: India's squad for T20 World Cup 2020
Following a difficult Asia Cup campaign in Kuala Lumpur— the final in which Pandey injured her ankle— the fast bowler returned home in search of that fading belief. A few good outings for Goa in the pre-season leading in to the T20 Challenger Trophy in Alur, and (to those who saw her bowl) it was clear the old Pandey was back. She finished second on the bowling charts, taking seven wickets at an incredible average of 9.28 and economy rate of 3.61. Not only was she causing havoc with her inswing, but Pandey had also developed the ability to get the ball to straighten off the seam.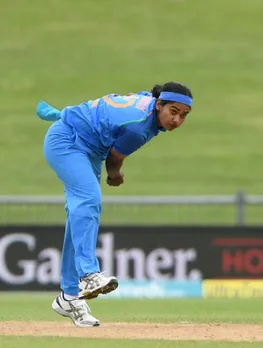 Despite the good form — and Goswami's sudden retirement from T20Is — Pandey featured in only one match during India's tour to Sri Lanka in the lead up to the 2018 ICC Women's T20 World Cup in the Caribbean. She was subsequently dropped for the mega event, replaced by Pooja Vastrakar, the young seam bowling allrounder.
"Getting dropped from the World Cup, I would say, was a setback," Pandey tells Women's CricZone. "Playing for your country and representing your country is a matter of pride and doing so in a World Cup is any cricketer's dream. Not going to (the) West Indies to play the World Cup was disappointing and heart-breaking."
ALSO READ: India's T20 World Cup, no space for pace?
What could have felt like a body blow was, in hindsight, Pandey says, a "break" that came at the right time. Instead of sulking about the unfairness or difficulty of her circumstances, Squadron Leader Shikha Pandey, a woman of action, kept moving forward. 
"I (have) always believed that hard work never goes to waste, so I just put my head down and got back on the ground. I told myself that feeling (of disappointment) is not going to define me; how I come back and get up is what will define me. I knew that if I just keep working hard the results will follow."
In typical style she put in the hard yards, working on her skill and fitness, but more importantly she found a way to remind herself of the simple joys of the game.
"I realised in the latter part of 2018 I was not enjoying the game. When I got dropped from the T20 side it actually gave me some time to look back and work on things that I wasn't doing right. I got back with my domestic side and had a good stint there. I've always enjoyed playing for Goa…  I realised that I had gotten too materialistic and was just looking at the results, and forgetting about the importance of the process." 
"Then, I told myself that I'm going to concentrate more on the process and work more on the process rather than thinking about the results. I also told myself that I'm not going to be worried about the uncontrollables and (that) I'll just concentrate on what is in my hands and what I can control."
Come 2019, the rejuvenated fast bowler began the year on a sensational note, leading India Red to a thrilling win in the final of the Women's Senior one-day Challenger Trophy. Not only did she take a five-wicket haul in a game that was being broadcast on television, but also showcased a strong temperament and tactical acumen in front of India's newly appointed coach, Woorkeri Venkat Raman. It marked the beginning of what has become an incredibly successful partnership.
Raman's approach to the coaching role— clearly quite different from his predecessors— allowed Pandey to steadily settle back into the team. There was no longer a proverbial axe hanging over her head every time she took the ball. Output was not the only basis on which she was going to be judged.
ALSO READ: Shikha Pandey walks the talk in India Red's Challenger triumph
"The mental space that I have gotten into (since my return) is because of him. Even after the New Zealand series he took (the) time to speak to me. He told me the areas that I should be working on and he kind of gave me a routine that I could follow in the off-season that could help me," she explains. "He reiterated the fact that process matters and not the results. He told me to trust the process. He also told me that I might not get the results very quickly, but then I persisted with the process and the routine and I could see the results for myself in the series against England."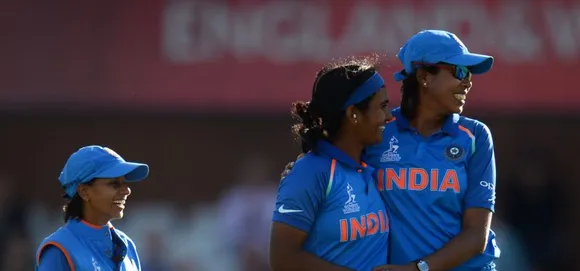 The more she bowled through the season, the better Pandey got. Each ball had a purpose behind it, and each spell was well planned out. Of course, there were moments of struggle, but the improvement over the course of the year, was there for all to see.
"Raman sir has been that assuring face, and you know, someone who is always there supporting you and who is always there no matter what the situation is. He actually got into the mental aspect (of the game). He is someone who believes a lot in the mental part of things. And also, he gives you time to settle. He is someone who doesn't look for instant results."
Previously a self-confessed "brooder", Pandey's changed outlook towards the game has allowed her to move on from disappointing performances more quickly. That is not to say she doesn't take into account any lessons learned, but it is more about quickly processing what she needs to improve on and focus on the next job at hand.
As someone who enjoys discussing the intricacies of the game, and keeping track of every game being played across the world, Pandey would sometimes overthink tactics. She often found herself concentrating on what areas not to bowl to the opposition batters— a mindset that rarely helped. What Raman and Narendra Hirwani, India's spin bowling consultant, have taught her, is to focus on her own strengths and plan around those.
"I've started thinking more about what I am going to be doing rather than what the batter is going to do. (Raman) Sir mentioned once to me that as a bowler I am the one who is starting the process and the batter can only react to what I am doing."
"I now firmly believe that if I bowl to my strengths, I can make a huge difference to the team. I think I can contribute a lot that way: not worrying too much about what the batter is going to do and simply thinking about what is my strength and what am I going to be doing on the field. That is something I have imbibed from him and his thinking."
ALSO READ: Richa Ghosh - from prodigy to performer
Much calmer, more relaxed and far more assured of her plans, Pandey went on to re-establish herself as the team's frontline bowler in both formats in 2019. Not only did she finish as India's joint second-highest wicket-taker in ODIs, and fifth-highest overall— an achievement that saw her make the 2019 ICC Women's ODI Team of the Year— but she also took seven wickets in eight T20Is at an average of 21.14 and economy rate of 5.10— her best (overall) numbers in a calendar year in T20Is. Against South Africa (at home) and West Indies (away), she picked up crucial wickets with the new ball and came back to bowl the difficult overs when India were searching for a wicket… She is now clearly one of their 'go-to' bowlers.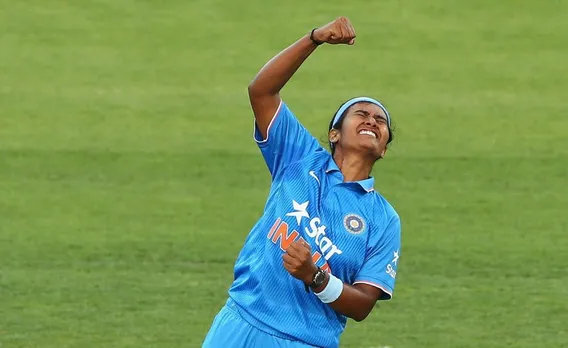 Going into the T20 World Cup in Australia, Pandey is the only frontline seamer in India's squad. It is a tag she has earned through her performances over the last 12 months, and wears proudly "without any pressure."
"Probably the older (younger) me would have felt the pressure, but not anymore," she laughs. "I'm not really thinking of it that way. I'm thinking of every match that we are going to be playing as a challenge, and I'm just telling myself that the more difficult the challenge is the more exciting it is going to be, (and) the better I am going to perform. So, (I'm) just looking at the matches and the responsibility as a challenge."
"I just want to be bowling well. I'm just trying to keep it very simple. Every ball that I bowl I will try to be present rather than thinking ahead. Every ball that I bowl, I will try to bowl to the best of my ability. I just want to be able to win matches for the team!"
The last time India toured Australia in 2016, they registered a historic series win over then T20 world champions. It was a tour where Pandey — among others — stepped up to be counted as one of India's leading bowlers, delivering what Isabelle Westbury christened "the ball of the tour" — an inswinging yorker — to dismiss Meg Lanning in the first T20I. On her return to the country four years later, both she and India are on a similar mission: to re-establish themselves as one of the more consistent performers on the international stage, and of course, "win the World Cup!"