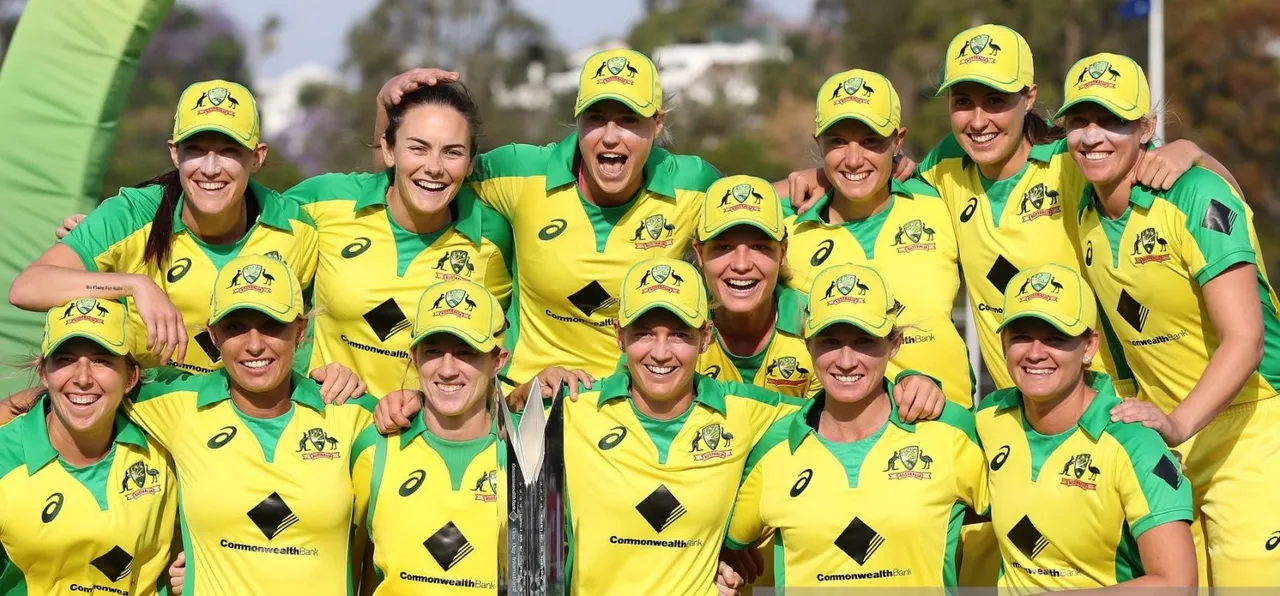 Australia's ICC Women's World Cup 2017 semi-final loss at the hands of India forced Meg Lanning and co. to rethink their approach to the game. Teams had caught up with them - Australia were no longer the unchallenged force they used to be. Something had to give. The side confronted its lowest phase and improved so much so that it turned ruthless following that disappointment. Between March 2018 and October 2019, on their journey from Baroda to Brisbane, Australia won a record-breaking consecutive 18 ODIs. During this period, Lanning's side swept six series and surpassed Belinda Clark-led Australia's winning streak of 17 matches between December 1997 and February 1999.
Of 18 games, Australia have won 12 matches on foreign soil — India, Malaysia (against Pakistan), England and Antigua (against West Indies) — and two series in their backyard against New Zealand and Sri Lanka.
Jet lag, perhaps, turned sweeter with Alyssa Healy, Ellyse Perry and Rachael Haynes registering maiden centuries, and Nicola Carey, Tayla Vlaeminck, Sophie Molineux, Georgia Wareham, Erin Burns and Heather Graham earning their maiden caps. Moreover, Perry recorded the best-ever ODI figures by an Australia woman,
Megan Schutt
picked a hat-trick and Jess Jonassen surpassed the 100-wicket mark.
Women's CricZone
looks back at Australia's 18 consecutive victories. 
1. March 12, 2018 (Baroda): India 200 lost to Australia 202/8 by eight wickets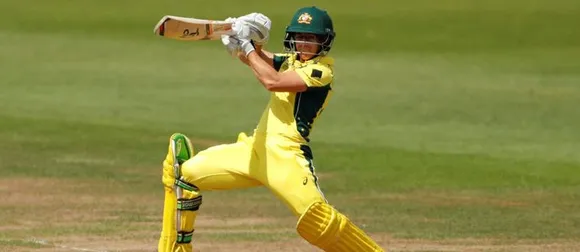 Nicole Bolton smashed a century. ©BCCI
Australia regained its confidence with an eight-wicket win with 17 overs to spare when spinners Jess Jonassen and Amanda-Jade Welliington led the bowling unit, sharing seven wickets to bundle out India for 200 before opener Nicole Bolton smashed her unbeaten century to stun India. 
2. March 15, 2018 (Baroda): Australia 287/9 beat India 227 by 60 runs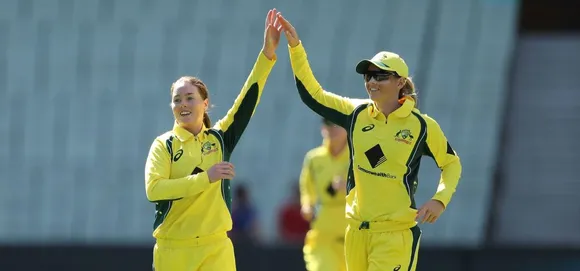 Amanda Wellington celebrates a wicket. © Getty Images
Bolton carried the momentum to clinch the three-match series. Her 84 and Beth Mooney's 56 set up an imposing total. Jonassen and Wellington, too, once again shrugged off the pressure as the spinners picked up five wickets to dismantle India and took Australia home by 60 runs. 
3. March 18, 2018 (Baroda): Australia 332/7 beat India 235 by 97 runs
Alyssa Healy celebrates her maiden ODI hundred. ©BCCI
In 2012, Lanning's 128 helped Australia post its highest total of 300 for 7 against India. Six years later, Healy with 133 — her maiden ton that made her the first Australia woman wicket-keeper to register an ODI hundred — bettered the record and took the side to 332 for 7. Gardner with her 3 for 40 restricted India to 235 and ensured whitewash against the hosts. 
4. October 18, 2018 (Kuala Lumpur): Pakistan 95 lost to Australia 95/5 by five wickets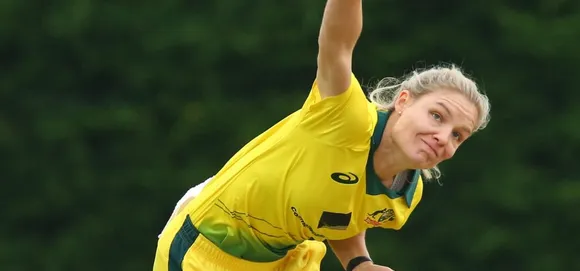 Nicola Carey took three wickets. © Getty Images
In a rain-hit match, seamers Schutt and Carey led the charge with their three-wicket hauls each while debutant left-arm spinner Molineux impressed with her figures of 7-2-9-1. Australia got off to a brilliant start with openers Healy and Bolton combining 40 in seven overs before
Sana Mir
spun a web around the top-order, leaving Australia at 91 for 5. However, Mooney came to rescue and chased the target with a one bounce four.
5. October 20, 2018 (Kuala Lumpur): Australia 273/7 beat Pakistan 123 by 150 runs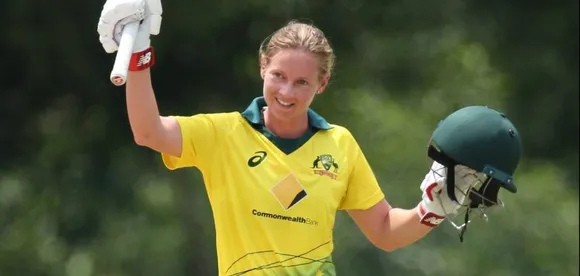 Meg Lanning scored her 12th ODI century. © PCB
Lanning notched up her 12th ODI century in her 68th innings. The match-winning knock helped Australia to beat Pakistan by a massive margin of 150 runs. Pakistan's hope of leveling the series was shattered when Molineux ran through it with her 4 for 14 and bundled them out for 123 to ensure another series win. 
6. October 22, 2018 (Kuala Lumpur): Australia 324/7 beat Pakistan 235/7 by 89 runs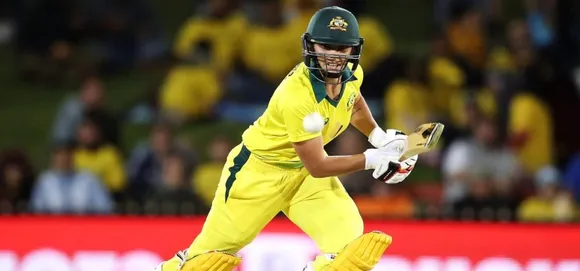 Ashleigh Gardner smashed her maiden ODI fifty. ©Cricket Australia
Healy made robust 97 off 75 balls to take Australia to 225 for 5 after 40 overs. Gardner piled on misery for Pakistan as she smashed 62 to take the score to 324 for seven. After her fireworks with the bat, the right-hander picked up three wickets with her off-spin to give a dent to Pakistan's chase. Meanwhile, Molineux finished with figures of 1 for 16 in her 10-overs quota to restrict Pakistan to 235 for seven. 
7. February 22, 2019 (Perth): Australia 241 beat New Zealand 236/9 by five runs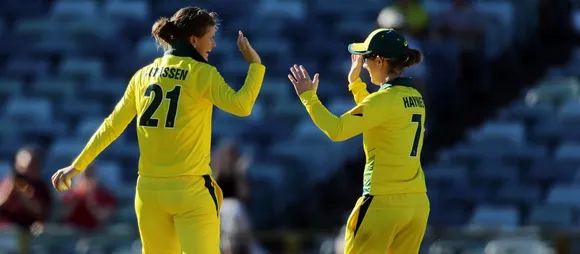 Jess Jonassen gave Australia the crucial breakthrough. © Getty Images
In what turned out to be a match-changing dismissal, Jonassen (4/43) got rid of New Zealand skipper Amy Satterthwaite (92) to hand Australia a five-run victory in the opening match of the Rose Bowl series. The spinner returned in the team with her handy performance with the bat in the lower order to take the side to 241. Satterthwaite along with Katie Perkins combined a 99-run stand to put New Zealand on track, but when Perkins gave Jonassen a return catch, the visitors lost their way. 
8. February 24, 2019 (Adelaide): Australia 247/7 beat New Zealand 152 by 95 runs
Ellyse Perry scored her maiden ODI century. © Getty Images
Perry shrugged off an early wobble of 85 for three and formed a 98-runs stand with Mooney to bring Australia back on track after sent in to bat first. The allrounder notched up her maiden ODI century along the way. Jonessen once again led the bowling unit as she returned with five wickets and conceded 27 runs to restrict New Zealand to 152. 
9. March 3, 2019 (Melbourne): New Zealand 231/8 lost to Australia 233/3 by seven wickets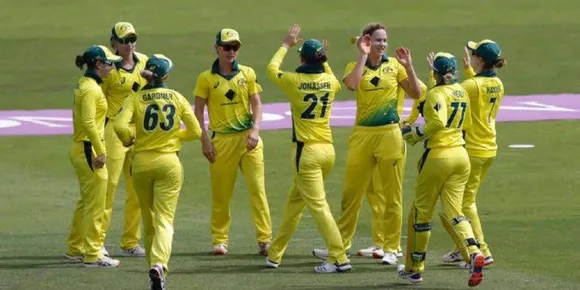 Australia celebrate a wicket. © Getty Images
Despite a fighting fifty from New Zealand's Sophie Devine, spinners Gardner (3-49) and Wareham (2-36), who picked two wickets in consecutive balls, kept the visitors in check and ensured slow run rate. The run chase then saw contributions from Lanning (48), Haynes (46) and Healy (46) before a fitting half-century by Perry. 
10. July 2, 2019 (Leicester): England 177 lost to Australia 178/8 by two wickets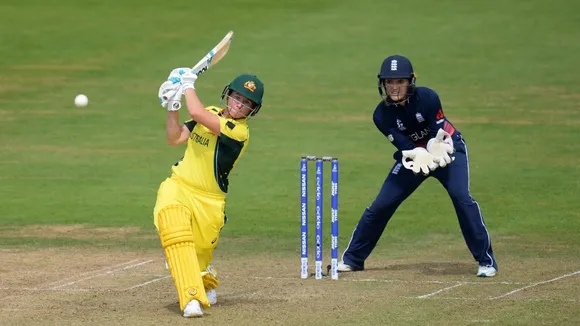 Beth Mooney played a crucial hand at the back end of the innings. © ICC
In a nervy clash, Australia got home with two wickets to spare against England in the opening match of the Ashes. New ball pair Perry and Schutt gave Australia a dream start, reducing England to 19 for four. However, a fighting performance by Natalie Sciver (64) saved England from an embarrassing innings and took hosts to 177. In reply, Healy made the run-chase look easy with her 66 despite wickets falling at the other end. Although at one point spinner Sophie Ecclestone had put Australia under pressure but handy contributions from Mooney, Jonassen and Kimmince meant Australia managed to secure an early lead. 
11. July 4, 2019 (Leicester): England 217 lost to Australia 218/6 by four wickets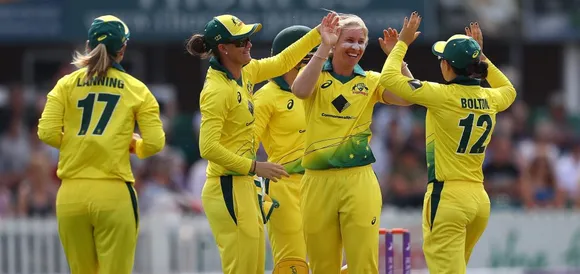 Delissa Kimmince ripped through the England line-up with her incisive bowling. © Getty Images
Kimmince ran through England's batting line-up, bundling out the hosts for 217 to claim her first-ever five-wicket haul in ODIs. In reply, on the back of Perry's fitting half-century and handy performances by Mooney and Jonassen, Australia successfully built on their lead. 
12. July 7, 2019 (Canterbury): Australia 267/7 beat England 75 by 194 runs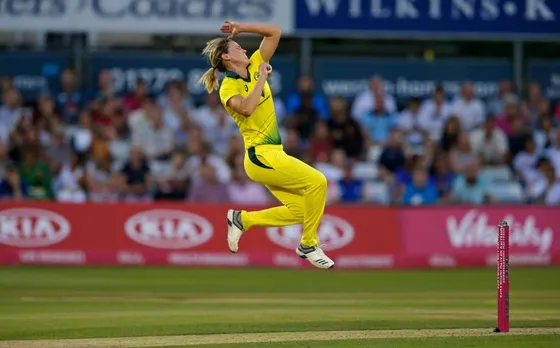 Ellyse Perry finished with incredible figures of 7 for 22. © Getty Images
Perry's career-best seven for 22, including two wickets in as many balls and two maidens, broke the spine of England and handed Australia a thumping 194-run win. The all-rounder surpassed Shelley Nitschke's figures of seven for 24, which had come against England in 2005. Perry's numbers took her to claim the fourth spot on the all-time list and on top among the Australians. In reply, Lanning (69) and Healy (68) completed the ODI whitewash over England in the latter's backyard. 
13. September 5, 2019 (Antigua): Australia 308/4 beat West Indies 130 by 178 runs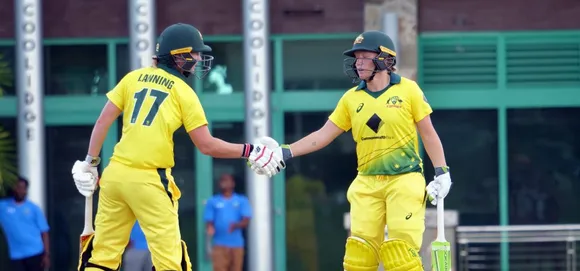 Meg Lanning and Alyssa Healy's centuries laid the foundation for Australia's first win. © CA Digital
Lanning registered her 13th ODI century, which made her the fastest player male or female in 76 innings, while Healy completed her second ton to post 308 for four against West Indies. Perry then led the charge of bowlers and rattled the under-strength top-order to give Australia a 178-run victory. 
14. September 8, 2019 (Antigua): Australia 308/2 beat West Indies 157/8 by 151 runs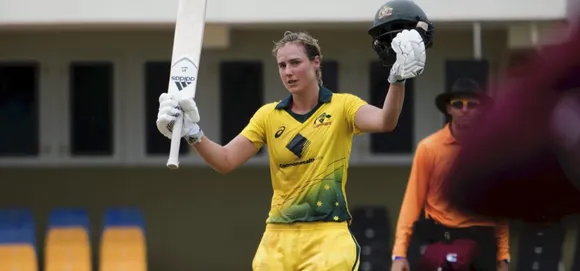 Ellyse Perry celebrates her second ODI ton. © CA DIGITAL (Cricket Australia)
Australia secured the three-match series against West Indies on the back of a century by Perry. Healy continued her impressive and aggressive show, smashing a 33-ball 50. Gardner took just 23-balls to record her fifty and equal it with her skipper Lanning for a joint fastest fifty by an Australian in the 50-over format. Australia bowlers easily defended the imposing target and restricted the hosts to 157 for eight. 
15. September 11, 2019 (Antigua): West Indies 180 lost to Australia 182/2 by eight wickets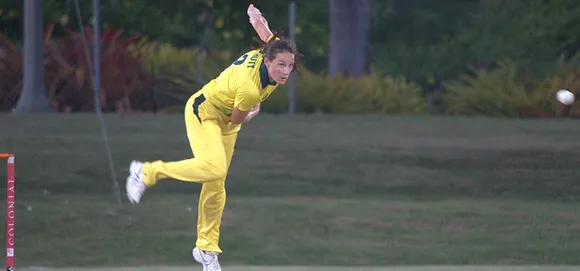 Megan Schutt picked up her second hat-trick in international cricket. © CA DIGITAL (Cricket Australia)
Schutt picked up a hat-trick in the final over of the first innings and became the first Australian to achieve the feat in ODI cricket. Needing just 181 to clean sweep, Healy's 27-ball fifty kept Australia on the right track before Lanning and Perry took the side home with an eight-wicket win. 
16. October 5, 2019 (Brisbane): Australia 281/8 beat Sri Lanka 124 by 157 runs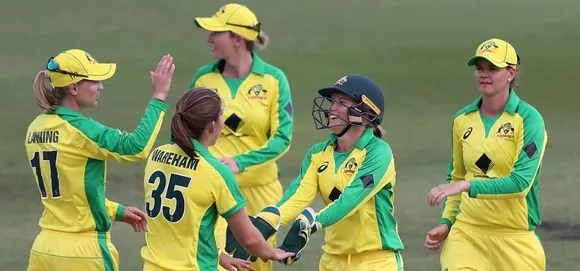 Australia thumped Sri Lanka in the first ODI. © Getty Images
An allround performance gave the hosts an early lead in the three-match series against Sri Lanka. Although none of their batters could produce match winning knocks, Lanning's 73 and fifties from Haynes and Mooney set a challenging total of 281 for eight. Australia bowlers regularly picked up wickets and shut Sri Lanka on 124, handing the hosts a 157-run victory. 
17. October 7, 2019 (Brisbane): Australia 282/8 beat Sri Lanka 172/9 by 110 runs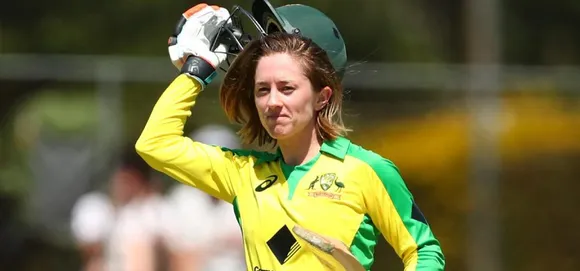 Haynes scored her maiden ODI century against Sri Lanka. © Getty Images
Lanning, who was looking for a match-winning knock from her side, witnessed the much-awaited and first-ever century by Haynes - a knock that stood out in Australia's 110-run win in the second game. With the ball, Jonessen returned with four for 31 which included her 100th ODI wicket, making her the fourth Australian to achieve the milestone. Australia secured their 17th consecutive ODI win that equalled the side with Belinda Clark-led side's record. 
18. October 9, 2019 (Brisbane): Sri Lanka 195/8 lost to Australia 196/1 by nine wickets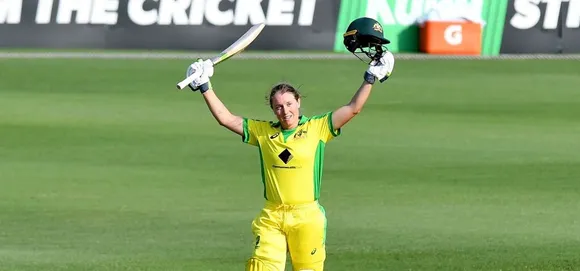 Alyssa Healy's third ODI century headlined Australia's nine-wicket thrashing of Sri Lanka. © Getty Images
Sri Lanka's Chamari Atapattu threatened the hosts with her century but a record-breaking 18 consecutive ODI victories eventually came for Australia. Healy carried her aggressive run-scoring form and smashed a 71-ball century before finishing on an unbeaten 112 off 76 balls. Australia cruised to a nine-wicket win. 
Such an even contribution from a number of players stepping up has strengthened Australia's backbone, thus, making them the most dominant team on the circuit with a brilliant blend of youth and experience. It will be interesting to watch for how long this strong army holds the Australian fort. The next number they have in their sights is 21 - a record held by their male counterparts.
Top performers in Australia's 18 consecutive ODI wins:Batting
| | | | | | |
| --- | --- | --- | --- | --- | --- |
| Player | M | R | HS | SR | Avg |
| Alyssa Healy | 18 | 998 | 133 | 109.91 | 58.70 |
| Meg Lanning | 17 | 694 | 124 | 87.62 | 46.26 |
| Rachael Haynes | 18 | 626 | 118 | 77.57 | 36.82 |
| Ellyse Perry | 18 | 609 | 112* | 76.41 | 60.90 |
| Beth Mooney | 18 | 487 | 66 | 90.68 | 54.11 |
All-rounders
| | | | | | |
| --- | --- | --- | --- | --- | --- |
| Player | M | R | Bat Avg. | W | Bowl Avg. |
| Ellyse Perry | 18 | 609 | 60.90 | 26 | 18.80 |
| Ashleigh Gardner | 18 | 262 | 26.20 | 23 | 20.78 |
Bowling
| | | | | | |
| --- | --- | --- | --- | --- | --- |
| Player | M | W | R | Eco. R | Avg. |
| Jess Jonassen | 15 | 31 | 412 | 3.35 | 13.29 |
| Ellyse Perry | 18 | 26 | 489 | 4.03 | 18.80 |
| Megan Schutt | 16 | 25 | 472 | 3.55 | 18.88 |
| Ashleigh Gardner | 18 | 23 | 478 | 3.72 | 20.78 |
| Georgia Wareham | 15 | 17 | 484 | 4.32 | 28.47 |
codes_iframe/codes_iframe