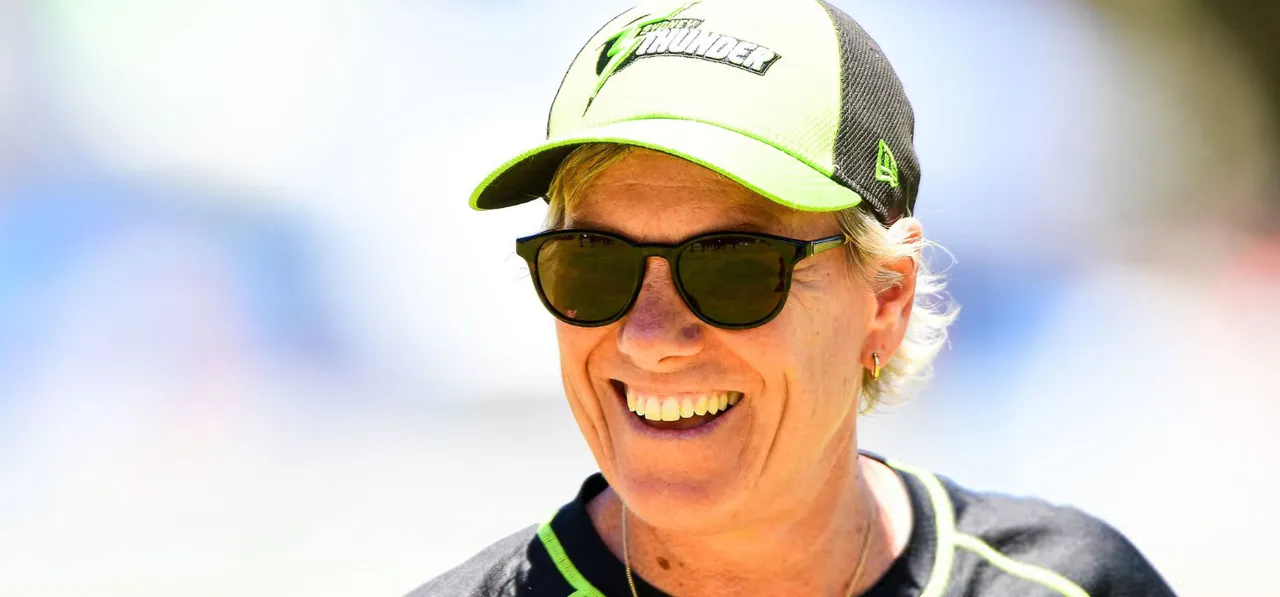 Joanne Broadbent has coached the likes of Ellyse Perry, Alyssa Healy, and Alex Blackwell. A World Cup champion herself, she has witnessed the rise and rise of women's cricket all over the world. She is currently coaching the Falcons, who have made it to the final of the FairBreak Invitational in Dubai. In an exclusive chat with Women's CricZone, Broadbent talks about the FairBreak initiative, talented players like Chamari Athapaththu and Jahanara Alam, and what other nations can do to improve their domestic set-ups.
Excerpts:How has the experience of the FairBreak tournament been?
It's been fabulous. The first three days were training and just trying to gel our group. Get them to enjoy each other's company and learn a bit about each other. We all do come from very different cultures and I think the group has blended really well. We wanted to really hone down on what our strengths were, and the things we wanted to improve on, individually and as a group. We have got players from about 13 countries. There's a lot of diversity within the group and just really enjoy working with Suzie Bates as well.
There are nine members from your teams representing the Associate Nations. This is what makes FairBreak a unique tournament. What are your thoughts on these talented players?
I have actually been very privileged because I have worked with
Papua New Guinea (
PNG) in the past. I have worked with Kaia (Arua), who's our leg-spin bowler. I have had some dealings with
Nannapat (Koncharoenkai) and Sornnarin (Tippoch) from Thailand as well.
It's been nice to work with Anju (Gurung). She is opening the bowling in power play and bowling to some of the best players in the world. It's also great to have Christina Gough, who is the vice-captain of Germany. We have a lot of leaders and also a lot of left-handers.
With the members from Associate countries, you can learn from those players. it's good to see the associate members actually performing for us, too. 
Also Read: Getting the opportunity to open alongside Deandra Dottin is a dream come true: Kavisha EgodageChamari Athapaththu has been the backbone of the Falcons' side, right from the first match. What was your first impression of her?
She is such a competitor and that's what I love about her. She plays to win. We have tried to ensure that she goes to her strengths and keeps being brave. She's an amazing striker of the ball. I had to watch the replay about seven times and I still am unsure how she got underneath to hit some of those sixes in these matches. It's just been very exciting to watch and very easy to coach as well. She's a little bit like a sponge.
We have been working a lot with her, with her bowling, there's been a couple of big overs that she's gone through with her off-spin bowling. She wants to learn, she wants to do better. She wants to encourage those that are around her and that's exactly what you need in a team to be able to get your end result. 
Jahanara Alam has bowled beautifully in the tournament for the Falcons. What are your impressions of her?
She's been doing beautifully in our powerplays. We have been getting bonus points in the 1st 10 overs because of her and her bowling upfront. I have to applaud her for her efforts in the back end. When she comes on and gives us the breakthrough. She bowled Heather Knight in our match against the Barmy Army. I actually admitted it in the team meeting. I said, I have never seen this in T20 cricket before where the bowler comes on in the last over and has a 6-3 field outside off, and bowls the England Captain with that field. And it was just a little bit of a wow factor. We talk about being brave in our team as well, and that was a very brave move to bowl like that with the 6-3 field. 
I just love her little personality. We have been talking about a lot of makeup with her as well, you know with the eyeliner. Don't be surprised if the Falcon players all line up with their eyeliner in a game. (laughs)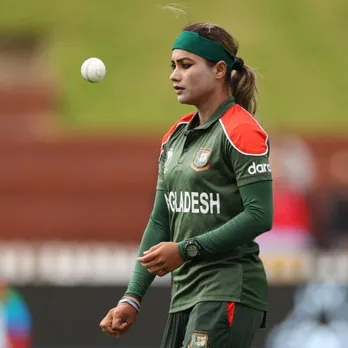 Bangladesh's Jahanara Alam © Getty Images
You have witnessed the growth of Australian women's cricket in the past few years. As someone who was part of it, how do you look at the Australian set-up?
I think the first thing is that women's cricket got on TV and so it became marketable. So the minute you see it you can be it as well. Once you get that on TV, then the professionalism of the game follows. New South Wales lead the way there by pushing really hard to get domestic Players full time contracts and they were able to achieve that back in 2017. So for five years, the Australian system has had professional cricketers at the domestic level and some countries haven't even had that at the international level. I saw it firsthand for those first three years from 2017, there was a transition in the physicality of the players as well. They are a lot fitter, they trained more.
What can other countries do to make the domestic systems more competitive?
So the depth that we see with Australia in World Cups is because of the system that's underneath the Australian team, which is very strong. Support from coaches and the State Associations is top shelf. I think, other countries have gone top-down and what they have got to understand is there has to be something coming from underneath for that. For that growth to happen in the domestic set-up, you need a bottom-to-top approach. You can have that competitiveness as well and be able to transition new players coming into the system.
Also Read: Fearless Dunkley looks to build on 'Summer of Sophia' as exciting future awaitsWe have seen how dominant Australia were with their fielding in the World Cup. How important is the fielding focus at the domestic level?
It is absolutely vital. I think it's also the identification of what's required of a player. I remember five years ago watching the Australian team and they couldn't dive. The dominant side was okay with some players, but the non-dominant side was the issue. Even Ellyse Perry. I remember her coming up to me, and she said, I can't dive to my left, and I said, I know. There was a period of time when we went back to real basics and it probably took us a couple of years to implement that into programs. It's a very basic skill, but it's something that players need to make sure that they're working on. If you don't enjoy fielding, I don't think you will enjoy the game of cricket.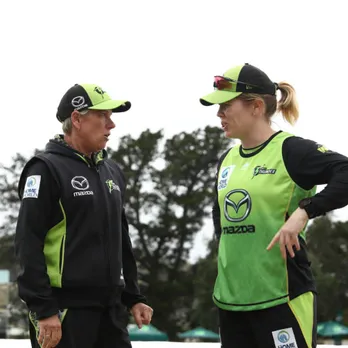 Broadbent and Alex Blackwell © Getty Images
You were around the Sydney Thunder when they won the first-ever Women's Big Bash League (WBBL) title. What was that experience like working with the likes of Alex Blackwell and Rachael Haynes?
I absolutely just enjoyed my time working with Alex Blackwell, she's one of the best operators I have seen in the women's game to be fair. Rachael Haynes is also a fantastic captain in her own right. I always felt like we had a team of really great leaders, whether that was in the NSW Breakers or with the Sydney Thunder. The first year of the competition when we won it, we had that experience of Rene Farrell. I think those three in particular and then the young group that we had, like Nicola Carey and Lauren Cheatle were still young. Everyone thought we were going to finish at the bottom, but to actually beat the Sixers in that first final was unreal.  I feel very blessed and grateful when I look back on my coaching time in New South Wales.