West Indies
India
103

Runs

104

7

Wickets

0

8

Fours

14

1

Sixes

2
2-0, 3 to go...
That's all we have from this game. India lead the series 2-0. West Indies' downfall has a sorry face to it. Their body language hardly inspires confidence. Perhaps change of venues might do it for them. The stay in St. Lucia has ended. The final phase of the tour is in Guyana, where the remaining three T20Is will be played. The third game is on Thursday (November 14). We hope to have your company for that match. Till then, take care, aficionados!
Player of the Match
For her 4-0-10-4,
Deepti Sharma
was adjudged the player of the match: Obviously feels good to execute the plans and I stuck to my strengths. I was confident because of the performance in the last match that resulted in a win. The weather in the West Indies is fine and not hot. So we're having fun and all's good.
Captainspeak IND
Harmanpreet Kaur: We are really happy to see the crowd, that's what we were missing. It was a great partnership between Shafali Verma and Smriti Mandhana and was a good bowling performance as well. We were expecting five games in St. Lucia as we love the atmosphere here.
Captainspeak WI
Anisa Mohammed: It has been really tough. The batters aren't putting the runs on the board. We have quite a loss of some young players and are lacking some senior players as well. It's up to the youngsters to put their hand up. Hopefully we will be able to put some runs on the board. Can't expect the bowlers to win us the games always.
In short
India and West Indies seemed on different levels. While the hosts huffed and puffed their way to a above-100 total, for the tourists it was a walk in the park as they hardly broke a sweat, achieving yet another huge win. This is India's biggest win in terms of balls to spare. Meanwhile, this is West Indies' maiden ten-wicket loss. These two facts highlight the difference between the two sides. Let's await the presentations and get to know what the captains have to say. There could be an interesting toss-up between Shafali and Deepti Sharma for the player of the match award...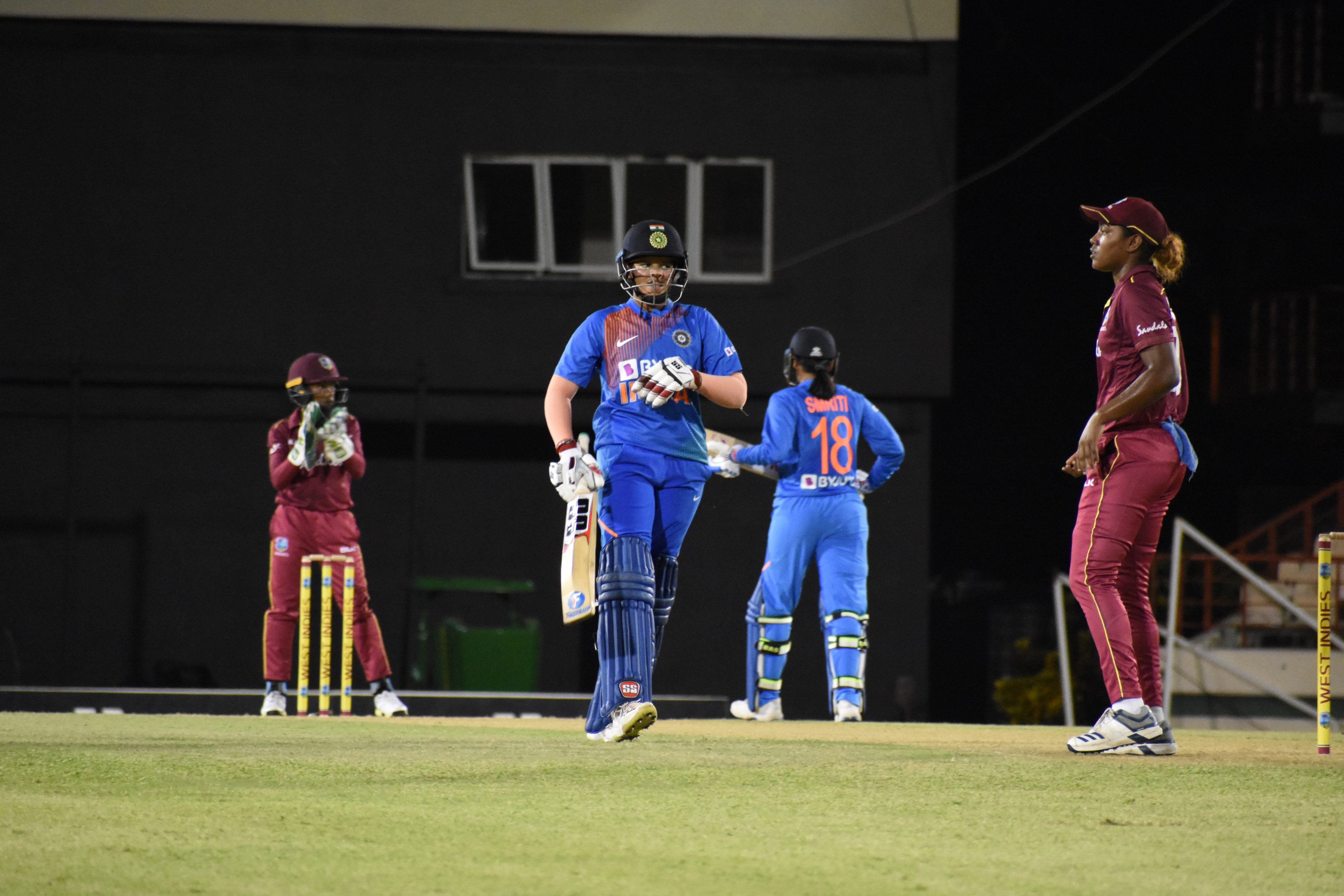 All over
IND 104/0 in 10.3 overs. Shafali Verma and Smriti Mandhana carried their bat as India won by 10 wickets. It was a clinical win for the tourists, who lead the series 2-0. No bowler from West Indies came close to stopping either of the openers. It was a thoroughly dominating performance by them, specially by Shafali, who finished undefeated on 69 off 35 balls. Mandhana was not out on 30.
Super Shafali!
IND 78/0 in 8 overs,
need 26 more
. Back-to-back fifties for Shafali Verma. She has perhaps shown that her innings in the first T20I wasn't a fluke. She got to the landmark by moving to the off side and hitting a shortish Hayley Matthews ball over deep square leg for half a dozen. She took just 26 balls to get there, as opposed to 30 balls in the first game. Hayley Matthews, as a result, was taken for 11 off her first over.
High on runs
IND 64/0 in 6 overs, need 40 in 84 balls. Shafali Verma and Smriti Mandhana strung consecutive fifty-plus stands and have effectively sealed the game. They have already scored more than half the required runs within the first power play. The young Shafali is in sight of yet another half century...
Early finish?
IND 37/0 in 3 overs, need 67 in 102 balls. India have yet again got off to a flier, thanks to Shafali Verma, who is on 28 off 11. Smriti Mandhana at the other end has been happy to give the strike back to her young partner. West Indies' seamers seem clueless about getting the breakthrough.
Resuming...
IND 18/0 in 1 over. Shafali Verma has began from where she signed off last night. She hits four fours in the opening over from Chinelle Henry. One of them featured a Natasha McLean misfield. How will West Indies stop Shafali?
Briefly speaking...
It was yet another sorry batting display from West Indies. They never got going after choosing to bat. India's bowlers kept the pressure all through the innings. Only when Chedean Nation and Natasha McLean were chugging along in their 32-run stand did they seem like putting a competitive score. But Deepti Sharma's return in the death sounded the death knell for the hosts. India, as a result, aren't chasing a tall total. The home side would have to bowl out of their skins to make a fist out of this. Will they?
104 to win!
WI 103/7 in 20 overs. Deepti Sharma was the pick of the bowlers, finishing with 4-0-10-4. She picked two of those in the final over, dismissing Chinelle Henry and Sheneta Grimmond on successive balls. The only solace for West Indies at this point is they have more than 100 runs to play with.
Crash-landing
WI 84/5 in 17 overs. Deepti Sharma broke the 32-run partnership between Chedean Nation and Natasha McLean. First, in an attempted cut shot, Nation was out caught behind for 32. A couple of balls later, McLean, in a bid to hit another biggie, hit one straight down long off's throat, where Smriti Mandhana made no mistake. Once again the hosts' flight crash-landed just when it was ready to take flight.
Gaining momentum
WI 81/3 in 16 overs. West Indies have added runs for the loss of just one wicket in the last six overs. Chedean Nation is finding the boundary fence now, including hitting a crisp drive bisecting mid off and covers off Shikha Pandey. Natasha McLean is on 16 off 18, including a six and a four to her credit. Can the hosts have a final flourish? What's more, Shikha Pandey has bowled out for India, finishing with 4-0-18-1.
Natasha MaxLean
WI 59/3 in 13 overs. Natasha McLean hit the first six of the match. It could have been a biggie on any ground. She slogged Radha Yadav high over the deep mid-wicket fence. She is on 7 off 8 while Chedean Nation is on 20 off 25 balls.
Wicket down, 50 up
WI 51/3 in 12 overs. Hayley Matthews stay in the middle ended on 23 off 35 balls. She tried taking on Pooja Vastrakar but ended up holing down Veda Krishnamurthy's throat at long on. But eventually, West Indies did bring up their fifty.
Stafanie Taylor speaks
Feeling a lot better but still a bit challenging for me to walk up the stairs. I would say that the West Indies team is missing me quite a lot, but I am missing them as well. I think for Shakera Selman the rest is just precautionary, (given she bowled well in the first T20I). There have been some good performances in the ODIs. It's just that we need to carry those in the T20s as we have some good hitters in the side. I think from what i have heard, Deandra Dottin should get back to playing cricket in Trinidad by December. By the World Cup next year, she should be fit and ready. (On Selman), she will definitely be back in the series. The sports psychologist is definitely a part of the training as it is not always about the game that affects us. It's about other things as well. I don't like batting against Poonam Yadav. She is just too slow. So I have to generate all the power. I would advise her to switch to medium-pace (she jokes), so that it is easier. I'm not too sure why the others don't approach me personally for advise on how to go about in certain situations.
Quiet ten
WI 38/2 in 10 overs. In a format that is renowned for big hits and boundaries, West Indies have managed just three at the halfway stage. Hayley Matthews has batted unusually slowly, scoring 17 off 29. With her is Chedean Nation who is on 13 off 18. The duo have added 23 runs together in 33 balls. Are they setting themselves up for a huge finish?
Power play done
WI 20/2 in 6 overs. West Indies chose to bat after winning the toss. But yet again, their batting hasn't lived up to expectations. Anisa Mohammed spoke about letting the batters enjoy and do their thing. Will the opening up of the field provide them more opportunities to score? Shikha Pandey has bowled three overs inside the first six overs for India, with Deepti Sharma, bowling two and Radha Yadav one.
Radha Waah-dav!
WI 17/2 in 5 overs. Radha Yadav was brought into the attack in the penultimate over of the power play and she was in business right away. She got one to rip past the outside edge of Shemaine Campbelle, who lunged to defend that but missed it. In the process she dragged her back leg out as well. That was enough for Taniya Bhatia to whip the bails off. Just three runs and a wicket off that over. Hayley Matthews and Chedean Nation are in the middle for the hosts now.
Success for Shikha
WI 14/1 in 4 overs. Shikha Pandey bowled a successful over, where she got rid of Stacy-Ann King. She made the southpaw drive the ball and all King could do was chip it straight to Pooja Vastrakar at covers. Good comeback from Pandey, who was hit for a four on the very first ball of the over.
New opening pair
WI 6/0 in 2 overs. West Indies have not only made a change to the side but also to some strategies perhaps. Alongside Hayley Matthews, Stacy-Ann King walked out to open the batting. They have cautiously so far. India opened their bowling, like in the first T20I, with Deepti Sharma and Shikha Pandey.
Harmanpreet Kaur (IND)
We wanted to field only. We want to go with the same process and mindset. We need to get them to as less as possible so that we can chase it. We are playing the same side.
Anisa Mohammed (WI)
We are going to bat first. We think we are gonna allow our batters to bat freely. We had a good talk, we need to come hard and put up a good show. Shakera Selman is out, Sheneta Grimmond comes in her place.
Toss
Harmanpreet Kaur calls it wrong and West Indies elect to bat first.
The other side...
For India, things went as per script. Their batters delivered to pile a huge score. The fact that Jemimah Rodrigues didn't need/get to bat speaks a lot about how well that aspect came about for India. Despite a mini collapse in the middle, they had a strong finish, thanks to Harmanpreet Kaur and Veda Krishnamurthy's finishing act. Their bowlers ensured that West Indies were never in the hunt. Yet again, spinners were at the fore of an Indian win. With this being the
second game within a space of 24 hours
, it would be interesting to see how both teams shape up. We hope you have fun with our coverage. Stay tuned for the toss and the line-ups.
Hola amigos!
Hello and a warm welcome to our coverage of the second T20I between West Indies and India. After a bad beginning to the series, courtesy a
big loss in the first T20I
, the hosts have been dealt with another blow. Stafanie Taylor has been
ruled out of the series
, which weakens their already-weak batting line-up. The time couldn't be riper for Hayley Matthews to step up and take the batting onus. Anisa Mohammed will continue to captain the side with Shemaine Campbelle as her deputy.
Report
India's dashing openers, wily spinners prove 'two' good for West Indies
Deepti Sharma's four-wicket haul and yet another dominating opening stand between Shafali Verma and Smriti Mandhana, headlined by the former's second consecutive half century, helped India beat West Indies by ten wickets in the second T20I at the Darren Sammy National Stadium in St. Lucia. It was the last game at the venue before the teams move to Guyana for the final three T20Is. "We're going to allow our batters to play freely," claimed Anisa Mohammed at the toss, after choosing to bat. But the start they had was far from ideal. In what was a different opening combination for West…
Read Full Report.