Pakistan
England
209

Runs

284

10

Wickets

6

22

Fours

25

0

Sixes

3
Adios!
Right then. The result wasn't completely unexpected. England go 1-0 up in the series. The track wasn't a slow and low one. It was good to see Pakistan put up a fight and not go down meekly. Thanks for being with us. We hope to have your company for the second ODI on Thursday (December 12). Till then, take care, aficionados!
CaptainSpeak ENG
Heather Knight: Really a good starting point in the series. The way Tammy (Beaumont) batted was fabulous. On a slowish wickets, to get the runs at the back end was crucial. It was the seamers that were harder to get away as they were skiddy. If you looked to hit straight it was hard to get them out. We've got a few youngsters here and are looking to give them some opportunity. So we'll look at that if we win the second game.
CaptainSpeak PAK
Bismah Maroof: We bowled well in bits and pieces but didn't bowl well in the phase between overs 20 and 30. I think Omaima (Sohail) played well. Javeria (Khan) is in good form but didn't capitalise. I think our bowlers bowled well. We need to take chances on the field and work well. Batters need to bat for 50 overs.
Player of the Match
Danielle Wyatt is the chosen one for her 110-run knock. Here's what she had to say: Pakistan bowled really well upfront. Made it difficult for me and Tammy (Beaumont). We tried to play to our strengths. I like to take in the bowlers early on. It was a tricky wicket and was breaking off. It was important to play straight. We have two more games and would love to win those. Pakistan showed fight with the bat as well.
Summary...
The 67-run stand between Bismah Maroof and Omaima Sohail was the top partnership in Pakistan's innings. In a chase of a score as high as 285, that was pretty low. That alliance was more about rebuilding than scoring. Maroof scored her 13th ODI fifty and eventually was dismissed for 69. Aliya Riaz had fun towards the end but perished in an attempt to quickly get to her fifty. Kate Cross was the pick of the England bowlers finishing with 7-0-32-4. She was on the verge of a hat-trick after she got rid of Rameen Shamim and Riaz off successive balls but it wasn't to be. Debutante Sarah Glenn picked up a brace and so did Katherine Brunt, who picked up her 150th wicket. Stay with us, we'll be back with the presentation soon.
Curtains
Pakistan 209 all out in 44.4 overs, lost by 75 runs. Pakistan lost their last five wickets for just 23 runs and that tells a tale. Sarah Glenn picked up her second wicket, trapping Nashra Sandhu LBW to draw curtains to the match.
Cameo time?
Pakistan 203/6 in 42 overs, need 82 runs in 48 balls. While Bismah Maroof's depature for 69 might be the final nail in Pakistan's coffin, Aliya Riaz doesn't seem like she has left hopes. She has happily hit her way to an unbeaten 39 off 31 balls. Sidra Nawaz is keeping her company.
Brunt's 150th
Pakistan 154/5 in 36 overs
,
need 131 in 84 balls
. Brunt sent Nida Dar packing to register her 150th ODI wicket, becoming the sixth one and the first player to do so. She joins an elite list: Jhulan Goswami - 225 wickets Cathryn Fitzpatrick - 180 wickets Ellyse Perry - 152 wickets Anisa Mohammed - 151 wickets Sana Mir - 151 wickets
KATHERINE BRUNT - 150* wickets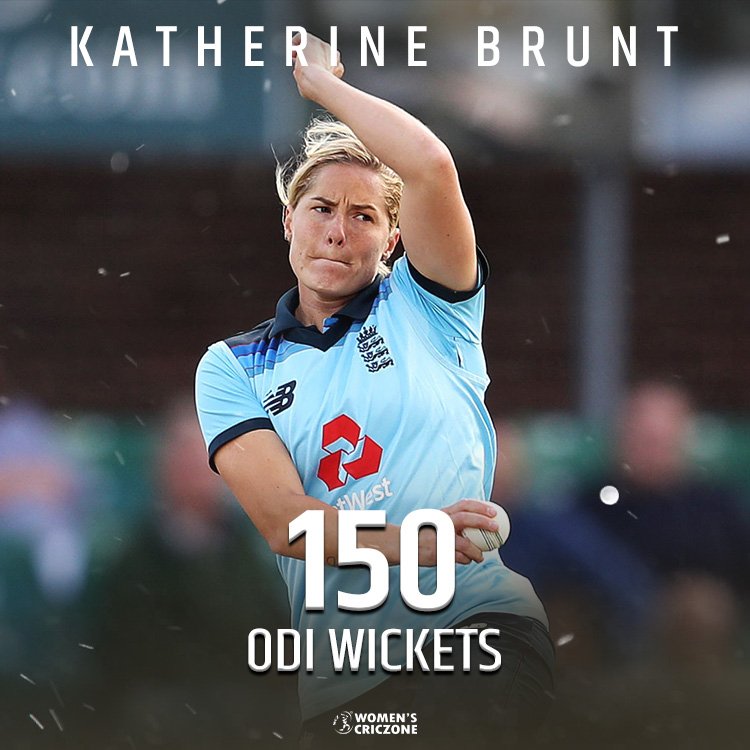 Captain to the fore
Pakistan 138/4 in 33 overs
,
need 147 in 102 balls
. A push towards cover-point off Anya Shrubsole helped Bismah Maroof bring her 13th half century in ODIs. She has held one end up, even though Pakistan look unlikely of overhauling England's score. It will be interesting to see how close she can take Pakistan and whether she can raise her maiden century in the format.
Drizzle time
Pakistan 130/4 in 31 overs, need 155 in 114 . Bismah Maroof is on the heels of her 13th half century in ODIs. But she has to wait a bit longer as a slight drizzle has meant that the centre and some parts of the outfield are under covers. Hopefully it's just a passing shower...
Breakthrough
Pakistan 110/4 in 27 overs, need 175 in 138 balls . Natalie Sciver broke the 67-run stand between Bismah Maroof and Omaima Sohail by castling the latter. Seeing a full ball at a slower pace, Sohail went for the drive, only to miss it and get her stumps broken. At the other end, Sarah Glenn has been disciplined with her leg-spin, giving away 19 runs in six overs so far.
Slow and steady...
Pakistan 102/3 in 25 overs, need 183 in 150 balls. Captain Bismah Maroof and young Omaima Sohail have held fort nicely, adding 63 runs in 84 balls. Maroof is going strong on 38 off 60 balls while Sohail has given her company with a composed 45-ball 27. They have countered the spin tricks that Sophie Ecclestone and Sarah Glenn have thrown at them.
Cross strike!
Pakistan 44/3 in 13 overs
,
need 241 in 37 overs
. Kate Cross also got her name in the wickets column as she cleaned up Javeria Khan to peg Pakistan further. Young Omaima Sohail has now joined forces with skipper Bismah Maroof, who is on 9 off 26 balls. No wonder Cross is getting some praises...
@LancsCricketWMN's @katecross16 picks up her first wicket. Pakistan 39-3, England well on top. #YourCounty #PakvEng

— Women's County Cricket Day (@WomensCricDay) December 9, 2019
Rebuilding time...
Pakistan 15/2 in 5 overs, need 270 in 45 overs. Katherine Brunt inched closer to the 150 ODI wickets mark when she trapped Sidra Ameen in front of the sticks. This was after Nahida Khan was cleaned up by Anya Shrubsole. Now the experienced pair of Javeria Khan and Bismah Maroof has to rebuild the innings for Pakistan.
Early breakthrough
Pakistan 5/1 in 2 overs, need 280 in 48 overs . Anya Shrubsole struck on her third ball as she sent back Nahida Khan pretty cheaply. She played on attempting a drive away from the body. Javeria Khan has joined Sidra Ameen in the middle. The duo will have to face a relentless attack of Shrubsole and Katherine Brunt.
The gist...
Danni Wyatt's maiden ODI century coming at better than a run a ball. A very Wyatt-esque innings. Sealing her opening spot in the format for the foreseeable? #PAKvENG

— Raf Nicholson (@RafNicholson) December 9, 2019
It was a perfect start for England after opting to bat. Both their openers, Tammy Beaumont and Danielle Wyatt, got to their respective tons. It was just the tenth time - fifth since 2016 - that both openers made hundred for them. But they themselves, perhaps, won't be pleased with the final score they got, after having a 188-run platform for the final assault. Heather Knight also chipped in with 41 but the middle order didn't do much. Pakistan's day on the field was punctuated by fielding mishaps, with Beaumont's drop proving very costly for them. Their ground fielding left a lot to be desired. Having said that, newbie Rameen Shamim deserves a special mention for returning with 3/61 off her 10 overs, including a masterful final over. Can this momentum-sapping end change the narrative of the match? We'll get to know in a bit...
285 to win
England 284/6 in 50 overs. It was a tame end to the English innings, who lost four wickets in the last five overs. Only 33 runs were scored during that phase. The newbie Rameen Shamim picked two wickets in the final over, giving away just four runs.
Run out
England 267/3 in 47 overs. Natalie Sciver couldn't last long as she was run out, in a bid to take two. She took on Aliya Riaz's arm, who got the throw spot-on. Amy Jones has joined Heather Knight, who is on 40 off 41 balls, in the middle.
Final assault time
England 251/2 in 45 overs. Tammy Beaumont, throughout her stay in the middle, displayed a wide array of strokes, including some sweeps and reverse-sweeps. But the latter proved to be her undoing as she perished attempting one reverse too many, giving Rameen Shamim her maiden ODI wicket. Now, with five overs to go, Heather Knight is joined in the middle by Natalie Sciver.
Ton-ny Beaumont
England 238/1 in 43 overs.
Seventh ODI century for Tammy Beaumont, she got there on the 136th ball she faced. Yet again she has ensured a strong platform for the side and looks good for more. Heather Knight has begun getting her eye in and it would be just a matter of time before she tees off now. Along with Beaumont, she has already added 50 already. Pakistan need wickets and that too in clusters to prevent England from running away with the match.
Captain calling
England 188/1 in 34 overs. Finally Pakistan manage to get the breakthrough, thanks to skipper Bismah Maroof. Danielle Wyatt smashed one full ball right back and Maroof pouched it with a small hop. A pretty tame end to what was a wonderful knock. No 200-run stand then for the opening wicket for England. How will this opening help Pakistan?
Wyatt-ton!
England 170/0 in 31 overs.
The English juggernaut rolls on. The duo is showing no signs of slowing down. Danielle Wyatt brought up her maiden ODI hundred by slapping a full one through cover-point. She took just 88 balls to get to the landmark. How many more can she add? There are 19 overs to go as players have a drink.
Steady Beaumont
England 136/0 in 26 overs.
Cautious, watchful, patient... That's how Tammy Beaumont has batted today and has got to a fifty off 80 balls. She was given a life when on 30 and has made full use of it. This is her 10th ODI half century. Will be interesting to see if she gets to the triple-figure mark.
(T)on and (t)on they go...
England 102/0 in 20 overs. The surge continues from the opening batters of England as they bring up the 100-run partnership. It is just their second such stand in 2019 and both have had Tammy Beaumont feature in it. In fact, out of the last 12 hundred run stands for the opening wicket, Beaumont has been involved in 10 of those. She is currently on 38 off 64 balls while Danielle Wyatt is on 61 off 57 balls.
Bright Wyatt
England 85/0 in 15 overs.
Danielle Wyatt brought up her second ODI fifty in just 49 balls. She has been batting well against spin, using her feet as well as the depth of the crease. She got to her landmark by smashing Aliya Riaz over deep mid-wicket for half a dozen. Pakistan haven't helped themselves much. They dropped Tammy Beaumont when she was on 30.
Acceleration
England 59/0 in 10 overs. This has been a wonderful start for England after opting to bat. Both Tammy Beaumont (23 in 26) and Danielle Wyatt (run-a-ball 35) have upped the ante in the last five overs adding 44. It's the third time the duo has added over 50 runs together, out of the four times they have opened the batting. Pakistan haven't done a whole lot wrong in the first power play. Nashra Sandhu has been targeted and she has given away 18 in her first two overs. Diana Baig has also been taken for 32 in her five overs, that has had a maiden over as well.
Decent start
ENG 15/0 in 5 overs. Both Tammy Beaumont and Danielle Wyatt have begun cautiously, the latter hitting two fours so far. Pakistan have begun with Diana Baig and Nida Dar. Dar hasn't got much purchase from the surface yet. Wyatt is on 10 off 17 balls while Beaumont is on 5 off 13. Remember, Wyatt is coming on the back of a WBBL fifty.
England XI
Tammy Beaumont, Danielle Wyatt, Heather Knight (c), Natalie Sciver, Amy Ellen Jones (wk), Fran Wilson, Katherine Brunt, Anya Shrubsole, Sarah Glenn, Sophie Ecclestone, Kate Cross
Pakistan XI
Javeria Khan, Nahida Khan, Omaima Sohail, Sidra Ameen, Bismah Maroof (c), Nida Dar, Aliya Riaz, Sidra Nawaz (wk), Rameen Shamim, Diana Baig, Nashra Sandhu
Toss time!
Heather Knight calls it correctly at the Kinrara Oval in Kuala Lumpur and England opt to bat. Both the sides have a debutant in their ranks: for Pakistan - Rameen Shamim, for England - Sarah Glenn
Welcome!
Hello and a warm welcome, wherever you are joining us from, for the live blog of the first ODI between Pakistan and England. Kuala Lumpur plays host to all the matches in the series. Pakistan are a formidable unit even without the services of the veteran Sana Mir, who is on a self-imposed sabbatical. They have some new faces in Rameen Shamim, Kainat Hafeez and a one-game old Syeda Aroob Shah. England have a spin heavy team as well and it shall be interesting to see how many of them they field in the first match. Sarah Glenn is expected to make her debut while Sophie Ecclestone would be expected to step up and shoulder additional burden in the series. In case you missed it, here's
what we can expect
from the match. Hope we have an exciting match and your company throughout the contest. Will get you the toss and team updates soon...
Report
Wyatt-Beaumont show take England 1-0 up against Pakistan
Centuries by Danni Wyatt and Tammy Beaumont handed England a convincing 75-run win against Pakistan in the opening ODI, which is part of the ICC Women's Championship, at Kinrara Academy Oval in Kuala Lumpur on Monday (December 9). Subsequently, England added two points to take their tally to 26. All eyes were on skipper Heather Knight and her team as the series marked the start of the new era for England following the departure of coach Mark Robinson and retirements of swashbuckling wicket-keeper batter Sarah Taylor and seamer Jenny Gunn. The players lived up to the expectations with both bat…
Read Full Report.