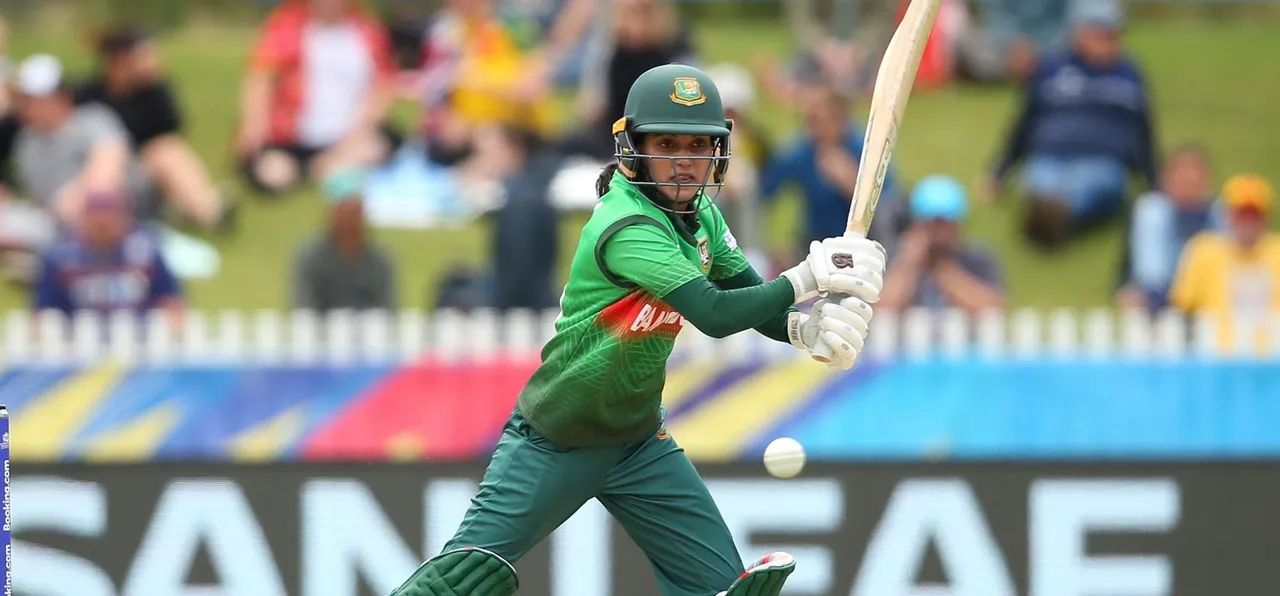 With the world under a lockdown due to the pandemic, people are searching for innovative things to pass time - the various cooking photos and numerous paintings on Instagram testify to that. Players are searching for different ways to stay fit and in touch with their skills. Nothing, perhaps, can beat Nigar Sultana Joty's unique practice facility, thanks to her father.
"My father gives me company and helps me practise my batting. He made me a net with the help of some fishing nets," the Bangladesh batter told
Women's CricZone
in a chat.
"I do have everything, but all the things are in Dhaka and I'm outside Dhaka in my parents' house. I told my father I can't stay like this so what can I do. He is a multi-talented person. He can do everything. So he said I have a fishing net, I'll make a batting net for you."
What's more, he also gives her throwdowns. "Even my mother is ball-picker," she guffawed.
"Sometimes she takes videos so that I can watch my batting and work on it. Sometimes she also feeds me balls. Sometimes we try to do the core strengthening work together."
This is all a result of some
jugaad
as it is called in the sub-continent.
When Joty came back from the T20 World Cup in Australia, Bangladesh were to assemble for another camp in seven-eight days. That meant she didn't carry too much equipment home and had to opt for makeshift means for fitness and honing her batting skills.
ALSO READ: Nigar Sultana Joty relives Bangladesh's Asia Cup win in 2018
But a self-confessed batting lover that Joty is, she always carries her bat with her. "I love my bat so much," said the middle-order batter, who top-scored in Bangladesh's
Asia Cup win over India in 2018
.
"I love (to do) shadow (practice) in front of the mirror. I sleep with my bat sometimes." She couldn't believe it when she was apprised about Steven Smith, Australia's batter, doing the same during the Ashes last year. "Really?! Wow so nice to know this!"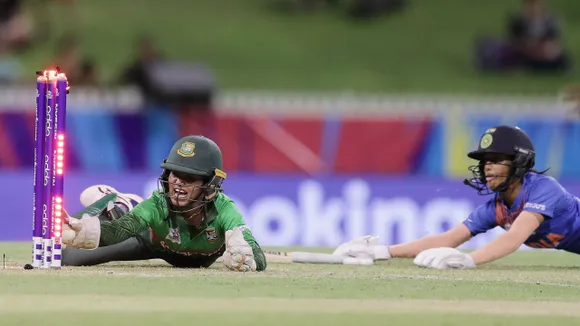 Nigar Sultana Joty runs Jemimah Rodrigues out during the T20 World Cup 2020. © ICC
"I'm a wicketkeeper batter but I don't like keeping wickets but I LOVE batting," she said. "So, every time (the) coaches scold me for not doing keeping drills and only working on my batting. I told them I don't like keeping, I can't help it."
Apart from working on her batting, Joty has also been following the drills set in place by the Bangladesh Cricket Board.
"BCB has given us some fitness schedules. It changes weekly. We have to follow the schedule. Apart from that I do some strength and conditioning because I have some space in my yard. I do run at times."
The lockdown due to the pandemic has meant that this has been the longest that Joty has been at home in about eight years.
"I have learnt cooking and now I'm the supervisor of the cleaning of our house," she said. "Since Ramadan is going on, we're now fasting. Prayers, cleaning and helping my mother in house work, sometimes watching movies or reading books is what I do."
She said she is a big fan of Netflix and has recently watched Five Feet Apart and After. "I can spend all day on Netflix."