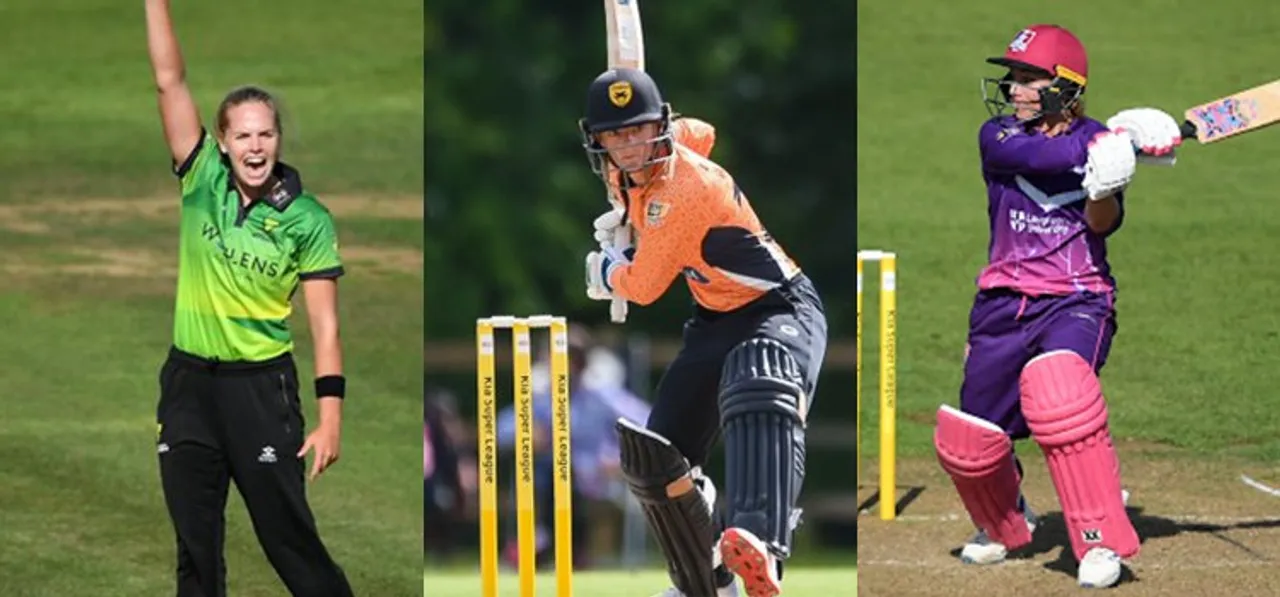 The fourth edition of the Women's Cricket Super League is coming to a close. Over the last week, cricketers and coaches involved with each club have taken to social media to celebrate their association with each club— the performances, the memories, but mostly the friendships.



KSL ✅
Loved playing for the Stars over the last 4 years!
This year wasn't our year but great to finish with a bang and sing that song one last time! 🌟🌟🌟🌟 pic.twitter.com/VaOomo8uB7


— Bryony Smith (@BrySmith97) August 28, 2019
As the season winds down, and the #GoodbyeKSL sentiment takes over, three teams will be attempting to keep their focus on what lies ahead— finals day. On Sunday (September 1), Western Storm, Loughborough Lightning and Southern Vipers will battle it out to claim the fourth and final WCSL title.
Three seasons of the WCSL have seen three different champions— Southern Vipers, Western Storm and most recently, Surrey Stars. Interestingly, champions in the second and third editions were losing finalists. First Western Storm lost in the summit clash to Southern Vipers in 2016, then Surrey Stars lost to Storm on finals day in 2017, and finally (surprise, surprise) Loughborough Lightning were felled by a rampaging Stars in 2018.
Coming in to the 2019 season of the tournament, not many would have put their money on Lightning to get through to finals day. After all, among their trio of overseas player, only Hayley Matthews had the power (and consistency) to blast past opposition. Chamari Atapattu had been inconsistent through her previous stints in foreign leagues, and Mignon du Preez was more of an accumulator than an outright 'basher'.
Among the England international, Amy Jones was coming off a dreadful time in the Ashes series, Georgia Elwiss was more well known for her skills in the longest format, while Jenny Gunn had barely played any cricket over the last two months.
Following a poor start to the tournament, where they had won only one game in four, it appeared the doubters were right— where was the power?
However, after their
second loss to Storm
in the league stages, Lightning reassessed their plans and came out swinging.
Jones stood up at the top of the order while du Preez, Elwiss and Georgia Adams played the lead role in the middle order. The South African has played a central role in the team's revival, scoring 246 runs in eight outings at an average of 49.20 and strike rate 144.70. Quite amazingly, du Preez has hit as many as 10 sixes— joint third-highest this season— and only five short of the number she has hit through her entire international career!
Leading in to finals day Lightning have won six games on the trot— they appear to be peaking at the right time.
It seems the stars have quite perfectly aligned for Elwiss' team, who, following their win against (coincidentally)
Stars last Friday
(August 23), became the second team to book their place in finals day. They will, however, first have to get through Vipers in the semi-final at the County Ground in Hove.
Vipers have had a largely up and down season. They have won four, lost four, tied one and seen one game washed out. With 22 points, they managed to squeak past Yorkshire Diamonds who were fourth with 20. Interestingly, Diamonds had five wins to their credit, but Vipers' two bonus points wins meant they gained an extra advantage.
It is the unpredictability of their unit that has made Vipers such a dangerous team this season. Danielle Wyatt has been in blistering form, smashing 362 runs in nine innings including her
maiden WCSL century
and three fifties. In all the games the right-hander has failed, Vipers have struggled to register a win. Her performances have almost always resulted in wins. Lightning will do well to keep her quiet.
Wyatt aside, Tash Farrant has been another player Vipers have heavily banked on. The left-arm seamer is the joint second-highest wicket-taker in the season, having taken 12 wickets at an average of 14.33 and economy of 6.45. She has tied the batters down by changing her angle of attack, varying her pace and executing her plans to the 'T'. Farrant has provided a sense of control to an otherwise inconsistent attack.
The third team in contention for the trophy is an old pro. Storm, the most consistent side in the history of the tournament— the only one to have reached finals day on each of the four occasions— will be playing their third final. They have been in splendid form through the season, suffering their first loss in their last match of the league stage
against Yorkshire Diamonds
. On several occasions, like all champion teams, Storm have found a way to dig themselves out of a hole and pull off a win. It is a characteristic— or ability— that has set them apart from the rest of the pack.
Although Smriti Mandhana, their star of last season, has blown hot and cold, Storm have seen Rachel Priest, Heather Knight and Fran Wilson pick up the slack and help them (mostly) chase down scores with relative ease. The trio have scored a collective total of 932 runs in 29 innings, holding Storm's batting order together, while Sophie Luff in the lower middle order (134 runs) has helped put in the finishing touches.
Storm's invincibility this season though has revolved around the success, not of their batters, but their bowling unit. Freya Davies, the 22-year-old right-arm seamer, has led the way taking 18 wickets so far. She has been the season's leading wicket taker, six wickets ahead of the next best bowler. Alongside Claire Nicholas and Anya Shrubsole (11 wickets each), Davies' success has allowed Storm to continue to attack with the ball through the innings. Her ability to take wickets with new and old ball has stood her in good stead and meant Knight often turned to her when the pressure was on.
Through the course of the season, every team has suffered a loss or hit a bump that has served as a roadblock in their journey. At first glance, it appears as though Vipers and Lightning have already crossed those hurdles, whereas Storm may have just hit theirs. (Another reason for Lightning fans to celebrate)! However, as they have done all season, it won't be very surprising if Storm find a way to dominate another game this season. After all, it would only be fitting if the most consistent team signed off from the tournament with the final trophy.
As the teams gear up for one final hurrah, and players bid goodbye to a much loved tournament, only one thing is for sure— the crowd will be in for a treat on finals day. Hove is the place to be on Sunday.