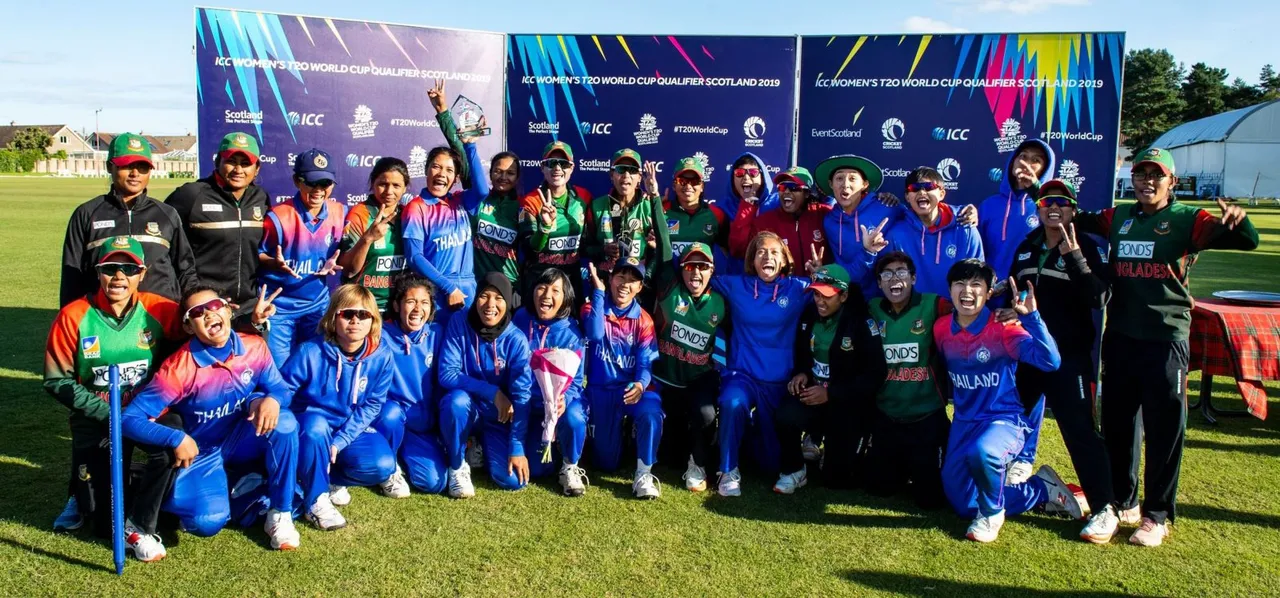 The complete fixtures for the ICC Women's T20 World Cup 2020 in Australia next year have been revealed after Bangladesh and Thailand confirmed their spots in the tournament. The 10-team event will run from February 21 to March 8, 2020.
Bangladesh, the winner of the ICC Women's T20 World Cup Qualifier in Scotland, will be placed in Group A alongside Australia, India, New Zealand and Sri Lanka. Thailand, on the other hand, complete Group B, where they will take on England, West Indies, South Africa and Sri Lanka.
"We are thrilled to be welcoming Bangladesh and Thailand to Australia for the
ICC Women's T20 World Cup 2020
," said Nick Hockley, ICC T20 World Cup local organising committee CEO. "We know that both teams will receive fantastic support, from fans living here in Australia and those visiting from around the world."
Thailand, who played their first international match only 12 years ago, have qualified for their first ever World Cup— in either format. Their incredible run over the recent past has won the hearts of many. They will play their first match of the tournament against West Indies at the WACA Ground in Perth on February 22.
Bangladesh and Thailand qualified for the mega event having made the final of the global qualifier that ended on Saturday (September 7). Bangladesh
thrashed Thailand
in the final by a mammoth 70 runs.
The opening game of the Women's T20 World Cup will be played between Australia and India at Sydney Showground Stadium on February 21. The final will be held at the Melbourne Cricket Ground on March 8, which happens to be international women's day.
Group A
: Australia, New Zealand, India, Sri Lanka, Bangladesh
Group B
: England, West Indies, South Africa, Pakistan, Thailand
Full fixtures:February 21: 
Australia v India, Sydney
February 22: 
West Indies v Thailand, Perth
February 22: 
New Zealand v Sri Lanka, Perth
February 23: 
England v South Africa, Perth
February 24: 
Australia v Sri Lanka, Perth
February 24: 
India v Bangladesh, Perth
February 26: 
England v Thailand, Canberra
February 26: 
West Indies v Pakistan, Canberra
February 27: 
India v New Zealand, Melbourne
February 27: 
Australia v Bangladesh, Canberra
February 28: 
South Africa v Thailand, Canberra
February 28: 
England v Pakistan, Canberra
February 28: 
New Zealand v Bangladesh, Melbourne
February 29: 
India v Sri Lanka, Melbourne
March 1:
 South Africa v Pakistan, Sydney
March 1: 
England v West Indies, Sydney
March 1: 
Sri Lanka v Bangladesh, Melbourne
March 2: 
Australia v New Zealand, Melbourne
March 3: 
Pakistan v Thailand, Sydney
March 3: 
West Indies v South Africa, Sydney
March 5: 
Semi-final 1, Syndey
March 5: 
Semi-final 2, Sydney
March 8: 
Final, Melbourne /codes_iframe