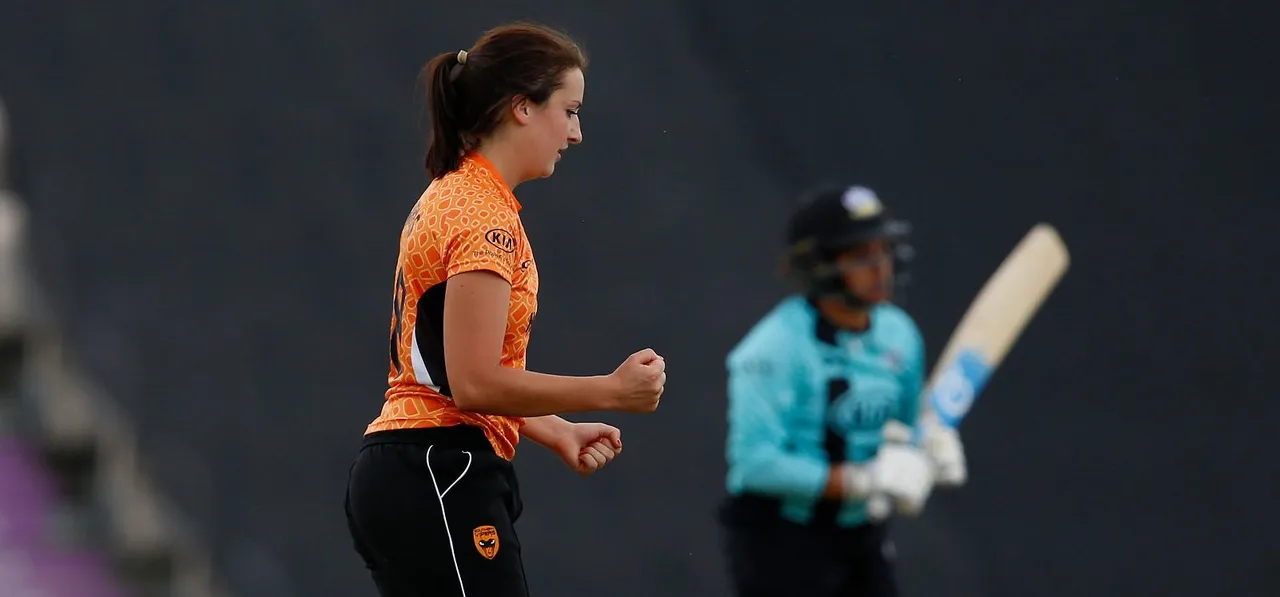 Fi Morris, who last played for Southern Vipers, is excited to be back home and wants her new team Western Storm not to get overawe with the past glory and start afresh in the inaugural Rachel Heyhoe-Flint Trophy. The 26-year-old was a part of the Gloucestershire setup from her childhood days and has been a part of the board's Emerging Player Programme.
"We are starting fresh again. The only similarity is the name and I think it's important that we don't go in assuming that we are going to be at the top," Fi said. Western Storm was the most successful side in the Women's National Cricket League, winning the title twice and finishing second once. "It's a brand new competition with many different players so it's very important that we go into it with a fresh mindset. Other people might see it as an advantage but we can't rely on reputation at all."
"I grew up playing my cricket at the Bristol County Ground and I live and work in Bristol. When Lisa Pagett called me about joining Western Storm, it just felt right going back home and back to where I grew up playing," Fi said.
"Luffy (Sophie Luff) is around my age so we grew up playing against each other at age-group level. She played for Somerset while I played for Gloucestershire so there was always a bit of a rivalry, but it will be good to be on the same side as her."
Fi didn't had a great time in the last year's WNCL scoring just 73 runs in eight matches while picking up just five wickets in the entire tourney despite Vipers finishing runners-up. Her best figure of 2/13 came against Surrey Stars and was also a part of the 2016 title-winning side.
ALSO READ: Sue Strachan becomes first female president of Cricket Scotland  
However, Fi believes she can bring much more on the table than batting or bowling with the Storm. "I'm a very hard worker, I work a lot on my fitness and my fielding. I'd like to think I bring an all-round game, more than just being a bowler or a batter but having a few strings to my bow," she said.
"I bring experience as well; I'm going to be one of the older players in the squad so hopefully I can pass on my knowledge to the younger players." Fi also feels she brings that winning mentality in the dressing room having been a part of the side that played in the finals three times in the past four seasons.
"When I was growing up there wasn't much opportunity in women's cricket. Playing with Winterbourne CC men's team was the best way to play at a high standard of cricket," she said. "They bowled a lot quicker and were obviously bigger than me so I had to work out different ways to get the most out of myself.
"It definitely gave me a bit of resilience as well because you get the odd comment saying 'she's just a girl' but you build up a thick skin to that and now playing in women's cricket seems a bit easier. I think it's great now that girls growing up don't have to play in boys' cricket to play a good standard."
Storm play their opener against debutants South East Stars on August 29 at Foxgrove Road in Beckenham. The Bristol County Ground will play host to Southern Vipers on August 31. It is also to be noted that all the Storm's homes matches will be live-streamed while the decision on away games has not been decided yet.