Bernadine Bezuidenhout has already made a remarkable comeback to international cricket when she was called up by White Ferns for the ICC Women's T20 World Cup 2023. It was a reward for her consistent performances during the season with Northern Brave. But it is not just a story of cricket, but it's also one of perseverance.

Bezuidenhout wasn't part of the 2020 T20 World Cup squad. In fact cricket was the last thing on her mind because she had bigger battles to fight. The 29-year-old was diagnosed with RED-S (Relative Energy Deficiency in Sport). She was already into fifth year of the disease and was constantly tired, agitated and had developed insomnia. 

RED-S is a health condition where multiple body systems and functions get impaired. Bezuidenhout eventually decided to step away from her career for 17 months to recover. It wasn't easy. Being in and out of hospital with your body refusing to take food is one of the toughest things anyone could ever go through.  

But Bezuidenhout is no ordinary cricketer nor an ordinary individual. She didn't want to give up; she fought hard even as her body weight reduced to alarming levels. On her path to recovery, she discovered new things; her support system – including family and friends – helped her with the mental and physical aspects of health. 

It wasn't just about getting back to cricket. It was also about understanding the fact that there is more to life than cricket. On her road to recovery, Bezuidenhout became a better individual; she became a more rounded person even as she smashed a hundred in the Hallyburton Johnstone Shield (HBJ Shield) for Northern Districts during the 2022-23 season. 

Born and brought up in South Africa, also having played international cricket for them, life has come a full circle for Bezuidenhout as she is back in the Rainbow Nation representing a country she thinks of as her home.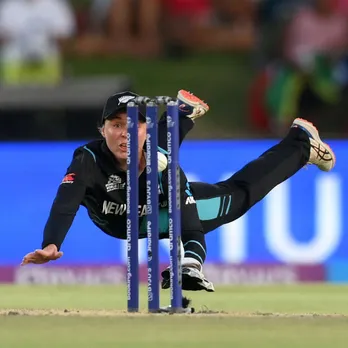 Ahead of the T20 World Cup 2023, Bezuidenhout spoke to Women's CricZone about her growing up years in South Africa, the RED-S, her comeback, her support system, giving back to the community through the two foundations she is part of, finding out there is more to cricket, and more.

Q: How excited are you be to back in the side and that too for a World Cup? What was the first reaction?
Very excited. It's been a very long two years obviously, I was in recovery from RED-S. So, it's been a lot of hard work, both from the mental side of the game, but also from a physical point. So, very excited and very, very appreciative of being back in this environment.

Q: You just talked about RED-S and you had to take a break. You had issues before, but finally you took that break in 2019. How difficult was those times?
Well, you know what, it's quite scary thinking back now because I was told by my specialist that I was about a 30% capacity of my full potential as an athlete for the last five years of my career. So that was quite a scary thought. 

I knew I had to take a break. I was just physically so sick. I was in and out of hospital all the time and I knew it was time. It was either I was going to take a break then or I was never going to play sport again. I was never able to run again. So, I kinda got to the end of the road really. We had no choice but to take the break and reflecting now, looking back, I'm so happy that I did that because I'm a different person to what I was a few years ago and I'm much stronger, fitter. I'm in a much better space - both mentally and with my health of course.











Q: You talked about your mental health aspect as well during those periods. So how difficult was it and how did you mange? And who were the support system for you?

That's a good question. It was very difficult to start off with. And I think a lot of athletes when you're not playing cricket, you kind of ask yourself 'Who am I if I am not a cricketer? If I'm not a professional athlete?' and I guess that identity comes with that. For me, it was, I am a Christian, so my faith played a big role in getting me through that. And then obviously my family, my best friend Carolyn (Carolyn Esterhuizen, Northern District cricketer) and just my really close friends got me through that and my church community.

It was a very difficult period. I'm not going to lie about that. It was probably the most difficult period of my life , in my 25-26 years, I was alive and if it wasn't for my support group that I had around me - which is my family, my friends, my church and my faith, I probably would have really struggled, but they really got behind me and they supported me all the way. So it's thanks to them that I am here today.
Q: We are all happy to see you back. So when you made your comeback earlier this year you scored that 100 for Northern district during the HBJ Shield. How difficult was it and how much did you enjoy it and what were you thinking at the time?

I think coming back now I'm just grateful to play the sport of cricket. I'm playing with a lot of freedom without any pressure. I'm just enjoying it. I think it comes with again that reflection of you don't know when it's going to be a last game on the pitch, you know, and that's what I have taken into the season, whether it be domestic for Northern Brave or international cricket for the White Ferns. I am just grateful to be able to play the sport that I love and yeah I'm playing with a lot of freedom especially my role within the team. It's one with freedom and I love it. So a very clear mindset. It's amazing what happens when you take all the baggage off and you are just playing, you see ball, hit ball and you have a good game plan and it comes off, it's very cool.
Q: Was that White Ferns call up was something that you were expecting especially to the T20 World Cup squad?

Not at all to me again, I was just playing, enjoying my sport. I was just enjoying playing cricket for Northern Brave. It's such a great club to be part of Ben, our CEO there (Ben MacCormack, CEO, Northern Districts Cricket Association) is an amazing guy and Jo (Joanne Broadbent) our coach and just our skipper Eimear (Eimear Richardson) and Brooke Halliday, they are just such a supportive team. 

And no, not all , I was just really just enjoying being back in that environment. So when I got the call up, I was obviously elated but also very surprised.

Q: You talked about the support from Northern District, but coming back to the White Ferns side, there is Sophie Devine, who has Type 1 Diabetes and someone like Jess Kerr, who had to overcome a lot of issues and also Amelia Kerr talked about her mental health issues. So how do you think those support system there will be helpful for you?

It's amazing. This group is such a tight group, one that we're not afraid of saying that we're struggling and I think that's how far athletes have come nowadays and I mean Sophie (Sophie Devine) lead with that and Melie (Amelia Kerr) obviously and Jess (Jess Kerr), there are such incredible people, such incredible strong athletes and I think we've created a space now within this environment where we do support each other and we are okay with talking out if we are struggling with something. So just their support and the team in general and Ben Sawyer where everybody's really bought into this environment where athletes can just thrive in and just be themselves and speak up if things aren't going well for you.

ALSO READ: Jess Kerr: Accidental White Fern

Q: You were born in South Africa, then you played for South Africa, then you moved to New Zealand, then you played for Northern district, then eventually for White Ferns. How do you look back at the whole journey?
Leaving South Africa was a difficult decision but I made for my own future, for my safety. I was in an attempt at hijacking twice within two weeks and I knew that as a female athlete, as just a female, it was the best thing for me and my future. You know I'm an outdoor person, I love running and unfortunately the way things are here, it's just not safe for people in general to do, to live a lifestyle like that.
Q: How do you look back now that you are back in South Africa?
My family is still here, a lot of my family is here, most of them stay in the garden route in the Western Cape. So when we head off to Cape Town, it's going to be very cool to see them again. And again, New Zealand is my home. But obviously my family is still here. So I hold this place very close to my heart.

Q: You were part of the 2018 New Zealand side, now you are back again in 2023 for another World Cup. How do you look at it and how much you have evolved?

I was in a very different space personally than what I am now four years later, you know, so of course I take learnings, but I think (it's) just maturity from where I was four years ago to where I am today, I am a complete different person.
I am a 360 player but I have worked a lot on my power game; I'm clearing the ropes lately which is quite nice hitting a lot more boundaries. That's something I've worked really hard on. Again that's coming back from RED-S, I've gained a lot of muscle mass, I've gotten a lot stronger so that's made life a lot easier. With my wicket-keeping, it's just volume for me; I have just caught thousands and thousands of balls.
I have got a great coach in Matthew Bell, former Black cap, who is my batting coach. We've started working together in the beginning of last year actually well towards winter - about April- and we haven't stopped working together. He is an amazing man, really cool guy and also an amazing coach. He is taken my batting to where it is today, we've worked a lot on power but also subtlety and I think that's what I brought into my game, a new dimension so to say, and also then my keeping coach Freddie Anderson, who's an amazing keeper himself, who's been working with me also for a few months now, so a lot of volume. I'm feeling very positive going forward.

Q: Talking of wicket-keeping, do you take any notes from Katey Martin? 
You know Marto (is) a big shoes to fill. I will never be Katey Martin. I don't think she wants me to be Katey Martin. Our styles are very different. I am here of course, taking tips when I can get them; she is a legend of the game. I was fortunate enough to play a lot alongside her as a backup keeper for the White Ferns. So over the years she has really taught me a lot and she surely is missed this group, but definitely always keen to take tips from Marto.


Q: You wrote about that elusive "balance" in a long instagram post recently.  Do you feel you have that balance now?










That's such a good question. I'm so glad you brought it up. I'm busy working while I'm on this tour, I run two organizations, one in New Zealand – it is called 'The Epic Sports Project'. We work with low socio-economic kids in the community and within schools and we use sports as a vehicle to inspire hope to the next generation. Then I also have an organization here in South Africa doing the same thing with youth in the Doe Gauteng area called 'The Epic Foundation'. So the work life balance is so much better now. And I am not just an athlete now. There's so much more to me now, giving back to our youth, giving back to kids in our communities that can't afford to play sports that's given my live a new perspective. I'm at the World Cup right now, but I'm working, I'm working as well, which is quite cool because it gives me time to reflect on bigger things in life. You know, people have struggles, people have issues and at the end of the day, cricket is a bloody great sport, but it is just a sport.

                                                                              ******

Bezuidenhout might not have set the stage on fire yet on her comeback to international cricket at the ongoing T20 World Cup, but it was all worth it and she is at peace with where she is right now. After all, cricket is just a sport even though a great one at that.