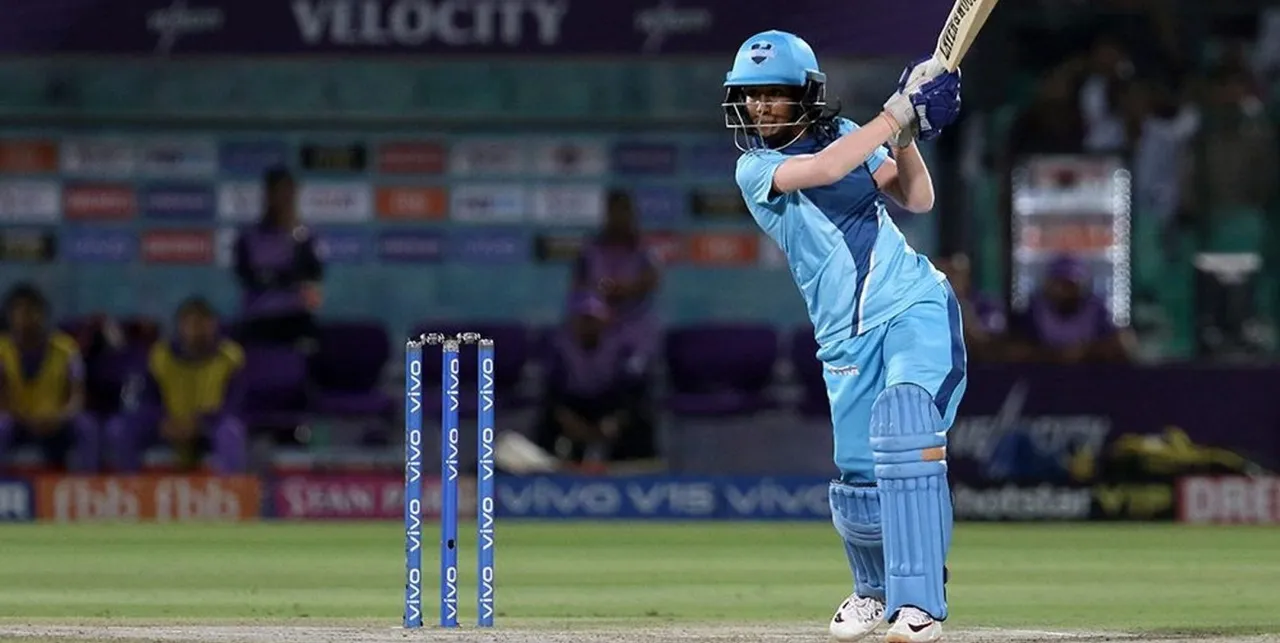 On Tuesday (11 June), when Yorkshire Diamonds made the announcement that they had signed Jemimah Rodrigues, India's latest batting sensation, for the fourth edition of the Women's Cricket Super League, murmurs went around recalling the 'other Indian teenager' who had played for Yorkshire— namely, Sachin Tendulkar.
https://twitter.com/PavilionTalks/status/1138486228163186688?s=19
There is nothing new about the hype and excitement following the 18-year-old from Mumbai. In fact, ever since her record-breaking Under-19 season in 2017, Rodrigues has been hounded for interviews, and seen her pictures splashed all over social media. Her selection to the Indian team in 2018 came with a lot of fanfare, and also a mountain of expectation.
"That's something I have been facing for the last year or so," Rodrigues told
Women's CricZone.
"You know, everybody is like this young girl is coming and we have to watch out, this and that. It (dealing with expectation) is something I feel that I am still getting better at. I'm not saying that no, I don't have this pressure and all— I'll be lying if I say that— but I think I am finding a way to handle it."
Like others before her, Rodrigues is searching for ways to deal with the attention and often unfair expectation that comes with such a dramatic rise. She sought advice from those who have travelled a similar path— Virat Kohli, Smriti Mandhana and Tendulkar himself.
"I told Virat Kohli, when you go out to bat even if you score a fifty it is less for you. People will say you under performed. The whole crowd is expecting, everybody is expecting (something special) all the time. He said, 'When I go out there I don't look at the crowd and the expectations or anything, I just look at what I can do for my team to win. That's how I deal with it.'"
"I asked Sachin sir what do you do? Because even he came at a very young age and everybody had their eyes on him. He told that when they had the World Cup (in 2011) this is what they said in the dressing room: all these one billion people they are not sitting on your head and demanding
ki
'perform, perform, perform.' No! If you feel that way, you will obviously feel pressurised. But this whole force… These one billion people are with you and they are backing you— no matter what they are with you. With that kind of support and force I think you will go out there an be motivated to do well and it won't be a pressure for you."
"Smriti told me, 'See, whom do they expect from? They don't expect from everybody, only people who have it in them'. That makes sense! And then, I realised at the end you are not out there to please anybody or play for anybody else. You are just out there to do well for your country. As long as you do well your country will obviously do well. That's the way I look at it."
Rodrigues' international career so far has been "unsteady". A successful start against South Africa and glimpses of promise against Australia were followed by an extended period on the bench. It was a time of uncertainty for the youngster, but one that she believes made her stronger for the battle ahead.
"When I look at the past year (I feel) I have developed a lot as a player, even as a person," she said. "Because when I started, and now, I can see that improvement. I would give credit to those low phases in the last year that helped me develop my game and, you know, helped me get stronger, mentally, and physically also— in fitness and everything."
Her growth over the last 18 months can be quite easily tracked across the two 'seasons' of the Women's T20 Challenge tournament (the unofficial 'mini Women's Indian Premier League'). In 2018, Rodrigues was finding her feet at the international level, slightly unsure of herself, and still figuring out what she needed to work on to become a force at the highest level.
"They (the two editions of the WIPL) were two different experiences for me. In 2018, I remember I was batting with Suzie Bates. We had a good partnership (45 runs). I really liked the way she was talking to me and guiding me through that innings. She kept telling: 'okay, we can go after this bowler', or, 'okay, we need to accelerate now'. She told me if a bowler is bowling well we can try and rotate the strike, and if you get a loose ball punish it. If you are hitting, hit it in the gaps. So that is what I learnt in the last IPL— it was more about forming game plans during an innings."
This interaction would give her a sense of the finer nuances that she needed to develop to succeed internationally. She put these learnings into practice when she got an extended run in the Indian playing XI starting September 2018. In 16 T20Is, the 18-year-old scored 463 runs at a strike rate of 125.13 including four of her five half-centuries.
The following year, when the BCCI organised a four-match Women's T20 Challenge tournament  in Japiur, Rodrigues was visibly more confident. She had established herself as one of India's premier batters in the shortest format, rising to no.2 in the ICC rankings for T20I batters.
"In this (2019) WIPL, what I learnt was what suits my game the best. I didn't have to do anything extra. I was just reacting to the ball. I realise that I am at my best game when I have a blank mind and I just react to the ball and just look to have good impact. That's what helped me in this tournament and it was a good experience."
While the expectation continued, the pressure of having to prove herself by putting in an impactful performance had lifted. She had shown the world what she was capable of and the focus had shifted to becoming more consistent rather than having to establish herself in the team.
Off the back of her Player of the Series performance where she scored 123 runs for Supernovas in three innings, including a magnificent unconquered 77 in a virtual semi-final against Velocity, Rodrigues was snaffled up by Yorkshire Diamonds. She thereby became the third Indian— alongside Harmanpreet Kaur and Mandhana— to sign for the WCSL.
"I am quite excited about the tournament. More than anything, it's the experience I will get playing with these players— almost the best players in England and the world… Like Alyssa Healy, Chloe Tryon and all. So I am looking forward to getting as much experience and learning from them."
Both Mandhana and Harmanpreet have spoken extensively about the impact these foreign leagues have had on their development. In fact, Mandhana went to the extent of saying that her time in the WCSL last year made her "a more confident player". "My performances in the WCSL made me realise that you can be consistent in T20s too— especially with the kind of strike rate I had," Mandhana told
Women's CricZone
in an
earlier interview
.
That is the impact Rodrigues is hoping her time in England will have on her growth as well, particularly in view of next year's T20 World Cup in Australia.
"I have never played in England before, but I suspect they have similar wickets to Australia. Maybe Australia will be slightly better for batting, lesser movement and all, but it will be a good preparation for me (for the World Cup). Playing with quality teams will help me develop my game even more."
Rodrigues is set to depart for England in the last week of July to join Healy and Tryon as Yorkshire's overseas professionals. Over the last three editions, the club have never reached Finals day, but this time, Danielle Hazell, former England off-spinner and Yorkshire's newly appointed head coach, believes they could turn things around.
Once again, there is an air of excitement and expectation around Rodrigues. Hazell, who called Rodrigues "an exciting prospect for Indian cricket" believes that the youngster's arrival could help create some hype around the WCSL in India.
Rodrigues' adventures in England will no doubt be followed closely by the entire country, and like Mandhana and Harmanpreet before her, she will want to make an impact in a foreign league.
As our conversation comes to an end Rodrigues repeats one line excitedly: "Smriti said, 'You will love batting over there (in England), Jemi."
If Mandhana's prediction is anything to go by, the 18-year-old can put herself down for a wonderful tournament. After all, 'the other Indian teenager' who turned out for Yorkshire thrived in England too! /codes_iframe