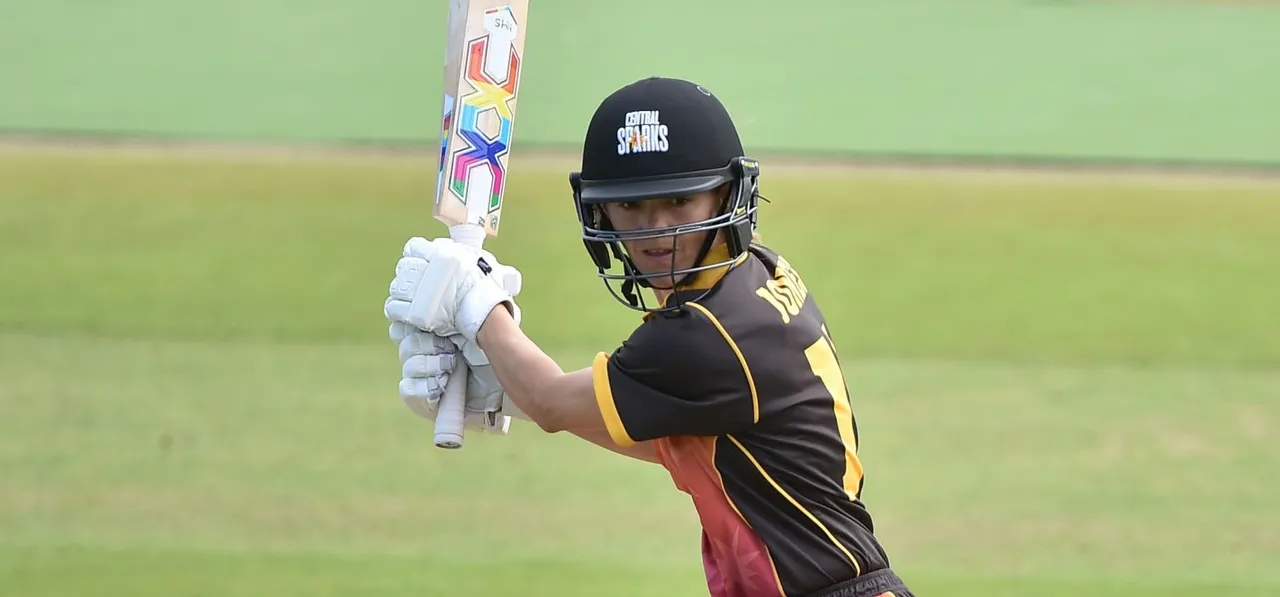 Central Sparks skipper Evelyn Jones rued the team's lack of discipline in the field and application with the bat for their
loss to Lightning
in their fourth-round match of the Rachael Heyhoe Flint trophy on Friday (September 11). Sparks fell seven runs short of their 234-run target, thus falling further behind Northern Diamonds - who are so far unbeaten in the tournament - in their hopes of reaching the final.
"Yeah, it's obviously been a disappointing day. I don't think we fielded the best that we could have, and then we didn't get over the line which was very disappointing. It's a tough loss to take for sure," Jones said.
ALSO READ: England dream alive, Evelyn Jones hopes to build on momentum
Fresh off an excellent knock of 90
against Thunder
last weekend, Jones was unable to capitalise on her form, being dismissed by Leah Kellogg for 10. Despite half-centuries from Marie Kelly and Gwenan Davies, a middle order collapse meant Sparks were unable to get over the line.
However, despite the loss, the skipper said there were plenty of positives to take from the game. First, the bowlers combined to restrict Lightning to a chaseable total after the openers put on a record 148 to start the game, and then the top-order set up the chase quite brilliantly, before imploding under pressure.
"Obviously they (Lightning) got off to a really good start with that partnership up top, but we had a good fightback in the first half of the second innings, and we managed to restrict them to a chaseable total. That was a positive. And then we had two girls who got fifty, so again, it showed that the batsmen are in good form. If we can extend those fifties to seventies or eighties then we can move closer to that win."
ALSO READ: Sarah Bryce stars in Lightning's first win
Sparks' next game of the tournament is against Northern Diamonds in Leeds on Sunday (September 13). Jones said the short turnaround time between matches would give the team a chance to bounce back quickly and not brood over the difficult loss.
"It's going to be a big game, isn't it! Probably one our toughest games that we'll have. They are obviously a good side and haven't lost yet. We'll be looking to bounce back quite quickly with that, so it's probably a good thing that we've only got one day to dwell on our loss today and look to turn it around on Sunday," she concluded.