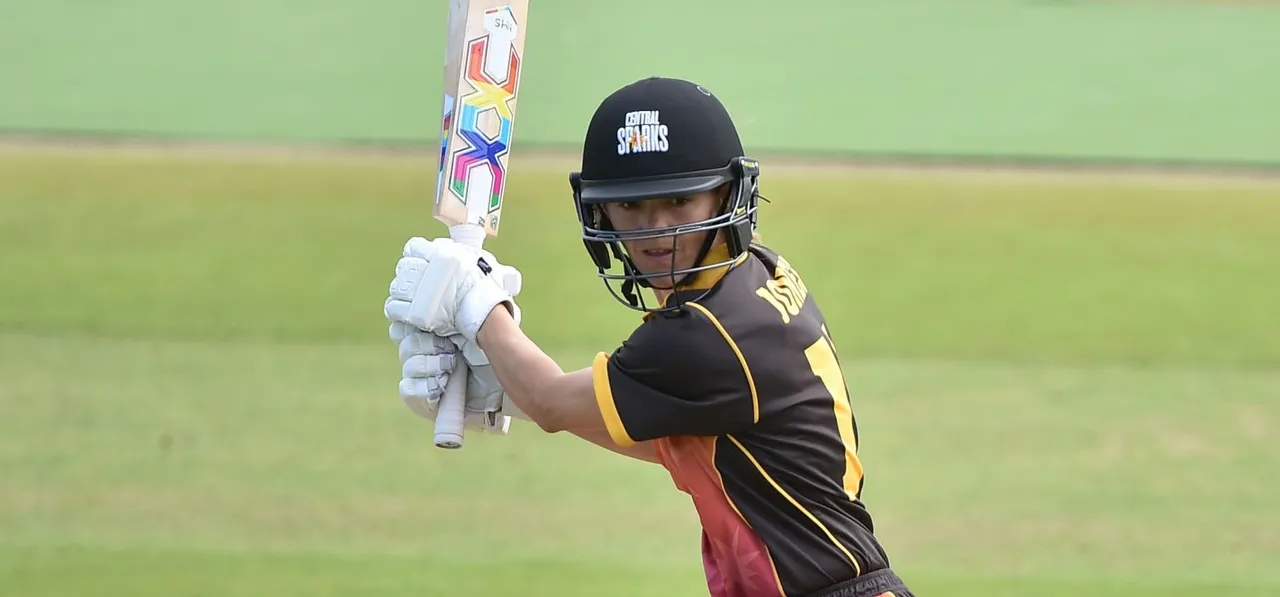 Central Sparks skipper Evelyn Jones says her team are playing catch-up no longer and are ready to win some silverware.
Central Sparks take on Northern Diamonds at Scarborough on Wednesday (September 21) in a winner-takes-all match to decide who will face defending champions Southern Vipers in Saturday's Rachael Heyhoe Flint Trophy final.
While finishing in the top three already represents an achievement for one of the newest teams in English cricket's domestic set-up, Jones believes her team are ready to take the next step to cup glory.
"We've had a year behind us now, so we are looking to go on and win it," Jones said on the eve of the semi-final, in an exclusive chat with
Women's CricZone. 
"We know what we've got to do. It's a must-win game for both teams to make the final. So, there's a lot of excitement around it. We've just got to try and enjoy the moment as well because not often you play in an eliminator, semi-final type of game, so we're really looking forward to it."
Unlike their semi-final opponents, Sparks did not evolve from a team that played in the Women's Cricket Super League (WCSL) which ran from 2016 to 2019. Instead, drawing players from the West Midlands counties of Herefordshire, Shropshire, Staffordshire, Warwickshire and Worcestershire, Sparks first competed as a team in the inaugural Rachael Heyhoe Flint Trophy last year, finishing runners-up in the group stages.
ALSO READ: England dream alive, Evelyn Jones hopes to build on momentum
"It's great that we've got a year behind us now," said Jones. "Coming into the tournament last year, we were a brand-new team, so we probably had a bit of catching-up to do on some of the other teams that had been around for a few years during the KSL."
"It was all fresh for us and coming together as a team was really exciting. Now we've had that full winter training behind us and a full summer of cricket, we're starting to really form a great bond at Sparks."
"It's exciting to see what this team can do going forward. We didn't make it through in the T20 Charlotte Edwards Cup, but we played some good cricket. For us to be in the eliminator today just shows how much hard work has been put in over the last few months and over the winter by everyone at Sparks to be up there in the top three. So yeah, I think we're in a good place and I'm looking forward to seeing what we can do in the next few years."
While Sparks' bowlers were put to the sword by the Bryce sisters in the recent match against Lightning, they have drawn significant confidence from their win against T20 champions South East Stars at Worcester. Sparks could only post a modest 229 all out but responded positively by skittling Stars for just 114.
Jones was in excellent form for Birmingham Phoenix through The Hundred competition. © Getty Images
"The bowlers bowled really well," says Jones. "We had
Georgia Davis back in the side who bowled out of her skin. It's great to have her back and she bowled with a lot of control. So yeah, that was a brilliant team win. When we've got a bowling attack like that, we know that we've got a really good chance of defending whatever score we post."

"I think we put in probably one of our best performances so, I think everyone's in a good place and fingers crossed we can get the job done at Scarborough."

ALSO READ: We're very much a developing side: Sophie Luff reflects on Western Storm's CE Cup campaign

Sparks' Rachael Heyhoe Flint Trophy campaign began with a narrow two wicket win against Diamonds spearheaded by Issy Wong's 5 for 49. Then followed confident wins against Western Storm and Southern Vipers. The champions were bowled out for a meagre 104 as Sparks sealed a 120-run victory with Emily Arlott claiming five wickets to earn herself a maiden England call-up.

Sparks also benefited from crucial performances by two England stars in those early games. Amy Jones smashed a List-A career best 163 not out in the win against Storm to follow her 114 against Diamonds, a game which also saw Sarah Glenn hit an unbeaten 71.

"Trying to remember, it seemed like such a long time ago now with everything that's happened since!" laughs Jones, looking back over a campaign that was interrupted by the Charlotte Edwards Cup and The Hundred. "But yeah, we got off to a great start early on in the season. We had Amy Jones and Sarah Glenn with us, so they both put in some good match-winning performances to help us go the line."

"I think the last couple of games have been a really good build-up for going into the game at Scarborough."

Jones is backing both Wong and Arlott to be major threats with the ball against Diamonds.

"Issy is our probably our main threat with the ball. She bowls with a bit more pace than most others and she swings the ball early on away from the right hander. So, we'll be looking to her to play a big part and I'm sure she's relishing the opportunity.

"Emily's had a good breakout season. Took a five-fer against Vipers and bowled out of her skin. She's another one that hopefully can fire for us. We'll be looking to see what the two quicks can do for us."


© Getty Images

Meanwhile off-spinner Ria Fackrell, who took 3 for 20 in that win against South East Stars, has also become an increasingly important part of the attack and is second only to Wong in the wicket taking table this season.

ALSO READ: Maia Bouchier to play for Melbourne Stars in WBBL07

"She probably started the season off mainly as a batter, but she's really developed her bowling over the last few months and become one of our leading wicket takers," says Jones. "She's been great with the ball and given us another option which is always handy as a captain that you can throw the ball to her and know she can do a job for the team."

With the bat, Marie Kelly has played some important knocks this summer with two fifties in the Rachael Heyhoe Flint Trophy this month alone. That follows her phenomenal unbeaten 100 off just 53 balls to chase down victory against Vipers in the Charlotte Edwards Cup last month.

"I feel the last few weeks she's really come into her own," Jones beams. "She'd probably be a bit disappointed with how she went early season, but I think that just shows her character, how determined she is to perform. She played an incredible knock in the T20 against Vipers. I think that really kick-started her season. Since then, she's got a few scores under her belt. So yeah, it's nice to see her score some runs."

Jones herself has enjoyed a season which has seen her make the shortlist for the cinch PCA Women's Player of the Year award alongside Sophia Dunkley, Danielle Gibson and Natalie Sciver.

She has posted a total of 566 runs in all competitions for Central Sparks this summer as well as 135 more for Warwickshire in the Vitality County T20 competition. Her runs also played a crucial role in helping Birmingham Phoenix stage a late comeback in the Hundred. She totalled 233 runs in that competition as Phoenix staged a late comeback to reach the eliminator.

"It was a funny old competition really because we obviously didn't get off to the best start in the tournament. So, we really worked hard and managed to string a few performances together and it's nice that we managed to get to that eliminator. Obviously, we were disappointed that we didn't go through to the final, but I think we'd have taken that from the position that we were in early on when we hadn't won a game."


Issy Wong has played a central role in Sparks' success this season. © Getty Images

"It was really good to be part of the Hundred and Birmingham Phoenix. I really enjoyed my cricket, as I have all summer. I think that's shown throughout my performances as well."

ALSO READ: Injury, milestones and a home World Cup: a sit-down with Suzie Bates

A full-time domestic contract allowed Jones plenty of time to work on her skills last winter and she made the most of the opportunity to hone her slow left-arm bowling after being forced to reduce her overs due to injuries in the past.

"To add that back into my game is really something that I wanted to do. It just gives me another string to my bow. It's been coming out alright to be fair. I picked a few wickets up here and there. It's just another option that I can provide the Sparks with, just another bowling option that we have. I'll just continue to keep working on that and tweaking my action and adding a few tricks in here and there. So, yeah, good fun!"

Going into the eliminator, Sparks are wary of the Diamonds, a side that reached the Charlotte Edwards Cup final the hard way by winning their knockout game to make their way into the title clash.

"It's obviously going to be a tough game," says Jones. "Both sides know exactly what they've got to do. They've got a strong squad, but I feel confident in my team, and I feel like we can get the job done."

"Playing away at one of their home grounds, they might have a few more supporters behind them, but I think we know what we've got to do when we get out there, just try and do our best to reach the final on Saturday at Northampton."

"It would be great to have a different team win the title and hopefully it will be the Sparks. So yeah, fingers crossed!"