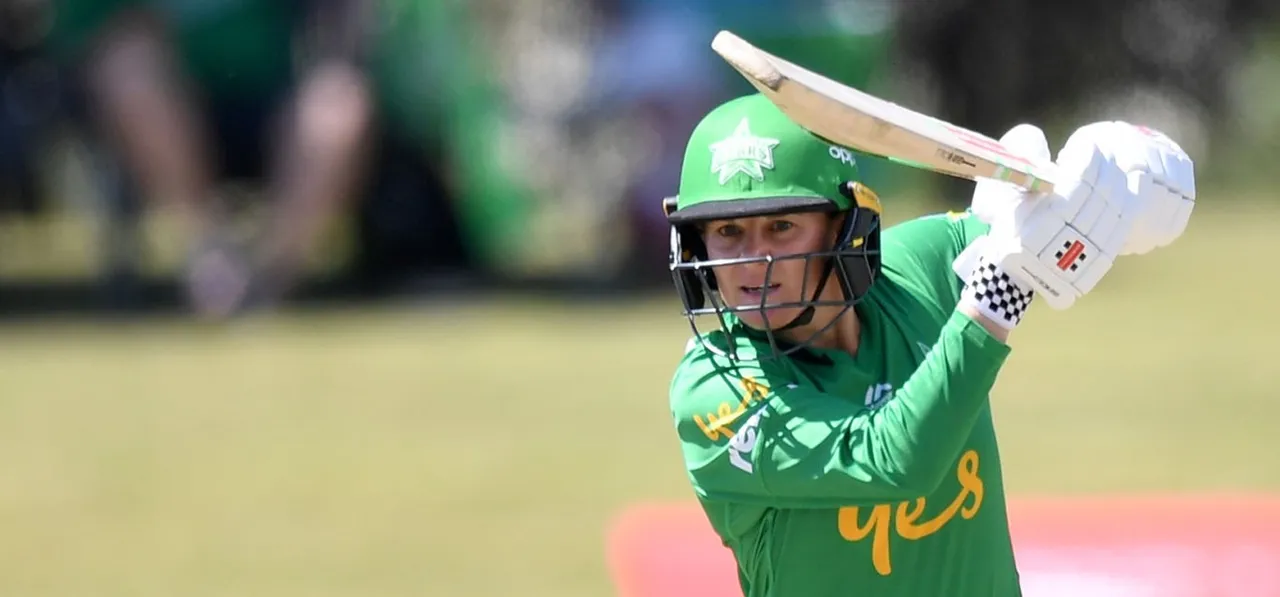 Melbourne Stars have added three names to their roster for the sixth season of the Women's Big Bash League
meant to start in October
. The trio of Erin Osborne, Tess Flintoff and Georgia Gall have penned new deals with the club, it was announced on Wednesday (August 12).
Osborne, the former Australia allrounder, and 17-year-old Flintoff, who made her maiden WBBL appearance last season, have been re-signed with the club, while 16-year-old Gall is a new addition.
"Erin is a wily and tough competitor who proved again last season that her leadership around the group is really valuable," said
Stars head coach Trent Woodhill
of the club's new signings. "In Tess and Georgia, we've signed two young players with a view to the future. Tess got her first taste of the WBBL last year and showed some real talent and Georgia will benefit from the experience this year."
ALSO READ: Meg Lanning confirms move to Melbourne Stars for WBBL06
Following a poor season, in which the Stars managed only two wins in 14 games, the club are desperate to build a winning culture. The signing of Australian skipper Meg Lanning is a step in the right direction, and Woodhill admitted that Osborne's re-signing adds much needed experience to the side. The 31-year-old, who has played over 100 internationals for Australia, is one of only two spin options in the Stars squad at the moment, alongside leg-spinner Alana King. She said she is excited to enter her fourth season with the club.
"I've really enjoyed my time at the Stars since making the move to Melbourne for WBBL," said Osborne. "Over the last few years the club has done exceptionally well in developing quality young players. I am excited about the prospects for the upcoming season."
Flintoff, a promising pace bowling allrounder, was one of the positives to emerge from the Stars' campaign last season. Although she picked up only two wickets in 13 matches, the teenager showed great temperament with the bat, scoring 75 runs in the lower order (at an average of 75) at a strike rate over 120. She then made her debut for Victoria in the Women's National Cricket League, after which she was selected to represent the Cricket Australia XI in the national Under-18 championship.
ALSO READ: Lizelle Lee makes the move from Stars to Renegades
These three signings leave the Stars with six spots to fill, including all three international berths. With their big-hitting opener, Lizelle Lee
having signed for Melbourne Renegades
, one would be interested to see which players they target.
Last season, South African veteran Mignon du Preez and New Zealand
wicketkeeper-batter Katey Martin
joined Lee as Stars' overseas professionals.
While Lanning admitted to having discussions with Woodhill about which overseas players to target, she refused to name anyone in particular, adding that the aim was to build as strong as squad as possible.



What about this shot on @WBBL debut from Tess Flintoff!
We've got a lot to look forward to this season 🤩💚#TeamGreen pic.twitter.com/Jyi49FyREw


— Melbourne Stars (@StarsBBL) August 12, 2020
"I've had discussions with Trent and over the last few days trying to work out what we want the team to look like and what specific players and skills we need to make our team successful," Lanning said
after her signing
with the club was confirmed. "We're looking at many options that are out there and how they can fit into what we need."
"I think there'll potentially be quite a bit of movement this year … that's a really exciting thing for the competition that people are willing to move for opportunity and there is plenty of opportunity. There's certainly some players we'll target and build to build a really strong team."
Squad so far
: Meg Lanning, Elyse Villani, Annabel Sutherland, Alana King, Holly Ferling, Erin Osborne, Tess Flintoff, Georgia Gall, Nicole Faltum