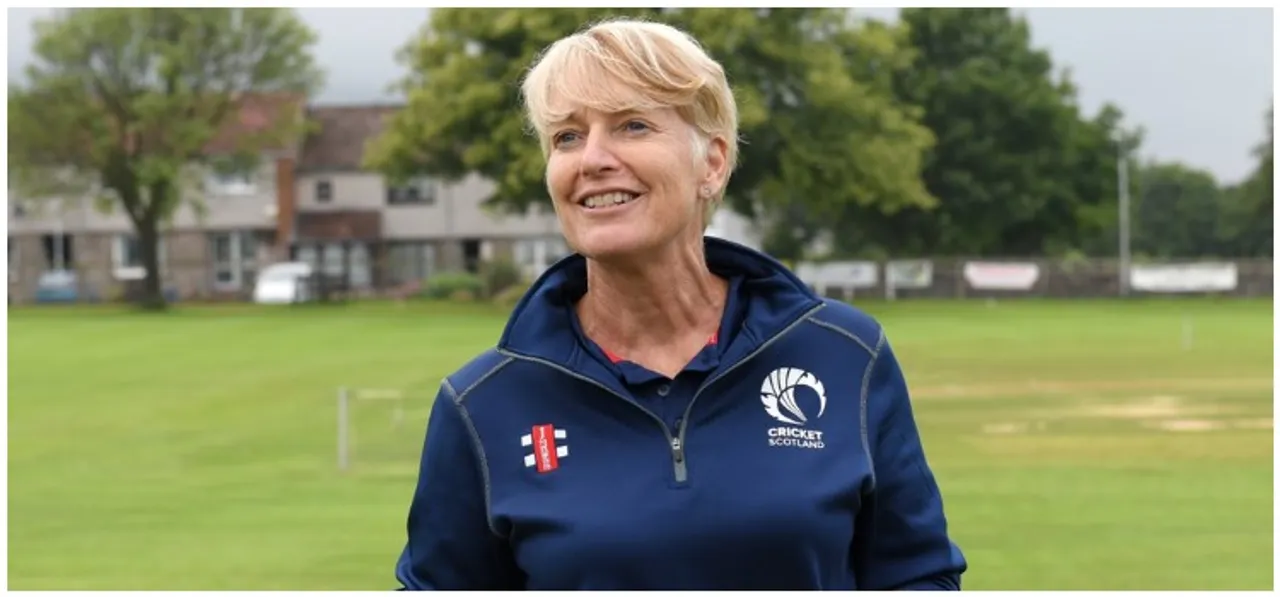 Sue Strachan is the first woman to be elected as the President of Cricket Scotland in their 140-year history. A pure sports buff, Strachan has channelled her love for sports, combined with her inability to play competitive cricket when she was young, to create an all-inclusive atmosphere as an administrator - something she aims to achieve during her two-year tenure. In an exclusive chat with Women's CricZone, she speaks about what it's like to be an administrator of two different sports, her immediate goals, plans for retaining talent and more.
First female to be the President of Cricket Scotland in 140 years… Has it sunk in yet?
I had a year as President-elect to get used to the idea. But still, when I became the President, it was a surprisingly emotional day for me. It's a huge honour to be elected and to be voted for by the clubs and the associations and to have them place their confidence in me. Not only is it a huge honour – I always wanted to be the first woman to do something, this is my thing – but also a huge responsibility because I'm a hands-on sort of a person and I want to be sure that my two years as president are remembered for the work that I do. Yes, for the fact that I'm the first woman, but more for the work that I do while I'm here.
I've got a couple of years to make a difference. They say you should try and leave an organisation better than it was when you came to it. I wouldn't be leaving at the end of my two years, but I feel this is my opportunity to try and make things better and make a difference.
How did you get into administration? Were you always interested in it?
I've always been somebody who's ended up on committees volunteering for something or the other. I like to get involved; I have lots of ideas about how things could be better. I blame my father, because he said, never moan about anything unless you're prepared to get in there and change it.
I used to be chairman of the girls and women's football club for some time and then I was a part of the board of the Scottish Women's Football Association (SWFA) for a couple of years. It was only after that I got involved in cricket. But basically, in my club committee (I was) helping to get the team together and then working from there with the new women's teams in Scotland and then being voted by them to the board of Cricket Scotland Holdings Limited to represent the clubs that had girls and women's teams. I've been on that board for four years now and I hope I've been part of the changes I've seen which have been really good.
I've been really impressed by the fact that we can change and we can make things better. We have a small team, it's a small country but we have big ambitions. We want to work together - every single part of cricket in Scotland, and the cricket community in Scotland wants to be part of making cricket a mainstream sport again like it used to be a long time ago. We also aim to progress the aims for our international teams and our international players and athletes in trying to help them follow their dreams.
https://open.spotify.com/episode/6Pdbvtu2ldOE4s1Yx9KJLb?si=Gqnc-w--Qdaw27NEXiJmLA
As you said, you were a part of the SWFA and now have been involved in cricket for some years. Would you say this multi-sport experience has stood you in good stead as an administrator in any way?
I've always been involved in lots of sports as a player and as a committee member. The main sport that I played competitively is squash. I've also been involved in the Equality Advisory Group with Scottish Squash. I was there in the Scottish Women's Football on behalf of the youth, to try and progress the youth agenda and make sure the young girls who came into the sport could progress and follow their dreams.
I think governing bodies need to have people that have slightly different ideas. The diversity of thinking is really important. I'm a little bit of a diverse thinker. But I also think that sport has given me so much joy and so many health benefits – both physically and mentally. I want to share that joy and want (as) many people as possible to be a part of this and to feel that joy.
Did you ever aspire to be a full-time cricketer?
No, I didn't. When I was young, girls weren't allowed to play cricket. Though there were a couple of schools in Scotland where girls could play cricket, but they were boarding schools or schools on the other side of the country. So, I played lots of other sports. My brother played cricket; my father played cricket. But it was just never something I was able to do. My parents would've let me, but there was nowhere to go for me to play.
I progressed my dreams in other sports instead. I do wish that I could've played cricket as a youngster because it's a sport that suits me very well. But instead I would be listening to the Ashes series Down Under with my little transistor radio at midnight, when I was meant to be sleeping, listening to the progress of the England team.
I never aspired because I never thought it would be possible for me to play. So, to come to play in my fifties has been great and I'm loving it. But I would've liked to have been able to savour them when I was younger.
But if I can be part of supporting the young players nowadays coming through and help them follow their dreams and help them to follow what we now have, which is really strong performance pathway to become professional cricketers, if that's what they want to do then great, I want to be a part of that.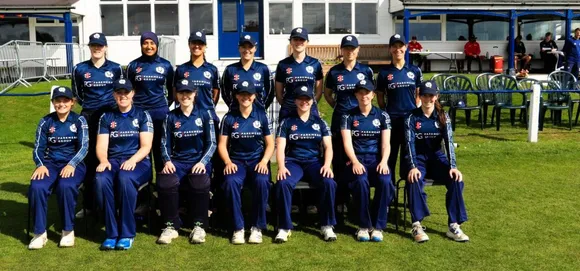 The entire Scotland team is a role model for girls, says Sue Strachan. © ICC
Have you identified your immediate goals? Will your focus be more on development of women's cricket?
Nope! Yes, I'm female and I also travel as the women's national team manager in a separate role. So, I will always be an advocate for women's cricket. But actually, I'm an advocate for cricket for all. I really want to progress our equality and inclusion and diversity agenda at Cricket Scotland. I want everybody, no matter their age – from youngsters all the way up to people in their 70s & 80s – if they want to play some form of cricket I want them to be able to do that.
I want people to feel there's no place for racism in cricket in Scotland certainly. I want to make sure that there's no sexism in cricket in Scotland and if you have a disability, we could find a form of cricket that suits you. If you're somebody who has only a small amount of time, we could find a format of cricket that would suit you. I want us to be able to deliver to offer anybody something that would suit them, suit their lives and as I say, help them share their joys of playing and being involved.
At the same time, I am keen that we progress our aims with our national teams as well. We are one of the best performing associate nations. We have men's and women's teams both ranked in the top fifteen in the ICC rankings and we are close to fulfilling all the criteria to become the full member of the ICC. I would love to see those criteria fulfilled during my time, or even my time be part of the journey to doing that.
ALSO READ: Visa issues behind her, Kim Garth prepares to embark on a new journeyWe've seen that players often leave their Associate teams in search of better opportunities with full-member teams. Ireland's Kim Garth recently made the move to Victoria, in hope of representing Australia someday. How do you plan to retain talent and prevent such player exodus at Cricket Scotland?
One of the next steps for us would be to be able to provide professional contracts for some players to retain them as Scotland players. But that needs funding obviously. Because we're funded by Sports Scotland and the ICC, we're hugely grateful for the funding that we get, but there's a lot to do with that funding. It's difficult to fund women to play professional cricket particularly as the ICC tend to fund on the performance of the men's team.
No matter how you look at it, you have to maintain the performance of your men's team, first and foremost, because your funding depends on that. That makes it really difficult for us as an organisation to find enough money to fund their female players as well.
At the moment you can't blame them for wanting to follow their dreams to be professional cricketers and they can't do it in Scotland alone. It will be a great day when we can do that and I hope it's not too far a distance.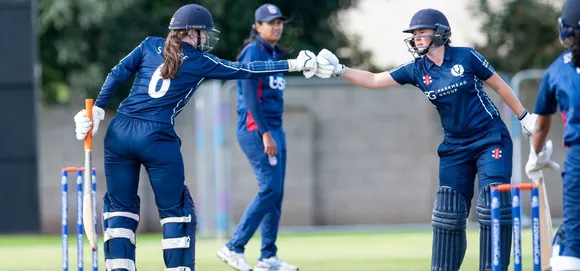 "Kathryn (L) and Sarah Bryce are fiercely Scottish and will continue to play for Scotland." © ICC
Just extending the above question, the Bryce sisters – Kathryn and Sarah – have been offered retainer contracts by the England and Wales Cricket Board (ECB). Does that worry you?
If I was ECB, I would want them to play for me, yes! They, so far, are fiercely Scottish and will continue to play for Scotland. I hope we can keep them, because not only are they fabulous cricketers – they're young, too, and continuing to develop - but they are also incredible role models for young women in Scotland. I think our whole team is a fabulous role model and if they can get a little bit of coverage of media somewhere, then young girls in Scotland might think, 'oh, I can be like Sarah Bryce!' And you have to see somebody you identify with in order to aim for something and these girls are definitely great role models and I hope we can keep them. And we'll have to do our best to do so.
Clare Connor became the first female President-elect of the MCC, you're the first to head Cricket Scotland… What do these developments mean in the larger scheme of things?
I think you have to seize the opportunity. I think women's sport is potentially just on the cusp of greatness and of becoming as well covered, I would hope, as men's sport. If you look at women's sport, then in some sports like squash, the prize money is equal. If you understand the fact that our physiology is different – we're not as strong and we're not as fast. As a result, women's cricket is not just a slog-fest. It has a nuance, which was seen in the T20 World Cup in Australia earlier this year.
What an event the T20 World Cup final was! In fact, the whole tournament was incredible and hopefully, we don't lose that momentum due to the coronavirus pandemic. But I think that there are too many very determined people (for us) to lose that momentum. Now we need more media coverage and more sponsorships. If we could get both of those, then I think the future is very, very bright for women's cricket.