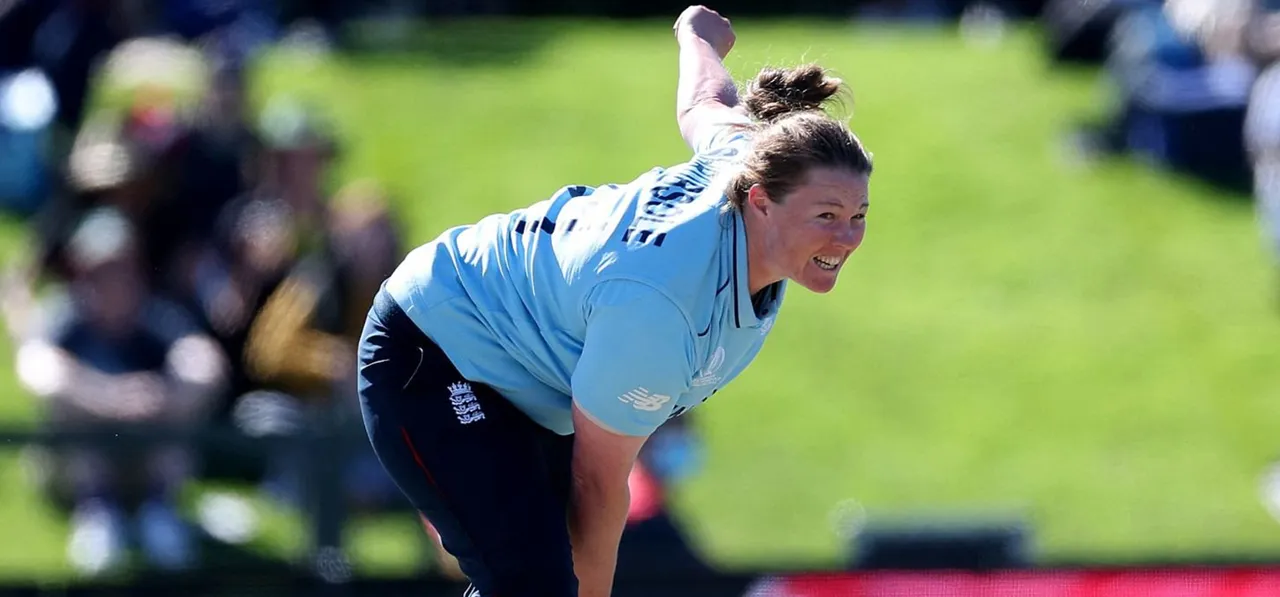 England pacer Anya Shrubsole has announced retirement from international cricket with immediate effect on Thursday (April 14). England and Wales Cricket Board (ECB) said in a press release.

30-year-old Shrubsole was the Player of the Final when England won the World Cup 2017 at home. In the final at Lord's, she took six for 46 to help the hosts get the better of India by nine runs. The pace bowler last featured for England during the final of the World Cup 2022 where they went down against Australia.

"I feel immensely privileged to have been able to represent my country for the past 14 years. To have been involved in women's cricket at a time of such growth has been an honour but it has become clear to me that it is moving forward faster than I can keep up with, so it is time for me to step away," Shrubsole said.

"Never in my wildest dreams did I think I would be lucky enough to play for England for so long, I'd have been happy with one game. There have been many ups and downs along the way but it was all worth it to be able to lift the ICC Women's World Cup at Lord's in 2017.

ALSO READ: England, Anya and Eminem: Till they collapse

Shrubsole, who started with playing domestic cricket for Somerset, represented England in 8 Tests, 86 ODIs, and 79 T20Is and took 227 wickets across formats having made her debut as a 16 year old. She started her career with an ODI against South Africa in 2008.

"There have been so many people who have supported me along the way and I want to thank them all for everything they have done, but most of all I couldn't have done it without the unwavering support of my family. They have been with me every step of the way and I simply couldn't have done it without them," Shrubsole added.

The right-arm pacer was part of the England side that won the T20 World Cup 2009 at the early stage of her career although she featured in only one match. Shrubsole then went on to become one of the key bowlers in the line up and  she was the first England player to reach the 100-wicket milestone in the shortest format. She was named the Player of the Tournament in the T20 World Cup 2014 when she took 13 wickets at an average of 7.53 from six matches.

ALSO READ: Rewind: When Shrubsole's six caused India to self-destruct

Clare Connor, ECB managing director of women's cricket, lauded the pacer for her efforts and thanked her for her contributions to England cricket during the career that spanned 14 years.

"For 14 years she has given everything for the team so it is fitting that her reasons for retiring are so selfless. In her last game for England – the ICC Women's World Cup final in Christchurch – Anya was the team's stand-out performer with the ball, just as she was on that magical day at Lord's in 2017 when England women lifted the World Cup," Connor said. "Her longevity, skill and impact with the new and old ball are testament to her work ethic and commitment over so many years.

Connor also added that Shrubsole will continue to have an impact in England cricket in the future as well even though she is done with international cricket. "Aside from her genius with the ball, Anya was the perfect teammate – selfless, dedicated, thoughtful and kind. She has already dedicated 14 years to England Women's cricket and I know that she will continue to have a huge impact on the game post-playing."

"Anya loves the game as much as anyone I've ever met and we look forward to retaining her expertise and passion as she embarks on her next chapter. We thank her for everything she has done, for every girl she has inspired, and wish her all the best for what comes next," Connor concluded.

Shrubsole, who is currently part of Southern Brave in The Hundred, will continue to play her trade in the domestic competitions Rachael Heyhoe Flint Trophy and Charlotte Edwards Cup in the upcoming season.