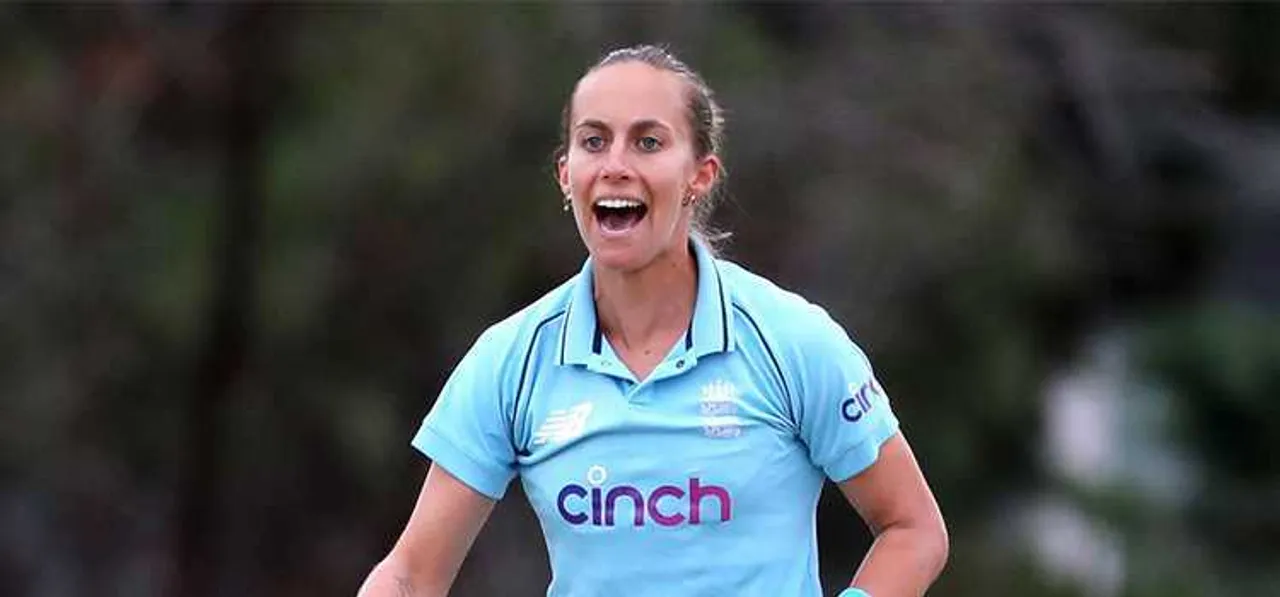 Natasha Farrant was an international cricketer at the age of 17. She was among the first tranche of cricketers to receive central contracts with England by the age of 18. The teenager, who missed doing regular things, didn't even realise how big a deal it was back then. Everything seemed easy and it felt like Farrant had the world at her feet.
However, things didn't go as planned for the left-arm pacer. International opportunities were hard to come by. She missed the World Cup at home in 2017 as she watched her team-mates from 2013 go on to register a global triumph and become household names. By 2019, Farrant lost her central contract and at the young age of 23, she was pondering quitting the game and moving on.
But the time away from cricket helped her learn life lessons, do the things she missed out on. And deep down, Farrant knew she played cricket for she loved the game and it didn't matter whether she played for England or Kent or the regional sides.
The 25-year-old put in the hard yards and made a
comeback
to the England side on the back of some terrific performances in domestic cricket. Be it with Kent or with the South East Stars, where she led the side in the Rachael Heyhoe Flint Trophy. Farrant was also one of the key figures in Oval Invincibles
triumph
at the inaugural edition of The Hundred. She was the leading wicket-taker in the tournament, with 18 wickets to her name from ten matches, at an average of 10.27.
ALSO READ: World Cup 2017 win felt like it was just meant to be for us: Lauren Winfield-Hill
Now back in England colours, Farrant has
earned
her central contract back and is part of their World Cup 2022
squad
in New Zealand. In a freewheeling chat with
Women's CricZone
, Farrant took us through her England debut, elation, and disappointments that came with her inclusion and omission from the squads, earning, losing, and then re-earning her central contract, and much more.
Excerpts:Q:  We will start with a happy memory. You were the leading wicket-taker in The Hundred and were instrumental in Oval Invincibles winning the title. How was that experience like and how important was the tournament in your comeback story?
The Hundred was great. I think I just thrived on how big the crowds were, it was on such a big stage for us. Obviously, being part of the South East Stars, sort of connects with the Oval Invincibles. I felt like I was the leading player in the team and I thrived on that. I just really enjoyed my cricket.
I had a frustrating start to the summer, not playing in the series. I was just chomping at the bits for some cricket. Then I took some wickets from there, it was a great experience.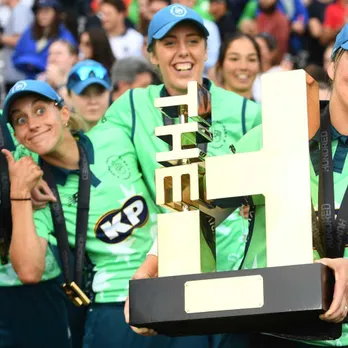 Natasha Farrant took 18 wickets at 10.27 in The Hundred © Getty Images
Q: You were born in Greece and grew up in Italy and Singapore. So how did you end up taking interest in cricket as a kid?

I didn't play any cricket because I lived in the countryside. Then when I moved to England. I have two older brothers, I was playing in the garden with them and then I went to a Kent cricket trial, which I didn't really know at the time was a trial, just went to play some sports with some of my friends and then managed to get into the Kent Under-11s.
I was eight then, so I started pretty young for Kent and then just moved up the ranks from there and was pretty lucky to have Charlotte Edwards as my Kent captain. I think I bowled her out a couple of times in the nets when I was about 15 or something, and I think that definitely helped me. It was all quite fast, moving from the academy into the England squad. But yeah, it all started at Kent for me.

Q: Having made your debut for the Kent senior side in 2012, it only took you one year to make it to the England side at the age of 17. How was it like playing international cricket at that age and can you describe the experience?

I think I was a bit unaware of how big a deal it was, if I'm honest. I obviously just loved the whole experience. I had some really good mates in the teams like Lottie (Charlotte Edwards), Lydia (Lydia Greenway), and Laura Marsh. So they made me feel very comfortable. And yeah, it was a very quick sort of trajectory for me. But I think because it happened so fast, I couldn't really think about what had actually happened.
And I think now that I'm a bit older, I can sort of reflect on that. It was quite a big thing to play for England at 17, but at the time I was absolutely loving it, being out there with some really good team-mates around me and I just don't really think I realised the scale of what was happening at the time.
Q: You had great progress early on: Being part of the Ashes squad that won in Australia in 2014 and then you were among the 18 players who got central contracts with England for the first time. What do you remember about being part of that England side and your early successes?
I think it was just all really exciting. When the central contracts came in, I was still at school. It was a bit surreal if I'm honest. And yeah, it was obviously very exciting for women's cricket and women's sport in general. I think we were sort of the first women's team in England to get central contracts. So it was a really exciting time.
And then being able to come over to Australia when I was still pretty young and being part of a winning Ashes side, obviously winning away from home was really special. We had such a great team and it was just all a bit of a whirlwind at that time and I just loved every second of it and had some really great memories, of course.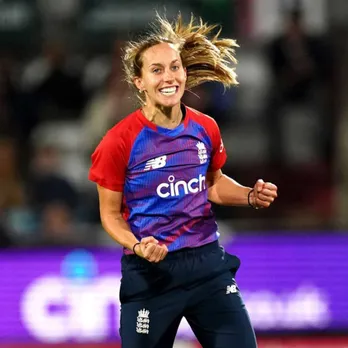 Natasha Farrant made her England debut at the age of 17 © Getty Images
Q: From there onwards, although you were part of the England squads, playing opportunities were rare, having had only 15 caps to your name. Was it frustrating or were you confident that you would continuously get chances to be in the international arena?

I'd be lying to say it wasn't frustrating, it was obviously very frustrating because I had sort of quite a quick first year of my England career where I actually played quite a lot, due to some injuries, etc. So, I have to count myself lucky to be able to play for England at such a young age. But then obviously it was very frustrating for me to be doing the drinks the whole time.
I still got a lot out of it. I got to train with some of my heroes and with, well, the greatest environment that I could be in. And I got to visit some amazing places and get used to different conditions, etc. I think I just had to find my time a little bit because it has been a straightforward sort of run for me. But I wouldn't put it any other way, to be honest. I feel like I'm a much better player, for sort of sitting on the sidelines and having to really work hard to make sure that I could get myself back in the team.
Q: You weren't picked for the Cricket World Cup 2017 at home and then lost your central contract in 2019. How disappointing were those years and how did you deal with it?
You know, not being picked for the World Cup was a real disappointment. And then, I had a couple of tough years in my life and obviously felt like the end of the world when I lost my England contract. I think because I'd been in the England environment since I was 15, 16, I didn't really know any different.
But it was the best thing that happened to me, I had to go away, work at my own game for myself. Worked with some amazing coaches who sort of coached me for free, like Lydia Greenway (Oval Invincibles head coach) and someone called Scott Boswell (former county cricketer and Trent college coach) who were so influential and still are so influential in my game.
But it was a really good time away for me. I think I had to do things to myself and it made me more of an independent cricketer. And sort of now I know what I need to do to sort of to make sure that I improve. And now that I'm back in the England environment, I can use the great coaches that we have around me, but also rely on myself when people aren't always there to help you.
Q: During this period, you also talked about briefly pondering about quitting cricket when you lost your central contract. What prompted that thought and how did you decide not to go ahead with that decision?
I think I just needed a bit of time away from the game, obviously having, as I've said a lot of times already, I've started so young. I missed a lot of things that normal 15, 16, 17 year-old girls get to experience with their mates. I obviously missed out on a lot of parties, etc. I got to finish the last year of uni, which was great for me because I actually managed to pass.
I think I always knew deep down that I wanted to play cricket because I love cricket for what it is. Whoever I play for, whether it be England, regional, Kent, I just love playing the game. I think I just needed a bit of time off to process what had happened. And then it didn't take me too long to start missing it and get back into it.
Q: In between you continued to put in good performances in the domestic circuit, first winning the County Championship in 2016. You also had success in the WCSL with Southern Vipers, before captaining South East Stars in the RHF Trophy. Can you talk about that period of your professional career?
Yeah, I mean, obviously, the Super League was great playing for the Vipers. We had a really strong team and that was awesome. And then obviously the new regions that have been set up have been an absolute godsend. I was working in a school sort of training by myself, trying to fit in training around my work. And then when the South East stars called me to say they wanted to sign me, just gave me a completely new lease of life, which is what I needed. I really missed being in a team environment, training day in and day out. So yeah, the regions have been amazing.
I think the standard of cricket can already be seen in the Hundred and in the regional games as well. And I think the more strength that the regions get and the more funding that goes into it, women's cricket in England is just going to skyrocket and we've got the England A out here in Australia with us and it's just creating such a massive pool of talent in England for women's cricket.
I can't speak highly enough of the region and captaining for me was a great new challenge. It almost let me relax about my own cricket, which I think helped me perform better, because I had to think about the whole team, not just myself. I enjoyed captaincy and I hope I can do a bit more of it in the future because it's something that I really enjoy.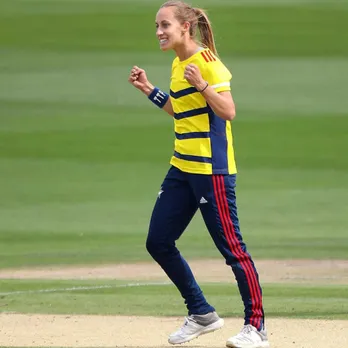 Natasha Farrant in action for South East Stars © Getty Images
Q: Talking about cricket as a profession, the arrival of domestic contracts was an important milestone in England cricket and you were one of the four centrally contracted players with South East Stars. How did these events impact your career and help you become a better cricketer?
I don't think it's sustainable for me and loads of other girls, who had been putting in the training by themselves, funding it themselves. I think there's only so much you can do of that until you have to choose a different career. Now obviously the girls who are coming through the ranks, through the academies, they can actually see that cricket is a viable career option.
And also in my scenario, you don't have to get to 25 and if you've not made it, it's not the end for you. You can be someone like Eve Jones and be in their late twenties and be thriving in The Hundred and regions. And you've got a chance of getting  into England like your career's not over in your mid-twenties. It's just, I think, really inspiring younger girls to really go for cricket as a career. But it's also keeping girls in the game, which I think is so important because you're in your prime at the back end of your career, so you want to make sure that you've got the best people in the right setups.
ALSO READ: This the best side we have had at a World Cup: Laura WolvaardtQ: Finally what was it like making a comeback to the England side in 2021. Were you always confident of that call up coming and then you also went on to regain your central contract for the current season? So how did it all feel like?

It again happened faster than I expected, I had expected to be at the regions for a couple of years and really work hard, and I knew I wanted to get back into the England setup. But I think being away at the regions, it made me just love cricket again for what it was, and I think it relaxed me, which made me play better.
When I got called up for the New Zealand tour, it was a massive shock for me. It happened way quicker than I expected. And then I just love being around the high-performance environment that it is. I mean, you're playing and training with the best players in the world. So yeah, it was great to be called up and then obviously to get a good run in the summer at the back end of the summer and then to get my England contract again.
It's kind of done the full circle. It's been a good full circle. Not easy the whole way, but I just think for me, it just shows if you work hard and you love something, and obviously, it's not always going to work out in your favour, but it's really going to give you the best chance to do what you love. I believe that if you work hard, you're going to get success in some shape or form.